Tiger vs. Phil Weather Delay: New Start Time, What Happens if Match Is Postponed Due to Rain
Credit:
PAUL ELLIS/AFP via Getty Images. Pictured: Tiger Woods
Champions for Charity: Match II, Sunday's golf match between Tiger Woods and Peyton Manning vs. Phil Mickelson and Tom Brady, is set to tee off at 3 p.m. ET.
Rain is in the forecast for Medalist Golf Club, however, putting today's event in doubt as of Sunday afternoon.
See the latest forecast below, plus what will happen if rain forces them to postpone to a later date.
Update: The match between Tiger Woods and Peyton Manning vs. Phil Mickelson and Tom Brady has been delayed until at least 3:40 p.m. ET, according to golf.com. If the match is postponed, it will be played tomorrow if weather permits.
Weather for Monday looks equally bad, and early forecasts for Tuesday and Wednesday show the same thing. It's unclear at this point if the match would get pushed until Thursday, next week or canceled altogether. We'll update here with news as it comes out.
Rain and thunderstorms may slow or delay 'The Match 2' between Tiger Woods/Peyton Manning and Phil Mickelson/Tom Brady at 3 p.m. ET.
A storm moving northwest hit much of the Bahamas and southern Florida on Sunday morning. As of 11 a.m. ET, the storm is covering the entire southeastern coast of Florida, including West Palm Beach and Hobe Sound, home of Medallist Golf Club.
The National Weather service projects a 40% chance of rain at 2 p.m. ET at Medalist. Weather.com gives it a 100% chance, and Accuweather is at 68%, with the likelihood of rain slightly decreasing throughout the afternoon — a change from earlier.
From the National Weather Service: "A chance of showers, with thunderstorms also possible after 3pm. Cloudy, with a high near 83. East wind 10 to 15 mph, with gusts as high as 20 mph. Chance of precipitation is 40%."
Regardless of rain, winds around 15 mph are expected throughout the afternoon.
According to TSN's Bob Weeks, the match would be bumped to tomorrow if it can't be played today:
According to the PGA Tour's website, if The Match can't be played today due to weather, it will go tomorrow at a time to be announced.

— Bob Weeks (@BobWeeksTSN) May 24, 2020
The only problem: Things look even worse tomorrow…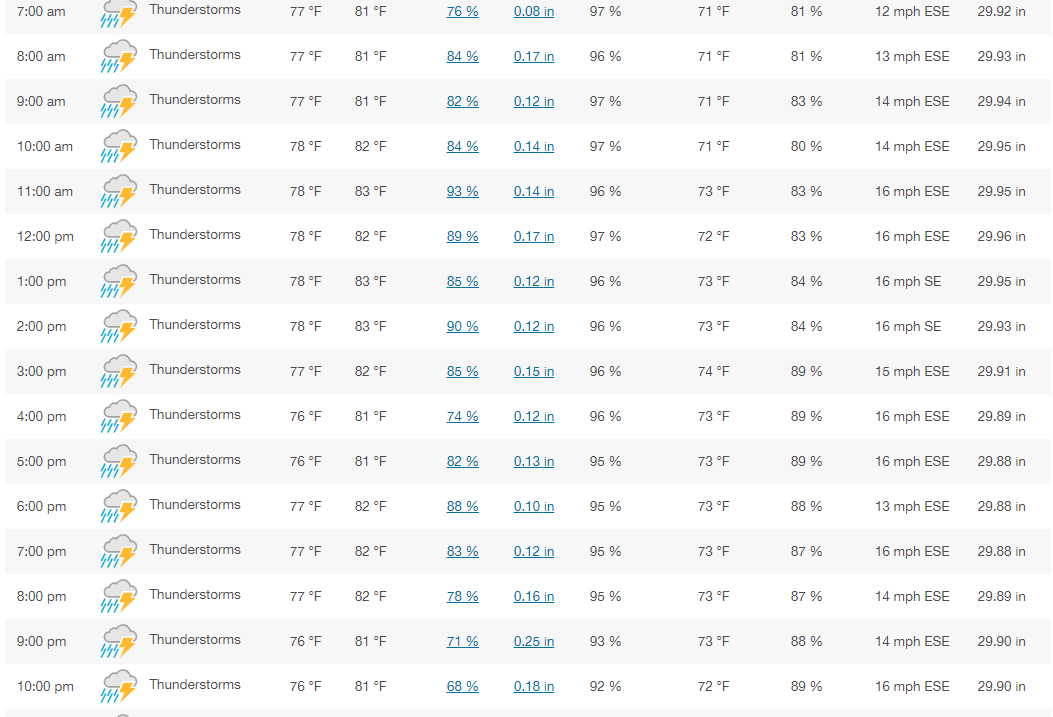 It's the same story for Tuesday and Wednesday. It's unclear whether the event would be scheduled for Thursday, the first day with clear weather as of now, next weekend or canceled altogether.
We'll continue to update this post as the forecast changes.
Tiger vs. Phil Odds
Looking to bet Tiger vs. Phil? Here's where you can do it.
Confused by these odds? Learn more here.
**Link your PointsBet and Action accounts so your Tiger-Phil bets automatically sync over to the app.
---
More Tiger vs. Phil Coverage
How would you rate this article?