Sobel: Tiger's Big Miss Won't Hurt as Much at Augusta
Sign up for The Action Network's daily newsletter to have the best sports betting insight and analysis delivered to your inbox.
As a reporter, there's a certain strategy to asking another PGA Tour golfer about Tiger Woods.
I've taken the brutally blunt route before, blurting the query about Tiger and hoping for a thoughtful response. Recently I went for a more subtle approach, asking Phil Mickelson and Jordan Spieth about him without ever mentioning his name.
This wasn't too long ago, after another one of Woods' impressive scoring rounds and unimpressive driving rounds. Anyone who's witnessed his performance in this latest comeback has seen laser-like iron shots, a formidable short game and putting that at times looks straight out of his prime.
Woods' biggest issue, of course, has been the big stick.
Granted, Tiger was never the straightest driver of the golf ball. In his three-major season of 2000, he ranked 54th in driving accuracy; in one of his eight-win seasons six years later, he ranked 139th. Even then, though, his misses were often controlled. Somewhere in the techno-atmosphere, I have an abandoned inbox that is filled with Hank Haney diatribes about Woods missing fairways by mere yards from their years working together.
Many of Tiger's misses this year haven't been those controlled misses — or even those that eliminate one side of the hole. So many of these wayward drives have been, to steal a book title from Haney, The Big Miss. His driving accuracy percentage of 51.61 ranks 202nd on the PGA Tour. With him employing something less than driver on roughly half of the driving holes in his five starts so far, that percentage only amplifies how ugly it's been with the driver.
All of which leads to the question I posed recently to Mickelson and Spieth, a couple of past Masters champions who know the impact (or lack thereof) of having something less than your A-game off the tee this week: Can a guy with a capital-letter Big Miss still find success at Augusta National?
"Absolutely," Mickelson answered without hesitation, "because you always have a swing. The first cut helps keep the ball from going too far into the trouble and knowing where you can get up and down from on that golf course, always being able to advance it, allows you to not be perfect and still make pars."
Spieth agreed with that assessment, with a few important caveats.
"As long as you're missing them in the right spots, you can get away with not driving the ball incredibly well," he explained. "There are only a few holes where you really need to drive it well. Holes like 7, 10, 11, you really want to hit the fairway. Those three are about as important as any. On the other ones, you can kind of get away with it."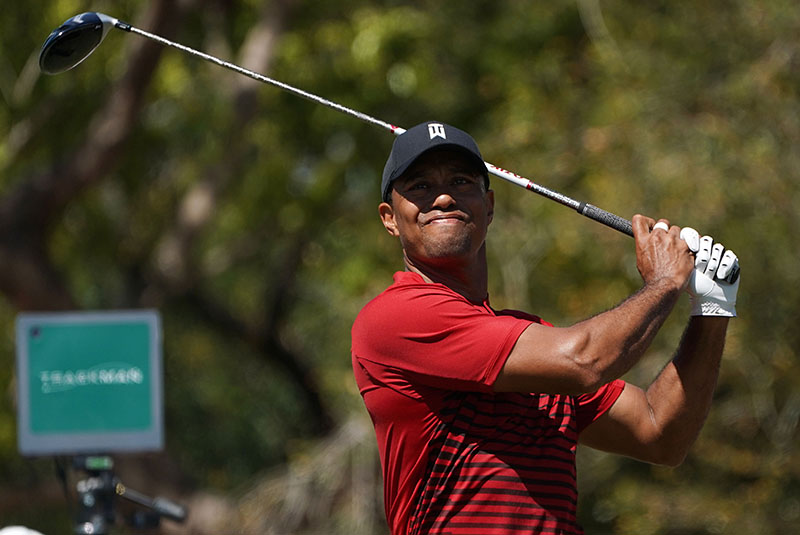 This notion plays right into the hands of a certain four-time green jacket winner who will be wearing a red shirt this Sunday.
Unlike Torrey Pines, with its thick rough bordering the fairways, or Riviera, which is littered with troubling trees, Woods will be able to let it rip around Augusta.
And let's not be naïve: He knows this as well as anyone.
In fact, try to forget, if you can, everything you already know about Woods. Let's simply give him a blind resume test: "Player X" has played a certain tournament 17 times as a professional, never missed a cut, finished in the top-five on 11 occasions and owns four wins. On top of that, he's entering this event with results of T-12, T-2 and T-5 in his past three starts.
It all sounds like a recipe for success.
But don't confuse "driver isn't the most important club in the bag this week" for "players don't need to hit driver this week." It's still a necessity.
"It's extremely advantageous to be longer there," maintained Spieth. "You don't have to use [driver], but you're going to want good drives on those par-5s. If you're not driving it well, you're probably costing yourself one or two shots per round."
Of course, this was his answer to a thinly veiled Tiger question, but it wasn't only a Tiger question.
The bottom 50 on the PGA Tour's driving accuracy ranking feature nine players who are in the Masters field, including none other than Mickelson himself, whose exceptional season has found him hitting fewer than half of all fairways.
That shouldn't matter this week. If players can fake it around Augusta without their best stuff from the big stick, they can still seriously contend. And yes, that's especially true for Tiger Woods.
Top photo credit: Jasen Vinlove-USA TODAY Sports
How would you rate this article?
This site contains commercial content. We may be compensated for the links provided on this page. The content on this page is for informational purposes only. Action Network makes no representation or warranty as to the accuracy of the information given or the outcome of any game or event.