Sobel: Tiger Woods Fulfills the Inevitable and Achieves the Impossible With 5th Masters Win
Credit:
Rob Schumacher-USA TODAY Sports. Pictured: Tiger Woods celebrates after making a putt on the 18th green to win The Masters.
For Tiger Woods, this victory at the Masters is the story of two realities converging into the greatest comeback in history.
AUGUSTA, Ga. — This was always supposed to happen. Tiger Woods won his fifth Masters title on Sunday afternoon because it was serendipity, preordained from the time he lapped the field at Augusta National by a dozen strokes as a 21-year-old, sparking six-time champion Jack Nicklaus to proclaim, "Arnold [Palmer] and I both agreed that you could take his Masters and my Masters and add them together, and this kid should win more than that."
This was never supposed to happen. Tiger Woods could never get past the most highly publicized personal scandal in sports history. Then four separate back surgeries, each trying to repair an injury that would never subside. An embarrassing DUI charge, his mugshot plastered all over the Internet. Woods wasn't just done claiming Masters titles, he was done playing golf. This wasn't just an opinion lobbed from afar by instigating pundits. It was his own personal assessment of the situation.
The first several chapters of Woods' story read like a how-to guide for becoming a champion. He started gripping a club in the crib. Hitting balls as soon as he could walk. Playing on a nationally televised show before his third birthday. Tiger was raised to not just become a golfer, but a dominant one, a generational talent who would change the game and those who consume it.
From the bevy of amateur triumphs to the moment he awkwardly uttered, "I guess, hello world" before his professional debut to that initial Masters victory, with all of its cultural and sociological implications, his journey was clear and his destination undeniable.
He followed that first major with another two years later. Then another, and another, and another. They just kept coming. The dam had burst and Woods' success was overflowing. By the time he won his 14th, on a torn ACL and multiple leg fractures, he had already achieved legendary status. There was no stopping the inevitable.
The next several chapters of Woods' story read like a Shakespearean tragedy. He returned from those injuries, but his greatest bid at a 15th major championship was thwarted by someone named Y.E. Yang. Months later, he curiously crashed his car into a fire hydrant in front of his home, an incident which quickly uncovered his continued infidelity in his marriage.
He publicly apologized. He checked into a sex addiction clinic. He got divorced. Life quickly unraveled for a man whose personal pain, self-inflicted as it was, became such a punchline.
Golf was the furthest thing from his mind. You could see it. There were times when the man known for his steely-eyed glare during competition was instead hindered by a thousand-yard stare. Even if he wouldn't externalize his emotions verbally, his body language said enough. The mentally toughest golfer of all-time was mentally exhausted. He looked ready to give it all up. There was no stopping the inevitable.
All of a sudden, though, he made a comeback. Woods won his last start of 2011, after two years of futility, then followed with three more wins the next year. The majors still eluded him, but now it was clear: He was back.
Woods earned Player of the Year honors the following year, his major championship odometer stuck on 14, but everything else going his way. After his mid-career crisis, he was an elite-level talent once again.
"I feel like my game's pretty good," he said after his fifth win of that season.
All of a sudden, though, the comeback stalled. Woods was soon felled by intense back pain. He tried to play through it, tried to rest it. Nothing worked. Unable to play in the Masters for the first time, now it was clear: He was gone.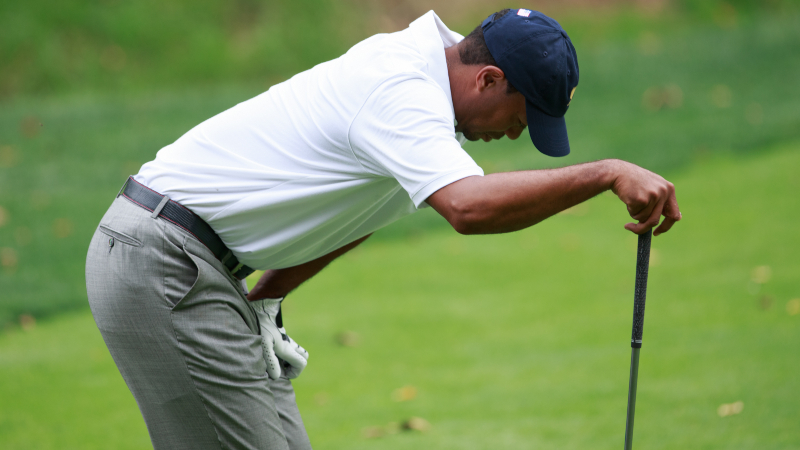 Sure, he tried to return, but each return was thwarted by more pain — and eventually, another surgery. He'd miss the festivities in Augusta three times in four years, suggesting he would never be an elite-level talent once again.
"There's really nothing I can look forward to, nothing I can build towards. Where is the light at the end of the tunnel? I don't know," he said while sidelined.
He kept trying. He kept open the idea that he'd miraculously become cured and be able to play again.
He couldn't try. He couldn't even walk without pain, knowing deep down that he'd never be able to play again.
The fourth surgery finally did the trick. Woods was able to regain his strength and rebuild his swing. He was cautious this time, more cautious than he'd been in the past, perhaps because he knew this might be his last opportunity to ever play golf again.
He started slow. At one point, he joked about only being able to hit 60-yard shots, but at least, "I'm hitting it really straight." For a guy who so often discussed the "process" involved in being a successful player, this one would be the lengthiest and most arduous of his career.
It's one thing to be able to swing a golf club pain-free. It's quite another to swing it well enough to contend against the world's best professionals. Woods was keenly aware of this. His best still paled in comparison to the best in the world. It irked him, and it motivated him.
For a man who'd become so accustomed to dominance throughout his career, the "process" of returning to glory must have been frustrating, even if he understood the necessity.
Little by little, his strength developed and his performance improved. He contended at two major championships and, finally, won the season-ending Tour Championship against an elite field of competitors.
"It's certainly up there with obviously all the major championships I've won," he said afterward.
Woods has never been shy about which tournaments mean the most to him. He's always set up his game to peak four times each year, for the majors — and it's the first of those which has always topped his list of favorites.
But even as he entered the week as one of the pre-tournament favorites, a 43-year-old Tiger sounded much different than his younger, steely self: "I don't really need to win again, [but] I really want to," he said before this week's event.
He began with efficiency, if not impressiveness. An opening-round 70, chased by a 68, then a 67.
For the third straight major, Woods was at least in the mix. He'd put himself into contention yet again, no small feat considering his still-recent past.
He was playing well, but it still wasn't good enough. Woods entered the final round two strokes behind leader Francesco Molinari.
As Woods made a pair of early bogeys, Molinari was machine-like, getting up-and-down to save par from everywhere and keep his playing partner from making a serious charge.
Then it happened. Molinari cracked. A tee shot into the water on 12 led to double-bogey and a wedge into 15 led to another. The window for opportunity opened right in front of Woods.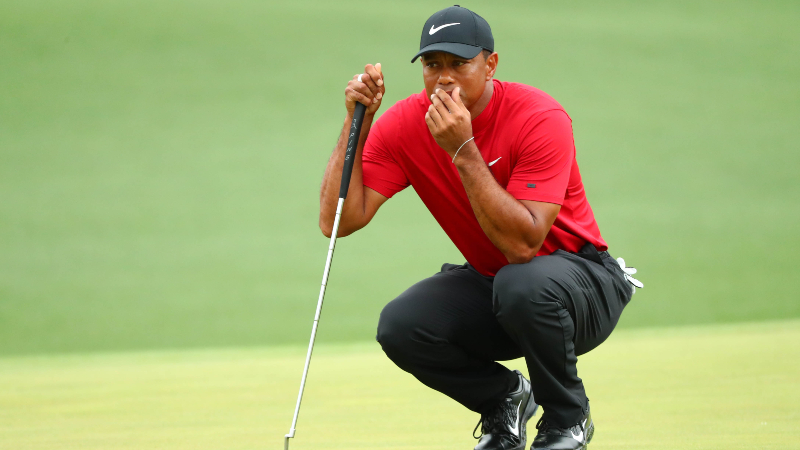 The window opened for every other contender, too. At one point on the back-nine, there was a five-way tie for the lead. Playing in the last group, with as many holes left as anyone, Woods might've been the favorite, but hardly a lock.
Nearly every one of Woods' major championship victories has been punctuated by one brilliant stroke — a deft chip or slippery putt that found the bottom of the cup — and this one would be no different. On the par-3 16th hole, with two aces already carded there during the round, he nearly adds another, leading to a kick-in birdie and seemingly insurmountable lead.
Not that he didn't make it a little interesting. Woods laid up his second shot, chipped his third onto the green, then rolled his par attempt about 18 inches past the hole, knowing bogey was enough for the title. "Commit," he thought to himself, later saying, "I did, and knocked it in. And God knows what I did after that."
He yelled, he screamed, he smiled the biggest smile we've ever seen from him. He embraced his son in a bearhug, then his mom, then his daughter and girlfriend and agent and anyone else within arm's reach.
He'd finally done it. After nearly 11 years without a major championship, he was a winner once again — and at the place where it all started.
He thought of his father, Earl, deceased 13 years now, who'd been there for the first one, embracing him in the same type of hug that he now gave his children. He thought of the injuries, of how much pain he'd had and how much he'd worked to get back to this point.
"[It's] just unreal, to be honest with you," he said. "This has meant so much to me and my family, this tournament, and to have everyone here, it's something I'll never, ever forget."
---
>> Sign up for The Action Network's daily newsletter to get the smartest conversation delivered into your inbox each morning.
---
Even as he basked in the glow of major No. 15, Woods couldn't outrun the outsized expectations that have followed him his whole life. Not long after the victory was clinched, perma-smile still affixed to his face, Woods was asked about breaking Nicklaus' record of 18 career majors.
It's true that Woods grew up with a poster of the Golden Bear on his bedroom wall, marking off each achievement as equaled or surpassed it. But it's a myth that his entire goal as a professional is to break that record.
He's never said those words. We've assumed them, sure. After all, why else would he want to win all these majors, if not to have the most ever? Woods, though, has abstained from making such a proclamation. And he didn't take the bait this time, either.
"I really haven't thought about that yet," he said. "I'm sure that I'll probably think of it going down the road. Maybe, maybe not. But right now, it's a little soon, and I'm just enjoying 15."
Tiger Woods, major champion once again. This was always supposed to happen.
Tiger Woods, major champion once again. This was never supposed to happen.
How would you rate this article?
This site contains commercial content. We may be compensated for the links provided on this page. The content on this page is for informational purposes only. Action Network makes no representation or warranty as to the accuracy of the information given or the outcome of any game or event.