Tiger Woods' Masters Win Costs Three Different Sportsbooks 7 Figures
Credit:
Michael Madrid-USA TODAY Sports. Pictured: Tiger Woods
Tiger Woods won the 2019 Masters Tournament, much to the dismay of many sportsbooks.
Bettors cleaned up, especially those at William Hill, FanDuel and DraftKings.
One big-money punter won $1.19 million on an $85,000 wager that was placed at 14-1 odds on Wednesday.
Tiger Woods winning his first major in nearly 11 years cost three sportsbooks in particular dearly.
William Hill, FanDuel and DraftKings each said they paid out more than $1 million.
William Hill did so to a single customer, who bet $85,000 on Woods at 14-1 odds in a southern Nevada sportsbook on Wednesday. The bet, which had to be approved by William Hill U.S. CEO Joe Asher, paid out $1.19 million, but it wasn't something the company's sportsbook director Nick Bogdanovich was regretting Sunday afternoon.
"It's rare that someone bets that much on something like that," said Bogdanovich, who compared the company's loss to a bad NFL week. "We pay it out and move on. We have so many bets coming in."
The bet is the single largest payout on a golf bet in the US division of the company's history and the 2019 Masters marks the book's biggest golf loss ever.
Bogdanovich said that William Hill had no previous history with the bettor and didn't know who he was.
William Hill shortened odds on Woods from 14-1 to 10-1 after the big bet on Tuesday and it never returned.
"After Friday, gamblers couldn't get enough," Bogdanovich said. "They just kept betting him." Bogdanovich added that after Friday, 30 percent of the bets William Hill were on Tiger.
DraftKings had some major exposure on Woods and it increased even as late as Sunday.
Before the tournament began, DraftKings was the only book that said it had more than 25% of the money (27%) on Tiger to win. On Saturday at 6 p.m. ET, as Tiger was 2 strokes behind the lead, DraftKings boosted odds longer from 3.5-1 to 10-1. DraftKings wouldn't say what the limit was, but several players were stopped at a $202.42 bet.
Jamie Shea, head of digital sportsbook operations for DraftKings, said that after 10-1 was offered, Tiger made up 60 percent of the bets going forward. Shea said when Woods fell a few shots back early in the round on Sunday, DraftKings boosted it back up to offer 15-1.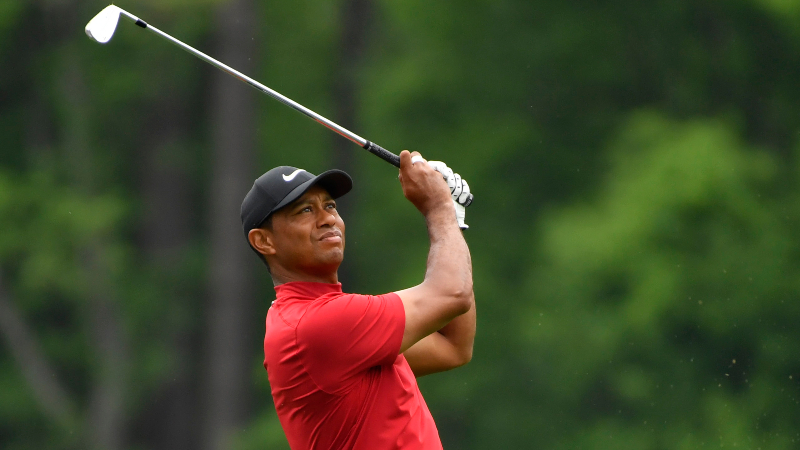 "We actually want our players to get their wins," Shea said. "They definitely beat us today and hopefully they'll come back."
Shea said that 32 percent of live bets the sportsbook took in were on Tiger.
"That's massive," she said.
DraftKings, which is battling FanDuel and 12 other competitors in the New Jersey mobile space, boosted odds on Tiger to win the PGA Championship from 7-1 to 15-1, trying to draw gamblers' action.
FanDuel confirmed a loss of at least $2 million. More than $1 million was from a refund that was promised to entrants in its fantasy golf contest ($15 entry fee) if Tiger won. The other $1 million plus payout came from Tiger bets.
"Tiger winning is good for the sport and good for our customers," said Mike Raffensperger, chief marketing officer for FanDuel, which offered the longest odds, of all the sportsbooks in New Jersey, on Tiger right before the Masters at 18-1. FanDuel said it ended the tournament with 21 percent of bets on Woods.
FanDuel immediately offered odds on Tiger, who now has 15 majors, to tie (5-1) or break (10-1) Jack Nicklaus' record of 18 majors. They also were the first to offer new odds on Tiger winning more than one major this year: 2+ majors (+1.4-1), 3+ majors (7-1) or all four majors (35-1)
In February, the Westgate offered the same prop. The odds of Tiger to win all three majors was 100-1 with four majors was being offered at 500-1.
How would you rate this article?
This site contains commercial content. We may be compensated for the links provided on this page. The content on this page is for informational purposes only. Action Network makes no representation or warranty as to the accuracy of the information given or the outcome of any game or event.