Sobel: Tiger Woods' Vintage Sunday Puts the Golf World on Notice
Credit:
Jerry Lai-USA TODAY Sports. Pictured: Tiger Woods
Tiger Woods shot a 6-under 64 in the final round of the PGA Championship to finish in second place behind Brooks Koepka.
Woods' play at the PGA, which followed an impressive T-6 at the British Open, proves he's more than capable of winning a 15th career major.
ST. LOUIS — Just minutes after he rolled in a 19-foot birdie putt on the final hole of the 100th PGA Championship for what would eventually be a runner-up result, Tiger Woods ascended the stairs toward the Bellerive Country Club locker room.
We've witnessed him in these situations before. Six other times in his career, he's finished in second place at a major championship, punctuating those moments with varying levels of frustration and anger and sadness.
This one was different.
As he climbed those steps, Woods waved and offered a thumbs-up to the sea of spectators below. Thousands of them, cheering his every move during the week, now exhausted from the thrill ride.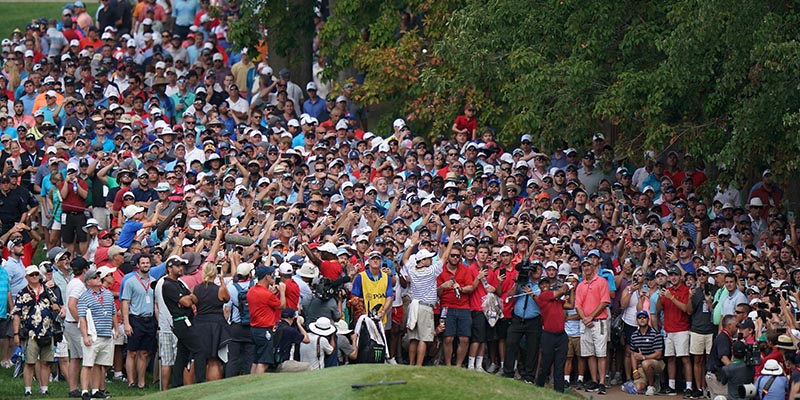 Just like Woods himself, they weren't wistful about what could have been or discouraged about what should have been.
No, in the immediate afterglow of Woods' 6-under 64, the lowest final-round score of his major championship career, they instead mirrored the prevalent feeling of the man they cheered.
They were thankful. All of them. The fans, the fellow players and even the man who once would've thwarted any suggestion that something less than victory could be a moral and emotional triumph.
"The people here were so positive; the energy was incredible, but the positiveness of it all," Woods said afterward. "Everyone was willing every shot that everyone hit. There were no negative comments."
That includes from Woods himself, who completed the year's majors with title contentions in the final two. This, of course, comes a decade after his last major victory and just a little over a year after his fourth back surgery.
It was only 11 months ago, at the Presidents Cup, when Woods was asked about his competitive future and glumly answered: "We just take it one step at a time. It's a process and I'm in no hurry. I'll try to get better physically. … I don't know what my future holds."
Before his sixth-place finish at last month's Open Championship, Woods thought he could win another major. After that performance, he knew he could win another.
His latest close call might have been less about proving anything to himself than everyone else.
Look, you can maintain that Woods won't win another major. That's fine, it's your opinion. But if you try to make the argument that he can't win another one …
After Sunday's final round, that's a foolish assessment.
He might never claim that elusive 15th, but it's now painfully obvious that he's eminently capable of doing it.
There will undoubtedly come a time when that knowledge isn't good enough, when the idea of moral victories is expunged by the frustration of failure once again.
Sunday wasn't one of those times.
The record books will forever cite this tournament as Brooks Koepka's win — and rightfully so. But the "2" next to Woods' name signified a celebration, with seemingly half of St. Louis not only thanking him for the ride, but ushering him toward his next mission, like a college graduate being honored for moving on to the next phase of life.
In a year of majors that started with baby steps, Woods has taken a giant leap toward that next victory.
If it happens — maybe next year, maybe the year after, maybe not until he's 46 like Jack Nicklaus when he won his final Masters, or 48 to become the oldest major champion ever — we'll debate where it ranks on his impressive totem pole of titles.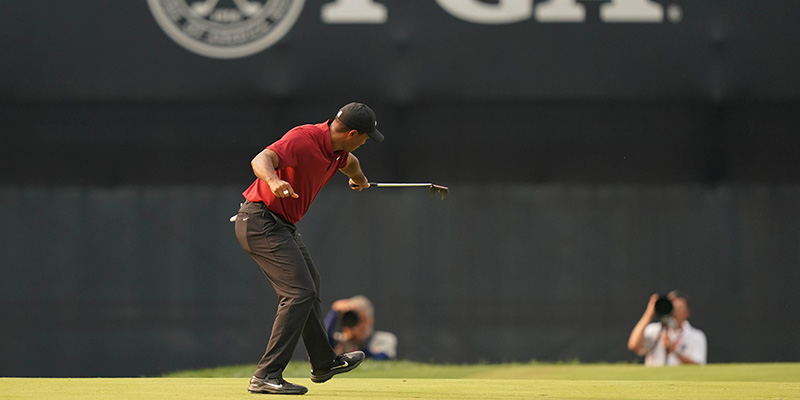 In some eyes, it might surpass his 1997 Masters win, a 72-hole pronouncement of golf's imminent era. Or his 2000 U.S. Open, when he lapped the field by a whopping 15 strokes. Or the 2008 U.S. Open, when he somehow limped and winced his way to victory despite multiple major injuries.
Or it might never happen.
Woods' performance this week might be remembered as his last great opportunity at a major.
We don't know yet. He doesn't know yet.
What we do know, though, was once again confirmed this weekend. Woods is capable of winning yet again.
As he waved to that massive sea of spectators, even Woods understood that notion was reason enough for celebration.
How would you rate this article?
This site contains commercial content. We may be compensated for the links provided on this page. The content on this page is for informational purposes only. Action Network makes no representation or warranty as to the accuracy of the information given or the outcome of any game or event.