From 1,199th to 50th: How Tiger Pulled Off the Impossible to Qualify for WGC-Bridgestone
Credit:
Ian Rutherford-USA TODAY Sports. Pictured: Tiger Woods
Before his return to professional golf last November, Tiger Woods sat at 1,199th in the Official World Golf Rankings.
He needed to jump 1,149 spots in the span of eight months to qualify of this week's WGC-Bridgestone Invitational, an event he's won a record eight times.
Thanks to a season that's exceeded expectations and a T-6 finish at the British Open, Woods will be one of the betting favorites (12-1) in Akron, Ohio, this week.
AKRON, Ohio — Because Tiger Woods is Tiger Woods, and because when he speaks people listen, he can often pepper his speech with previously uncoined verbiage, much to the rollicking delight of everyone doing the listening.
It was years ago, during one of his post-round interview scrums, when Woods casually dropped a reference about his "traj." The intonation was judicious enough. He was simply shortening the word trajectory, just like the rest of us would do if we ever came across the need to say the word trajectory enough that we had to shorten it.
Woods was speaking at the time about his ball flight. About hitting higher and lower shots depending on the situation and how he was continually working to improve that part of his game.
As Woods embarks on one final spin around Firestone Country Club for the last Akron-based edition of the WGC-Bridgestone Invitational, let's examine a different kind of traj — the kind that allowed him to move up 1,149 spots on the world ranking to qualify for this field.
Once upon a time, Woods was the No. 1-ranked player in the world. No, that's not enough of a description. He was No. 1 by a larger margin over No. 2 than No. 2 was over, well, you and me. He was No. 1 for 683 total weeks, including 281 in a row — more than five full years.
That position was dulled first by performance, then by injury.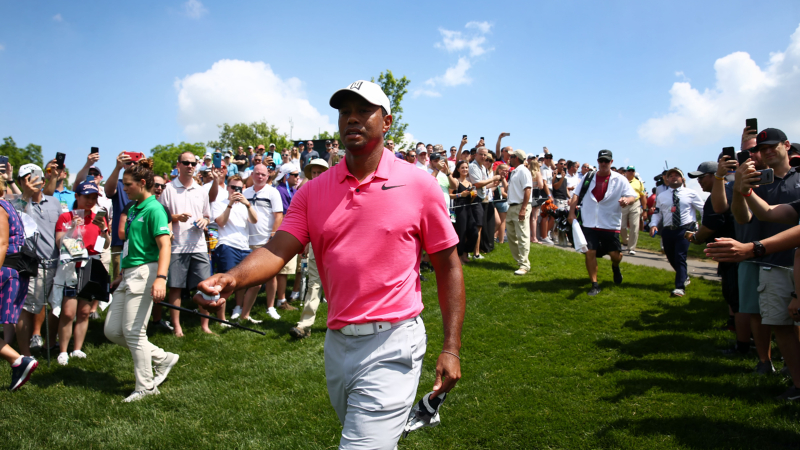 Credit: Caylor Arnold-USA TODAY Sports. Pictured: Tiger Woods
At this point one year ago, Woods was still dealing with a recent DUI arrest and didn't know when his back problems would allow him to return to competitive golf. The truth is, according to him, he was more likely to be retired at this point than top-50 in the world.
So, how did he get here? It's been an accelerated ascension.
Before receiving a sponsor's exemption into his own Hero World Challenge beginning Nov. 30, Woods was ranked 1,199, the byproduct of having just an MC and WD in his results table during the year.
Simply finishing last in the 18-man field would have afforded Woods a jump of a few hundred spots in the ranking. Instead, he finished T-9, beating Justin Thomas, Dustin Johnson and Brooks Koepka, among others — and by the time the year ended a few weeks later, he had already shot up to 656th.
Apparently, climbing the first 543 world ranking spots is the toughest part.
---
>> Download The Action Network App to get real-time golf odds, track your bets and follow all of our experts' picks.
---
By the time Woods started making cuts a month later, he was picking up important points without losing any in his divisor. The algorithm used to create the ranking bases the average points on a minimum of 40 tournament starts in a rolling two-year period.
Woods' first start of 2018, in the Farmers Insurance Open, was just his 13th over that two-year stretch. That tournament — and every one since — helped him accrue points without changing the divisor. He finished T-23 that week and moved up to 539th.
Following a missed cut at the Genesis Open, Woods raised his game on the Florida Swing.
He finished solo 12th at the Honda Classic and moved to 389th; he finished T-2 at the Valspar Championship and moved to 149th; he finished T-5 at the Arnold Palmer Invitational and moved to 105th.
Already qualified for every major championship this year and already eligible for every PGA Tour event based on his lifetime status, Woods started looking toward the Bridgestone as a viable late-season goal.
He's enjoyed more success at this tournament than many prosperous PGA Tour professionals have had in a career.
Woods owns eight career victories at Firestone. He's won more than $10.8 million at this event alone. In the years he hasn't won, he's finished T-2, T-4, solo 4th, T-8, T-37 and T-78, before a WD due to back pain ruined his last start here four years ago.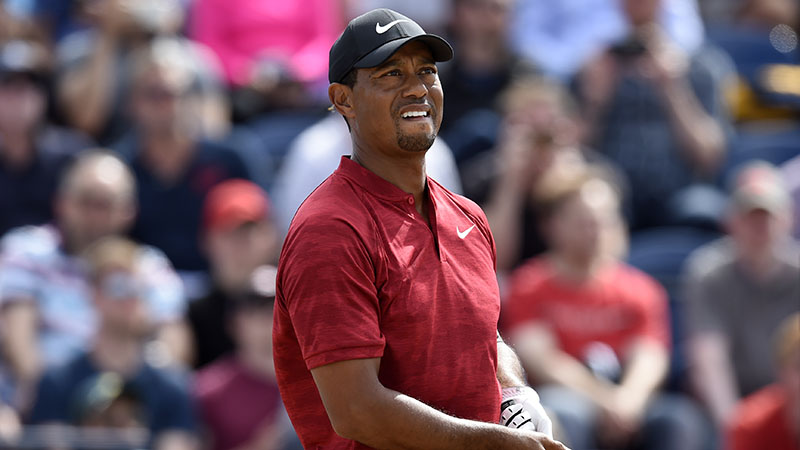 Ian Rutherford-USA TODAY Sports. Pictured: Tiger Woods
Perhaps that finish left a bad taste in Tiger's mouth, because he undeniably wanted to make it back here.
After those Florida events, though, it stopped looking likely.
He finished T-32 at the Masters and moved up to 88th, but a T-55 at the Wells Fargo Championship four weeks later dropped him to 92nd. A finish of T-11 at The Players Championship elevated him to 80th, which is exactly where he also stood after a T-23 at the Memorial Tournament three weeks later.
At this point, Woods needed a big push.
He didn't get it at the U.S. Open, missing the cut and remaining 79th in the ranking afterward. His T-4 at the Quicken Loans National helped, but against a weakened field, it only got him to 67th.
All of which left Woods needing a big week at The Open Championship to complete his stated goal.
You know what happened next. He actually led on the back nine in the final round at Carnoustie, only to commit a few mistakes down the stretch and finish T-6. Directly after the round, he thought he'd let the Bridgestone slip away.
"Well, I don't think I'm going to get into Bridgestone," he said. "I needed top-four, I think. Top-three, top-four, somewhere in there. I don't know."
It's true: He didn't know.
Once all calculations were finalized, Woods sat at 50th in the world, making the field on the number. And just for old time's sake, he's one of the betting favorites at 12-1.
All of which means he's got one more shot at Firestone this week in the grand finale before this tournament moves to Memphis, Tennessee, next year.
It was all because of an ascension of exactly 1,149 spots in eight months.
Now that's some impressive traj.
How would you rate this article?