Sobel's Sentry Tournament of Champions Preview: Searching for Our Chopra
Credit:
USA Today Sports. Pictured: Dustin Johnson, Bryson DeChambeau
The 2019 PGA Tour calendar opens with the Sentry Tournament of Champions on Thursday at Kapalua.
Jason Sobel makes his picks for the exclusive field, which features favorites Dustin Johnson (+500) and Bryson DeChambeau (+1200).
I'm staring my first tournament preview of the new year with one of my favorite gambling stories from life on the road at PGA Tour events.
Ten years ago, a buddy of mine named Harry the Hat was covering golf for a betting site in the U.K. Always looking for an edge, he was ahead of the times in talking to players about their games and using that information to not only make his own wagers, but recommendations for his readers.
Well, it was mid-afternoon on Wednesday of what was then-called the Mercedes-Benz Championship and I hadn't seen Harry around Kapalua all day. Finally, he skips into the media room, his fedora covered in sweat and a huge grin across his face.
"I've figured it out!" he told me. "I know who's going to win this week!"
I was all ears until I heard his pick, the enthusiasm still brimming: "Daniel Chopra!"
A native of Sweden who grew up in India and lived in Orlando, Chopra was less than three months removed from his first PGA Tour win — which was hardly memorable one — at the Ginn sur Mer Classic at Tesoro.
Harry, though, had walked the back-nine with Chopra and came away with a few observations: First, Chopra was striking the ball really well, making the course look easy the day before the opening round; second, he was excited to be there, not just for the scenery, but because he would be competing against some of the game's best.
In fact, Chopra had been playing Kapalua on his PlayStation for weeks before arriving in Maui.
All of which makes for a nice story, but was hardly enough to get me excited about one of the field's lesser names.
Wouldn't you know it, though, four days later, Chopra reached a playoff with Steve Stricker and won it with a birdie on the fourth extra hole.
I'm not sure what Harry's rake was that week, but I do remember him being chauffeured around Oahu in a limousine during the following week's Sony Open.
There's a moral to the story in there somewhere — and I think it's this: Always listen to a guy called Harry the Hat.
But there's also a lesson in trying to pick a winner at this week's tourney, now called the Sentry Tournament of Champions.
There's a non-statistical, intangible key for predicting this tourney: The secret is in the desire.
Of the 34 players in this field, my guess is that at least half of them enjoyed the holidays with family, didn't grind too much over the break, then deplaned in Maui hoping to find their swings in the sunshine. Nothing wrong with that — it's a long year, and these guys certainly deserve a little R&R before getting after it all over again.
What we're looking for, though, are the guys who were digging for secrets in the dirt before the calendar turned over. We're looking for players whose swings are grooved rather than trying to figure out the grooves on their brand-new wedges; we're looking for players who are more interested in tee times than Mai Tais.
We're looking for a Daniel Chopra.
I'm not sure that player exists this week. There hasn't really been a Chopra since that week a decade ago — and especially in recent years, as the who's who list of Dustin Johnson, Justin Thomas, Jordan Spieth and Patrick Reed have claimed the last four titles here.
That said, I do believe there are certain players who are more prepared to be playing tournament golf right now than others who are treating this week like a working vacation.
Finding out who, though … well, that would require a long walk in a sweaty hat.
Favorites
Dustin Johnson (+500)
It's no fun betting the chalk, but it's no fun starting out the year with a loss, either.
Last year, DJ nearly aced a long par-4 en route to winning the tourney by eight strokes. If that doesn't convince you to at least consider having a piece of him this week, then you're on your own.
Bryson DeChambeau (+1200)
I'm skipping over a handful of big names to get to BDC, who is the fifth-ranked player in the world, but seventh on this board. That's called value — but I also like the fact that he won't treat this week like a vacation. Not even close.
Mid-Tier
Gary Woodland (+2200)
Xander Schauffele was tempting at +2000, but I'm moving a bit further down to Woodland.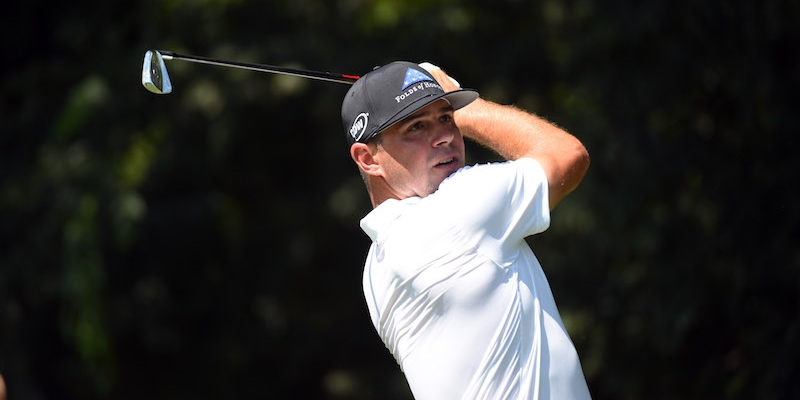 It's always surprised me that Woodland hasn't broken through as an elite player yet — he's still 31st in the world, which obviously isn't too shabby — but I think this could be the year he finally overcomes past putting woes and reaches that next level.
Marc Leishman (+2500)
I like taking Aussies in these early-year events, when their body clocks are still in mid-summer, but Leishman owns the extra advantage of being a prolific wind player, which could help mightily this week.
Longshots
Aaron Wise (+3500)
His last four results: 10th, 15th, 15th and 16th. Granted, it's a new year, but I expect Wise to continue playing at a high level.
First-timers don't often fare too well at Kapalua; he could be the contrary to that pattern.
Charles Howell III (+6600)
You know those days when you can't seem to make a putt, then you finally make one and they all start dropping in, while one of your playing partners snarks, "The lid finally came off!"
Well, maybe the lid is finally off for CH3, who finally earned his third career victory late last year.
My Favorite Bet
New section to the weekly tournament previews this year: I'm going to list my favorite (non-winner) bet of the week. Additionally, you can find my favorite round matchups before every individual round.
First one won't stray too far from that last bet.
Top-five: Howell (+1050)
There are 34 players in the field. Even if there are no ties in the top-five, there's a 14.7% chance for anyone to finish there.
At just over 10-to-1, I like that number for CH3, who has been a top-five machine throughout his career.
How would you rate this article?