Sobel: 67 Things on My Mind (and a Few Predictions) for U.S. Open Final Round
Credit:
Dennis Schneidler-USA TODAY Sports. Pictured: Justin Rose
The Highlights
Dustin Johnson shot a third-round 77 and still finds himself tied for the lead. If that was his one outlier score, he has a great chance for some positive regression Sunday.
Everyone at 8-over or better still has a shot at winning. That includes players like Justin Thomas, Xander Schauffele and Bryson DeChambeau.
Justin Rose (+500) is my pick to win. He's just one shot back and should see his ball-striking improve Sunday.
---
SOUTHAMPTON, N.Y. — Entering the final round of the 118th U.S. Open Championship, we have a quartet of leaders at 3-over par, an organizing body apologizing for its mistakes and a major championship that's still very much up in the air.
In honor of the 67 players currently over par — everyone who made the cut! — here are 67 things on my mind entering Sunday's final round:
1. Shinnecock is still going to be pretty tough.
2. All right, so I didn't exactly start out this piece with the most scorching hot take ever. But here's the point: Don't take USGA executive director Mike Davis' mea culpa on live television as a clue that Sunday's final round is actually going to play "easy" at all. It's not. Not even close.
3. In case you missed it, here's part of what Davis said after the third round: "We thought it would be a great day. Frankly, we missed it with the wind. The speed of the greens was too much for the wind we had. It was a very tough test, but probably too tough this afternoon."
4. Bank on this: There's going to continue to be more debate than ever about the USGA and its U.S. Open setups.
5. On one side, we've got the sadists who believe this championship is supposed to be really hard. These people believe the competitors were whining, the USGA shouldn't fall on its sword, and high scores are what this is all about.
6. On the other side, we've got the apologists who think it turned into carnival golf. These people want to see the world's best players making birdies,
7. Shockingly, we won't solve this issue on social media, despite the many caps-lock replies between these two factions.
8. Really, there's nothing to "solve." These are both opinions. Worthy opinions. You can think one thing without believing that anyone who thinks otherwise is a dumbbell. That's allowed.
9. Can you tell I spent wayyyy too much time reading Twitter responses Saturday?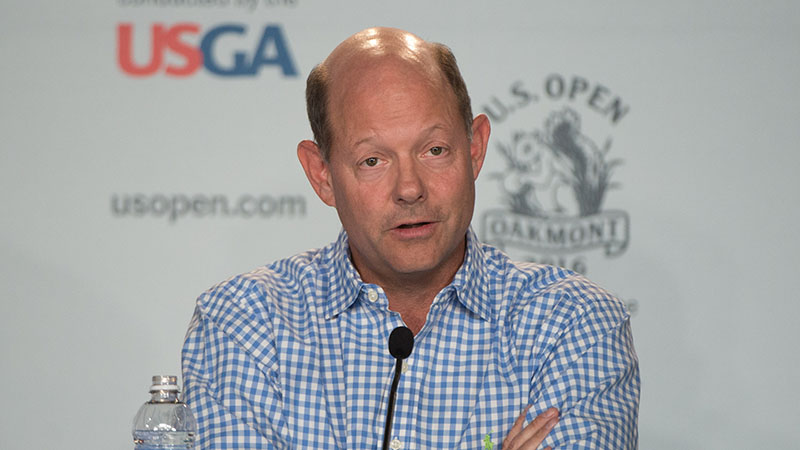 Credit: Kyle Terada-USA TODAY Sports. Pictured: USGA's Mike Davis
10. My opinion: I believe the U.S. Open should be the toughest golf tournament of the year. That's the event's identity. But I also don't think it should ever become unfair. It was borderline unfair Saturday — or maybe even a little over the border. There should be a decent middle ground between Shinnecock and Erin Hills, and it's disappointing that the USGA so often struggles to find it.
11. Here's my definition of "unfair" based on a ton of conversations with players over the years: Unfair doesn't mean a golf course is just tough. Unfair implies that good shots aren't rewarded the way they should be and luck becomes more important than skill.
12. The third-round scoring average was 75.3. Best guess on the final round? I'll set the over/under at, oh, 73.1. That seems like a nice round number.
13. And if there were a pair of 66s on the toughest day of the week — even if they were in the much easier morning wave — I'll venture a wager on 65 as the low number Sunday.
14. Let's all raise our glasses and toast to the Friday night parlay bet of both Tony Finau and Daniel Berger getting into the final pairing for the last round.
15. What's that? You missed that one? Oh, man. You should've just asked me.
16. Yes, of course I'm kidding.
17. I don't know if it's a perfect analogy, but Finau and Berger are like guys who get dealt from the Knicks to the Warriors right before the trade deadline and suddenly find themselves playing for a title.
18. It's tough to know how either player is going to react in this situation. They're sort of playing with found money, which could keep 'em loose and allow 'em to continue playing aggressive golf. Or they could suddenly pucker up at the notion of contending for a title they both probably assumed was out of reach when the weekend started.
19. If I can only take one of 'em, give me Finau.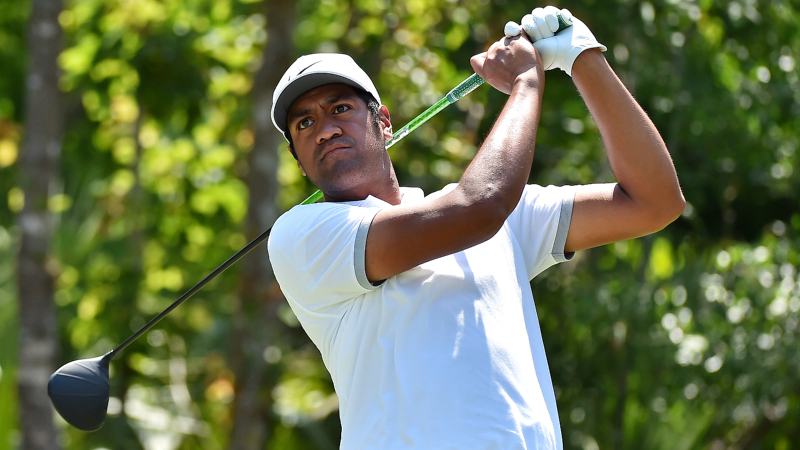 Jasen Vinlove-USA TODAY Sports. Pictured: Tony Finau
20. I love Berger's game, but he's been struggling a bit this year. Finau's overall body of work recently has been better.
21. With everything that took place Saturday, you know who kind of slid under the radar? Hint: His initials are D and J.
22. Dustin Johnson entered with a four-stroke lead, posted a 7-over 77 that included just one birdie … and he STILL finished the day tied for the lead.
23. If that is DJ's one outlier round, then he's got a great chance for some positive regression Sunday. For that to happen, his putter needs to heat up again.
24. I'm not buying the narrative of Johnson and Brooks Koepka owning some sort of advantage by being in a comfortable situation playing together Sunday. There are plenty of instances over the years where two good buddies played together during the final round of a major and it blew up in their faces.
25. Jordan Spieth and Smylie Kaufman, anyone?
26. By that same token, Justin Rose and Henrik Stenson will pair with each other again. For whatever reason, I think they'll feed off each other better than DJ and Koepka.
27. I was giddy about the prospect of Stenson going HAM over the USGA course setup after his round, but it looks like he decided to bite his tongue instead. Too bad, he's one of the quickest around with a good one-liner.
28. He did offer this one: "I'd say it's a little bit over the line. I don't know what the polls are saying at the moment."
29. That's about a B- for Stenson. He'll usually pull out a couple of A+ lines.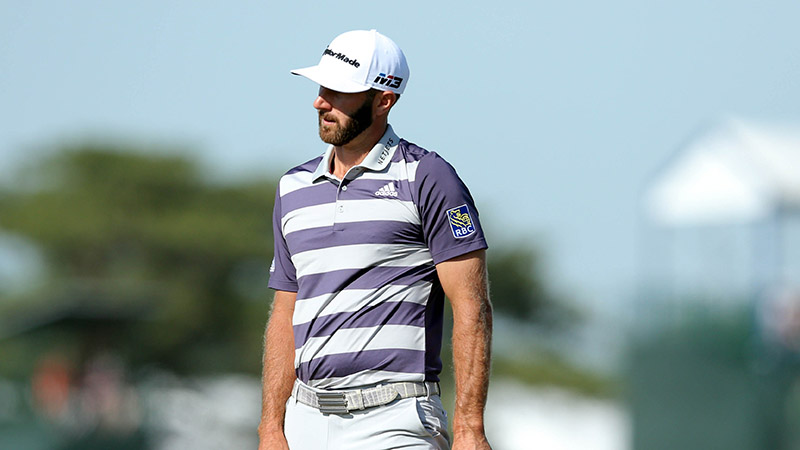 Brad Penner-USA TODAY Sports. Pictured: Dustin Johnson
30. And in the fourth-to-last pairing of the final round? Patrick Reed and Kiradech Aphibarnrat.
31. Cue your "golfers aren't athletes" fire takes over that tandem.
32. Let's talk about Phil Mickelson for a sec. I mean, you were waiting for me to get there, weren't you?
33. First things first: What he did, by raking that putt as it was still rolling, wasn't "cheating," as I've heard it called throughout the day by some fans. It's no more cheating than LeBron James taking six steps to the hoop on his way to a dunk. It's not legal. It's against the rules. But that's why a violation was called.
34. Mickelson has never done anything without having an agenda. But I really don't think his agenda in this case was to shine a spotlight on the USGA's unfair setup. At the time of his violation, the course was still playing pretty fair.
35. Was it the right call by the USGA? I don't think so.
36. Officials determined that Mickelson was only in violation of Rule 14-5, which is a two-stroke penalty. I think it was also a violation of Rule 1-2, which would be deemed a disqualification. If that was a lesser-known player, I wonder if the same ruling would've been made.
37. You know, since we're on that whole fair vs. unfair theme anyway …
38. I love when things work out this way: Mickelson is forever a gambler. The pre-tournament over/under for highest score on a single hole this week was  9.5. The over had already cashed by Friday afternoon, but something tells us Mickelson's imperfect 10 will still be remembered for a bit longer than the first one.
39. I wrote about the whole situation here.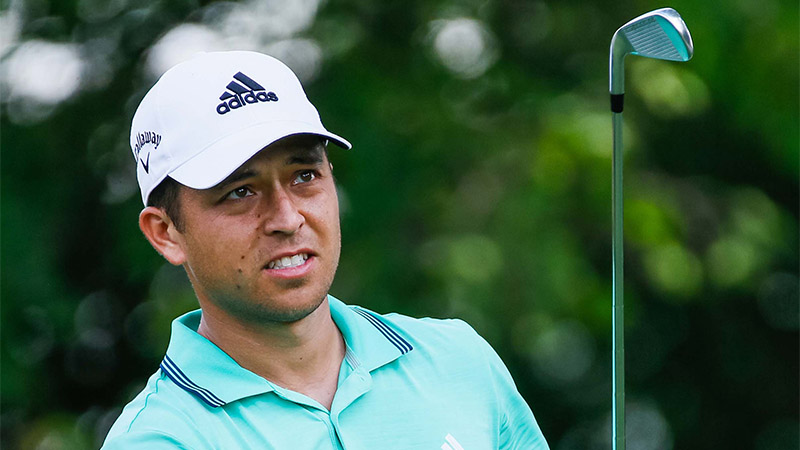 Ray Carlin-USA TODAY Sports. Pictured: Xander Schauffele
40. How far back is too far back Sunday? Again, that depends on how penal the setup is, but I think even players at 8-over – five shots off the lead – are still in the mix.
41. That's good news for Gary Woodland, Webb Simpson, Zach Johnson, Xander Schauffele, Bryson DeChambeau, Justin Thomas and Matthew Fitzpatrick.
42. I'm guessing a few of those guys have gone three rounds already without having a single shot on live television.
43. That said, it's really tough for me to fathom a guy like Dylan Meyer at 7-over getting into the mix and having a chance.
44. Branden Grace (+6000), though, starting at the same score? That could be worth a few quid.
45. The problem, of course, is that there are a bunch of proven closers near the top of the board. It's not as if the guys four or five shots back just have to leapfrog a few club pros.
46. Who's going low from the middle of the pack? Give me Paul Casey.
47. Wait, no … Francesco Molinari.
48. Or maybe Rafa Cabrera-Bello.
49. Or Brendan Steele.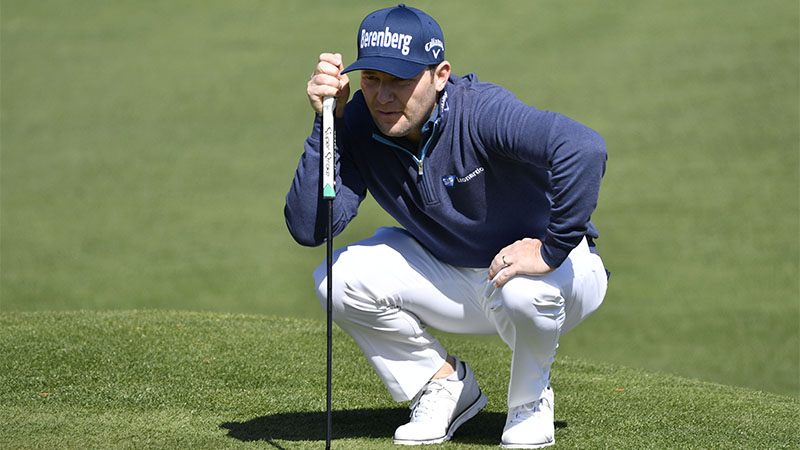 Michael Madrid-USA TODAY Sports. Captioned: Branden Grace
50. Even better: Tommy Fleetwood's revenge.
51. OK, so I have no idea who will be Sunday's version of Finau and Berger.
52. I do know this, though: Someone with a fairly early tee time is going to post a number, leave the course and make himself an awful lot of cash as he flies up the leaderboard on his way to the nearest private airport.
53. As someone who's now covered 17 of the past 19 editions of the U.S. Open, I can't tell you how nice it is to not have to worry all week about a potential Monday playoff. You can actually make some plans for that day.
54. Yes, I have a tee time. No, it's not at Shinnecock.
55. I'm not so sure the two-hole aggregate playoff is perfect, but it does make perfect sense.
56. The Masters is sudden death; the PGA Championship is a three-hole aggregate; the Open Championship is a four-hole aggregate. You really think the USGA was gonna steal a page from one of them?
57. Of those in the last three pairings, only Johnson and Rose have played in a major championship playoff — and neither has won.
58. OK, time for me to pick a winner.
59. I think it's coming out of the second- or third-to-last pairing. That's not exactly a thin limb I'm climbing on there.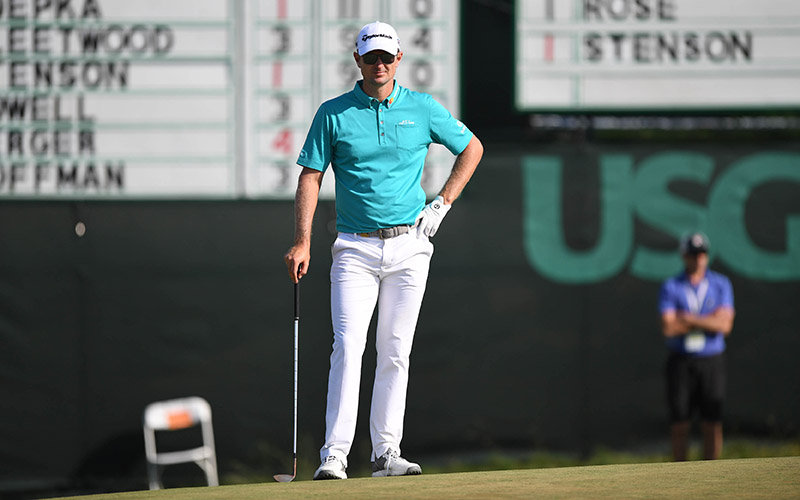 Dennis Schneidler-USA TODAY Sports. Pictured: Justin Rose
60. Give me Justin Rose (+500). He's my winner.
61. Here's why: Rose just endured one of the worst ball-striking days he's had in a long time. And yes, he's a tremendous ball-striker. But parlaying 13-of-14 fairways hit into just 6-of-18 greens in regulation is so un-Rose-like.
62. All of which is reason to expect him to hit those approach shots much better Sunday.
63. If he can continue chipping and putting like he's been — not just this week, but all year — that should free him up to be a little more aggressive and go at a few of the more gettable pins.
64. If Rose does it, those are sweet bookend U.S. Open titles — Merion and Shinnecock, five years apart.
65. No matter who wins, though, I still think the biggest story at the end of this week is the USGA and this week's course setup and — bigger picture — the future of this tournament and the organization's place within the game. I wouldn't be surprised to see some major changes out of Far Hills.
66. Whatever happens, we should all be a lot more optimistic at having Sunday drama than we were entering the weekend.
67. Let's hope we get that nail-biter, edge-of-your-seat finish that we all deserve on a Father's Day afternoon.