Lo Duca: Power Ranking Every Horse in the 2019 Kentucky Derby Field
Credit:
Brian Spurlock, USA Today Sports.
Paul Lo Duca breaks down his power rankings for all 19 horses in the 2019 Kentucky Derby field.
It should be a wide-open race, so Lo Duca breaks it down by horses with a chance and horses without one, and gives out his favorite longshot.
The 2019 Kentucky Derby is going to be a little different from what we're used to on the first Saturday of May. Normally the Derby features a clear-cut favorite. That is not the case for the 145th Run for the Roses.
The field was already wide open but things got thrown into flux even more when morning-line favorite Omaha Beach was scratched from the race thanks to an issue with his throat.
Omaha Beach's scratch turns this race further on its head, so let's dive into my power rankings to try and find the best value for this year's Derby.
HORSES THAT CAN'T WIN THE 2019 KENTUCKY DERBY
20. Bodexpress
Odds: 30-1
Post: No. 20
Bodexpress scratched into the Derby field after Omaha Beach was pulled out due to a Trapped Epiglottis. It's tough to give this 3-year-old much of a look given the late entry, so I'm steering clear of using Bodexpress on my card.
19. Master Fencer
Odds: 50-1
Post: No. 15
There is a new path created by Churchill Downs that will allow a Japanese contender to make a run for the roses. This year that horse is Master Fencer. The son of Just a Way began his career on the turf finishing 2nd and 4th, respectively. In December his trainer switched him to dirt, which resulted in his first career victory.
After another win on the dirt in an allowance race in January, Master Fencer took on his first stakes field in the Hyacinth. He settled at the back of the back and wheeled out wide to make only a mild rally for a non-threatening 4th. His final start before the Kentucky Derby was a runner-up effort in late March at Nakayama Racecourse in Japan.
Master Fencer has taken the long voyage to Churchill Downs and will be disregarded by the American betting public. There have been much stronger international shippers in recent years.
If Master Fencer can finish in the Top 10 it will be a respectable run.
18. Gray Magician
Odds: 50-1
Post: No. 4
So far there has only been one winner's photo taken in Gray Magician's career. He showed promise in the fall as a two-year-old finishing 3rd, 2nd, and 3rd behind the likes of Derby contender Improbable. After a change in trainer and ownership Gray Magician was ready to stretch out to two turns for the first time for new conditioner Peter Miller.
In that November maiden race at Del Mar, Gray Magician recorded his only win to date. He won by nine widening lengths and confirmed the early signs that he was showing, even in defeat. His first Derby Points race try was in the Sham Stakes to start the new year. He ran an even 4th that day. They tried to gun him to the lead in his next start in an allowance race over a sloppy track. He tired to 5th after the new tactics failed.
Peter Miller and Eclipse Thoroughbreds kept faith that this was a stakes colt so they decided to ship him to Maryland for the Miracle Wood Stakes. He ran a credible 2nd to Alwaysmining who will ride a win streak into the Preakness.
The traveling continued as Gray Magician took the long flight to Dubai for the UAE Derby. Despite his very wide trip he was able to finish 2nd to Plus Que Parfait in a bunched up finish.
Gray Magician will get a new jockey in Drayden Van Dyke for the Kentucky Derby. Last year, Van Dyke road Instilled Regard who was the longest shot in the whole field to a 4th-place finish. Gray Magician will be one of the longest shots in the field for this year's running as well.
17. Country House
Odds: 30-1
Post: No. 20
It will be said many times this Derby Week that Hall of Fame trainer Bill Mott has never won this race. Wood Memorial winner Tacitus would be the Mott trainee who most handicappers would point to if Mott were to win his first Run for the Roses. Mott, however, has a pair of entrants in Derby 145 with Country House being his other.
While Tacitus has multiple stakes wins, Country House has shown promise finishing behind some of this year's top contenders. After an easy maiden win to start the year at Gulfstream, he was 2nd to War of Will in the Risen Star. He then was 4th behind By My Standards in the Louisiana Derby and most recently he was 3rd behind Omaha Beach in the Arkansas Derby.
While Country House lacks a key win he has shown promise with his moves from well off the pace. He is a tall chestnut who has way more stamina than speed. He churns along with a consistent run and his speed figures have improved with each start.
Country House is by the sire Lookin at Lucky. Last fall Churchill Downs held the Breeders Cup Classic going a mile and a quarter. A son of Lookin at Lucky, Accelerate, won the race as the favorite. Country House has only one win but looks to be improving with each start.
16. Spinoff
Odds: 30-1
Post: No. 19
Going into the third week of March, top trainer Todd Pletcher didn't have one single Kentucky Derby entrant. That was until Spinoff punched his ticket to Louisville with a runner-up effort in the Louisiana Derby.
This chestnut colt by Hard Spun broke his maiden in his first race last June at Gulfstream Park. It was a typical Todd Pletcher win. He stalked the pace, took over at the top of the stretch, and held safely late. His next start was a stakes try in the Saratoga Special. In a small field of four he ran evenly with the pack to finish third beaten less than three lengths
After his two juvenile tries, Spinoff was sent to the sidelines to grow up and fix some lingering issues of soundness. After over six months without a race, he re-surfaced at Tampa Bay Downs in late February for his 3-year-old debut. Just like Pletcher's 2017 Kentucky Derby winner Always Dreaming, Spinoff built his confidence by trouncing an over-matched field of allowance foes in Florida.
His next start was the runner-up run in the Louisiana Derby which continued his improving speed-figure pattern. Spinoff attended the early pace like he has done in every start. He looked like the winner in mid-stretch but couldn't match strides late with By My Standards.
Spinoff's mother Zaftig was a Grade 1 winner and his sire Hard Spun was the runner-up in the 2007 Kentucky Derby. A key for this colt in Derby 145 will be his tactics within the race.
If he wants to take his usual seat in the stalking role in the Derby he'll have to deal with much faster horses early. A better option for him would be to lay further off the speed than he ever has before in his career. Spinoff has talent but isn't as seasoned as others in the crop at this point.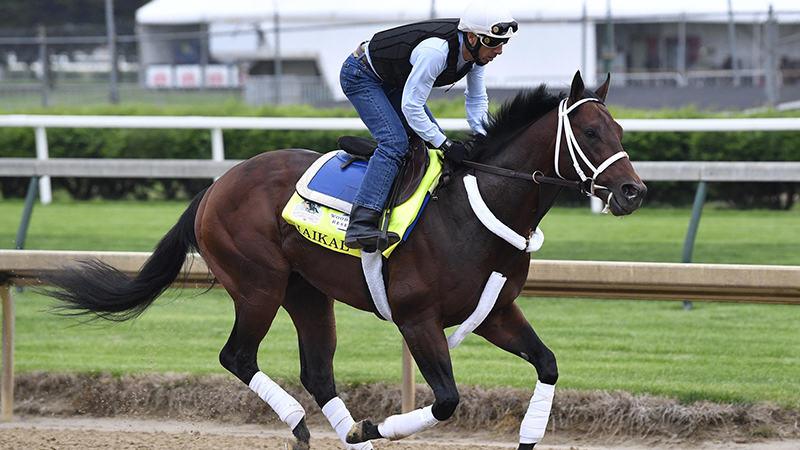 15. Haikal
Odds: 30-1
Post: No. 11
Editor's note: Haikal has been scratched from the Kentucky Derby with a foot infection.
Trainer Kiaran McLaughlin has never won the Kentucky Derby, but he's been close. In 2005 his massive longshot, Closing Argument, took the lead in the deep stretch at odds of 70-1. Right before the finish line, eventual winner and fellow longshot, Giacomo, tagged him by a head
Other than that result, Lexington native McLaughlin has also trained Jazil and Frosted to 4th-place finishes in Louisville. This year he brings another late-running outsider named Haikal.
Haikal's running style mirrors McLaughlin's trainee Jazil from 2006, he is a deep closer. In his first career start back in November at Aqueduct he launched from dead last early to just miss winning first out.
In his second start he showed the same style with a different result. This time he came from well off the pace to get up for his first win. After a brief rest over the winter he re-surfaced in the Jimmy Winkfield Stakes at Laurel, winning by a neck.
Haikal's first try in a Derby points race was in the Gotham Stakes at Aqueduct. It was a perfect setup for him. There were multiple speed horses setting a lightning pace. Jockey Rajiv Maragh was poised to uncoil a big, late run knowing the speed horses would get tired. Again, he gave his best stride in the stretch to gun down the front runners for a win.
This bay colt's win streak however came to an end in the Wood Memorial, which was his first race around two turns. He made his customary late run but couldn't get close to Tacitus or Tax, finishing four lengths behind the winner. Haikal has a lot of ability and a strong late run.
Time will tell whether his late burst will be best around one turn or two.
14. Cutting Humor
Odds: 30-1
Post: No. 10
No trainer in the history of the Kentucky Derby has ever saddled more runners than Todd Pletcher. This year he brings a pair of colts including Cutting Humor.
The dark bay son of First Samurai started his racing career last fall with an even-paced 2nd and 3rd in his first two tries. For his third start Pletcher took him to Gulfstream West to try to find an easy field to break his maiden against. Cutting Humor didn't waste the opportunity, winning by a comfortable two lengths.
Cutting Humor was freshened up for a January allowance at Gulfstream Park. He made a solid bid into the race but couldn't get past Bourbon War who pulled away late. Even off of a defeat, Todd Pletcher shipped Cutting Humor to Oaklawn Park for his first try in a Derby Points race, the G3 Southwest. Down the backside he started advancing into a very rapid pace. The bid didn't last long as he sputtered to a 7th-place finish in the wildly run race.
All hope was not lost after that disappointment as he was given one more chance to qualify for a trip to Churchill Downs. This time he would ship to New Mexico for the Sunland Derby. His jockey John Velazquez sat him behind another fast pace. Cutting Humor was able to rally past Mucho Gusto and hold off the late charge from Anothertwistafate. It was his best race to date and it was good enough to earn a spot in the Kentucky Derby.
Cutting Humor has run six races at different tracks. The field he beat in New Mexico wasn't as strong as most other preps this season. His trainer Todd Pletcher has started over 50 horses in the Kentucky Derby. Cutting Humor won't go down as one of his best threats that he's brought to Louisville.
13. Plus Que Parfait
Odds: 30-1
Post: No. 9
Trainer Brendan Walsh will be another conditioner this year leading his first horse over to run in the Kentucky Derby. Plus Que Parfait needed a trip across the globe to be able to qualify for this year's running.
After disappointing twice in New Orleans to start his 3-year-old campaign, Walsh put this chestnut colt on a plane for Dubai to contest the UAE Derby. One big reason for this trip was the fact that his owners were from Dubai.
Once Plus Que Parfait arrived he would have two new additions. First, he would be given a pair of blinkers for the first time in his career. Second, he would get champion jockey Jose Ortiz for the first time.
The race went off and Plus Que Parfait took advantage of a beautiful inside ground saving trip. He quickened in the lane and held off the wide challenge from Gray Magician. With the win, he and Walsh had punched their ticket back to Louisville.
Although he comes into the Derby off his best race, the same setup won't present itself on the first Saturday in May.
The quality of the race in the UAE Derby certainly ranked towards the absolute bottom of this years prep races. Unsurprisingly, Ortiz has chosen to take off Plus Que Parfait to ride Tacitus. The blinkers seemed to help, but the soft competition of the UAE Derby seemed to help even more.
12. By My Standards
Odds: 20-1
Post: No. 3
Trainer Bret Calhoun has never had a starter in the Kentucky Derby. That is about to change on May 4th when By My Standards walks into the starting gate. The colt by Goldencents began his career at Churchill Downs last November with a runner up effort. Three starts later at the Fairgrounds in New Orleans, he was still yet to win.
In mid-February, By My Standards was ready to assert himself. Breaking from the all the way outside post he stalked the pace from a wide position and awaited his cue. Taking over at the quarter pole, By My Standards not only won his first race, but he drew away by over four lengths.
This colt was no worse than third in his first three races. After his first win in start number four, his trainer said he could see a difference in his demeanor and presence after his breakthrough. This bay colt's confidence was on the rise. Calhoun was ready to take him straight to the Louisiana Derby to see if his new winning confidence could take him all the way to Louisville.
Breaking from an inside post, By My Standards settled in a striking position. After the big favorite War of Will broke very poorly this race seemed up for grabs down the backside. As they entered the stretch By My Standards was saving all the ground on the rail. He engaged leader Spinoff at mid-stretch and then drove by to win by less than a length.
In just over a month By My Standards went from a winless 3-year-old to a Louisiana Derby winner taking his trainer to the Kentucky Derby for the first time.
His speed-figures look light in comparison to the rest of the field. He also benefitted from a home track advantage and a perfect inside trip. Bret Calhoun's first Derby starter will be a longshot.
11. Tax
Odds: 20-1
Post: No. 2
Last October Tax was not only a maiden, he was a maiden for sale. After finishing runner-up in his Churchill debut he made his second start at Keeneland for a $50k price tag. Trainer Danny Gargan had his eye on this horse and decided to drop in a claim to purchase him. Tax ended up winning that race at Keeneland and Gargan's claim went through. For the price of $50k Tax switched trainers and barns.
Gargan showed an immense amount of confidence to place his newly purchased two year old right into a stakes race in New York at Aqueduct. Tax stepped his game up immediately finishing 3rdin the prestigious Remsen Stakes.
The next start for Tax was his career highlight to date. He stumbled slightly at the start of the Withers Stakes and lurked right behind the pacesetters. As they turned for home the rail opened up and Tax shot through to win by a gritty head. Tax had gone from a maiden claimer to a stakes winner on the cusp of making the Kentucky Derby. This race however turned out to be one of the weaker contests on the 2019 Derby Trail.
The final Derby prep race for Tax came once again at Aqueduct, this time in the Wood Memorial. Unlike his last start Tax broke much more alertly and was poised in third behind a very hot pace. Once the frontrunners gave in at the top of the stretch it became a two horse race between Tax and Tacitus. Tax had the lead briefly but couldn't match strides with Tacitus late. His runner up effort officially punched his ticket to Louisville.
No matter what happens in the Kentucky Derby, Tax will go down as a vast over-achiever. It's an absolute rarity for a horse to be claimed and make it to the first Saturday in May. Tax will be one of the biggest longshots on the board.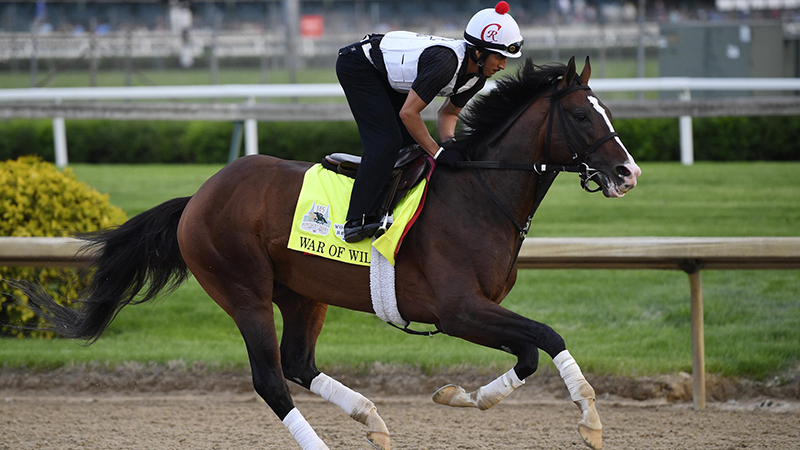 10. War of Will
Odds: 20-1
Post: No. 1
From the beginning of his career, War of Will was always referred to as a potential standout star in the Mark Casse barn. His owner, movie mogul Gary Barber, continued to say before this horse even raced that he was a special horse.
After he ran 3rd in his debut, the connections decided to send him right to a stakes race. The super-talented maiden held his own in three straight stakes tries including the Breeders Cup.
After his Breeders Cup run trainer Mark Casse decided to switch him from the turf to the dirt. With that move he also dropped back down to a proper maiden race to try to earn his diploma. War of Will passed this exam easily. He stalked the pace and pulled away by to win his first race on dirt.
Two big fields in Louisiana couldn't even warm up War of Will. In both the LeComte and the Risen Star he stalked ominously, took over at the top of the stretch, and ran clear of all his vanquished foes. He had already punched his Derby ticket in February.
Going into the Louisiana Derby War of Will was a perfect 3-for-3 racing on the dirt. He was the odds-on favorite in a field of 11. Yet, after a few strides out of the gate he lost action in his hind end creating a bizarre, scrambled stride. He wasn't traveling through the race like he had in his previous two stakes wins. War of Will never threatened after his very awkward dispatch and faded back to 9th.
Mark Casse is still intent on running War of Will in the Kentucky Derby after tests showed that he came out of his mishap sound. He has worked forwardly since he's arrived back in Kentucky.
This horse was regarded as one of the best 3-year-olds in his class before the Louisiana Derby but you rarely see horses recover from that poor of a final prep to have an impact on the Kentucky Derby.
9. Win Win Win
Odds: 15-1
Post: No. 14
It's never a bad way to start your 3-year-old season by setting a new track record. That's exactly what Win Win Win did in the Pasco Stakes at Tampa Bay Down going just less than a mile in a rapid clocking. The Maryland-based colt won by seven lengths in his first start in Florida. Now trainer Michael Trombetta was ready to send him around two turns for his first Derby Trail race in the Tampa Bay Derby.
One thing Win Win Win has shown in almost every start is a small misstep for his first stride out of the gate. He stands in the gate with pent up energy and the only way to release it is with an awkward first stride once the race begins.
This typical move found him sitting towards the back of the field in the Tampa Bay Derby. He raced wide into the lane and came with a run late. The top two finishers had already separated from the field by the time Win Win Win found his best stride. He had to settle for third.
It was more of the same in his final prep at Keeneland in the Bluegrass. The break was another start where he wasn't alert enough to get forward position. He raced at the rear of field and ran on late for 2nd, three lengths behind winner Vekoma.
Win Win Win's track record in January speaks to his ability. Yet that was in a one-turn race and he's still trying to prove that his talent is viable enough to compete against the crop's best at the classic distance.
8. Code of Honor
Odds: 15-1
Post: No. 13
They say pace makes the race.
That axiom has been very true for Derby contender Code of Honor. When trainer Shug McGaughey sent him to the G2 Fountain of Youth at Gulfstream in February there was a ton of early pace. Code of Honor saved every inch of ground from his rail position and waited to take aim at the over-zealous frontrunners coming into the stretch. With a perfectly executed ride by John Velazquez he won the race by a little less than a length and earned his right to be in Derby 145.
Even though his spot was secure, Code of Honor still had one more race before Louisville, the Florida Derby. That race provided him with no pace to run at. The favorite, Hidden Scroll, was pulled back early to try new rating tactics. The eventual winner Maximum Security was galloping along very slowly on the lead. As the field turned for home the two frontrunners had enjoyed such an easy lead. They kept running in formation for a 1-2 finish. Code of Honor could only come up for a distant 3rd.
This chestnut colt has a unique European sire in Noble Mission who was a full brother to an all-time great Frankel. Code of Honor's female side of the family has plenty of American dirt success. Aside from his eccentric pedigree Code of Honor also has a very compact build. He weighs in at "only" 950 lbs., making him one of the lightest horses in the field.
Trainer Shug McGaughey thinks that could be a plus as he can maneuver through traffic more effectively than some of the bigger horses in the race. Code of Honor showed promise as a juvenile and has developed into one of the better horses in his crop. He comes from off the pace and will be trip and pace dependent.
MY FAVORITE LONGSHOT
7. Long Range Toddy
Odds: 30-1
Post: No. 18
Owner Willis Horton knows what its like to own an Eclipse Champion 3-year-old. He was the owner of Will Take Charge who was the 2013 champion. Will Take Charge punched his 2013 ticket to the Kentucky Derby with an upset win in the Rebel Stakes. Ironically, Willis Horton's colt this year, Long Range Toddy, also punched his ticket to Louisville with an upset win in the Rebel Stakes.
After graduating through the ranks at Remington Park in the unheralded racing state of Oklahoma, trainer Steve Asmussen saw fit to ship his colt to Oaklawn Park to see how he stacked up against Derby Trail competition. He acquitted himself nicely in his first try in Arkansas by finishing a close 2nd in the Smarty Jones. He backed that effort up with a hard trying 3rd in the Southwest Stakes.
The break-out race for Long Range Toddy came when he upset the undefeated Improbable in the Rebel Stakes. That race was a perfect storm. It was the first start of the year for the heavy favorite, Improbable, who also faced a super-wide trip from his outside post.
While the favorite was covering way too much ground in the middle of the track, Long Range Toddy was laying back saving all the ground. When they came into the stretch Improbable looked like the winner. Yet jockey Jon Court wheeled Long Range Toddy out and he ran down the favorite in the last stride for the upset, cementing his spot in the Kentucky Derby.
The shine from this colt's upset win didn't last long. In his final prep race he was given a wide post in the Arkansas Derby. He made a brief bid into the last turn but quickly faltered as Omaha Beach and Improbable quickened away from the field. Long Range Toddy finished a disappointing 6th. Don't look for him to enjoy the same career success as Willis Horton's former champion Will Take Charge.
THE CONTENDERS
6. Maximum Security
Odds: 10-1
Post: No. 7
Needless to say, Maximum Security has been a big surprise to trainer Jason Servis. When he was entered into his first race at Gulfstream Park in December he was offered to be sold for the very low tag of $16,000.
Maximum Security not only won that race, he dominated by over nine lengths. Luckily for Servis and owners Gary & Mary West nobody put in a slip to claim him before the race. The horse was still theirs after the surprising win.
His next start was an allowance race over a wet track and he again won with the utmost ease. While he had won his first two starts nicely, Maximum Security's real breakout didn't happen until his third start.
Again entered into an allowance race he drew the rail as the heavy favorite. No other rival went with him early and he was rolling along at his leisure. Not only did he win the race, he widened his margin to over 18 lengths by the time the finish line came up. That win resulted in a 102 beyer, which is the highest of any Derby horse this year.
Maximum Security's 18-length win was worthy enough to enter him into the Florida Derby at Gulfstream Park, where he had run his previous three races. This bay colt got a big assist in that race when jockey Javier Castellano decided to wrangle back the speedy favorite, Hidden Scroll.
That allowed Maximum Security to get the easiest of leads. He made the field pay for this free pass to the front. Around the final turn the undefeated colt wasn't stopping. He held a clear margin through the lane to win the Florida Derby by three plus lengths. In just over five months Maximum Security went form being entered into a lowly maiden claimer to the Kentucky Derby.
For being the only undefeated horse in Derby 145, Maximum Security isn't getting much attention from the handicappers. They are citing the fact that he has had two very easy leads in his last two wins. Plus, he's only raced at Gulfstream Park for a trainer who was hitting at an unbelievable win rate at the track throughout the meet. While that is all true, Maximum Security has the highest beyer speed figure in the entire field and is the only Derby entrant yet to lose.
5. Vekoma
Odds: 20-1
Post: No. 6
The name for Vekoma came from a roller coaster maker in the Netherlands. So far Vekoma has taken his trainer, Louisville native George Weaver, on one of the best rides of his training career.
This chestnut colt wasted no time announcing that he was a serious horse. His Belmont debut last September was an impressive win in a very fast time. He aced every test in that first start. He broke well, stalked in 3rd, took over in the lane, and beat two future stakes horses.
After that maiden win George Weaver spotted his colt in the Nashua Stakes. That race was more of the same. In almost identical fashion Vekoma stalked and took over confidently to win his first stakes and stay undefeated. With Derby hopes in focus, Vekoma was given the winter off from racing and pointed to the Fountain of Youth stakes at Gulfstream Park.
While he didn't win that race he did a lot of good things in his comeback. He broke sharp again and raced wide into a very fast pace. He couldn't quicken with the top two horses who had recent races, but he was able to pass the favorite Hidden Scroll late to finish 3rd.
Instead of staying at Gulfstream for the Florida Derby, Weaver decided to ship north to Kentucky for the Bluegrass Stakes, which looked to be an easier spot to punch his Derby ticket. Vekoma proved he was in a different class than that field by winning by over three lengths in dominant fashion. He has a unique stride that isn't visually appealing, but its effective.
Even off a win Vekoma isn't getting much attention in this year's Derby. His mother won a Grade 1 at Churchill Downs and his jockey Javier Castellano has won four of the last six Eclipse Champion Jockey Awards. Vekoma's only career defeat came in his first race of the year with a wide trip and he still finished a very credible 3rd.
He's one of the most undervalued horses in Kentucky Derby 145.
4. Tacitus
Odds: 10-1
Post: No. 8
Three-time North American Leading Sire Tapit has won nearly every big race with his progeny during his decade-plus reign as an elite stallion. Well, every race that is minus the Kentucky Derby. His entrant this year is a gray colt just like himself named Tacitus.
This colt hails from a female family that was Grade 1 quality with his dam being Close Hatches. Tacitus is royally bred and in his last two races, those bloodlines have started to show.
His two starts as a juvenile served as good building blocks. He ran an even 4th in his debut at Aqueduct. In his second start he broke his maiden with a wide move at Belmont. Trainer Bill Mott went nearly four months without a race for this gray colt and finally entered him into the Tampa Bay Derby in March.
It only took one race to start the new year for Tacitus to earn his spot in Derby 145. The early pace was burning hot in the Tampa Bay Derby and Tacitus was stoking up a big rally. As the horses up front started to tire Tacitus was perfectly piloted for a late rally by Jose Ortiz to win by just over a length.
For his final prep Tacitus would ship to his 4th different track in four starts, this time Aqueduct for the Wood Memorial. Again Tacitus got a very similar setup to his last win. After some bumping and scrimmaging in the first turn, two pace-setters tore away from the field down the backside setting a warp speed pace. Tacitus sat behind Tax and was waiting to make his move. Into the stretch, Tax took over, but only for a brief second. Tacitus was drafting behind and made the last run for the win.
This gray colt is a perfect 2-for-2 this year and has top-class pedigree and connections. His two wins have come with a lightning fast pace in front of him, which helped his late kick. The challenge for Tacitus in the Kentucky Derby will be what looks to be a more moderate early tempo.
The horses in front of him will have much more ability in this race than the horses in front of him early in his last two races.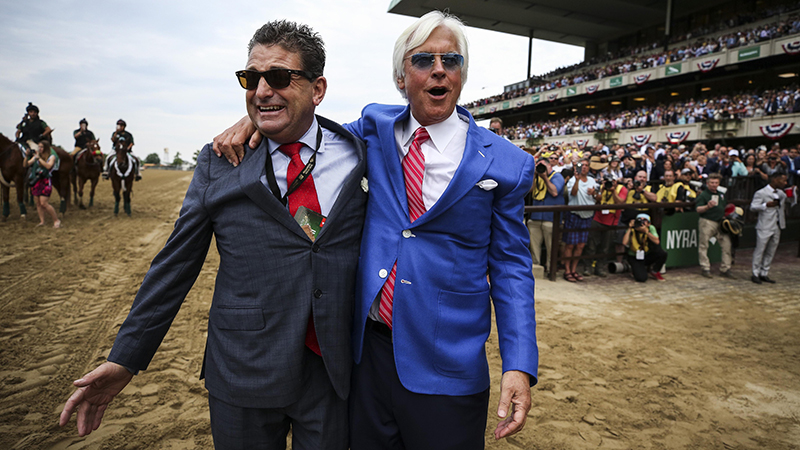 3. Improbable
Odds: 6-1
Post: No. 5
Last year, it was a chestnut colt named Justify owned by WinStar Farm & China Horse Club who swept the Triple Crown. This year WinStar & China Horse Club are back with another chestnut colt in the Kentucky Derby, this time named Improbable.
This was a horse that was held in such high esteem when he first came to the Bob Baffert barn last fall that he was given the nickname "Baby Justify".
The first three starts as a 2-year-old for Baby Justify did nothing to tarnish that potential nickname. He won his first start as expected. He shipped to Churchill to dust off a Breeders Cup undercard race in his second start.
For the final start of his juvenile campaign Improbable came back to California to win the Los Alamitos Futurity by five easy lengths. He completed his 2-year-old season undefeated and one of the Derby winter book favorites.
Like most established 2-year-old Baffert contenders, Improbable was pointed to a two-prep schedule to lead him up to a peaking performance in the Kentucky Derby.
His first start as a 3-year-old came at Oaklawn Park for the Rebel Stakes. He was the heavy favorite from the outside post. The trip was less than ideal as Improbable raced egregiously wide throughout. Local horse Long Range Toddy got a dream trip along the inside and was able to catch Improbable in the final strides.
After his first defeat, Baffert decided to add blinkers to this colt. As he stood in the gate with blinkers for the first time in the Arkansas Derby he got very fractious and lifted up badly in a panic. The gates finally opened and he found himself behind the favorite Omaha Beach. He made a big bid into contention to challenge his rival but couldn't get by late. He was defeated a length.
Improbable's two second-place efforts this year seem to have excuses. He was extremely wide in the Rebel Stakes and he was very fractious before the Arkansas Derby. The blinkers will come back off for the Kentucky Derby. His jockey in the Arkansas Derby Jose Ortiz chose to ride Tacitus.
The new jockey for Improbable ironically will be Jose Ortiz's brother Irad, who is the reigning Eclipse Champion Jockey.
2. Roadster
Odds: 6-1
Post: No. 17
Last summer, Triple Crown-winning trainer Bob Baffert was stopped by TMZ and asked who his next Justify was going to be. His answer was Roadster.
The gray son of Quality Road flattered Baffert's opinion by winning his first race at Del Mar last July by over four lengths. All the attention was on him for his second start as the heavy favorite in the Del Mar Futurity, a race that Derby champions American Pharoah and Nyquist both won. Roadster however disappointed as the favorite finishing a close 3rd behind stable-mate Game Winner.
Coming out of his first defeat in the Futurity it was found that Roadster had a breathing problem, which needed to be fixed. He was given a procedure known as a "tie back" which opens back up the airways. This is the same procedure Frosted had in 2015 before winning the Wood Memorial.
After a successful procedure and nearly six months away from the races, Roadster was back in the starting gate at Santa Anita for an allowance race to kick off his 3-year-old campaign. The fast gray colt had no problem with this field. He was on cruise control throughout to win by a safe distance.
For his final prep race Roadster needed to pick up enough points to make it to the Run for the Roses. He was entered into the Santa Anita Derby against familiar stable-mate Game Winner. This time jockey Mike Smith tried completely new tactics. He took Roadster well off the pace from his inside position and waited until the stretch to ask for his best run. With a full head of steam he was able to get by Game Winner in the final strides to win the Santa Anita Derby.
Roadster ranks near the top of the class when grading on natural ability. With Mike Smith making the tough decision to ride the now-scratched Omaha Beach in the Kentucky Derby Roadster will get the services of Breeders Cup Classic winning jockey Florent Geroux for the first time.
His stallion Quality Road is on fire this year. He sired Pegasus winner City of Light as well as Oaks favorite Bellafina. Roadster has never had to deal with any traffic in his four-race career. That might change in the Kentucky Derby with a field of 20. He certainly has the talent to win the race.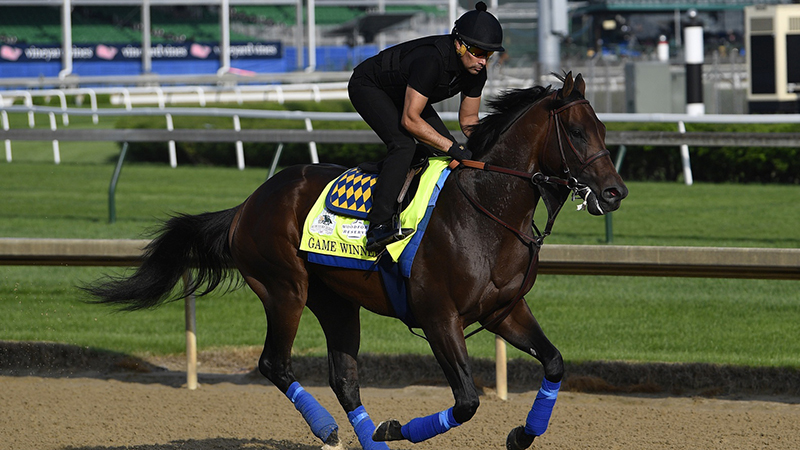 1. Game Winner
Odds: 5-1
Post: No. 16
There was no tension in the room when they opened the envelope for 2018 Eclipse Juvenile Champion. Game Winner had already proven on the racetrack that he was clearly the most accomplished 2-year-old thoroughbred.
He won his first race at Del Mar in commanding fashion. In a very quick turnaround he was wheeled back into the Grade 1 Del Mar Futurity. In this race he would take on his stable-mate Roadster, who was favored to win. Game Winner however stole his stable-mate's thunder and won nicely while Roadster was back in 3rd.
Up next was an easy waltz around Santa Anita to win the G1 American Pharoah Stakes. Then Game Winner shipped to Louisville as the odds-on favorite for the Breeders Cup Juvenile. He was on the attack throughout and in deep stretch pushed by stubborn longshot Knicks Go to win by over two lengths. He completed his 2-year-old season undefeated. Game Winner was the undisputed Juvenile Champ.
It was planned for Game Winner to have two starts before his return to Louisville for the Kentucky Derby in May. His first start was at Oaklawn in the split division of the Rebel Stakes.
After a bobble at the start, Game Winner was further back than desired as the talented Omaha Beach ran free on the lead. He made a bold bid around the final turn and then the race was on. Game Winner and Omaha Beach went stride and stride but Game Winner could never get by. It was the first lost of his career, but a hearty comeback race to build on.
His final prep race was in the Santa Anita Derby in a small, but select group. The very fast Instagrand was in the gate as well as Roadster. Game Winner again had a very wide trip, but was always attacking from the outside. At the top of the lane he had advanced all the way up to front running Instagrand and was ready to overtake his foe. He did push by Instagrand but now another threat entered the picture. Roadster had a full head of steam in the middle of the track. Game Winner couldn't stave him off and lost by a half length.
The undefeated Juvenile Champion Game Winner now returns to the site of his biggest win coming in off two narrow defeats. Even in losses his speed figures show that he has still developed off his very impressive two year old form. He is the most battle-tested horse in this year's Kentucky Derby.
How would you rate this article?