This Week in Made-Up Odds: Let the Triple Crown Hyperbole Begin!
Credit:
May 5, 2018; Louisville, KY, USA; Mike Smith aboard Justify (7) celebrates after winning the 144th running of the Kentucky Derby at Churchill Downs. Mandatory Credit: Jamie Rhodes-USA TODAY Sports
Our latest collection of totally fictional, mostly irrational betting propositions — because sportsbooks don't post everything they should.
Triple Crown Over/Unders
Off  Number of mentions of Apollo before 2019 Kentucky Derby
O/U 1,935 Number of mentions of "Sunny Jim" Fitzsimmons after the 2018 Preakness Stakes
O/U 1  Number of mentions of Secretariat necessary after any Triple Crown race ever
The Lines
Prop Bets
Next Redskins "Ask" to be Naked
99-1  A sponsor
98-1  A back judge
3-1  Clinton Portis
2-1  Whoever's under center come December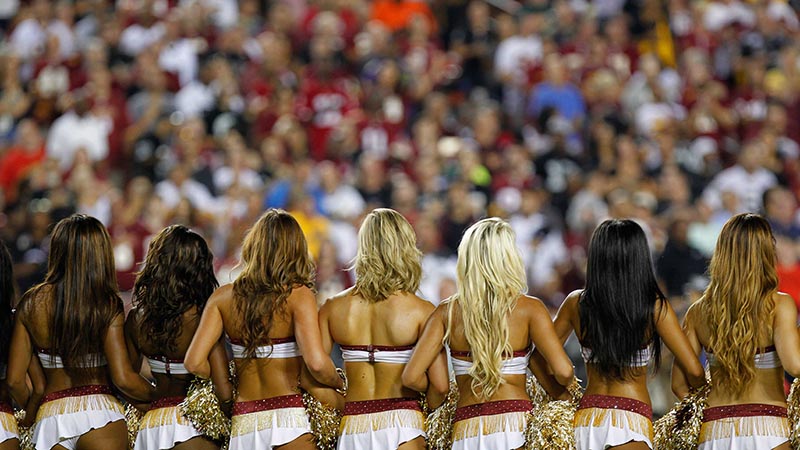 A New York Times report last week alleged that Redskins cheerleaders were asked to pose topless and accompany team sponsors at a nightclub. Credit: Geoff Burke-USA TODAY Sports
Milwaukee Bucks Coaching Search
O/U 6,100  Media stories praising team's interview of Becky Hammon
61-1 Odds of Hammon being named Bucks' head coach
31-1 Odds of Giannis Antetokounmpo's mom being named Bucks' head coach
O/U 3  Media stories praising team's inevitable choice of a middle-aged white guy