Circa Sports Launches Colorado Betting App, CEO Discusses Expansion & More
Circa Sports becomes the latest book to join the mobile sports betting market in Colorado with the launch of its app on Wednesday.
Darren Rovell talks to owner and CEO Derek Stevens about the book's expansion and its forthcoming three-story sportsbook in Las Vegas.
The Colorado sports betting market welcomes another mobile operator: Circa Sports.
The Las Vegas-based sportsbook launched its app in the Centennial State on Wednesday, almost exactly one year after rolling out its first mobile sports betting offering in Nevada.
Circa Sports offers Colorado bettors another option for line shopping, offering odds on all the the major sports (once leagues resume play). In the meantime, the book offers markets for UFC, golf, soccer and more.
Darren Rovell talked to Circa Sports owner and CEO Derek Stevens about his book's recent expansion efforts, including the opening of a three-story sportsbook in Las Vegas this October. Watch the interview or read the lightly-edited transcription below to learn more about the opportunity Stevens sees in Colorado, what to expect from their new Vegas sportsbook and more.
Rovell: What does [your entrance] into Colorado mean for Circa?
Stevens: I think Colorado is going to be a great state [for us]. The Colorado regulators spent quite a bit of time in Las Vegas working with operators and the Nevada Gaming Control Board, and I think they set up Colorado in a way to be very, very successful.
Remote registration, remote funding — I think Colorado is going to be one of the top [sports betting] states in the country.
Rovell: Colorado could be a 90% mobile state. So what do you do as a brand if you're the seventh or eighth entrant into this market to jump to the top?
Stevens: I think what Circa Sports is going to bring to the table — and I agree; I think it's going to be more than 90% mobile [vs. in-person betting], it could be more of a 95%-plus market — is the opportunity to give consumers the ability to get 1) some bigger wagers down 2) and I think we're going to bring some value to the table.
When we launch, it's going to be very clear, for example, when you look at the Rocket Mortgage golf tournament — I would tend to think we're going to have 50-70% of the participants that we show will have the best odds in Colorado available. I think Circa Sports is going to carve out a niche of some great value and the ability for people to get down some decent money.
Rovell: When you're not the first or second [entrant into a state] how much do especially new gamblers look for value? Or do they say, "I've already been with this brand; I don't want all these apps"? How do you let them know and do you think they care about having better odds?
Stevens: I think from what we've seen from some of the early states and early adopters that customers are pretty sticky with their app, but I do think customers are all looking for a couple different apps.
It seems to be that most individuals have at least two if not three apps on their phone, and that makes a lot of sense because people want to line shop. Something that's not an immediate play — like a golf tournament or NASCAR race — it makes a lot sense to go to all three of your apps, and if you like a particular player … that's how the consumer is going to get the value.
I think Circa Sports is really going to be able to fill a niche for the consumers of Colorado, and we'll be one of the apps on their phone.
Rovell: How, as a smaller company, do you get live markets going and the right speed [of accepting bets]?
Stevens: The element of live wagering is really a different definition for every book.
We've been booking at commercials for all of our live betting; we think it provides a better opportunity for the player to make a decision. We try to minimize the number of times you get the spin on your phone, and I think that for the sports we've been focused in on — currently it's been UFC, golf and the four major American sports — we've been posting a line during commercials when you have a 60-second window is more of an optimal way to make a play.
I'm not really convinced at this point that in-game wagering while the game is taking place — like in a hockey game, for example — is necessarily a growth market. It certainly is during commercials, and that's what we've focused in on the last year at Circa Sports, and that's what we'll focus in on going forward for a little bit here.
Rovell: What's the sport that's surprised you the most over the last year in terms of interest?
Stevens: Without question I would say that has to be Korean baseball. A year ago, Korean baseball was not on my radar — I know a few players who went there, but I can tell you I only watched a couple games prior to this season and it's a lot of fun … obviously more so in the past with their crazy, energetic fans, and players, but Korean baseball has been amazing.
For us this year, after it got to the point where there was one Korean baseball game on TV in America every day, we're booking more on a Korean baseball game than what we did on an average MLB game at the end of last season, which is stunning.
Rovell: Get out of here. You're telling me there's real money there?
Stevens: It's real money. It may be because it's the only thing available, that's true, but the fact that it's on television and there's so much pent-up demand to bet on baseball — the product's been fun and great to watch, and you've got all the drama you'd see in the big leagues and MLB. The volume on Korean baseball is the one thing that stands out to me as wild.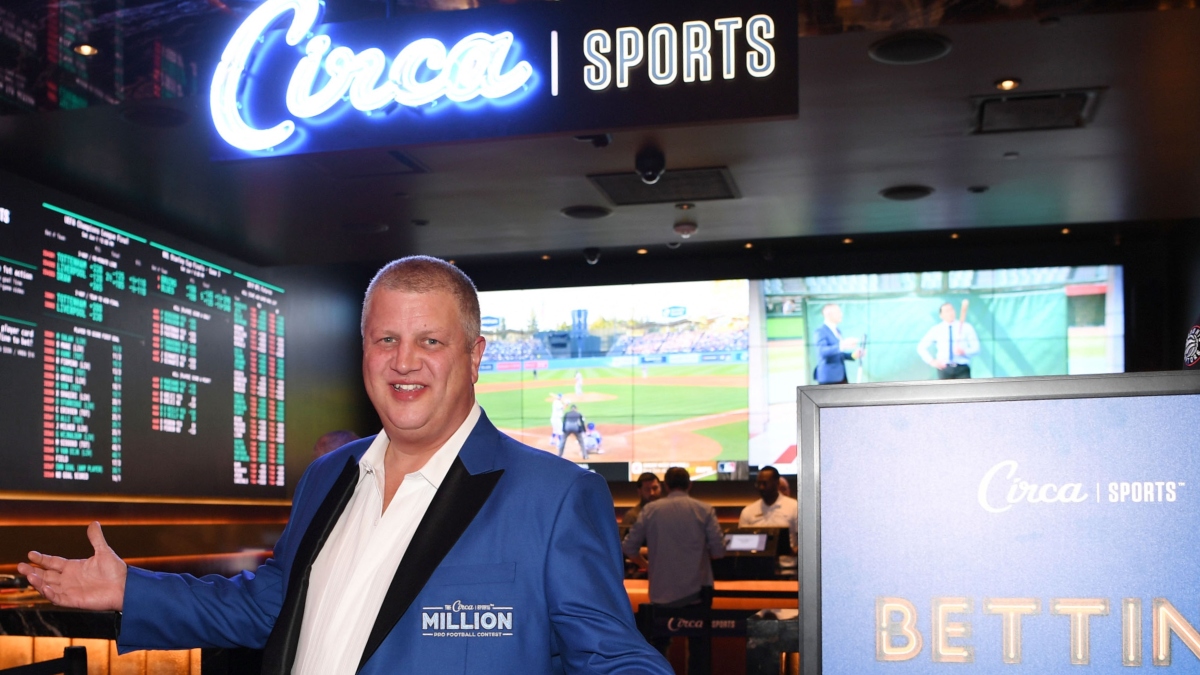 Rovell: Let's talk about the building of the big Circa sportsbook. Tell me about it and tell me how you feel as an entrepreneur going against the pressure of what we're now living in.
Stevens: This was a project that started a ways back.
We purchased the Las Vegas Club in August 2016, so this has been more than a four-and-a-half year project. We always said we were going to open in December 2020. What happened in the state of Nevada — the governor determined that construction was an essential function, so we were able to accelerate the construction schedule a little bit.
We're excited; we're going to open up Oct. 28 for the casino, restaurant and retail portion, and we're going to open up the hotel on Dec. 28. The real fun of this is that we're going to be able to open up our outdoor pool amphitheater Oct. 28, and we're going to be able to open up the world's largest sportsbook — a three-story sportsbook — at Circa on Oct. 28.
I think today we're going to put seating up for sale on the Circa Las Vegas website, and next week we're going to put up for sale seating for the outdoor pool amphitheater. Should be some great places to watch sports and get some bets in.
Rovell: What do you mean you're putting seating up for sale? How does that work?
Stevens: Our sportsbook is going to be the largest in the world. Obviously, we're going to have seats available for some of the big players, but we're also going to provide a retail component where you can buy seats and booths. We'll have areas where if you have eight people in your group and you want to watch football on a Saturday or Saturday, [you can]. So we'll have a retail component to it as well, and that's the same thing for our outdoor pool area.
All that's going up for sale next week. Should be some great viewing; some of the major sports coming up are the Masters and potentially some playoff action and obviously football. We think the second half of 2020 could potentially be the greatest six-month period we've ever seen.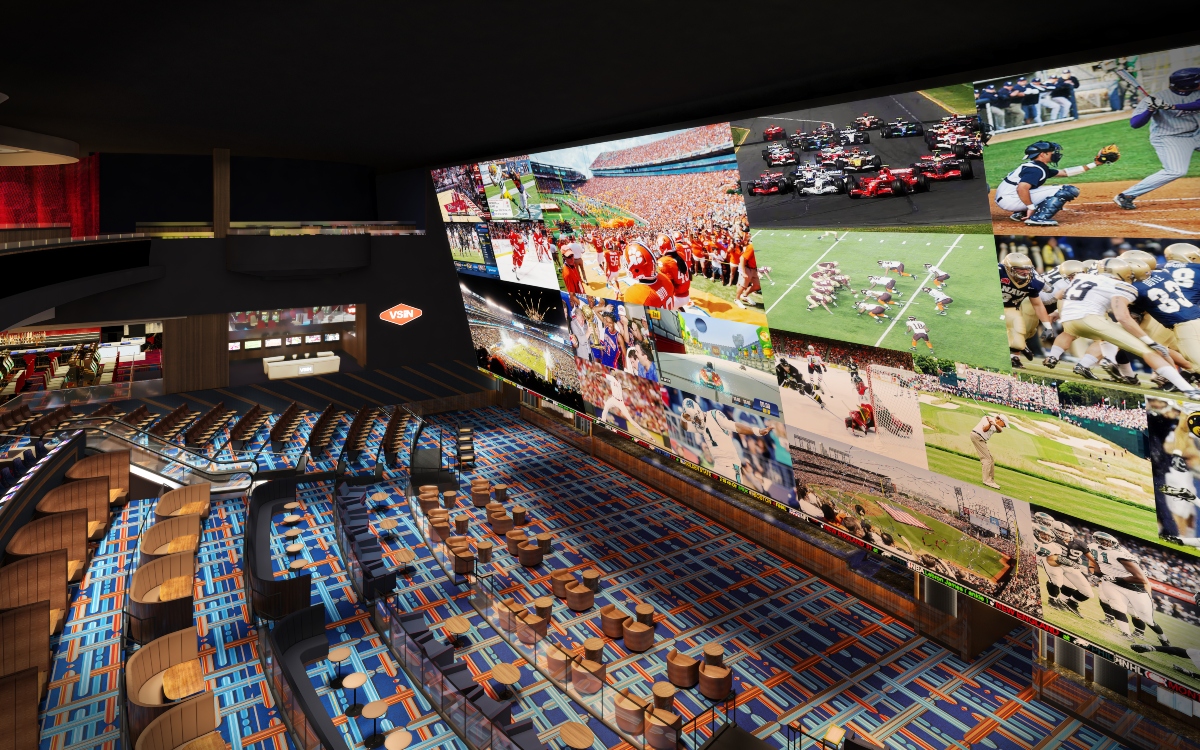 Rovell: How confident are you that this is still a good thing to have given where we're at?
Stevens: We're prepared with this great brick-and-mortar location, but with what's happened on mobile from a sports [betting] perspective, we're prepared there as well.
Hopefully the [COVID] numbers across the country start getting better. When we open in four months from now, hopefully we have some good information that's coming out where we're able to open and get Vegas back to where it was.
Rovell: When Vegas returned, it was mask-optional — not for employees but for patrons. Given what's happened, do you think that was a mistake?
Stevens: When Vegas opened on June 4, remember this was about the sixth market that opened — South Dakota opened, Arizona opened, California opened, Louisiana opened — so when Nevada opened, we already had three weeks worth of data of what was transpiring in other locations.
I think based on the information that was available at the time, I think the Nevada Gaming Control Board did a great job. It was only a couple weeks later that the mask requirement happened for tables, and last week the mask requirement happened for everyone in the state.
Obviously if you look back with 20/20 hindsight you might say "yeah, we should've opened with masks for everyone," but I don't think that's a Nevada thing. That happened across the country, and frankly the data was different four weeks ago. Now I think it's much easier because, if four weeks ago you had a mask requirement, you would've had a lot more of a problem.
Nowadays if you walk into a casino or a grocery store, everyone's got a mask on. I think customers have changed quite a bit over the last three weeks, and I think society's changed quite a bit over the last three weeks, especially on the West Coast.
Rovell: How do you think sports betting will bounce back compared to other businesses? How fast it will return to its former form?
Stevens: I think sports betting is going to bounce back quickly. I'm assuming we're able to get baseball going on July 23; I'm assuming NHL can figure out these locations and get it going. I think there's so much pent-up demand for major sports, and sports betting now with the mobile access … it's a perfect outlet with social distancing in mind.
I would expect the second half of this year to blow away all records in every state. You're going to see the most amount of wagering we've ever seen. I think the boredom element: that's something that's out there, and I think we've seen it with betting on KBO and alternate sports.
So I think sports could potentially have the largest bounceback of any industry. There will be a lot of fans who won't be going to the games — that's just more eyeballs watching, and people will still want to make a wager, whether they're at a big college football stadium or not. They're going to watch the game, and they're going to want to have a little action on it.
Rovell: You guys started opening up lines in college football and the NFL last year. There's some risk to it. Was that a profitable venture, and if you weren't going for profit, did it succeed in your goals?
Stevens: The fact that [Circa bookmaker] Matt Metcalf and his team were able to be the originators … it was a pretty amazing thing. They were able to post college football lines earlier than anyone in the world. To be the originator is something. It's also intimidating when you see sharps lined up at the window ready to get down with fistfuls of cash, and these guys are brilliant guys.
But this matches up with our [business] model: We're not trying to back away from these guys. We want to let them take a shot at the opening line, and from our perspective, we believe that two hours into it our line is a higher quality line. If these professional bettors make a little bit of money, that's worth it to us because we feel we have a better line that's going to last throughout the rest of the week.
There's some value that gets created. I thought it was a great thing.
Rovell: You're going to continue to do it?
Stevens: Absolutely.
How would you rate this article?