How to Start Sports Betting in Michigan: A Step-By-Step Guide
Credit:
Scott W. Grau/Icon Sportswire via Getty Images. Pictured: Irony
Michigan sport betting's long-awaited arrival is finally here.
Ten sportsbooks have been cleared to launch on Friday, with more to follow in the coming months.
The good news is that's it easy to get started. Legal sports betting operators have removed many of the tricky barriers for new bettors thanks to seamless deposits with a bank account or credit card, fast withdrawals, and easy-to-use mobile apps.
Here's how to sign up and make your first legal sports bet in Michigan.
How to Start Sports Betting in Michigan
Step 1. Pick a Sportsbook
Michigan will have 10 books live on Friday, so there's no shortage of options. But with how new sports betting is in the United States, there aren't a ton of innovations — many books offer similar promotions and products. Many even use the exact same odds providers.
Let's start with BetMGM, where you can get $200 in free bets by signing up early ahead of the Friday launch. MGM actually does have some unique offerings, and often doesn't exactly mirror other sportsbooks.
Step 2: Sign Up
Create a new account at BetMGM by following the prompts. You may need to provide proof of identity, like a driver's license and social security number. That's so you can't create multiple accounts using fake names.
You can sign in with an existing DFS account at DraftKings or FanDuel, though the web address and mobile apps are different.
Pro Tip: If you're traveling to Michigan from a state without legal sports betting, use all your real information. It is perfectly legal to sign up and bet while you're inside Michigan's borders. Don't try to use a friend's address or your parent's address. You'll run into issues confirming your identity.
Step 3: Deposit Money
Any money you want to bet, you have to deposit up front. You can't bet on a World Series future and settle up when the season ends.
Fortunately, BetMGM and other legal sportsbooks take all forms of payment, including:
Credit card
Bank account
PayPal
Wire transfer
And more…
Here's what the deposit screen will look like.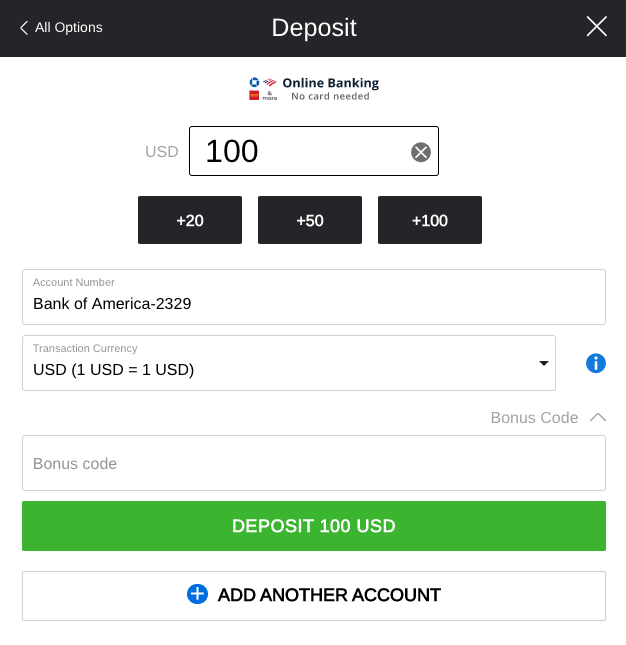 Step 4: Place Your First Bet!
You're all signed up and ready to go. Now it's time to actually bet.
Hockey and basketball season are in full swing, and the three biggest games of the NFL season will take place over the next two weeks. Golf and UFC are almost never out of season, either.
At BetMGM, simply click the bet next to the corresponding team or player. It will turn gold.

Then head over to your Bet Slip, which will be on the right side of your screen on desktop and on the bottom menu on BetMGM's mobile app. Enter your bet amount in the box, then hit place bet.
If you have no idea what any of this means, check out our beginner's guide for betting on sports.
If you are ready to go, claim up to $200 in free bets at BetMGM now.
How would you rate this article?