The Good & Bad About All 9 Sportsbooks Launching in New York
Credit:
Credit: Getty Image/iStockphoto/TomasSereda
New York's sports betting legislation will make it difficult for upstart operators to get into the market.
For now, New Yorkers have five choices, including the major players like DraftKings and FanDuel, with four more on the way. So which one is right for you? Eventually it makes sense to have multiple sportsbooks, but you have to start somewhere.
The Action Network is affiliated and partnered with most of these sportsbooks, but as a New Jersey resident and a regular user of most of these books, I feel qualified to speak honestly about the good and bad.
The truth is that many of these books are the same. They rely on the same odds providers because it's so hard to manage odds in-house, the mobile apps are not that different, and the promos are often similar but marketed with different language.
So who stands out in New York?
1. DraftKings
The Good: The App
DraftKings has done so much right since launching sports betting in 2018, and the user experience in the app is at the top of my list.
DK is one of the only books to use a horizontal scroll both by category and by bet type. That sounds small, but it makes for a very smooth experience. Sportsbooks offer so much now and it can be very overwhelming
At other books, I have a hard time deciding where to look for certain bet types, and they just stack all the markets stack everything on top of each other so you end up scrolling forever.
At DraftKings, you can scroll horizontally to find different bet types, and then scroll down to see the bets in those categories. It seems like a small thing, but it cuts down time in finding bets.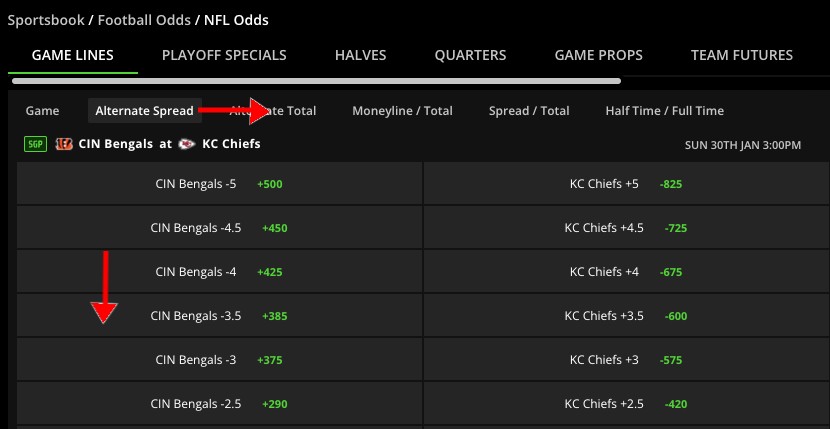 DK also lets you view an entire slate at once. What do I mean by that?
Using touchdown props as an example, you can navigate to that prop and see TD scorer lines for every game that week. At many other sportsbooks, you need to click into each individual game to see those TD props, which is time consuming.
The Bad: The Same Game Parlay
DK's pricing has gotten much better since it merged with SB Tech and began utilizing its infrastructure.
But the odds in its same game parlay product are among the most unfair and opaque in the industry, and SGPs are becoming a wildly popular option for bettors.
The Verdict
If an easy-to-navigate app is the most important factor in your betting decision, DraftKings is your best option.
2. FanDuel
The Good: The Pricing & Options
FanDuel has good pricing on a lot of moneylines, futures and props. They offer a huge variety of alternate props
They also let you parlay more things than most sportsbooks, and their SGP product is probably the best in the market.
The Bad: Not a Whole Lot?
I've always found FanDuel's app to be a little too crowded and I don't love the Bet Slip, but I know plenty of people who prefer FD's user experience over DraftKings. Maybe I just like dark mode.
FanDuel is an all-around solid book for recreational bettors getting started.
The Verdict
FanDuel has an early lead in the sports betting space for a reason — the app is good, the pricing is competitive, and they've got a brand name. There's no reason to not have a FanDuel account in New York.
The Good: Creative Markets & Bet Types
In an industry starving for innovation, PointsBet is at least trying something.
The Australian book brought its points betting product to the U.S. and while it hasn't totally taken off, it's differentiated and original. It allows you to win or loss many multiples of your bet depending on how much the bet wins or loses by.
The Bad: Surfacing Betting Options
Most sportsbooks will put betting options right in front of you when you login. Normally, it's whatever is going on, or is coming up soon, that the most people will care about.
But PointsBet's live tab surfaces cricket and table tennis as the first two options on a night with a bowl game, dozens of college basketball games, five NBA games and 10 NHL games.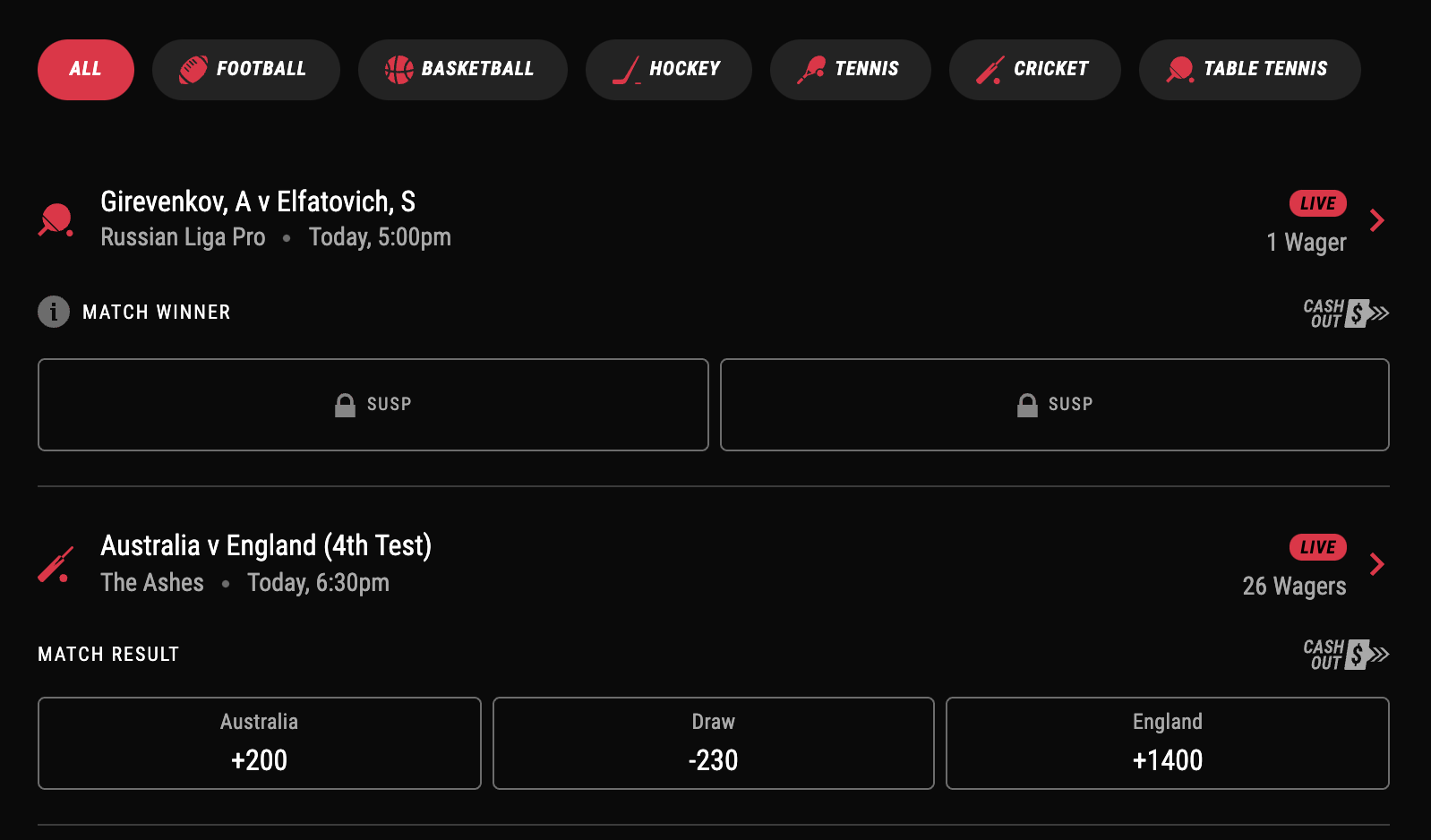 It can be a little tricky to find exactly what you want, particularly for sports like golf and NASCAR.
The Verdict
PointsBet is a great book to have in your arsenal, especially if you want to explore some of the more exotic betting options.
The Good: The New-User Promos & Pricing
Caesars has money to spend and is being very aggressive with user acquisition. Expect something similar in New York.
They're giving away a $1,001 bet match, or $100 and a free NBA jersey. Those are among the best sign-up offers around.
Caesars has the best lines in the market on some different bet types, as well. They consistently have good pricing on UFC props, like finishing methods. Their touchdown scoring NFL props have been good. If you like to find the best line, Caesars will have it at times.
The Bad: The Tech & William Hill Legacy
Caesars acquired European sports betting giant William Hill, and the transition still feels a little weird. The website is still Williamhill.com, but the app is Caesars, which I'm sure you know from their commercials.
The good is that their Face ID consistently works on iOS, unlike some other books, so it's quick to login. On desktop, it's a hassle — before I can even try to login, they prompt me to sign up. I've already signed up!
Caesars has crashed a few times in the first few weeks in New York, has provided little clarity around how its bonus works, and customer support lines have been hours-long.
The Verdict
Caesars is here to stay and has some strong pricing on certain bet types. If you're going to line shop, Caesars is a good book to have.
The Good: BetSync & Pricing
Did you know all your bets at BetMGM will automatically sync to the Action Network app? It's a thing of beauty once you start using it.
MGM doesn't appear to use the same odds providers as many other sportsbooks, so it will often have better (or at least different) odds on certain games, which can be advantageous. It's also the best book to bet first and anytime touchdown scorers.
The Bad: The App UX
There's nothing wrong with the BetMGM app. It just feels a little … old?
It feels more like a web product turned into an app than a sleek, native mobile app that's fast and easy to navigate. I'd expect some improvements over the next few years.
The Verdict
BetMGM is often slightly off the rest of the market with its odds so it's a must-have in your arsenal.
6. WynnBet
The Good: Some Original Markets
Wynn began offering some interesting, original bets at the beginning of the college football season in particular:
Top 3 Heisman finisher
Highest scoring CFB team of the weekend
That's exciting! Again, sportsbooks use the same odds providers and copy each other's markets. Any sense of originality in this industry is a good thing.
The Bad: The Desktop Version & General Tech
Wynn's desktop version needs a lot of work.
Notice something weird about this screenshot? It doesn't actually tell you what the bet is! (It was highest scoring college football team of Week 0, our crack team of CFB experts determined).

Here's another, more recent example: Two days before the first PGA TOUR event of 2022, the odds for the Sentry Tournament of Champions winner don't show on desktop. The golf tab was totally blank. The odds did show up in the app.
Wynn has cleaned up some issues, but the user experience still isn't great on a computer. Most people bet on their phones, but there's a dedicated subset of bettors who want a good experience on desktop.
The Verdict
Wynn isn't offering much that its competitors aren't. It was encouraging to see them post some original markets, and they could be a go-to book for creative bet types — especially since it's hard to be creative in a regulated market where you can't post outlandish props like offshore books can.
7. Bally Bet
The Good: Rewards Program
Bally's has good rewards program from its sports betting product that can be used in a variety of ways at its hotels and other properties.
The Bad: Attention to Detail
Bally Bet has a pretty standard app and offerings that won't set it apart from its competition. That's not uncommon among U.S. sportsbooks.
But on a Monday morning, they still listed markets from events that happened over the weekend in their sport menus. If you want to attract bettors, you have to at least give them something to bet that didn't already happen.
The Verdict
Bally's is making an interesting play into sports betting because it now has the rights to the regional sports networks that will have captive audiences through the NBA, NHL and MLB seasons. It's possible some integration could come on that front.
But right now, its sports betting product isn't offering much different from anyone else.
8. Resorts World
Resorts World only operates in Nevada, so we don't have much intel into its product just yet. New York will be its first expansion into legalized betting in the rest of the country.
The Good: Daily Deals
I haven't used Rivers a ton, so I turned to our NBA analyst Brandon Anderson, who does use it in Illinois.
Per Brandon, BetRivers has some reliable daily boosts that you can take advantage of, like 25% profit boosts on NFL games as early as Tuesday. Some other sportsbooks don't release their promos until closer to game time.
The Bad: The App
More from Brandon: "Slow unwieldy app overall. Everything just takes longer. Longer to login, longer to load pages, more clicks to find exotics, and less offerings. All the games are there but props are limited or nonexistent, no alt lines, fewer futures."
The Verdict
Rivers is a good addition if you're bonus hunting but if you're just looking for a reliable, daily sportsbook, one of the bigger players are better options.
How would you rate this article?
This site contains commercial content. We may be compensated for the links provided on this page. The content on this page is for informational purposes only. Action Network makes no representation or warranty as to the accuracy of the information given or the outcome of any game or event.