An Easy, 4-Step Guide to Start Sports Betting in Virginia
Credit:
Joe Sohm/Visions of America/Universal Images Group via Getty Images.
Virginia sports betting went live on Thursday afternoon, when FanDuel launched as the only operator. Other sportsbooks are expected to join next week.
Here's an easy four-step guide on how to get started in your Virginia sports betting journey ahead of NFL Championship Weekend, Conor McGregor's Saturday fight, and so much more.
Virginia sports betting has come early.
While we expected Virginia to launch within the next two weeks, FanDuel went live as the only book in the state on Thursday afternoon.
It's huge news for a state that's waited nearly six months since sports betting officially became legal to launch.
So how do you get started? Here's a simple four-step guide.
How to Bet in Virginia
Step 1: Choose a Sportsbook
A handful of major online sportsbooks will be live in Virginia in the first few days.
You can get a $1,000 risk-free bet at FanDuel. Let's start there.
Eventually, you'll want multiple sports betting accounts so you can shop for the best lines, but for now let's just use FanDuel since they're first to market in Virginia.
Step 2: Sign Up
Create a new account at FanDuel by following the prompts. You may need to provide proof of identity, like a driver's license and social security number. That's so you can't create multiple accounts using fake names.
You may already have an account at FanDuel if you've played DFS before. If so, login.
Pro Tip: If you're in D.C. or another nearby state and try to sign up in Virginia, use all your real information. Don't use a friend's address, or an old address. It's perfectly legal to sign up to bet in Virginia while you're inside state lines, even if you don't live there.
Step 3: Deposit Money Online, Not in Person
Virginia has made things easy on sports bettors by allowing online sign ups and registrations. Some states make you sign up in person before betting online.
You can deposit at FanDuel with the following:
Credit card
Bank account
PayPal
Wire transfer
And more…
Here's what the deposit screen will look like at FanDuel.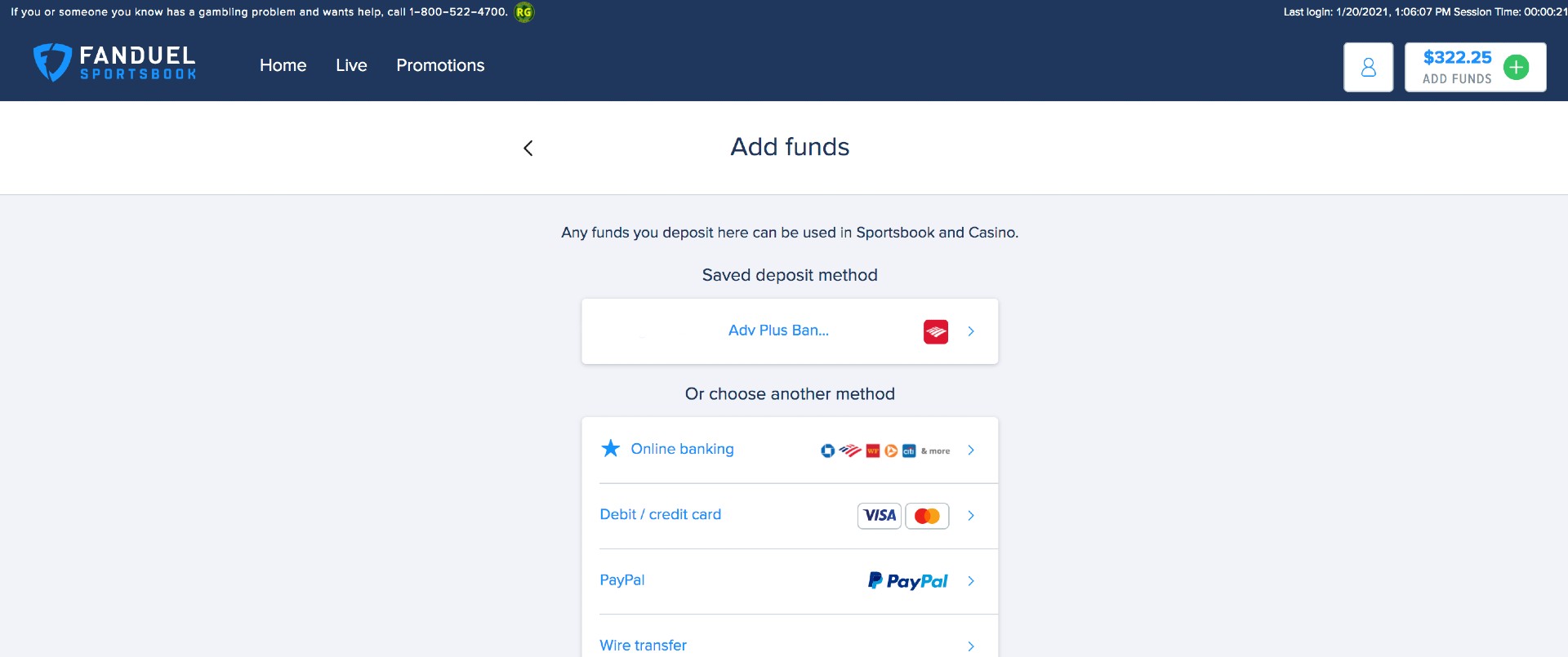 If you're an existing sports bettor, you'll be sad to know that legal sportsbooks make you pay up front — you don't get credit like you would with a local bookie. If you've previously bet offshore, you'll be happy to know that it's easy to use a credit card or bank account to deposit money.
Cashing out is also easy — FanDuel will wire money right to your bank account at any time. We've seen withdrawals come through in fewer than 24 hours in some instances. If you've been betting offshore, that's a welcome change.
Step 4: Place Your First Bet
We're at an excellent time in the sports betting calendar. The NFL's three biggest games of the year will happen over the next two weeks, the NBA and NHL are heating up, and March Madness is right around the corner.
To bet, simply click on a line you like, and it will turn blue.

Once it's highlighted, the bet will populate your bet slip. That will be on the right side of your screen on desktop, and in the middle of the bottom menu on your phone.
So get started at FanDuel today with a $1,000 risk-free bet. If you don't know what any of this means, check out our beginner's sports betting guide.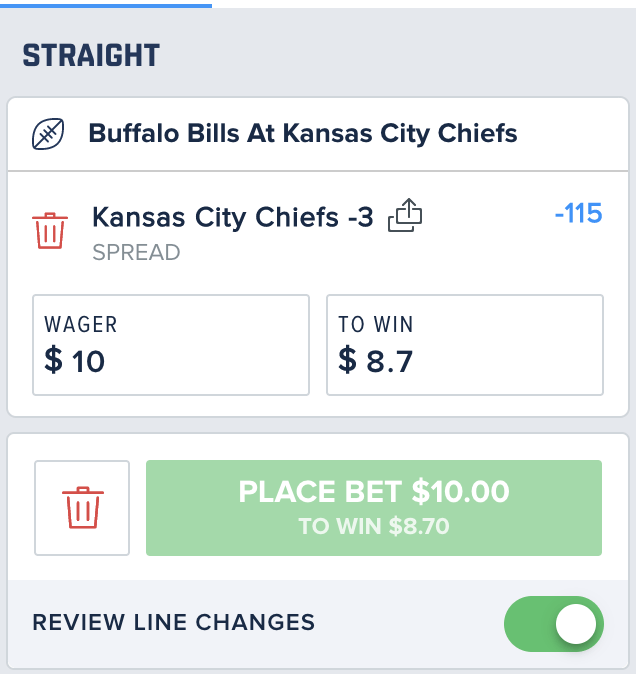 How would you rate this article?