The Best (and Worst) Betting Moments of 2018: Loyola's Buzzer-Beater, a $25K Survivor Pool Stunner, More
Credit:
Tim Heitman-USA TODAY Sports. Pictured: Loyola guard Marques Townes
Check out our staff's 15 favorite betting moments from 2018, featuring plenty of bad beats and miracle covers.
You'll find moments from the NFL, NCAA Tournament, World Cup, Winter Olympics and even the Spelling Bee.
As we get ready to head into a new year, it's a perfect time to reflect on 2018. One of the thoughts that popped into my head: "what was my most memorable betting moment of the year?"
While I racked my brain through the countless sweats, few futures hits, and brutal bad beats, I kept going back to a random moment in March (more on that later). It's sometimes not the biggest win or most excruciating loss, but rather a random moment that sticks with us as bettors.
I then thought I'd ask our staff for their most memorable moments. So, I posed the question and left it at that. I wanted it open to interpretation. Everyone's most memorable moment will be something very unique.
Without further ado, let's relive 2018 through the lens of betting with 15 personal memories from our staff, going in chronological order.
Enjoy and please share yours with us @ActionNetworkHQ! — Stuckey
Collin Wilson: Georgia's (+3.5) National Title Cover
Jan. 8, 2018
The 2018 college football national title represented one of the first major sporting events after the launch of The Action Network. While I had plenty of money down on the Bulldogs (which I logged in our fabulous app), it was the National Title Betting Guide that myself, Stuckey and a handful of other staff members poured our hearts into that I was most proud of.
And the goal remains the same a year later as we prepare for another national title: We want to provide best-in-class content to help you make the most informed wager on any event in any sport.
Our final recommendation was Georgia +3.5 based upon the Bulldogs' special teams edge. Sure enough, Alabama had missed field goals while Georgia's Rodrigo Blankenship drove home an overtime bomb field goal to lock in the cover. It was the perfect ending to a memorable game.
Hitting a prop on Mecole Hardman over 1.5 touchdowns for a cool payout of $5,000 dollars on a $25 wager was the cherry on top.
Travis Reed: The Minnesota Miracle
Jan. 14, 2018
I love the divisional round of the NFL Playoffs. I'll take four good games with the best teams in the NFL over two conference championships and Super Bowl weekend.
Last year, I liked three of the four underdogs in the divisional round. And I liked them all enough to bet all three on the moneyline. I don't know if it was postseason hype or one too many adult beverages, but I decided to throw all three in a moneyline parlay (which I rarely ever do).
After the Eagles and Jaguars held up their end of the bargain, it all came down to the Saints vs. the Vikings.
I watched the live lines for middle opportunities, as I do not hedge a bet just for the sake of locking in a profit. In the long run, you are sacrificing your edge when you do. A viable middle opportunity never presented itself, so I was all in on New Orleans.
We all know what happened next.
Case Keenum chucked it, Saints rookie Marcus Williams had the brain fart of all brain farts and Stefon Diggs cruised for a touchdown.
The three team parlay is dead, but I admit to burying the lede.
Of greater importance, I had bet the Saints earlier in the season to win the Super Bowl at 100-1 odds.
John Ewing: DraftKings Pro Bowl Contest
Jan. 28, 2018
The NFL Pro Bowl is pretty random but that didn't stop me from playing the DraftKings one-game slate via its Showdown format last January.
Unsure of the optimal strategy for playing this tournament, I turned to my colleague Matthew Freedman, who dug through years worth of data to offer a few winning tips. One approach, based on his research, was to use a two-tight end lineup, which proved fruitful.
Behind a combination of Delanie Walker and Kyle Rudolph, I found myself in first place with less than two minutes to go after Walker scored what would be the winning touchdown for the AFC.
I have won a few DFS contests on smaller sites, but $20,000 was going to be my largest score to date.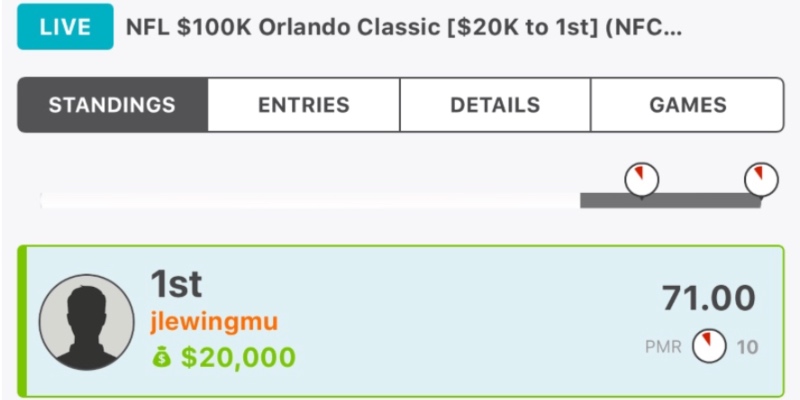 I was excited about the possibility of a five-figure payday but knew anything could happen with 90 seconds of football left in a meaningless exhibition game. I would have to sweat out an NFC drive led by Jared Goff.
After picking up a first down on three plays, Von Miller sacked Goff and forced a fumble, which he also recovered. Game over.
The Pro Bowl contest required users to select four offensive and two defensive players. I did not have Miller in my lineup and was worried that his sack-fumble combo would knock me out of first but it did not.
On the next play, Derek Carr took a knee to end the game.
I had won.
Or so I thought.
Even though the game had ended, DraftKings had not updated the score to account for Miller's sack-fumble recovery. I believe there was some confusion initially as to which defensive player recovered the fumble.
Just as I feared, the points Miller scored on that play bounced me from the top spot. Fortunately, I only fell to fourth place ($3,000).
One play in the Pro Bowl swung my potential winnings by $17,000, but I at least still won $3,000 on a $10 investment. This contest was simultaneously my biggest bad beat and best score of 2018.
Mark Gallant: Ladies' 30km Mass Start Cross Country Skiing
Feb. 15, 2018
I set my alarm for 3:15 a.m. ET for the final event of the Pyeongchang games.
Why? I needed a gold medal from my beloved Norway in order to cash my most gold medals prop bet for the 2018 Winter Olympics.
During that span, I studied and watched sports that I'd hardly heard of with great intent.
Marit Bjørgen, a muscle-bound cross country skier out of Norway, was favored that night/morning — and I needed her to come through in the clutch in the 30 km mass start. At age 37, that was anything but a guarantee.
I must admit that the race itself ended up being relatively sweat-free, as she won in a swift 1:22:17.6 — nearly two minutes ahead of second place — to become the most decorated athlete in Winter Olympics history.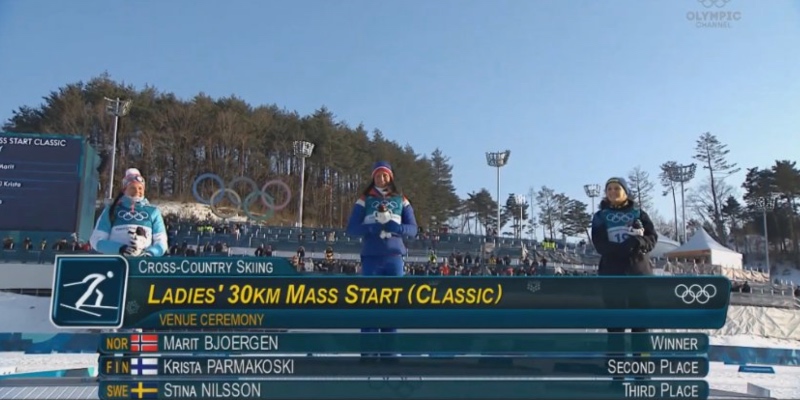 That capped off a wild two weeks of Olympic action that had me at my highest of highs and lowest of lows. When she crossed the finish line, relief washed over me in an awesome wave.
I wish the Winter Olympics came along more than once every four years, but luckily, I've found some odds for cross country skiing world cup action that can fill the winter sports void left in my heart.
Chad Millman: Loyola (+1) Buzzer-Beater Against Miami
March 15, 2018
The Action Network was just a few months old this past March when a crew of us decided to hit Vegas. It was a boondoggle disguised as a marketing, build-the-brand, get-fans-excited trip.
Hey, if you're going to quit your gig as a corporate overlord at ESPN to work at an unknown betting start-up, then shame on you if you don't convince everyone you have to "work" in Vegas during the NCAA Tourney.
Before March Madness began, what I knew about Loyola could fill a thimble. Sister Jean? She wasn't even a cliche to me yet. The backcourt of Clayton Custer and Ben Richardson? Just a charming story about two childhood buddies who loved playing together.
But as the Tourney drew near, the Ramblers became the darling that all of our experts and the professional money started eyeing. So I wised up and, in the moments before tip-off, from our luxurious box at The Westgate (boondoggle!) I used the sportsbook's app to make a moneyline bet on Loyola to win.
And then I waited. And waited. And waited. The timing bug on the app kept spinning, until finally the home screen reappeared with an error message. My bet had not been recorded.
So I bet it again. And waited. And waited. And waited. Still nothing.
I bet it a third time. And just as I got another error message an announcement came over the loudspeaker. "For those of you trying to use the app, we are having technical difficulties. But if you are making bets and getting an error message, please do not bet again. Your bets are being recorded."
Umm, WTF Westgate sportsbook? I was now into Loyola for triple the units I had planned. And I had two options: Walk to the Westgate counter, wait in a long line of bettors, explain the situation and get my account refunded. Or let these bets roll and trust the Action Network process.
I chose the latter. We were two months old. How could we be wrong?
One game-winning, last-second shot later my account was bloated, my boondoggle had paid and my instincts were validated.
Nice job, Action Network.
Stuckey: Davidson (+6) Backdoor Against Kentucky
March 15, 2018
I also enjoyed that Loyola Chicago cover and will stay on the same day as Chad, but just later on in the night cap for Davidson-Kentucky.
I was out at a bar in Lexington of all places, but had a Davidson +6 ticket in my pocket. (Go Cats, but by 1-5 was my motto for the night.)
Davidson hung with UK early on in the first half, but Kentucky started to impose its will and took a 10-point lead into the half. I wasn't feeling great about the wager.
Well, that sentiment would change early in the second half as Davidson made a run. And it even tied the game at 52 on a Jon Axel Gudmundsson 3 with under nine minutes to go. (Celebrates quietly in the Lexington bar.) We are in business!
It remained tight until Kentucky started to pull away with under three minutes left, as it extended out to a 70-59 lead with 50 seconds remaining. I'm basically drawing dead as I pretend to be excited with everyone else.
But then, the man from Iceland (Jon Axel Gudmundsson) hits two free throws and then a 3 after a steal to cut the lead to 6 with 40 seconds left. New life!
But then things looked bleak after Kentucky hit two free throws and Gudmundsson split his — before UK made two more.
74-65 with 30 seconds left.
Gudmundsson then turned it over, which led to a run out Kentucky dunk. 76-65 with 20 seconds left. Good night.
I keep my eyes on the TV as we do "celebratory" shots.
Davidson knocks down two free throws after a Kentucky foul. 76-67.
Wait, now a turnover and a Davidson 3!?!?!
We are back! 76-70 with 15 seconds left.
Davidson fouls and Kentucky makes both again. 78-70. Well, we will at least have a prayer to backdoor.
(At this exact moment, I spot a friend I haven't seen in years who was visiting from Chicago. He tells me he followed me on Davidson on the app, so we watch the final seconds intently together. This is what it's all about.)
Gudmundsson misses a 3. Offensive rebound…
Prayer heave from KiShawn Pritchet at the buzzer….GOOD! I go nuts (while some stare at me confused). Now, don't foul!!!
78-73 final. Cats by 1-5.
What a roller coaster!
I still have no idea how Davidson covered. Oh and UK didn't hit a single 3, breaking a consecutive streak of 1,047 games.
In a year where I hit two futures (Wozniacki at Aussie Open and Villanova NCAA tournament), this moment popped into my head first when I looked back on the year.
Jason Awad: Villanova (25-1) Wins National Title
April 3, 2018
I've always loved the spectacle of March Madness. Being the basketball nerd I am and seeing non-stop hoops televised throughout an entire month is a simple pleasure of mine.
And if you also have a future on a team in the dance, it only heightens the experience.
I put my money behind Villanova. The Cats had a cool, calm, and killer point guard in Jalen Brunson, a developed and sharp-shooting wing in Mikal Bridges, a well-experienced coach in Jay Wright, and oh yeah, some kid who was "Mr. Delaware" coming off the bench.
They were ranked No. 6 in the AP Preseason Poll but 25-1 to win a title. It just didn't add up.
I will say, though: I didn't expect this team to be that good when I placed my bet on them back in early November.
Luckily, we have some pretty intelligent people here. Before the season started, my colleague and friend John Ewing wrote an article on the teams provided the most value to win the national championship.
I loved what I read so I threw in my futures bet and geared up for what would turn out to be the most rewarding college basketball season of my betting career.
As we all know, 'Nova steamrolled its way to a championship, winning every tournament game by double-digits.
Claiming a title in two of the last three years is utterly impressive. Dropping 31 points off the bench is pretty remarkable (thank you, Donte).
I'll never forget cashing that future.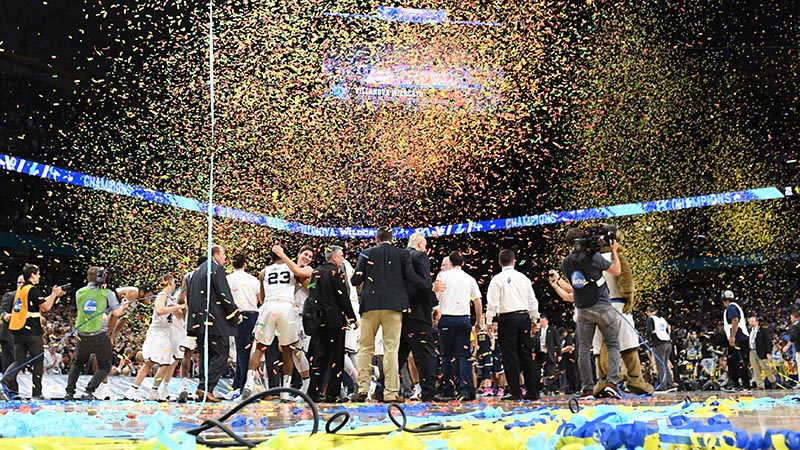 Conor Davidson: PAPSA Ruled Unconstitutional
May 14, 2018
I spent the first few months of 2018 working at [BIG MEDIA COMPANY NAME REDACTED]. It wasn't a company that viewed gambling favorably. I placed most of my bets on my phone hiding in the bathroom.
I applied for an opening at Action on Sunday, May 13. The next day, the Supreme Court ruled PAPSA unconstitutional.
I figured there was no chance I'd get an interview, let alone the job with many like-minded degenerates knocking down Chad Millman's door. So, I spent two weeks trying to forget about the missed opportunity and fine tuning my WNBA model.
I was working the sports ticker shift and trying to convince a producer to let me insert point spreads in the NBA feed when an email pinged my inbox — The Action Network wanted to know if I could come in for an interview later that week.
I threw on my best (only) suit jacket and headed to midtown. I was… overdressed to say the least. No one at a startup wears a blazer. Uncomfortable and a little sweaty, I sat down in front of the men that would soon become my bosses and colleagues.
First question: "So… did you bet any WNBA last night?"
Matt Mitchell: Scripps National Spelling Bee
May 20, 2018
I awoke that morning with a desire to bet on the National Spelling Bee. And if you think I'm saying that in jest … you and I need to become better acquainted.
Just a few weeks earlier, I joined The Action Network, achieving full self-actualization as a gambling fanatic working with other employed, vivacious bettors.
With my infant finally asleep one night, I decided to finally familiarize myself with #sideaction — our company's internal betting Slack channel.
Delightfully (and not, as it turns out, surprisingly), my colleague and fellow degenerate Lauren Joffe was looking for action on the Bee. After finding some odds online, we settled on a simple boys vs. girls wager, with each of us backing our respective gender.
The final six spellers boasted five boys, a 5-to-1 ratio that resembled most of the college parties I attended. Unlike all those nights at Mizzou, the odds were in my favor this time. But alas, like so many bets we make, things proved more complicated than they appeared.
First, Lauren attempted to mush me by paying up before the Bee had ended — a classic Joffe head game.
Next, the lone female speller remaining, Nasya Modi, proved to be an absolute whiz with her P's and Q's, running through preposterous words with the cold, unfeeling accuracy of a Scantron grading machine. She eventually was heads up with my last hope, 14-year old Karthik Nemmani of McKinney, Texas.
In a final matchup the four of us will never forget, the spelling powers-that-be presented poor Nasya with the most difficult, esoteric, arcane words conceivable, and lobbed Karthik words that looked commonplace by comparison. It was like asking Billy Madison to spell "couch."
But in the end, Nasya couldn't overcome the hilariously difficult (and arguably made-up) word "Bewusstseinslage." Karthik dunked home "koinonia" to win the Bee, and secured me Joffe's money.
But more importantly, it was that bet that first made me realize I truly loved my new company and the collection of misfit toy employees who today feel like my second family. And as #sideaction always teaches me: the family that bets together, stays together.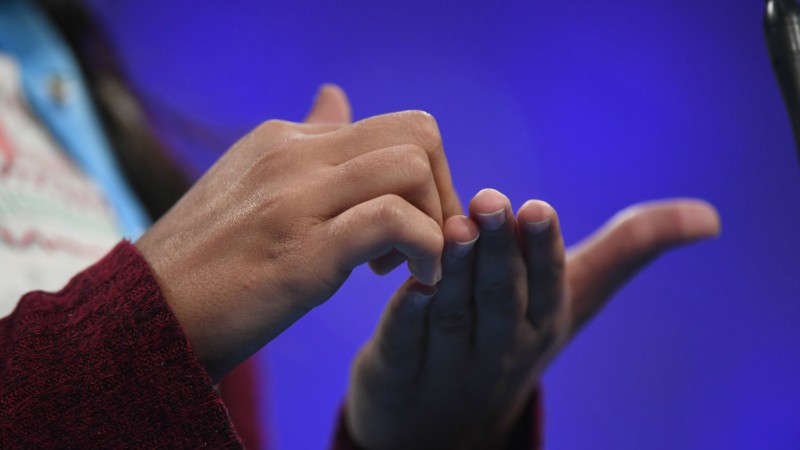 Danny Donahue: Marlins (+164) Melt in Atlanta
May 20, 2018
I'm sure 2018 had its happy betting moments but I can't remember any of those. So, I'm going with the bad beat that served as a microcosm for an MLB season that almost made me hate my favorite sport.
Marlins-Braves … an NL East rivalry as old as time (1994). After the Braves got off to their best start since 2003, public bettors had fallen head over heels in love — or maybe they were just happy to fade the 17-29 Marlins. Either way, Atlanta was getting 79% of bets that day with starter Julio Teheran on the hill.
However, I was on the other side and had Marlins +164 locked in.
The game stayed scoreless for three innings, but in the top of the fourth, my genius bet began to come to fruition when Miami piled six runs on Teheran. The Braves put up a fight for the next few innings, but I was still sitting pretty with an 8-4 lead heading into the ninth. Tack on an insurance run in the ninth and that four-run lead became five.
What happened next was stupid.
Actually, what happened immediately next was fine.
Dansby Swanson struck out swinging because he sucks (he doesn't suck). Even the next few batters didn't cause much concern. A walk, single and sac fly later and I still had a four-run lead with two outs and a runner on first.
As for the next five batters:
Iffy infield single on a throwing error
Single
Walk
Single
Walk
All of the sudden it was 8-7.
Dansby freaking Swanson then came up again — this time with the bases loaded down a run. He singled. I lost.
The Braves scored six runs in that ninth inning. Six!
I proceeded to lose like a million units the rest of the baseball season. It was great. I can't wait for spring.
Ken Barkley: Thibaut Courtois to win Golden Glove (World Cup)
July 15, 2018
My least favorite gambling moment is easy: Duquesne's coach personally ruining +5.5 against Penn State earlier this month.
But I don't want to talk about that any more.
I wanted to come up with a story I hadn't shared already — and this particular one stood out immediately.
I bet a lot of props before the World Cup. A LOT. And I bet a lot of them during the tournament, as well.
For the Golden Glove (best goalkeeper), I ended up betting a few goalies since it seemed like a clear winner was difficult to ascertain at so many different points. One of those goalies I backed was Belgium's Thibaut Courtois.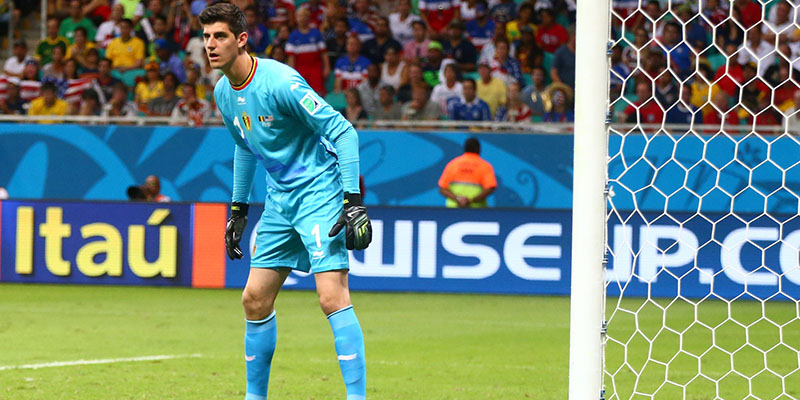 Even during the Final between France and Croatia, I thought I had Courtois in the bag but that could change. If Daniel Subasic (Croatia's goalie) saved a few more penalties (like he had earlier in the tournament), I could be in real trouble.
So the match ends. France is the winner, by a wide margin. Subasic is not going to win. I still think I have Courtois as a winner, but it was by no means a lock. The remarkable part., though, was not the bet, but how I had to determine if I won or lost.
After the Final ends, players mill around and start lining up for their awards. But for the minor awards (best young player, Golden Glove), they don't make any announcement on the television screen. There is also no visual display, and you would never know the announcement had even took place.
Luka Modric gets his Golden Ball award. France gets their trophy. And I don't know what just happened. Did I cash?
I had the volume all the way up with friends over. Maybe I missed it? But no, I just watched the whole thing. I could have just waited to see if it processed, but we all know as gamblers we never want to do that. I want to know NOW.
I grab the remote and rewind the broadcast. I eventually notice while the players were gathering, an announcer over the PA system inside the stadium listed off the other awards.
Announcers are talking. Music is playing. And then I saw it. While the announcements were taking place, I saw a "jumbotron" monitor in the far side of the stadium. And as France gathered, in the upper right corner, a picture popped up. I glued my face to the TV and read "Thibaut Courtois, Golden Glove."
Sometimes it's not the money that sticks with you, but how you found out you won.
Evan Abrams: Lions (+7) Take Down Pats on SNF
Sep. 23, 2018
My bio on the Action Network site describes me as someone who fears "bullpens, quicksand and stoppage time." The odds of my most memorable betting moment not being a bad beat was 20-1 if we are all being honest.
I usually remember the bad beats, but for some reason this game comes to mind when looking back at 2018.
I liked (loved) the Lions, bet them multiple times — and even felt good enough to send this message in our #sideaction Slack channel:

The Lions never trailed and won by 16. Fun night.
Also receiving votes: I had Stanford over Oregon in college football and Seton Hall over Kansas in March Madness. However, I also had Miami moneyline against Loyola-Chicago (thanks for the reminder, Chad) and lost the Lions first half on that Hail Mary against the Vikings in Week 16.
Dec. 1, 2018
For most normal people, their "Betting Moment of the Year" will be about a bet they won or lost, which is normal. But my favorite betting moment of the 2018 was a push in one of the best sporting events of the year.
I'm talking, of course, about the drawn heavyweight title fight between Tyson Fury and Deontay Wilder.
Boxing always has a way of disappointing. Politics and promoters often get in the way of the best fighting the best, and even when they do fight, suspect scoring has derailed many a fight over the years.
In other words, it's very rare for a fight to live up to the hype.
And even though Wilder vs. Fury ended in a draw and the scores were definitely debatable, it gave us everything a great sporting event is supposed to.
In some ways, Wilder vs. Fury went according to script. It was billed as a meeting between two of the best heavyweights in the world. Both in terms of in-the-ring skill and out-of-the-ring personality.
Wilder, the American champion from Tuscaloosa, started boxing when he was 20 and used his raw power and athleticism to climb all the way to the top of the sport. Fury, the brash British challenger, upset then-champion Wladimir Klitschko in 2015 and then disappeared from the sport. He battled alcoholism, addiction and depression before getting it back together in 2018.
Both combatants beat long odds to get to this point and neither one ever showed a sign of ducking this fight.
The pre-fight hype continued to grow and the odds remained pretty close — Wilder was around a -165 favorite — up until the first bell. I decided to roll with Wilder.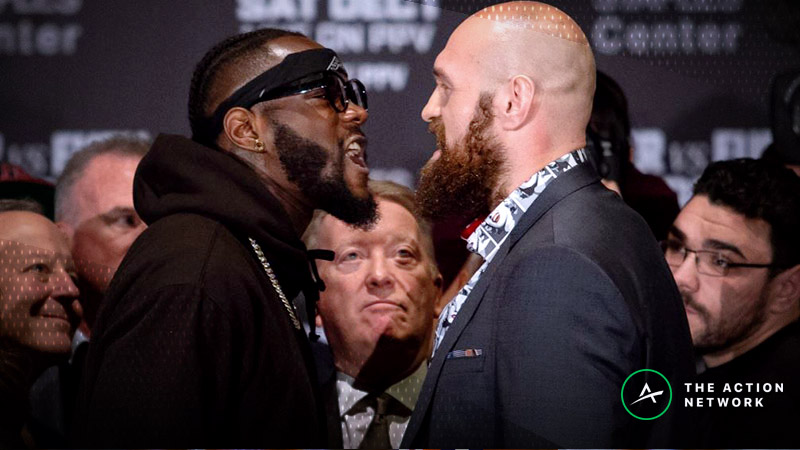 Then the Tyson Fury Show started. The clever Englishman put on a boxing clinic. "The Gypsy King" was impossible to touch and Wilder was visibly frustrated. Fury was well ahead on the scorecards, but Wilder's power showed up with a knockdown in the ninth round. However, Fury rebounded and it was clear that "The Bronze Bomber" would need to do something special in the 12th round to have a chance.
A lot of fights have that moment. The broadcast booth, the corners and the crowd all say: "He needs the knockout." And it rarely happens — especially in boxing.
This fight was all but over, until it all changed.
Wilder put Fury down in the 12th and it looked like the American had pulled out a miraculous victory as "The Gypsy King" laid in a heap on the canvas. Just a few seconds after the fight looked over and Fury was going to win, it now looked like Wilder was surely going to pull it out.
Then his eyes opened. After Wilder knocked down Fury I stood up, walked toward my television and was screaming. I only realized what I was doing because my dog, Jimmy, started barking.
As Fury got up, I sat down. I was speechless and my Wilder bet didn't matter anymore. This quickly became one of those "bigger than sport" moments.
This dude was on top of the world, fell off, wanted to kill himself and fought back in the most literal sense of the word. That s**t is inspirational and this fight sent me on an emotional roller coaster that I'll never forget.
The scorecards were probably off and Fury should have been given the decision, sure, but that meant I didn't lose my bet and could enjoy the moment even more.
I didn't want either of those guys to lose.
Dec. 2, 2018
My biggest problem (or blessing) when it comes to sports betting is my short memory.
If I didn't actually keep some of my DTM (dead to me) lists, I'd honestly forget some of my worst betting moments. It's kind of ironic because I've been told I keep a rolodex of every time I've been wronged in life.
(Like how my sister got her own bedroom the same time I did despite being younger. I didn't care about the logistics of having one without the other, but moving on.)
In an effort to still have teams to bet on, I've HAD to forget about some of the worst losses. The one sticking in my mind vividly came during Week 13 of this NFL season when the Packers lost at home to the Cardinals as almost two TD faves.
It knocked me out of my survivor contest and I can't recall the last time I was that mad. But I was mad.
It took me literally three days to get over it enough where I could even think about sports.
(Side note, it's not a GREAT idea to tell your father you lost $25,000 on a game when he asks what's wrong. It's probably a better idea to say you lost OUT on a potential $25,000 … sorry dad).
There have been a lot of great moments but finishing the JOFFIFA World Cup Challenge with bankroll to spare after betting EVERY single World Cup game this summer was something pretty remarkable for me.
I really leaned on my Action Network colleagues to get me through betting a sport I knew very little about and they came through. This is when I knew I worked with some of the best people in the biz.
Scott Miller: Red Wings (+260) Overtime Sweat
Dec. 6, 2018
I've learned to love betting on hockey this year. The games are quick to watch and often feature massive swings and underdogs winning with regularity.
The problem is, I don't know anything about hockey.
Lucky for me, I work about eight feet away from Michael Leboff, a guy who knows the sport better than I could ever hope to. At the start of the 2018-19 season, I vowed to bet whatever Leboff told me to, and as everyone who's followed his NHL content here at The Action Network can attest, it's been a fun season.
The most fun night, by far, was Dec. 6. Leboff got a little crazy that night, riding with the Red Wings at +260 vs. the mighty Maple Leafs. He wrote about the game in depth, and I obviously tailed along, no matter how unlikely the upset seemed.
BlackJack Fletcher was in the office that day, doing God-knows what, when he overheard our conversation about betting the Wings +260.
He proceeded to say something to the effect of, "You might as well just light money on fire." To which Leboff responded, without hesitation, "BlackJack … did you know this game is played on ice?"
That's Michael's go-to way of saying "weird s*** happens in this crazy game, let's roll."
And indeed, some crazy s*** happened on that night. The Red Wings led 4-1 through two periods, before the Maple Leafs scored three unanswered in the third to force overtime.
However, our guys came through in overtime, finishing off one of my best betting sweats of the year.
Not long after the final buzzer sounded, the following exchange occurred in Slack:
scott.miller [8:48 PM]
Blackjack please issue Leboff a formal apology
blackjack.fletcher [8:53 PM]
F***.
michael.leboff [8:53 PM]
It's almost like this sport
Isn't played in f***ing ice
PJ Walsh: Bahamas Bowl Bad Beat: Under 66/67
Dec. 21, 2018
I didn't have to go back far to relive the worst beat of my betting year. The over/under for the 2018 Bahamas Bowl between Florida International and Toledo sat in the high 60s early in the week of the game.
With an exceptionally windy forecast, I played the under twice — once at 67 and again at 66. As bettors caught wind of the weather conditions, the total plummeted to 59, making me quite confident in both bets.
In addition, Florida International quarterback James Morgan was surprisingly ruled out, pushing the over/under down to 57 before ultimately closing at 57.5. Two bets that beat the closing line by 9.5 and 8.5 points … not bad.
And all seemed fine heading into the fourth quarter when The Action Network's mobile app reported 97% and 96% win probabilities for both bets.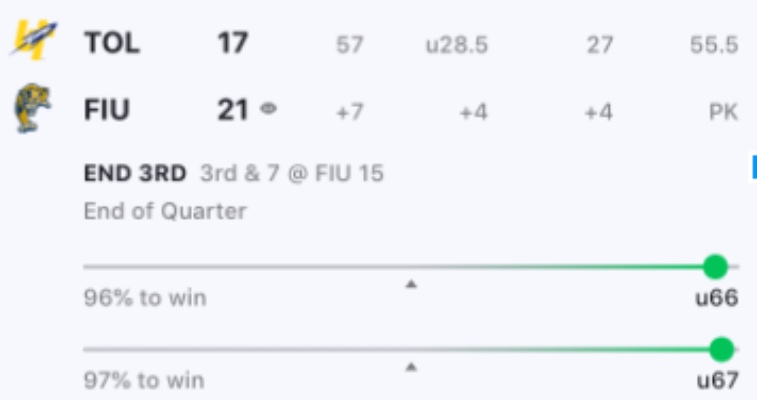 Sitting at 60 points with just seconds remaining, this happened:
Yup, a beat of all beats. Not only did Toledo connect on a meaningless Hail Mary to put the score at 66 points (a win and a push for me), but officials put two seconds back on the clock to allow for the extra point, resulting in 67 totals points scored — now a loss and a push for my bets.
If you're in this game long enough, you'll certainly encounter your fair share of bad beats, but it doesn't mean you have to like them.
Bonus: Stupid Lucky Roulette Hit
Newton's third law of sports betting: For every bad reaction (or Bahamas Bowl bad beat) there is an equal and opposite good reaction.
Interestingly, both of my most memorable gambling moments of 2018 came very recently and just two days apart. After taking the most brutal of beats in the Bahamas Bowl, my wife and I took our two kids (3-year-old son and 6-month-old daughter), my brother-in-law, his fiancee and my mother-in-law to Mohegan Sun, a casino in Connecticut.
Now, before you judge me, let me first explain that Mohegan Sun is very family friendly. It has a big indoor pool (with a bar and plenty of TV's to watch NFL games), an arcade and a huge kids play area. Bottom line, there's plenty to do there with kids.
So after a day of parenting, we put the kids to bed in our hotel room while my mother-in-law relieved us, allowing us to hit the casino floor.
After grinding away at Pai Gow Poker, we decided to pivot to roulette. Christi, my wife, took the lead and was firing away for a handful of spins without much success.
With her profits from Pai Gow whittling away, she was ready to quit, but I suggested she play one more spin, which included loading up on black 2. Why black 2? Well, a few days earlier I asked my son what his favorite number was so we could play it on the roulette wheel (though he didn't understand why I wanted his favorite number).
He pursed his eyebrows, thought for a couple of seconds and confidently blurted out, "Two!"
And as I'm sure you've guessed by now, the ball stopped on two, providing Christi (and me since we have the same bank account — thank you marriage) with a nice win.
In a moment of celebration and euphoria immediately following the win, I blurted out that we should put the winnings in my son's college fund since he essentially picked the number.
Did we actually do that?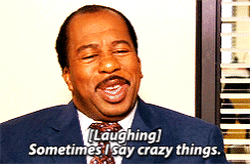 How would you rate this article?