A Local's Guide to Las Vegas
Matthew Perrault, a Las Vegas local, runs through some of his favorite spots in Vegas.
The topics include: Best unknown sportsbook, best casino to play table games, best dinner spot, best places for a date, best dive bar, and more.
As a 40-year-old Vegas resident, I know all about the guides to Las Vegas on the internet that target the bachelor or the bachelorette who wants to party all night. And then there are the Vegas lists that focus on where to save money with bargain hotel rooms or where to indulge in your wildest fantasy.
But here at the Action Network, we speak to you, the authentic sports gambler.
So as we begin 2018, we want to bring you a guide to the greatest entertainment city on earth — and how to enjoy it like the locals do:
Best unknown sportsbook
Lagasse's Stadium
A lot of players know all about the great book that is inside the Venetian. It's one of the most popular in Las Vegas. However, inside the No. 1 sports bar in America (according to USA Today), below the main check in at the Palazzo, which is right next door, is celebrity chef Emeril Lagasse's sports bar, Lagasse's Stadium.
Full disclosure: My sports radio show once aired out of this venue, but this isn't a paid plug. I just know a ton about this venue that others may not.
Lagasse's Stadium is a massive space with the highest caliber sports bar food in Las Vegas. This isn't a 24/7 kind of place; Lagasse's is only open during normal restaurant hours. During big events, however, there is a fully operational sportsbook inside run by CG Technology this isn't well known. The problem is that the book isn't open every day. So players often have to go upstairs to a kiosk on the main gaming floor to place their wagers. That's no fun. As such, I don't recommend Lagasse's for wagering here unless it's a football weekend or there is a big event going on like the World Series or NBA Finals. However, the place can really rock when a marque event is on their massive wall of TVs.
One other unique feature to Lagasse's Stadium is the ability to rent private rooms for you and your friends. These areas can often be booked with just a food and beverage minimum guarantee, and they can be great spots to watch a game. With the book being open during big events, you and your friends can party privately and get down to the betting window easily.
As you often will find in Las Vegas, the higher-end properties rarely have "cheap eats," and some customers get sticker shock at the idea of a $15 burger or $60 steak. Lagasse's Stadium is not the place to go if you are down to your last nickel, but it's a sportsbook that offers a tremendous array of options for the sports gambler when a big game is on.
Best slots/table games
Fremont Street
Whenever one of these lists come out, this is a popular category. Rather than tell you one specific casino to go to for the best slots and table games, I'm going to tell you to go to 10. That's how many casinos are within the walking district known as the Fremont Street Experience. Another name for this location is "Old Vegas" or "Downtown Vegas." While it's not "old" per se, the customer experience will remind you of how Las Vegas used to be. The casinos and gaming parlors like The D, The Golden Nugget and Binion's aren't overpriced, and you won't find many high roller tables at these establishments. The odds on table games are better for the player, and you can still get drinks comped for playing a few hands of blackjack. There are also some amazing restaurants in this part of Vegas, and I would highly recommend the gastropub Therapy for lunch or dinner while you are down there after working up an appetite at the tables. The Fremont Street Experience also has free live music at night and a state of the art, 550,000-watt, high-resolution ceiling that has a night show that is truly a must-see.
Best date night
Lake Las Vegas
Located about 20 miles to the east of the Strip is a pre-planned community called Lake Las Vegas that offers amazing seasonal activities and wonderful dining options for couples looking to spend some quality time together. In the summer, you can rent a pedal boat or a kayak for a romantic sunset cruise around the lake. In the winter, you can ice skate at the public rink that is opened when the weather gets cold enough. Several restaurants offer lake-side dinning with quiet tables looking out across the water. My favorite place to eat here is Mimi and Coco Bistro, which offers a gorgeous setting right on the lake with French artwork that creates a romantic atmosphere that you both will really enjoy. Their wine list is as good as anywhere in Vegas as well. After dinner, you can take a walk around the expansive grounds and hit up the Rocky Mountain Chocolate Factory for some tasty treats before heading back to your hotel.
Best place to get away from the noise
Red Rock National Park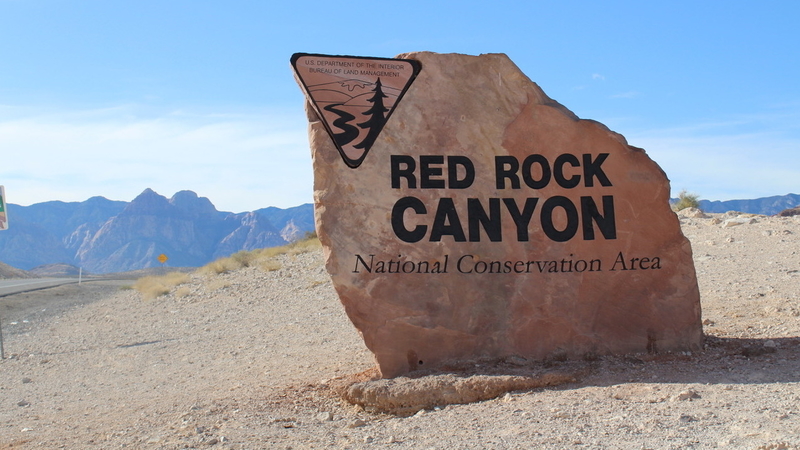 Simply put, this is the most beautiful part of Las Vegas and a must-see. I have spent hours upon hours hiking the trails of Red Rock National Park, but you can see it from a car in under an hour on the scenic drive for under $10. If you are lucky, you will see wild horses and burros while driving the loop, but even if you aren't fortunate enough to see wildlife, you will see amazing scenery and breathtaking views. If you are into hiking, most of the trails are moderate to easy in difficulty and won't take you more than a few hours to complete. If you are going to do that, however, do not tempt fate and fail to be prepared for just how unforgiving the desert can be. You will need proper gear, proper protection from the sun and lots and lots of water. Depending on the time of the year, Red Rock National Park can see temperatures above 110 degrees during the middle of the day. Make sure to bring your camera because you will want to be able to relive this experience for many years to come.
Best non-gaming entertainment
Brooklyn Bowl
With locations in London and Brooklyn (duh), Brooklyn Bowl knows what they are doing. The owners have placed their Vegas location a few feet away from The Linq on the Strip in a walking district that is really easy to find. This venue combines amazing food, awesome drinks and the best bowling lanes in Vegas with some of the world's best live bands performing nightly. I've seen more than 10 shows here over the past two years and have loved the experience every time. The kitchen is run by New York City's famed Blue Ribbon restaurant, and the fried chicken is out of this world. It also has more gluten-free options (if you care about that kind of thing) than any bar I've been to in Las Vegas. The venue is small enough to feel like you are with all your friends, but big enough to book bands that will stop you in your tracks when you see their name on the outside marque. Check the schedule before your trip because many amazing shows do not sell out and you could get tickets to see one of your favorite bands while you are here.
Best destination for a day trip
Pahrump Winery
OK, I know this is not the typical Las Vegas activity, but hear me out for a second. Pahrump is a town more known for its their legal brothels than wine, but they do have two really nice wineries that make for great day trip destinations. While Pahrump is not the Napa Valley, and I would never tell you that the wine is on that level, it's a really fun expedition over the mountains and across some of the most gorgeous desert landscape in the country. The drive to Pahrump is almost reason enough to take the trip. Of the two winery options, I like the Pahrump Winery, which opened under its current owners in 2003, the best. In 2005, Pahrump Winery released the first-ever commercially produced wine from Nevada, a Zinfandel. Wine tasting is all about relaxing, eating some tasty small plates and testing out some unique wine pairings, and this place hits all the notes; it features a gorgeous tasting room and restaurant. If you want to eat a full meal at their restaurant, Symphony, I would recommend making a reservation. It's a beautiful dining room with many sun splashed tables along the glass walls. As long as you aren't a judgmental sommelier, you will really find this to be enjoyable day off the Strip.
Best hangover brunch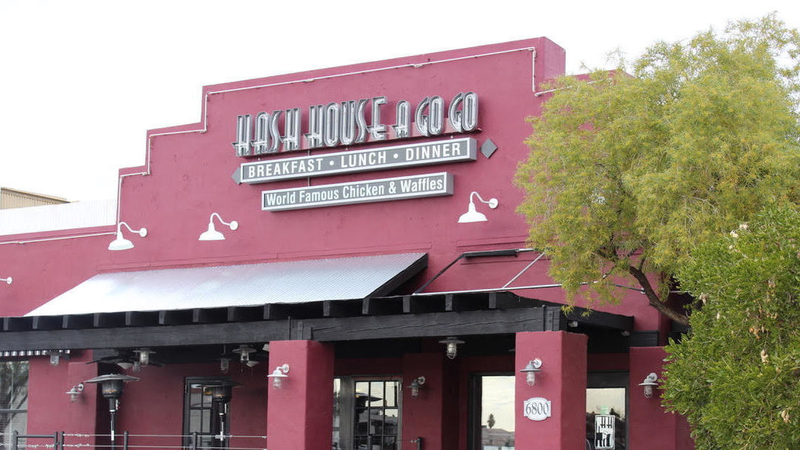 There are three options for this category, and that's because of the different types of brunches you can experience in Las Vegas.
If you are after the typical brunch experience, Hash House a go go offers both on- and off-Strip options. While it's a chain that started in San Diego, this is farm eating at its best. My family and I go to the location on West Sahara Avenue, but you can find locations inside The Linq and The Plaza on either end of the Strip. Get ready for huge portions and great craft cocktails, as this farm-inspired menu offers tons of great eats. Their signature dish is an award-winning chicken and waffles plate that will stretch your stomach and delight your taste buds. I'm not kidding when I tell you that their pancakes are as big as hub caps. The Linq location also offers a late-night menu from 11 p.m to 7 a.m. for your last stop of the night eating experience as well.
For the business brunch with colleagues after a work party, I would hit up Andiron Steak and Sea in Summerlin. It's located in a high-end outdoor mall that is about a 20-minute drive off the Strip. This place offers a really nice outdoor seating area and is a great spot for a quiet meal to get your legs back underneath you with the boss around. Andiron features an outstanding bloody mary bar during brunch with high-end liquor options and house-made mixes. I would recommend nearly everything on the menu, but it can be a little pricey. This is not the place to go after an all-nighter, but it's a hidden gem that we locals rave about.
Finally, if you are after a greasy spoon to soak up the alcohol after a fun night, I would recommend Jamms, located about six miles off the Strip on West Rainbow Avenue. This spot is known for its quick service and the free "pot o'bread," which is basically a hot cinnamon roll. Jamms is regularly voted one of the best breakfast spots in Vegas, so plan for a wait on the weekends. The French toast and pancakes are tremendous, and I love their omelets. This could be considered a dive spot or a diamond in the rough, but the menu is high-quality diner food at an affordable price.
Best lunch
Those Guys Pies
This spot is buried in a small strip mall in The Lakes district of Las Vegas, but it's managed to draw national attention despite being a local favorite. Those Guys Pies was featured on an episode of the Food Network's Diners, Drive-ins, and Dives for their awesome menu of East Coast-inspired pizza and subs, and they are very proud of that fact. They play the episode on a loop on the only TV in the joint, which you can't help but watch as you wait for your lunch. I also will tell you up front that sitting is extremely limited inside the establishment, but there a few tables and chairs outside that are in the shade. As a Boston native, finding a legit steak and cheese sub in the desert was a challenge, but these guys do it right. The pizza at Those Guys is the best I've had west of the Mississippi, and the wings are the only ones I eat in Las Vegas. They are set up as a takeout place, but you can eat there if you'd prefer. People from all over the country have made their way to this place for lunch, and it consistently receives five-star ratings from patrons.
Best dinner
Echo And Rig
Las Vegas is known for its amazing steakhouses, and nearly every property on the Strip has a celebrity chef-owned venue to eat a great piece of meat. However, my favorite restaurant in all of Las Vegas is a different kind of steakhouse located inside the Tivoli Village Shops west of the Strip. Echo and Rig attempts to bring back the neighborhood butcher with its "nose to tail program" run by their master butchers, where you can take home amazing cuts of beef and pork. They combine butchery with a new concept steakhouse, located on the upper level of the property, run by famous chef Sam Marvin. This place is not filled with mahogany tables, leather-bound books and masculine vibes. Rather, it's an open dining area with a menu that invites you to learn about the different cuts of meat and how they should be properly prepared. Vegas is world-famous for its talented servers, but Echo and Rig takes it to a new level. Each person assigned to your table will walk you through the menu to be sure you order what you like. I would listen to their recommendations because they are really knowledgeable about the cuisine. They have award-winning craft cocktails (Restaurant Bar of the Year 2015) and a wine list that is sure to provide the right pairing to suit any palate. Give yourself time when you go here. You don't want to rush through dinner because it really is a wonderful experience. The food is the star at Echo and Rig, not the location of the restaurant. If you want to be treated right during a memorable meal, I highly recommend this place.
Best dive bar
PKWY Tavern
When I think about dive bars, I think about hole in the wall places that are old and have been around for 30 years. That's tough in Las Vegas because so much of the city is new, and there's a lot of bar turnover here. However, there is a relatively new spot that gives you a dive bar feel that I like, and that's PKWY Tavern, just off the 215 on Flamingo. Again, this is off the Strip, but that's where you find a lot of places we locals love to go. This place is open 24 hours a day, every day. It literally never closes. It has some great bar food and cheap eats along with over 250 beers on tap. They have the ultimate reverse happy hour that starts at 2 a.m., and they have drink specials for nearly every sporting event you could imagine. Everywhere you look, you will see a TV, and PKWY can be really a fun place to watch an out of town game because you probably will meet a fellow fan watching the same game as you.
If you are planning a trip to Vegas this year and have any further questions, please feel free to reach out to me on Twitter.
Photo via Kirby Lee, USA Today Sports Images
How would you rate this article?
This site contains commercial content. We may be compensated for the links provided on this page. The content on this page is for informational purposes only. Action Network makes no representation or warranty as to the accuracy of the information given or the outcome of any game or event.