Will the Houston Astros Cover the Highest Win Total in the MLB?
Credit:
Troy Taormina-USA TODAY Sports. Pictured: Carlos Correa, George Springer and Jake Marisnick.
The Houston Astros (96.5) have the highest win total of the season, but Mark doesn't believe it is high enough, as he's taken the over.
One big reason why is the AL West should be much worse, as the Athletics and Mariners should have at least ten fewer wins than they each did last year.
Carlos Correa, who missed over 50 games and was not as productive last year due to a back injury, could be an MVP candidate this year if he's healthy.
Houston also has a handful of MLB-ready stud prospects that could either impact the team themselves or be traded to help bolster their roster with veterans.
The 2019 Houston Astros will be a wagon. We're talking an Oregon Trail-esque wagon that reaches Willamette Valley in six weeks with zero dysentery casualties.
They have the highest win total in the MLB at 96.5, but it's not high enough. Here are some pros and cons that I thought about before I placed my first win total bet of the season: Astros over 96.5.
Pros
Their division will be significantly worse
The Athletics, who won a shocking 97 games last year, will be lucky to sniff 90 in 2019. They've lost some key contributors and have several pitchers that will be sidelined for a good chunk of the season, including Sean Manaea.
The Mariners, who won 89 games last year, have made it clear that they won't be trying too hard this season. They've traded away several star players and should end up well below .500.
The Angels are always a toss up and could be within a handful of games of .500 in either direction, while the Rangers should be competing with the Mariners for the bottom spot in the standings.
Stud prospects
The Astros have not one, but two top-10 prospects in all of baseball and both will make an impact this season. In total, they have five top-100 prospects that are ready for big league action in 2019.
Forrest Whitley is the best right-handed pitching prospect in the MLB and ranked No. 7 overall by MLB.com. He probably won't start the year in the bigs, but could have a similar impact as Walker Buehler with the Dodgers or Jack Flaherty with the Cardinals last year. We're talking about a 6'7″ imposing figure who tossed a buck-ten on a crow hop last month.
Kyle Tucker is a stud outfielder who's ranked No. 8 overall in the MLB. A great overall hitter, Tucker posted an OPS just shy of 1.000 in AAA last year, but struggled in a brief MLB debut. He could also begin the season in the minors, but could very well take over Josh Reddick's starting role sooner rather than later.
Additionally, No. 62 prospect Josh James — the oldest prospect on MLB.com's top 100 — is ready for his first full season in the bigs and should begin the season in the starting rotation. He had an impressive debut last year in which he struck out 29 men in 23 innings while pumping triple-digit heaters. Though he's not viewed to be as valuable of an asset as the other two in the long run, he could be more impactful in 2019.
It's also worth noting that other high-end prospects like No. 44 Yordan Alvarez (OF) and No. 81 Corbin Martin (RHP) could be used as trade chips at the deadline. Of the World Series contenders, the Astros and Braves are the best-positioned to add talent via trade.
Carlos Correa will bounce back
The former No. 1 overall pick has been legit ever since arriving to the majors in 2015.
2015: 99 games, 3.4 fWAR, 136 wRC+
2016: 153 games. 5.1 fWAR, 123 wRC+
2017: 109 games, 5.2 fWAR, 152 wRC+
Not bad for your age 20-22 seasons. Then there was last year:
2018: 110 games, 1.6 fWAR, 101 wRC+
Solid for any old guy, but we're talking about someone who will be in MVP discussions from 2016-2026.
He dealt with back and oblique problems all season that forced him to miss time and hurt his production when he did play. He also underwent surgery for a deviated septum this offseason.
Though just an average player last year, you should see his numbers jump way up if he is indeed back to 100% like he says.
Luck
The Astros won 103 games last year, but were the fifth-most unlucky team per the Greek philosopher Pythagoras. Based on their league-best run differential of +263, they should have won 109 games. They went just 24-24 in one run games, which is much lower than you'd think for a team this good. Meanwhile, the Athletics went a league-best 31-14 in such situations.
Michael Brantley
The big free agent splash for the Astros this year was adding outfield veteran Michael Brantley. The former Indian is coming off a season in which he posted a wRC+ of 124, which would've been third highest among qualified Astros behind Alex Bregman and Jose Altuve.
He's been a better than league average bat in each of his past six full seasons, highlighted by a 2014 campaign in which he finished 3rd in the AL MVP race. He also brings a lefty bat to a right-handed-heavy lineup.
Best offense in baseball?
The Astros main strength last season was their pitching, especially their rotation. At 3.3 runs allowed per game, they led the MLB by nearly half a run. I can guarantee that goes up this year.
Their runs scored per game will also go up, though. In 2017, they scored a league best 5.53 runs per game. That dropped down to 4.92 last year — sixth highest in the league. Good, but not elite
They will be back over five runs per game in 2019 and perhaps by a significant amount. Their lineup is incredibly deep and will be headlined by three MVP candidates — Correa, Altuve and Bregman. Brantley and George Springer are two other established, well-above-average bats, while Tucker could be raking by year's end.
They even landed one of the better hitting catchers on the market in Robinson Chirinos. There's legitimately not one weak spot in their order.
All aboard! Choo choo!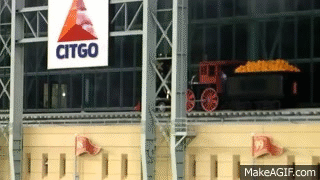 Cons
Rotation in Flux
Dallas Keuchel (still unsigned) and Charlie Morton (Tampa Bay) are gone. They started a combined 64 games last year and both posted sub-4 ERAs, with the latter very close to 3.00. I'm making this bet assuming Keuchel will sign elsewhere, but that's not a guarantee. Jon Heyman reports there is still interest in bringing him back, which would be a huge bonus for them (and me). He's not the Cy Young winner he used to be, but he's a familiar face and a reliable, above-average arm.
Lance McCullers Jr. is done for the year with Tommy John surgery. Though inconsistent at times, he also posted a sub-4 ERA and started 22 games. Between him and the aforementioned departures, Houston will need to figure out where 86 starts will come from.
Interleague Schedule
They have to play the NL Central this year, which could be one of the best divisions in the league. The Cubs, Cardinals and Brewers could all win 90+ games, while the Reds could be a sneaky good team, too.
The Astros went 13-7 against the NL West last year, but could definitely drop a couple wins back vs. the NL Central this year.
Catching Conundrum
There are varying opinions on how important catchers are. Some believe a catcher's relationship with the pitching staff is vitally important, while others don't believe it plays too big of a role. I'm indifferent on the matter, but I do admit there could be some issues this year.
Two of their three main catchers last year — Brian McCann and Martin Maldonado — are out of the picture. The latter had the brunt of the work during the postseason.
The former Texas Ranger Chirinos has made the move from Arlington to Houston, while familiar face Max Stassi returns. Not a huge concern, but something to keep an eye on.
In Closing
Since two of my cons are definitely reaches, I think you can see why I took the over. My only true concern is that their rotation has some holes in it, but I feel their offense should be able to win plenty of games on their own.
The Astros will look slightly different than they have in their past two seasons, but they are every bit as good as they've ever been.
How would you rate this article?