2020 MLB AL and NL MVP Betting Preview: Why I'm Backing Wunderkind Juan Soto
Credit:
Joe Robbins/Getty Images. Pictured: Juan Soto.
In 2003, the baseball landscape changed for good as a result of two events.
First, Michael Lewis released Moneyball and let fans and media peek behind Billy Beane's analytics curtain. This helped those fans and media members to think differently about the game and allowed advanced metrics, including Wins Above Replacement ("WAR"), to become a regular part of player analysis.
Additionally, MLB began testing for Performance Enhancing Drugs during that 2003 season, two years after Barry Bonds slugged an MLB-record 73 home runs, and before scoring regressed league-wide for nearly a decade.
But in 2016, the league morphed into a complete home run and strikeout bonanza, and the 1.39 home runs and 8.81 strikeouts per game in 2019 were both MLB records.
Only three pitchers have won the MVP award in the past 30 years, and it's difficult to forecast any hurler to bring home an MVP trophy in this inflated offensive environment with both improved tendency data and increased pitcher injuries.
Therefore, I'm going to discount any pitcher analysis for purposes of betting these awards.
In the past 16 years, pitchers have won just two MVP trophies, while outfielders and corner infielders have won the award 75% of the time:
MVP Data Points
But while there has only been a slight change in the distribution of MVP winners, there is a significant trend with regards to the correlation between WAR and MVP finishers:
In the AL, each of the past seven MVPs has finished in the top three in WAR, and in the National League, the last twelve MVPs have finished in the top three in WAR;  ten of whom were the league leader in the metric.
A 2019 study made similar findings, holding that, "before the advent of WAR, there is no statistical evidence that defensive performance (defensive WAR or dWAR) improved one's MVP vote point count by any amount… From 2004, improvements in dWAR were rewarded significantly in the MVP race… the creation of WAR has changed decision-making behavior."
Additionally, a 2018 study found the following data points to be the most predictive in selecting MVP winners:
OPS ranking
Batting Average ranking
Team winning percentage
RBI ranking
HR ranking
SB ranking
With OPS counting nearly double compared to every other category.
Taking all of that into consideration, are there any MVP candidates worth betting for 2020?
National League
Juan Soto (+1200)
The first part of my annual process in selecting league MVPs, before looking at any data?
Find a player on a good team who can 1) stand to improve offensively; 2) doesn't have superstar offensive support around him.
In 2018, I landed on Cody Bellinger (+3000) for that reason – and with Mookie Betts and Anthony Rendon arriving in Southern California this winter, I think Juan Soto sees a significant boost to his 2020 MVP chances.
For one, Betts (6.6 WAR in 2019, 10.4 WAR in 2018) should take both RBI opportunities and MVP votes away from Bellinger (7.8 WAR in 2019) – it's tough to vote for either guy to win MVP when you have two on the same team.
Additionally,  Rendon earned 7 WAR in 2019 and 19.9 WAR over the past three seasons – and with both he and Bryce Harper leaving in the past two offseasons, the Nationals have a team built around Soto, Trea Turner, their pitching, and a ton of depth.
Turner is the type of talent who can put up dominant fantasy numbers – he paced for 25 HR and 46 SB last season – but middle infielders rarely win MVP awards, and Soto checks all the statistical benchmarks for an elite candidate
By ATC Projections, and some composite team here is how the 21-year-old Dominican wunderkind stacks up against his likely competition:
Soto's floor is incredibly high. His batted ball metrics indicate future success, ranking in the 89th percentile for exit velocity, 85th for expected batting average, 92nd in hard-hit rate, 97th in xwOBA, and 95th in xSLG.
And at such a young age, he already has an otherworldly eye, with the 12th lowest chase rate (23.4%) in baseball:

Notice how Soto rarely swings at bad pitches.
And he also has massive power to all parts of the ballpark: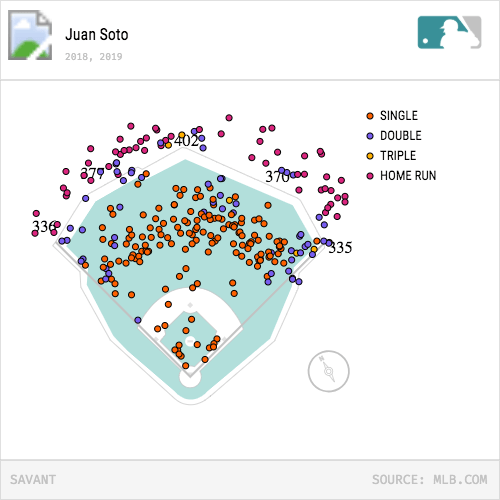 Soto saw a shift on 16% of his plate appearances last year and posted a .391 wOBA with no shift, and a .420 wOBA against the shift.
He also has a 120 wRC+ against lefties through his first 346 MLB plate appearances.
Soto has untapped power potential and substantial opportunities to rack up counting stats in the middle of Washington's lineup.
I'm betting on him to become the youngest MVP since Johnny Bench (1971) and would play his number down to 10-1.
American League
Matt Chapman (+2500)
Mike Trout is the obvious MVP favorite in the American League, and for a good reason.
The best baseball player on the planet has finished in the Top two of MVP voting in every season except for 2014 – when he played in just 114 games.
And by our MVP indicators, he laps the top AL candidates in every category except for team winning percentage – and Trout's last two MVP trophies have come during seasons where the Angels won 80 (2019) and 74 (2016) games.
Therefore, Trout can undoubtedly win the award if he plays a full season and the Angels are a subpar club once again – but I would prefer to play Los Angeles to win the division at +800, rather than laying odds on Trout to win MVP.
Trout will also get dinged by the presence of Rendon, the best teammate he has ever had, and two-way star Shohei Ohtani, who could garner some MVP attention if he exceeds expectations on both sides of the ball.
The Yankees could also see some votes split between Gleyber Torres, Aaron Judge, Gary Sanchez, Giancarlo Stanton,  and perhaps even Gerrit Cole.
Outside of Trout, you need to go hunting for a longshot. And that player should correlate to a team that you think will win their division.
The AL Central is intriguing, and while Francisco Lindor (+1600) or Jose Ramirez (+3000) could take home the award if Cleveland wins the division, or Yoan Moncada (+3000) and Eloy Jimenez (+5000) will gain consideration if the White Sox are competitive, Oakland is my favorite AL divisional underdog. 
Matt Chapman has finished 6th and 7th in MVP voting in each of his two full seasons, winning consecutive Platinum Glove Awards in the AL while leading the league in defensive runs saved in both years.
He has saved more runs (79) than any defender over the past three years – despite playing his first MLB game on June 15, 2017.
Chapman also owns plus raw power and clubbed 72 and 75 extra-base hits over the past two seasons – and, like Soto, has an above-average chase rate – but he's a bit too passive with pitches over the plate:

The good news is that skill will likely improve over time.
The power is legitimate – Chapman ranks in the 96th percentile in exit velocity and 94th percentile in hard-hit rate and has the underlying metrics to support a 45 HR peak.
Additionally, he projects as the top defender once again for 2020.
You will need Oakland to win the AL West, and for Trout to miss some time to cash this ticket, but at +2000 or better, Chapman is worth a small AL MVP investment on an annual basis.
He makes a unique case as the best two-way position player and a Top 3 player overall in the American League – and he hasn't yet reached his offensive ceiling.
How would you rate this article?