2020 MLB Futures: Early Bets and Projected Odds for World Series, Most Home Runs and Pitching Wins
Credit:
Patrick Gorski, USA Today Sports. Pictured: Lucas Giolito
Check out Sean Zerillo's early 2020 MLB Futures preview with analysis on bets for the World Series, most home runs and most pitching wins.
As the offseason hot stove heats up, I begin to lock in future wagers for the following MLB season – even though MLB regular-season win totals, which is my favorite betting market, won't open until February.
2020 World Series odds have been available for several weeks, and the Westgate Superbook in Las Vegas also has odds for both the 2020 Home Run Title and Pitching Wins leader.
Here is everything that I have bet so far for 2020:
2020 Regular Season Home Run Title
Since 2009, the MLB home run leader has averaged 48.6 homers:
Giancarlo Stanton (+2000)
Giancarlo Stanton is the only player projected to hit more than 50 home runs in 2020; six clear of the competition (Mike Trout, 45):
I didn't intend to bet Stanton when I walked into the Westgate. Still, his odds have doubled after he opened as the +1000 listed favorite, which demanded that I immediately recalibrate my approach.
The 30-year-old was limited to 59 at-bats in 2019, missing time due to various ailments, including a biceps strain, shoulder injury, and knee injury.
Stanton won the 2017 home run title running away as a +750 favorite.
Though he was with the Marlins, here is how that spray chart (59 homers) would have looked at Yankee Stadium: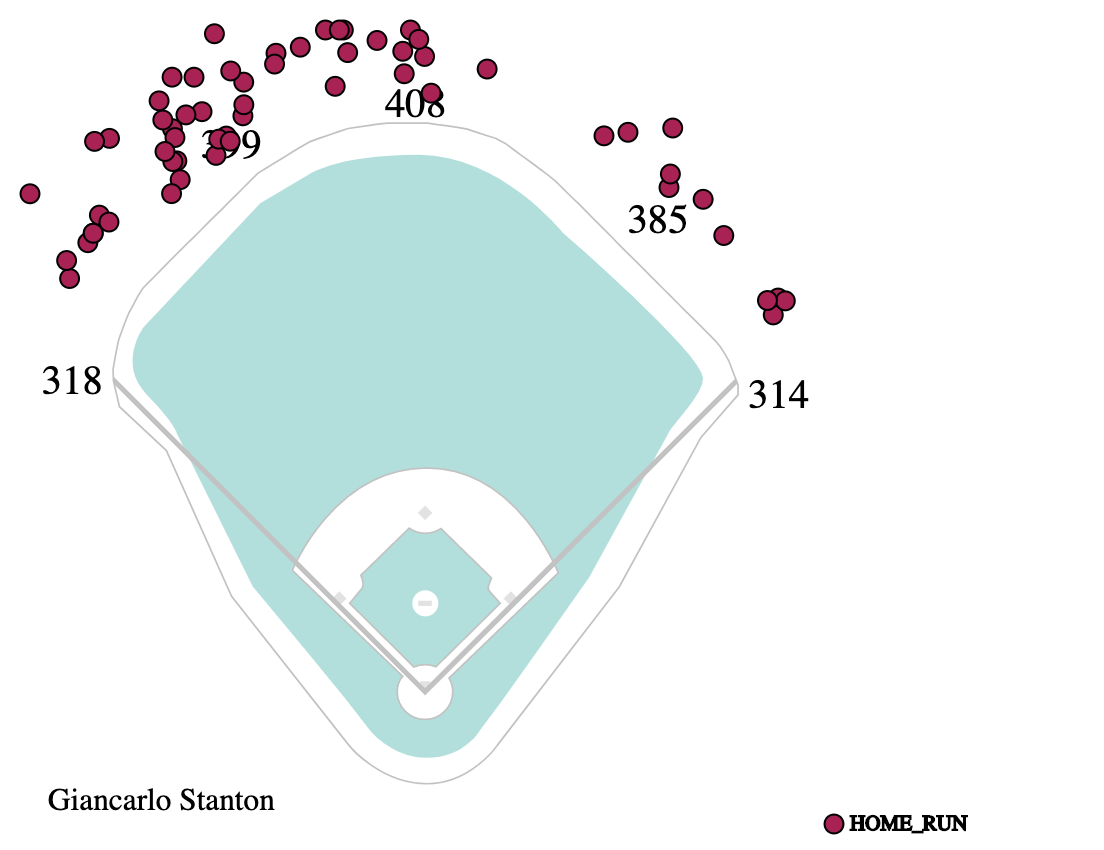 A healthy Stanton should pace the majors in home runs, but he has only played more than 123 games in just four of his 10 MLB seasons (2011, 2014, 2017, 2018).
As the projected favorite, I would bet Stanton down to +1500, which would still be double that of his 2017 odds, but I think you can find more substantial value on the board.
Nelson Cruz (+8000)
To win the 2020 home run title, Cruz would need to have one of the best seasons ever by a 40-year-old hitter.
But if batted ball data is any indicator, he is undoubtedly capable of doing so.
In 2019, Cruz led the league in barrels per plate appearance, ranked fourth in barrels per batted ball event, and finished fifth in hard-hit rate (51.5%)
He smashed 41 home runs in 120 games, after averaging 151 games played during his four seasons with the Mariners, but he missed time in May and June with a wrist injury.
Cruz paced for more than 51 homers this season, which would have put him in the thick of the home run chase, as he continues to prove that he is an ageless wonder: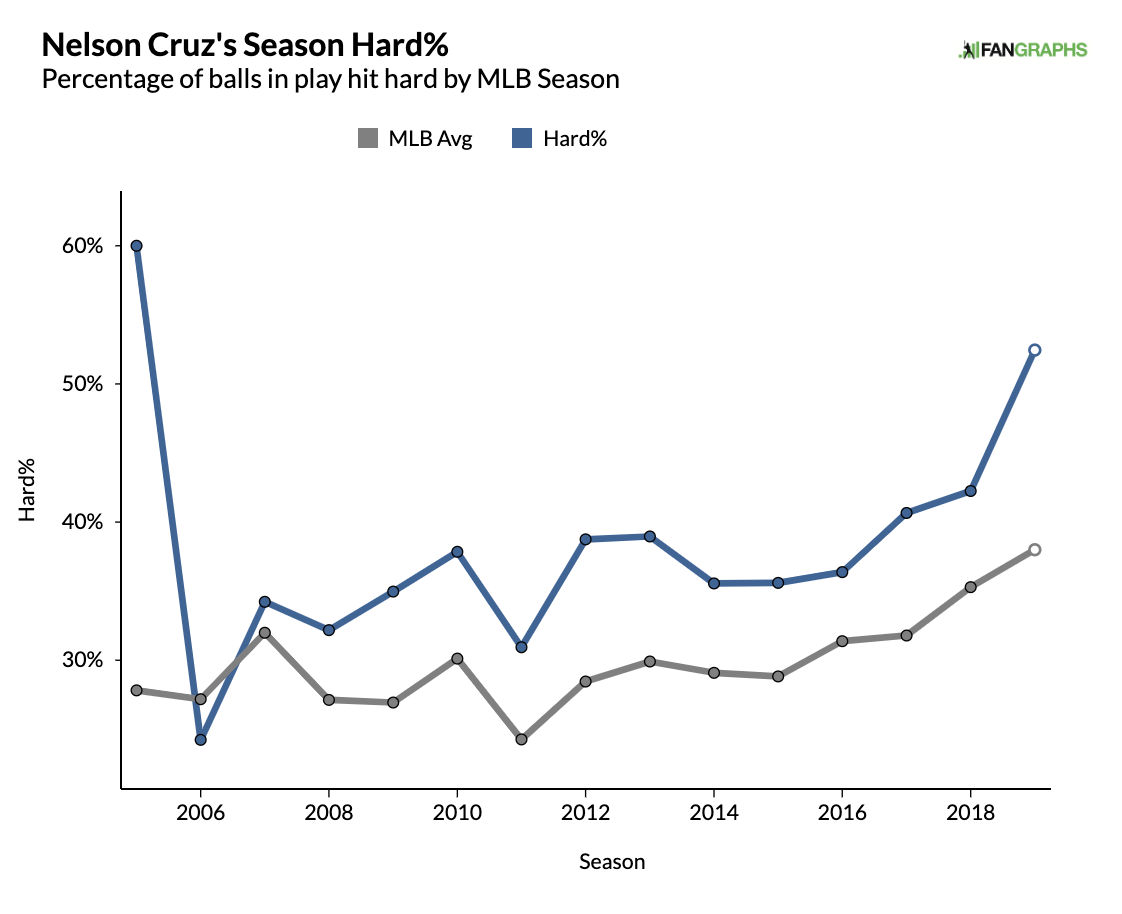 I like his odds down to +5000.
Miguel Sano (+10000)
By 2019 batted ball data, Sano is one of the few hitters who outclasses his teammate, Cruz, ranking second in barrels per batted ball event, sixth in barrels per plate appearance, and leading the league in hard-hit rate (57.2%).
Sano finished with 34 homers in 105 games – good for a 50 home run pace over 155 games – but he hasn't played more than 116 games in any of his five MLB seasons.
However, heading into his Age 27 season, Sano's plate discipline metrics are improving, and he's both pulling pitches more often and hitting them with more authority: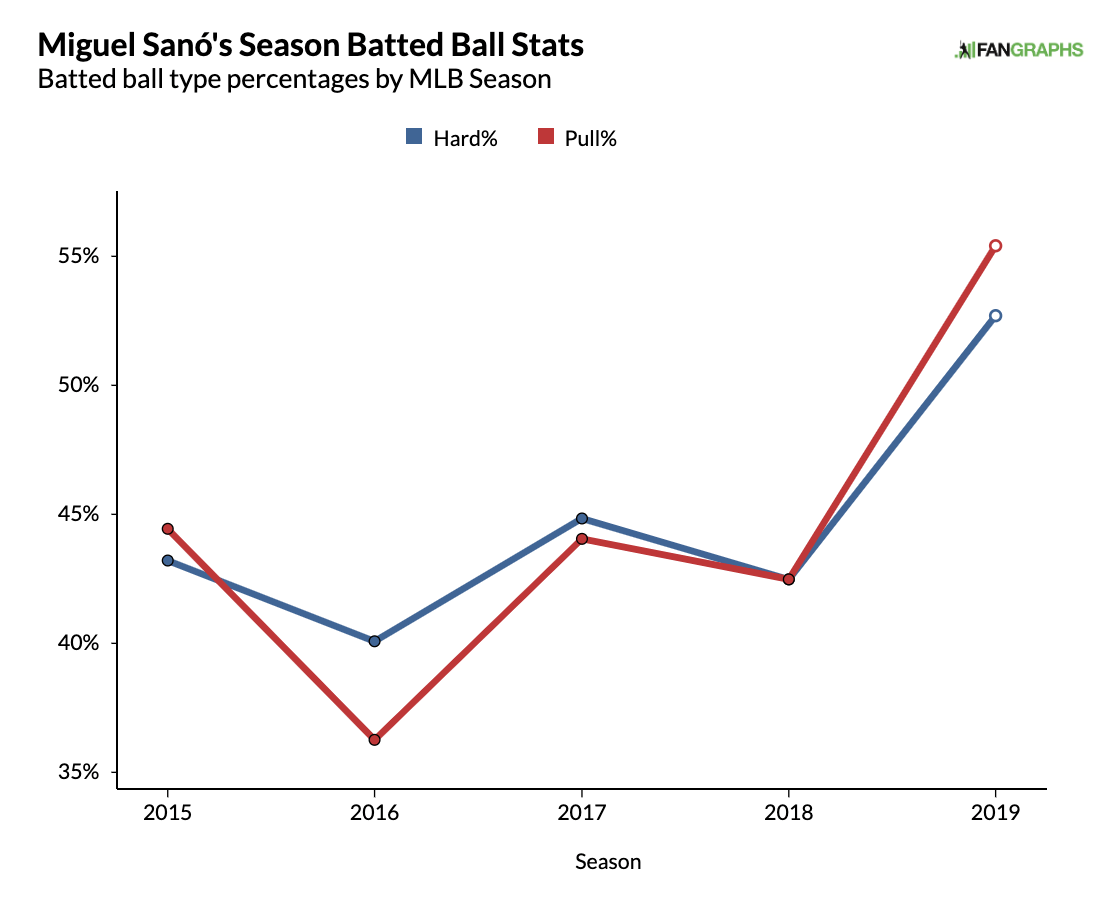 Sano has always profiled as a future home run title contender, and he looks to be hitting his stride.
I would bet him to +6500.
Franmil Reyes (+10000)
There is a reason why Franmil's nickname is "La Mole" which translates to "The Beast" – the six-foot-five, 275 pound Reyes is arguably the biggest dude on a list that also features a 6-foot-6, 245-pound Giancarlo Stanton, the 6-foot-4, 272-pound Miguel Sano, and a 6-foot-2, 230 pound Nelson Cruz.
Franmil has freakish power to all areas of the park: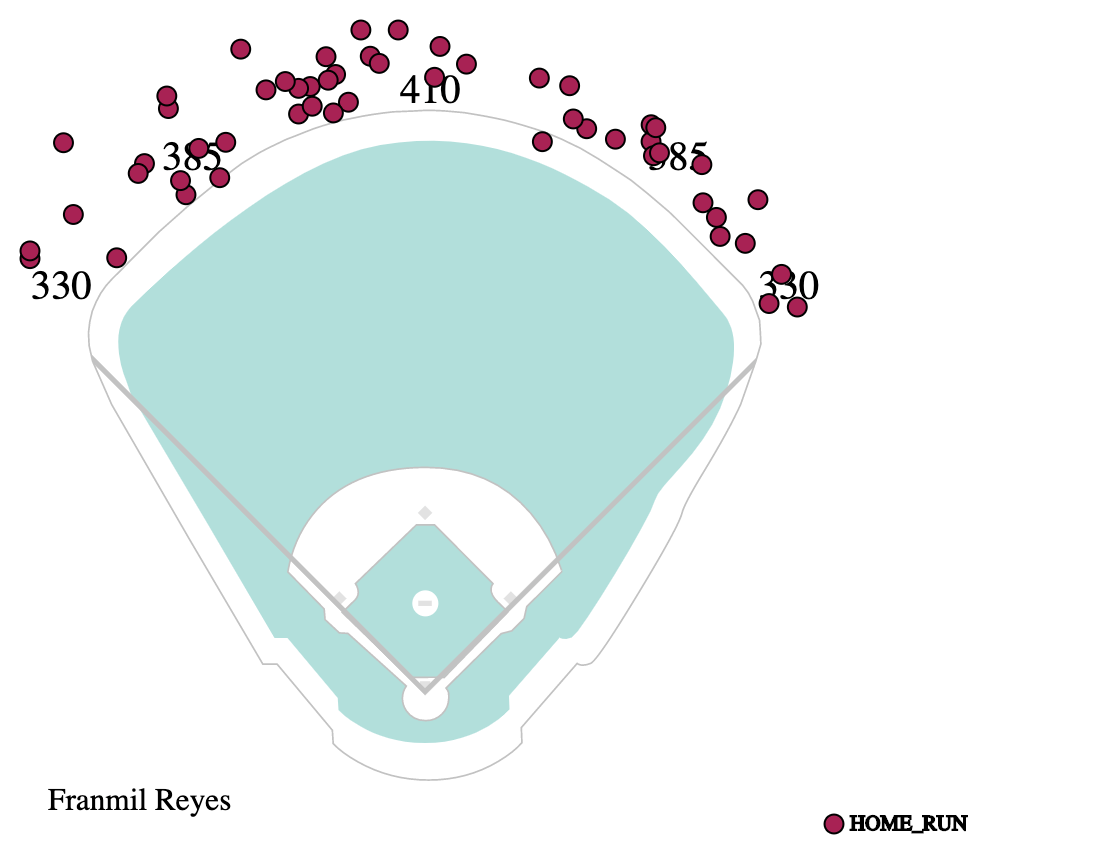 And he's in a significantly better situation than he was at the start of the 2017 season – when he was stuck in a platoon with and hitting near the bottom of the Padres' order.
Reyes is now locked in as Cleveland's full-time DH, and he's been hitting in the cleanup spot for the Tribe since being traded last July.
Franmil needs to cut his strikeout rate – his mark of 28.5% was sixth-worst amongst qualified hitters in 2019 – but he has some of the most natural power you will ever see, and there's no question that he has a 50 home run season in this bat with some modest gains and increased playing time:
I would play Franmil to +7500.
Projected 2020 Home Run Title Leaders and Odds
2020 Regular Season Pitching Wins Leader
Since 2010, the MLB wins leaders have had an average ranking of 18th on the odds board before the season and finished with a mean of 21.2 wins.
Pitcher wins are incredibly hard to project due to a confluence of factors, including run support and bullpen luck, which are out of a pitcher's control.
Most projection systems will put a ceiling on individual pitcher wins at 16 or 17, making this is an excellent category to hunt for mid-range longshots since there is so much variance and randomness with wins.
Shane Bieber (+5000)
A projections darling, Bieber completely lived up to the hype in 2019, finishing sixth amongst qualified starters in FIP (3.32), fourth in xFIP (3.23), and fifth in K-BB% (25.5%) – by pairing the 10th best strikeout rate with the sixth-best walk rate.
He finished with 259 strikeouts, the third-highest total behind Gerrit Cole (326), and Justin Verlander (300).
Projections love Bieber once again in 2020 – as both Steamer and Depth Charts call for 14 wins – and I set his fair odds at +4800.
I'm OK betting him down to that number and found it interesting that teammates Mike Clevinger (+3000) and Corey Kluber (+1600) were much shorter prices to win this category when Bieber looks to be the most durable of the group.
Clayton Kershaw (+6000)
Kershaw has only averaged 165 innings pitched, and 25.5 starts over the past four seasons, but he still took a share of this wager in 2017 by winning 18 of his 27 outings.
And after another October meltdown, there has never been a better time to buy low on the future Hall-of-Famer.
The Dodgers should dominate the National League once again, and provided all goes well in spring, Kershaw will begin the season in good health.
He was +1000 in this market before the 2018 season and +5000 before the 2019 season when he won 16 games.
Though Kershaw's skills have taken a step back, he remains one of the better starting pitchers in baseball: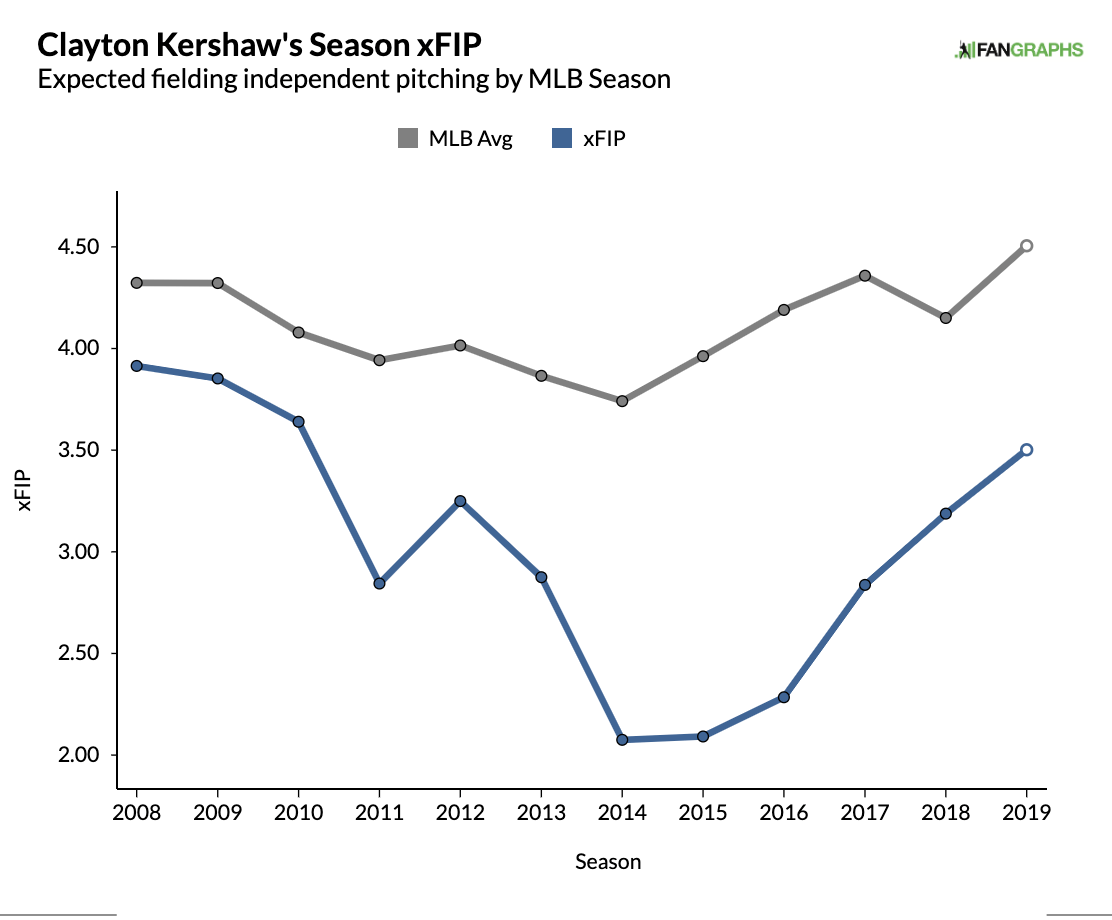 Steamer projects Kershaw for 14 wins in 2019 – tied with teammate Walker Buehler and behind only Jacob deGrom (15) in the NL.
He should be tied for fourth on the odds board in this category. Instead, he's behind 18 other pitchers.
I set Kershaw's fair odds at +4200 and would bet him to +4500.
Projected 2020 Wins Leaders and Odds
2020 World Series
As the 2019 MLB season concluded, one team jumped out to me as a possible darkhorse World Series contender in 2020:
No other rotation in baseball has anywhere near the White Sox combination of youth, upside, and team-friendly contracts.
They have four flamethrowing arms on their staff with Lucas Giolito (94.3 mph), Reynaldo Lopez (95.5 mph), Dylan Cease (96.5 mph), and Michael Kopech (95.7 mph) working under the tutelage of legendary pitching coach Don Cooper.
Giolito made a star turn in 2019, and Cease and Lopez showed glimpses of their vast potential.
Kopech needs to prove he is fully healthy after Tommy John Surgery, but he also has star potential.
And like having a good quarterback on a rookie contract in football, saving money on good young pitching affords the White Sox the luxury to spend on other parts of their team, explicitly improving their lineup.
They will add rotation depth, no doubt, but Jose Abreu just received a nice extension (three years, $50 million) and Chicago made the first big splash of the offseason by snagging pitch-framing king Yasmani Grandal (four years, $73 million) to work with their young staff.
A #Statcast look at pitch framing for the top FA catchers: Yasmani Grandal vs. Wilson Ramos

Grandal's gotten called strikes on 52.5% of borderline pitches received since 2015 (#2 among regular C)
MLB average: 47%
Ramos: 46.1%

That can mean hundreds more strikes over a season. pic.twitter.com/95vv0PNj1J

— David Adler (@_dadler) November 29, 2018
These two veteran bats (117 and 121 wRC+ respectively in 2019) will form a Cuban connection with 24-year-old Yoan Moncada (141 wRC+) and make a formidable lineup around 21-year-old Dominican superstar Eloy Jimenez and 2019 battle title champion Tim Anderson (130 wRC+).
Jimenez hit 31 homers with a 116 wRC+ in an extremely underrated rookie campaign, and the White Sox should have another Rookie of the Year candidate on the way in future second baseman Nick Madrigal, the No. 4 pick in the 2018 draft, who is a prototypical contact/speed nuisance for the top of their order.
The White Sox could stand to upgrade at two outfield spots, DH, and in the bullpen, which is where the rest of the spending comes in.
Offensively, they are incredibly right-handed, so adding a couple of left-handed bats like say, Mike Moustakas via free agency and Joc Pederson (as a rental) via trade would both balance and fill out their lineup.
I bet the White Sox at +7500 before they signed Yasmani Grandal.
Their current World Series odds are as low as +3000 at Caesars, but as high as +6500 at a couple of books.
At this point in this year, I like them down to +5000, as the South Siders should continue to be active throughout the offseason while looking to expedite the status of their rebuild.
How would you rate this article?