Applying the Lo Duca Sinker Theory to Standard Sports Betting
Credit:
John Geliebter-USA TODAY Sports
The Highlights
Sinkerball pitchers perform better with the wind blowing out due to more air resistance.
Bettors can take advantage by looking at first five inning lines.
---
Last week, Jonathan Bales published a piece inspired by something brought up by Paul Lo Duca at The Action Network's content pow wow. Lo Duca's point was that sinkerball pitchers are more effective when the wind is blowing out, since more air resistance from throwing into the wind increases the effect of the ball's spin.
Bales' article was a great read for any DFS junkies out there, and resulted in some applicable conclusions related to sinkerball pitchers' plus/minus, which got me thinking whether this idea is something that can be put to use for standard sports betting.
To find out, I used Bet Labs to look back over the past nine seasons and retrieved the results from all games started by the pitchers listed in Bales' article.
But since the question at hand regards only the effectiveness of those starting pitchers, it doesn't make sense to look at full game results, as those could be affected in late innings by bullpen performance. Instead, I looked at only the first five innings, the baseball equivalent of a first-half bet.
Here's what I found:
Since 2009, when one of the top 10 pitchers ranked by sinker percentage started a game — without taking into account the wind — his team is 656-618-236 through the first five innings, good for 16.70 units won, and a +1.1% return on investment.
But filtering to show only games in which the wind is blowing straight out tells a different story. In those games, the sinkerballers went 116-98-37, winning 14.33 units — a +5.7% ROI.
In other words, 86% of their units won since 2009 have come in games where the wind was blowing out.
Sure, the sample size isn't exactly huge, but there's still good reason to be reassured by this theory. Take a look at the table below — when selecting the wind direction, "straight out" is by far the most profitable direction.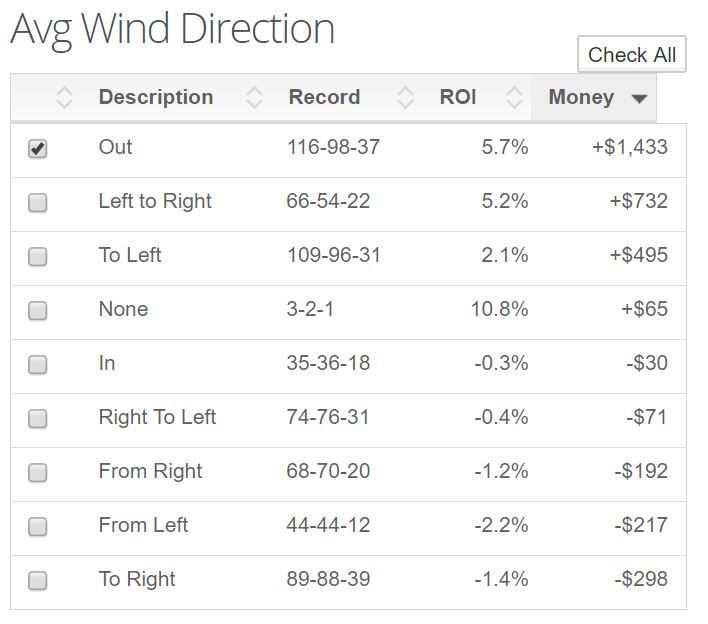 And if a 5.7% ROI doesn't meet your threshold, simply hold off on betting when these guys are favorites. They're significantly more profitable when being undervalued as a dog.

Have a sports betting theory that you want to test out? Try a Bet Labs Starter membership for $49/month.
Photo: Homer Bailey