Kershaw vs. Scherzer: The Best Pitching Matchup in 12 Years
The Los Angeles Dodgers did baseball fans a favor — a big favor. By shuffling their rotation, the Dodgers gifted us a pitching matchup worth its weight in gold, as "Mad" Max Scherzer takes on Clayton "The Left Arm of God" Kershaw at Chavez Ravine tonight. Maybe this is baseball's way of apologizing to us for all of the weather shenanigans so far this season. If so, apology accepted.
Friday night lights out pitching, baby.
---
Washington Nationals (+118) @ Los Angeles Dodgers (-135) O/U: 6
Max Scherzer vs. Clayton Kershaw
10:10 p.m. ET
Aces Wild: If you like history, make sure to cancel your plans Friday night. We will get treated to something we haven't seen in 12 years: two three-time Cy Young award winners facing off in the regular season. Only 10 pitchers in MLB history have won at least three:
We have seen only two pitchers with at least three Cy Youngs face each other in the regular season 10 times in MLB history. The last instance came way back in 2006, when Roger Clemens and Greg Maddux faced off. It has also occurred three times in the postseason — most recently in 2003 between Clemens and Pedro Martinez.
Since Scherzer and Kershaw made their debuts in 2008, they've faced each other only twice: 2008 regular season and 2016 NLDS. Since they came into the league, they rank No. 1 and No. 2 in total strikeouts. They are the only two active pitchers with three Cy Youngs, combining to win six of the 14 awarded between 2011 and 2017.
Mad Max won his lone start against the Dodgers last season, striking out 14 en route to a 2-1 victory. Kershaw also won his only start against the Nats in 2017 by a score of 2-1, striking out "only" nine in the process.
Start popping your popcorn. — Stuckey
A Rare Breed: This marks the first time you can bet on Scherzer as an underdog in the regular season since 2015. In his career, his teams have just a 25-33 record as underdogs when he starts. The Nats are 1-4. — John Ewing
Fury Road: Mad Max has lived up in the zone this season, which might be sneaky smart. Given the recent launch-angle craze, many hitters now focus on lifting the ball with an uppercut swing, opposed to the more ax-like backspin to create chop, as yours truly learned growing up. You can see this shift in approach by looking at his heat zone from this season (left side) compared to his career (right side.) The warmer colors have shifted upward significantly.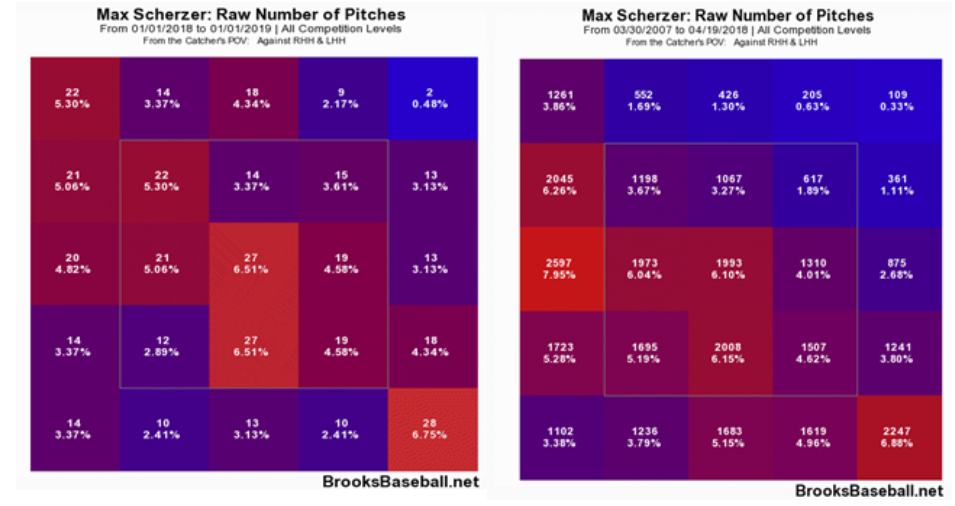 Uppercutters simply struggle getting to high pitches, especially ones thrown with Scherzer's velo, which I think he knows. He's pushing 13 strikeouts per nine innings and should give the Dodgers fits tonight. — Mark Gallant
Under a Touchdown: The total for this game opened at 6 — the lowest in any game this season so far. It'll definitely be fun to monitor where the market takes this O/U throughout the day. On one hand, casual bettors might naturally want to jump on the over at such a low total. On the other, they might have a little hesitation pulling the trigger with two of this generation's best pitchers on the hill. — Michael Leboff
Not Cutting It: What in the world has happened to Kenley Jansen? The Dodgers closer is 0-1 with an 8.10 ERA and two blown saves in four chances. He blew only one save in 42 regular-season chances last year.
It's not like he has been unlucky either, as his FIP (fielding independent pitching) sits at 8.21. The culprit? His normally devastating cutter — a pitch he has thrown more than 88% of the time in his career — just doesn't seem to have any cut. Not only is Jansen struggling with movement and location, his velocity has dropped across the board.
Just look at his strikeout numbers. Last season, he struck out 109 batters in 68.1 innings, as opposed to just seven in 6.2 innings this year. His 22.2% strike percentage is certainly alarming (42.3% in 2017.) He has already allowed six earned runs this year, after only allowing 10 all of last season.
You know it's bad when the Twitterverse starts talking about voting for Pedro (Baez) as the new closer. — Stuckey
Dig the Longball: If you want to take what looks like a contrarian over, here is a path to the window. As well as Kershaw has pitched in 2018, he has still given up 1.38 home runs per 9 innings. At first glance, that may seem like an outlier, especially given his career 0.61 HR/9 rate, but the southpaw did allow 1.18 HR/9 in 27 starts last year. Oddly, left-handed hitters have hit three of the four homers Kershaw has allowed this year. — Michael Leboff
---
Data provided by FanGraphs and BrooksBaseball.
Photo: Los Angeles Dodgers starting pitcher Clayton Kershaw smiles after taking a drink before a game against the San Diego Padres at Petco Park. Credit: Jake Roth, USA TODAY Sports
How would you rate this article?