MLB Betting Notes: Jarlin the Marlin, Kershaw and the King
Credit:
Sergio Estrada-USA TODAY Sports
Hopefully, all of the April showers bring us May flowers (and winners), and we can avoid another record month of postponed games. May baseball will officially kick off today after a wildly unpredictable first month. Besides all of the weather issues, we ended April with some very surprising division standings. I'm not sure many thought the Mets would sit in first place and the Diamondbacks would hold an eight-game lead over the Dodgers on May 1.
We will kick off the new month by focusing on the following three matchups:
Phillies (Eflin) at Marlins (Garcia) -105 | O/U: 8 | 7:10 p.m. ET
Dodgers (Kershaw) at Diamondbacks (Koch) +190 | O/U: 7.5 | 9:40 p.m. ET
Athletics (Triggs) at Mariners (Hernandez) -115 | O/U: 8.5 | 10:10 p.m. ET
Let's get to it, starting with an NL East matchup in Miami.
---
Philadelphia Philles (-105) at Miami Marlins (-105) | O/U: 8
Zach Eflin (0-0, -.– ERA) vs. Jarlin Garcia (1-0, 1.00 ERA)
7:10 p.m. ET
Fade Fishing: Jarlin the Marlin. Kinda catchy if you ask me. Though that 1.00 ERA may catch your attention, don't expect it to last. Garcia has been one lucky son of a gun this season.
In 68 appearances out of the pen last year, the 25-year-old southpaw posted a 4.73 ERA with an accompanying xFIP of 4.93. That essentially means he pitched to his ability. This season, his xFIP of 4.60 has improved slightly, but that ERA of 1.00 is clearly an outlier.
This trophy fish strikes out fewer than seven and walks four batters per nine innings — both very subpar numbers. He's achieved that gaudy ERA thanks to an unbelievably lucky BABIP (Batting Average on Balls in Play) of .121.
By comparison, Lance Lynn finished with the lowest 2017 BABIP among all qualified pitchers at .244. I'll most likely fade the fortunate Jarlin and the Marlins barring any unforeseen supersharp market action. — Mark Gallant
As Mark mentioned, Garcia has had Lady Luck on his side all season. While the kid has good stuff, he should come crashing back down to earth very soon. In addition to having a ridiculously low BABIP, he owns an absurd 100% LOB% (Left on Base) as a starter. In fact, he's the only starter with at least 10 innings pitched to have a perfect strand rate, which means not one single baserunner has scored on him this year. The only three runs he has allowed over 27 innings have come via home run. For reference, the league-average LOB% is in the 70% to 72% range, and Clayton Kershaw had the highest in 2017 at 87.4%. — Stuckey
Lehigh Lease: As a result of the plethora of pitching injuries the Phillies have suffered, they called up Zach Eflin from the Lehigh Valley IronPigs (Triple-A) for tonight's start. This won't be a new experience for the right-hander, as this will mark his 23rd career MLB start. He is just 4-10 with a 5.85 ERA in those starts, but has shown flashes in two complete games.
Not only have the Phils had to deal with a number of starters on the disabled list, but they also recently placed Victor Arano on the DL. That will certainly hurt their bullpen, as he has pitched very well in 2018. — Stuckey
Did You Know? Garcia enters this start with an ERA of just 1.00. Since 2006, when the Marlins' probable starter has an ERA below 3, they are 55-31 on the moneyline at home against divisional opponents, profiting 16.9 units. The Marlins are the most profitable team in baseball in this situation over that span. — Evan Abrams
---
Los Angeles Dodgers (-210) at Arizona Diamondbacks (+190) | O/U: 7.5
Clayton Kershaw (1-4, 2.84 ERA) vs. Matt Koch (1-0, 1.93 ERA)
9:40 p.m. ET
Matt Who? A duel of aces — Clayton Kershaw vs. Matt Koch! What in the H is a Matt Koch?
Well, Koch is essentially a 27-year-old Quadruple-A player who has made some spot starts over the past few seasons with moderate success. He's actually pitched pretty well this year, allowing only three runs in 14 innings. I'm interested to see how the Dodgers react over the next few days after learning shortstop Corey Seager will miss the rest of the year with an injury. Everyone in that clubhouse knows their playoff chances just took a huge hit. A win with Kershaw on the hill against this Koch fella looks easy on paper, but the Dodgers look vulnerable right now. — Mark Gallant
The Claw-back: Betting against Kershaw sounds like a scary proposition, and that's because it's been a bad idea historically. Since the generational superstar joined the league, a $100 bettor would be in the hole for $3,477.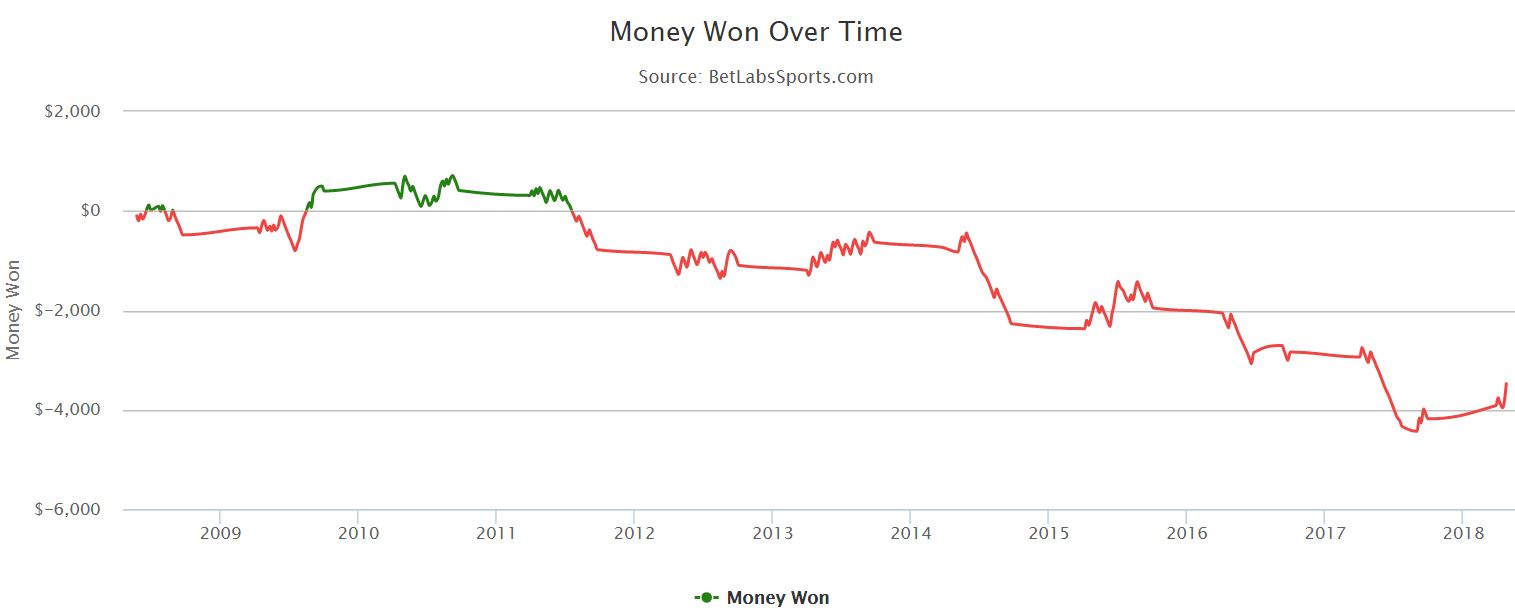 But if you look at that chart closely, you can see an uptick all the way to the right. That's because Kershaw has found success hard to come by of late — at least at the team level. This year, taking on the three-time Cy Young winner has been a wallet-fattening strategy. A $100 bettor betting against Kershaw in each of his six 2018 starts would have profited $709 for an ROI of +118.2%.

At +190, the books suggest Arizona has only a 34.5% chance of winning. That's pretty crazy when you consider the Snakes are more than a week's worth of games ahead of LA in the division and Kershaw has looked more mortal than usual this year. — Michael Leboff
Bouncing Back: The Dodgers have lost consecutive Kershaw starts, which has happened only 25 other times in the regular season since 2010. When the ace took the mound in the next game, Los Angeles went 21-4 — winning by an average of three runs per game. — John Ewing
Did You Know? The wind at Chase Field should be swirling once again, with the average speed projected at more than 10 mph. In Kershaw's 24 career starts with average winds of at least 10 mph, the Dodgers have gone 19-5, winning by an average of 2.3 runs per game. Against division opponents, the Dodgers are 11-0 since 2010 when Kershaw starts in this situation. — Evan Abrams
---
Oakland Athletics (+105) at Seattle Mariners (-115) | O/U: 8.5
Andrew Triggs (2-0, 4.70 ERA) vs. Felix Hernandez (3-2, 4.96 ERA)
10:10 p.m. ET
Father Time, Undefeated: It's sad, but we've reached the point of human existence where Hernandez is only a slight home favorite against Triggs. That's no dig at Triggs, who is a crafty son of a gun, but more just a statement on how we're all doomed.
Hernandez's downward spiral started in 2016, when he finished the season with a FIP above 4.00 for the first time in his career. Not coincidentally, Hernandez lost 1.7 ticks off his fastball (92.8 mph to 91.1 mph) that season.
The silver lining in all of this existential turmoil? Hernandez has actually treated bettors all right during his lean years. Since 2016, if you bet on the Mariners in each of his starts, you'd have gone 28-19 for a net of $601. — Michael Leboff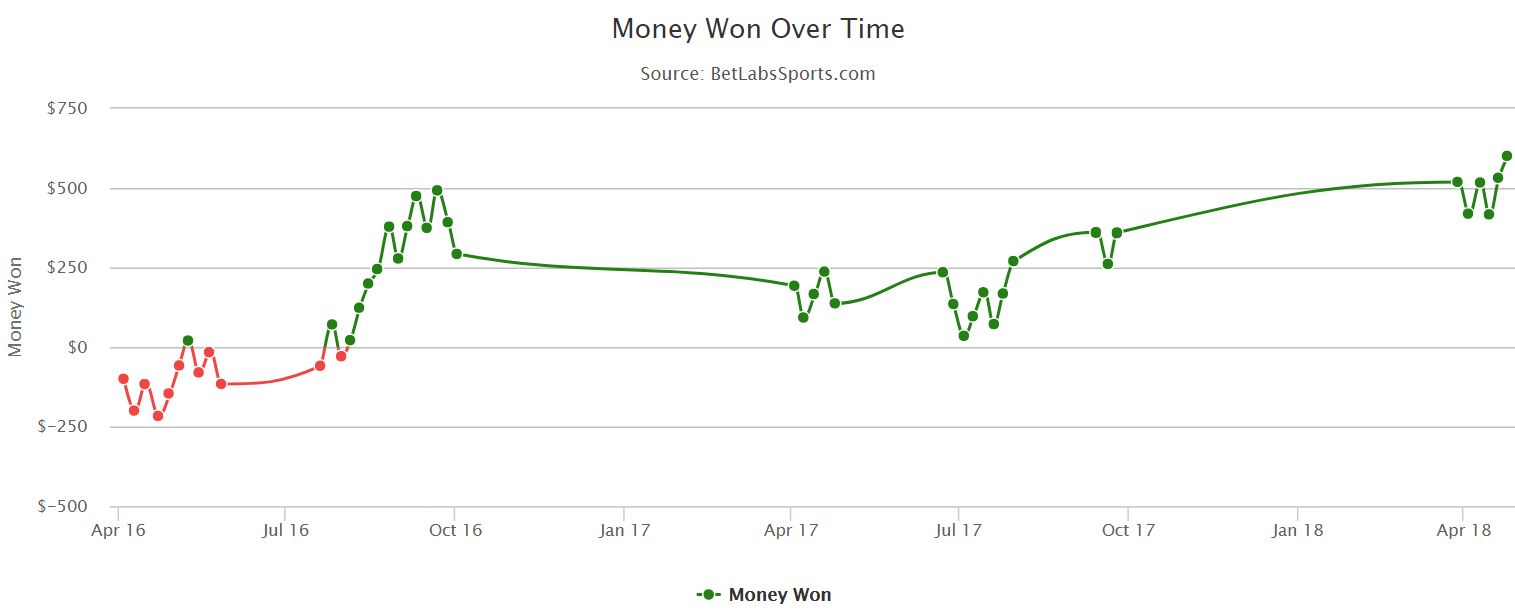 Krush the King: The King has always induced ground balls at a high rate, as his excellent 53.7% career ground-ball rate illustrates. However, that number dipped to 46.9% last year and to just 38.1% in 2018. It's not terrible, but I believe it's one of the main reasons for his struggles.
If the roof stays open, the atmospheric conditions aren't ideal for offense. That could help minimize the damage, but the Athletics' offense has enough pop to hurt Hernandez if he doesn't keep the ball down.
One bat that could make Felix pay for his reduced GB%? None other than Khris "Krush" Davis, whose 47.5% fly-ball rate ranks toward the top of the league. — Mark Gallant
While Davis can lift a ball as well as any hitter in baseball, he hasn't had much success against the King in the past. In 16 career at-bats against Hernandez, Davis has only one single (.063) with five strikeouts and one walk. On the other hand, Marcus Semien has historically seen the ball well out of Hernandez's hand. The A's shortstop is 10-for-31 in his career against the future Hall of Famer. — Stuckey
Optimal Opponent: While Hernandez certainly has regressed with age, he has always enjoyed pitching against the A's. He showed that once again earlier this season, when he allowed only two earned runs in 6.1 innings with seven strikeouts and no walks against Oakland.
Over the course of his career, the Mariners have won 31 of his 47 starts against their division rival (66%). Hernandez personally owns a 25-10 record in those games with a 2.61 ERA and 1.09 WHIP. While his 13-3 record at Oakland Coliseum looks a lot better than his 12-7 home record against the A's, he actually has a lower ERA at Safeco Field against his AL West rivals. — John Ewing
Trigg-onometry: According to the math, Triggs doesn't like facing the Mariners — at all. In four career games (three starts) against Seattle, the Athletics right-hander has an 0-1 record with a heinous 7.13 ERA and 1.53 WHIP. The two primary Seattle sluggers, Nelson Cruz and Robinson Cano, are a combined 6-for-10 with three home runs and five walks against Triggs.
Those numbers should scare potential Athletics backers, especially since this is the best offense Seattle has had in quite some time. Plus, the Mariners have raked right-handed pitching this season, ranking third in Slugging % — only behind the Red Sox and Yankees. (Oakland actually sits right behind them at fourth overall.)
Seattle has also hit the second-most homers (30) against righties, trailing only the Yanks by a single bomb. Watch out for Mariners right fielder Mitch Haniger, who shares the MLB lead with eight long balls against righties. Haniger, like Cano and Cruz, is also 3-for-5 in his career vs. Triggs.
Did You Know? Since 2006, no visiting team has profited more to the under (13-6-2) against Hernandez than Oakland. This is especially true for his home starts in July or earlier — the under is 10-1-1, covering by an average of 2.5 runs. — Evan Abrams
---
How would you rate this article?