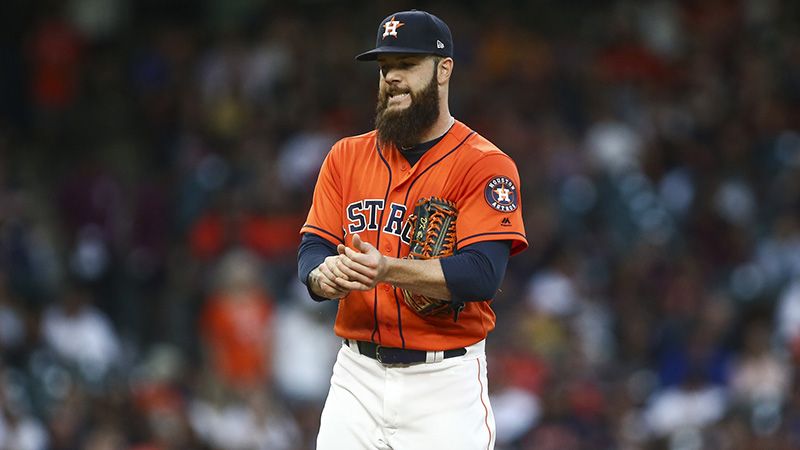 An absolutely wild start to the month of May for bettors — especially those who bet unders in Cleveland and Boston.
In today's betting guide, we will focus on the following two intriguing pitching matchups — two under-the-radar starters in the afternoon and a prime-time showdown of two household names. A little day-night doubleheader of action if you will.
Rays (Snell) at Tigers (Fulmer) +115 | O/U: 8 | 1:10 p.m. ET
Yankees (Severino) at Astros (Keuchel) +116 | O/U: 8 | 8:10 p.m. ET
Let's start off with the early afternoon game in the Motor City.
---
Tampa Bay Rays (-135) at Detroit Tigers (+115) | O/U: 8
Blake Snell (4-1, 2.52 ERA) vs. Michael Fulmer (1-2, 2.76 ERA)
1:10 p.m. ET
Butter Blake: Just call him butter because he's on a roll. Blake Snell has been absolutely dealing lately. He has won his past four starts, while striking out 34 in just 26.2 innings.
One of those starts was not a part of a DraftKings slate, but the other three all resulted in 30+ points. Boasting a 68.7% contact rate, batters have swung and missed at Snell's pitches at the seventh-highest rate among 92 qualified starting pitchers.
However, the Tigers own the league's fourth-lowest K-rate, including a league-low 34 strikeouts against left-handed pitching. Plus, the atmospheric conditions — which Evan will speak to next — will favor offense. The Fantasy Labs weather rating for this game is 62 for hitters and just 38 for the pitchers. Tread lightly with "butter" Blake, especially considering the Tigers have the seventh-highest batting average against southpaws in 2018. — Mark Gallant
Mo' Runs Town: The forecast calls for winds close to 17 mph in Detroit. Since 2007, the over is 44-28-7 (61.1%) at Comerica Park when winds are blowing at least 10 mph in games that start at 1 p.m. or earlier. During that span, the total went over by an average of 1.5 runs per game — netting bettors 15 units of profit. — Evan Abrams
Stingy Starter:  Fulmer has allowed two or fewer runs in four of his five starts, including two starts without allowing a single run. The keys to his success are simple. He doesn't offer free passes and he keeps the ball in the park — two ideal traits for any starter.
His 2.15 BB/9 ranks in the top 25 among all qualified starters this season. And that's no fluke, as his 2.19 rate last season was the 11th-lowest in the league.
Even more impressively, he owns the lowest HR/9 rate (.79) among all qualified starters since the start of last season. Just look at some of the names on this list:
While Fulmer is one of the league's best pitchers in terms of keeping it in the park, the Detroit offense simply hasn't cleared the fence much themselves this season. Only the Marlins have hit fewer homers (21) than the Tigers (23) in 2018. Even with the winds, I wouldn't expect too many long balls, especially since Tampa also sits in the bottom third of the league with only 27 homers.
In his career, Fulmer has pitched much more effectively during the day (2.43 day ERA compared to a 4.15 night ERA.) He's also had success in four career starts against Tampa, as evidenced by his 2.36 ERA. Current Rays hitters are just 7-for-34 (.206) — with no home runs and just two walks, which sums up exactly what Fulmer does. — Stuckey
Balanced Bay: Tampa's offensive production has been one of the most surprising storylines in all of baseball thus far. The Rays rank third in average, which they can also claim against both righties and lefties. Two names that casual baseball fans might not recognize — Daniel Robertson and Mallex Smith — rank in the top 20 in average. — Stuckey
Home Ump Advantage: Umpire Chad Whitson will call balls and strikes for this one. In the past two seasons, the home team has a 25-8 (76%) record in games that Whitson calls. A $100 bettor would have profited $1,397 betting the home team, which makes Whitson the most profitable home ump over that period. — John Ewing
---
New York Yankees (-126) at Houston Astros (+116) | O/U: 8
Luis Severino (4-1, 2.61 ERA) vs. Dallas Keuchel (1-4, 4.00 ERA)
8:10 p.m. ET
Get The Edge
LIMITED TIME OFFER - 60% OFF