MLB Betting Notes: Yankees-Sox, Plus 3 Southpaw Matchups
Credit:
Bob DeChiara – USA TODAY Sports
It's still early in the season, which means day baseball can take place just about any day of the week. Today, we have a fully spread-out slate, with several games throughout the afternoon into the late night hours on the east coast.
If you don't have the perk of working in an office with TVs hooked up to every baseball game imaginable, do as I did throughout my formative years and fake an illness so your mom can pick you up and take you home to watch baseball. Well, everything except the mom part … –– Mark Gallant
Today, we will analyze the following four MLB games on Wednesday's card
Seattle Mariners @ Kansas City Royals +126 | O/U: 8.5 (2:15 p.m. ET)
Arizona Diamondbacks @ San Francisco Giants +118 | O/U: 8 (3:45 p.m. ET)
New York Yankees @ Boston Red Sox -113 | O/U: 8 (7:10 p.m. ET)
Pittsburgh Pirates @ Chicago Cubs -178 | O/U: 8.5 (8:05 p.m. ET)
All odds as of Wednesday morning. For real-time numbers, check out our MLB live odds page.
---
Seattle Mariners (-140) @ Kansas City Royals (+126) | O/U: 8.5
2:15 p.m. ET
James Paxton (0-1, 7.45 ERA) vs. Danny Duffy (0-2, 7.45 ERA)
Twinning:  A battle of staff aces who have each allowed exactly 8 earned runs with five walks in 9.2 innings pitched over their first two starts. Each had a very ugly first start followed by a so-so second start as a result of uncharacteristic issues with free passes. The only difference between these two southpaws is that Duffy was not attacked by a bird of prey in his last start.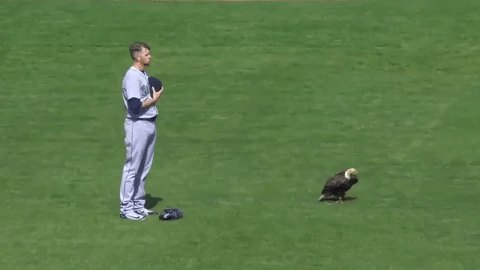 Will both lefties still boast 7.45 ERAs after today? All signs point to yes.
Just kidding, as both should bounce back.
However, of the two, I expect Duffy to struggle more for two reasons:
The Mariners have a better offense.
Duffy allows more fly balls, which may be an issue because of …
Tornado Alley: All right, maybe there won't be any twisters, but it is expected to be very windy. A new weather front has hit the Midwest with balmy temps and fierce breezes. Kauffman Stadium is set to see temperatures in the low 70s and winds upward of 15 mph blowing out to left-center. We will finally get some weather that's favorable for hitters!  — Mark Gallant
Mark's right. Windy conditions like that will benefit hitters and over bettors. In all MLB games since 2005, when the wind is blowing out to left at 15 mph or stronger (as the forecast predicts), overs are 96-75-7 (56%). Having said that, the over is just 12-14-1 under these windy conditions in Kauffman Stadium over that span. Not the greatest sample size, but worth mentioning.  — John Ewing
No King, No Problem? The Mariners are favored on the road against the Royals without Felix Hernandez on the mound. Since 2013, Seattle is 52-35 on the moneyline as a road favorite when Hernandez doesn't start, including 46-29 against AL opponents.  — Evan Abrams
The No-K Zone: One offensive category that KC and Seattle have each excelled in this year has been avoiding strikeouts. Both teams rank in the top five in terms of lowest strikeout percentage thus far. That will come in handy Wednesday against two strikeout pitchers. Another stat conducive to an over play.  — Stuckey
---
Arizona Diamondbacks (-131)  @ San Francisco Giants (+118) | O/U: 8
3:45 p.m. ET
Robbie Ray (2-0, 5.73 ERA) vs. Andrew Suarez (0-0, 0.00 ERA)
Fade the Heat: The D-Backs have won their first three series of the season, including a sweep of the Dodgers. It has been profitable to fade teams off to a hot start (won 70% or more games) in April when they are favored: 296-349 (46%). Despite the losing record, a $100 bettor would have profited $6,841 over that period, which pretty much sums up betting baseball.  — John Ewing
Ray of Hope: Robbie Ray was a Cy Young dark horse pick for some this offseason, but his 5.73 ERA won't earn him any hardware. The good news is that he's still striking out guys like gangbusters. His 13.91 K/9 is second-best in the MLB. Those splits will eventually lead to a lower ERA over any significant sample size, since fewer balls are put into play. He just has to cut down on those walks, which has always been a bugaboo of his.  — Mark Gallant
Despite the high ERA, the Diamondbacks won both games that Ray started this year, which has continued a streak dating back to last season. The D-Backs have won 10 consecutive regular-season games in which Ray has started, winning by an impressive 4.6 runs per game. During that span, Ray has an ERA of 2.98, picking up a win in eight of the 10.  –– Evan Abrams
Catching a Break: Instead of Johnny Cueto, who was scheduled to start before being placed on the DL on Monday, the D-Backs will face a pitcher making his major league debut for the second consecutive game. (The Giants now have their top three starting pitchers on the DL.) On Tuesday night, the D-Backs faced Tyler Beede, the Giants' No. 4 prospect per MLB.com. Arizona ultimately could only cash in two runs against the righty, despite three hits and five walks over four innings against the High-A recall from San Jose.
On Wednesday, the Diamondbacks will face Andrew Suarez, whom MLB.com ranks as the Giants' No. 10 prospect. The 25-year-old southpaw started 24 games between Double-A and Triple-A last year, posting an ERA in the low 3s, while striking out a bit less than eight batters per nine. He did throw four scoreless innings in his lone Triple-A start this year, but also walked four. This could be a tough assignment for Suarez, as Arizona ranks seventh in slugging percentage against lefties. In comparison, it only ranks 24th in that category against righties.  –– Mark Gallant
Strand Francisco: Headed into Tuesday, the Giants had the lowest average in baseball with runners in scoring position. They were hitting an abysmal .119 in that scenario on the young season before finally coming through with some clutch hits in Tuesday's walk-off victory, finishing 4-for-8 with RISP. That only improved their season RISP average to .160, which now ranks as second-worst behind the Indians.  — Stuckey
---
New York Yankees (+103) @ Boston Red Sox (-113) | O/U: 8
7:10 p.m. ET
Masahiro Tanaka (1-1, 2.92 ERA) vs. David Price (1-0, 0.00 ERA)
The Price is Wrong: David Price is no stranger to the AL East and the Yankees, but he has struggled mightily on these big stages since joining the Red Sox. That said, Price's last start against the Yankees was great (8.0 innings of shutout ball in a 3-0 victory last July), and he's looked great so far this season through two starts. The bad news …

… he's been awful in his other six starts against New York with the Red Sox. He's averaged nearly 11 DK points less than expected. Between 2015-17, Price compiled a 5.68 ERA in 12 starts against the Yanks, which is his worst mark against any team over that span. Sox fans will hope the Price of 2018 remains hot, but the Yankees have just a bit more firepower than the Rays, whom he faced in his first two starts.  –– Mark Gallant
Masa-Hero: While Price has struggled mightily in this rivalry, Masahiro Tanaka certainly has not. Over the last three seasons, Tanaka has gone 6-2 with a 3.44 ERA and a .208 BAA in 11 starts against Boston. Those numbers are even better at Fenway Park, where he has a miniature 2.45 ERA in five starts. I like the Yanks in this one.   –– Stuckey
Don't Dust the Brooms Off Yet: In the Yankees-Red Sox rivalry, the loser of the first game has bounced back to win the second game of the series 57% of the time (44-33 record) since 2005. In all other regular-season games during that period, the loser of the first game has only won the second 48% of the time.  –– John Ewing
Bronx Bomber Alert: Gary Sanchez has faced David Price 11 times in his career. In those 11 at-bats, Sanchez has five hits and nine RBIs. Four of the five hits left the yard.  –– Evan Abrams
---
Pittsburgh Pirates (+160) @ Chicago Cubs (-178) | O/U: 8.5
8:05 p.m. ET
Steven Brault (2-0, 1.13 ERA) vs. Jon Lester (1-0, 2.89 ERA)
Steven Who? The lefty you've all been clamoring to hear about … Steven Brault … a 25-year-old who pitched parts of the past two seasons, getting spot starts and bullpen work. That has continued this year, as he has started one game and made one appearance out of the pen, getting the W in both. While his 1.13 ERA is impressive, he's benefited from a nice dosage of early season luck. Despite issuing five walks and throwing two wild pitches, his favorable batting average on balls in play (BABIP) has helped him only allow one run. That's just the way things have gone lately for Brault and the Pirates, though, as they've won all five of his starts over the past year for +6.46 units.  –– Mark Gallant
Speaking of Luck: The Pirates lead all of baseball with a .318 BABIP. The Cubs rank 21st in that same category at .285. Similarly, the Pirates are hitting an absurd .352 with runners in scoring position, while the Cubs are at a lowly .182. That disparity in both categories won't persist long into the future.  –– Stuckey
Familiar Foe: The Cubs have enjoyed a lot of success against the NL Central with Lester on the bump, going 28-14 (67%) in his starts. However, Lester has done most of his damage against the Reds and Brewers, beating those teams in 16 of 18 appearances. Neither Cincy nor Milwaukee has made the postseason since Lester arrived in Chicago. Against St. Louis and Pittsburgh, Chicago is only 12-12 when Lester starts.  –– John Ewing
As John said, as a member of the Cubs, Lester is 28-14 on the moneyline (+5.2 units) against the NL Central. When Lester takes the mound under the lights (7 p.m. ET or later) against divisional opponents, he is 18-5 on the moneyline as a Cub. However, two of those losses did come against Pitt.  –– Evan Abrams