It's still early in the season, which means day baseball can take place just about any day of the week. Today, we have a fully spread-out slate, with several games throughout the afternoon into the late night hours on the east coast.
If you don't have the perk of working in an office with TVs hooked up to every baseball game imaginable, do as I did throughout my formative years and fake an illness so your mom can pick you up and take you home to watch baseball. Well, everything except the mom part … –– Mark Gallant
Today, we will analyze the following four MLB games on Wednesday's card
Seattle Mariners @ Kansas City Royals +126 | O/U: 8.5 (2:15 p.m. ET)
Arizona Diamondbacks @ San Francisco Giants +118 | O/U: 8 (3:45 p.m. ET)
New York Yankees @ Boston Red Sox -113 | O/U: 8 (7:10 p.m. ET)
Pittsburgh Pirates @ Chicago Cubs -178 | O/U: 8.5 (8:05 p.m. ET)
All odds as of Wednesday morning. For real-time numbers, check out our MLB live odds page.
---
Seattle Mariners (-140) @ Kansas City Royals (+126) | O/U: 8.5
2:15 p.m. ET
James Paxton (0-1, 7.45 ERA) vs. Danny Duffy (0-2, 7.45 ERA)
Twinning:  A battle of staff aces who have each allowed exactly 8 earned runs with five walks in 9.2 innings pitched over their first two starts. Each had a very ugly first start followed by a so-so second start as a result of uncharacteristic issues with free passes. The only difference between these two southpaws is that Duffy was not attacked by a bird of prey in his last start.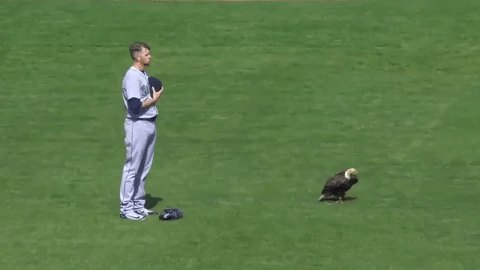 Will both lefties still boast 7.45 ERAs after today? All signs point to yes.
Just kidding, as both should bounce back.
However, of the two, I expect Duffy to struggle more for two reasons:
The Mariners have a better offense.
Duffy allows more fly balls, which may be an issue because of …
Tornado Alley: All right, maybe there won't be any twisters, but it is expected to be very windy. A new weather front has hit the Midwest with balmy temps and fierce breezes. Kauffman Stadium is set to see temperatures in the low 70s and winds upward of 15 mph blowing out to left-center. We will finally get some weather that's favorable for hitters!  — Mark Gallant
Mark's right. Windy conditions like that will benefit hitters and over bettors. In all MLB games since 2005, when the wind is blowing out to left at 15 mph or stronger (as the forecast predicts), overs are 96-75-7 (56%). Having said that, the over is just 12-14-1 under these windy conditions in Kauffman Stadium over that span. Not the greatest sample size, but worth mentioning.  — John Ewing