MLB Betting Notes: What Happened to the Diamondbacks?
Credit:
Arizona Diamondbacks right fielder David Peralta. Credit: Matt Kartozian-USA TODAY Sports
If you decided to take a break from baseball for the last two weeks to focus on the NBA and Stanley Cup Playoffs, the National League West standings might shock you. Why? Well, the Diamondbacks have lost 13 of their last 14 games.
However, the Diamondbacks still sit only a half-game game back of the first-place Rockies. Luckily, Arizona plays in the NL West — because the Diamondbacks' current 25-24 record would put them toward the bottom of both other National League divisions.
The Snakes will try to turn it around tonight in a road interleague game with the Athletics. Let's take a closer look at what appears to be an excellent pitching matchup on paper.
---
Arizona Diamondbacks (+112) at Oakland Athletics (-132) | O/U: 7
Patrick Corbin (4-1, 2.60 ERA) vs. Sean Manaea (5-4, 2.71 ERA)
9:35 p.m. ET
Slumpin' Snakes: The Diamondbacks started the season with a franchise-best 21-8 record. But the Snakes have won just one of 14 since May 8, when they held the best record in the National League at 24-11.
While their pitching hasn't been as sharp, their offense has been the biggest culprit. During their current 1-13 stretch, the Diamondbacks have scored two or fewer runs in 11 of 14 games — including a total of five runs over their past four. They've only put up more than three runs once during this 1-13 stretch, in a 6-4 loss to the Nationals. — Stuckey
Designated Diamondbacks: Injuries have certainly played a significant part in their recent slide, as Arizona has dealt with a whole host of critical losses over the first two months of the season. The Snakes are now down two starting pitchers, as they lost Taijuan Walker for the season and had to put Robbie Ray on the DL with an oblique injury. Speaking of obliques, reliever Randall Delgado also remains on the DL, which really hurts Arizona's bullpen depth. As a result of all of the injuries, Clay Buchholz recently got a call to join the Diamondbacks' rotation. Maybe Shelby Miller (who may return soon) will come back from Tommy John surgery a changed man?
Things haven't been much better on offense in the health department. Last week, Arizona lost center fielder A.J. Pollock for four to eight weeks. At the time of his injury, he led the team in average, homers and RBI. The Diamondbacks also recently had to place veteran outfielder Steven Souza Jr. on the disabled list for a second time this season.
In more positive news, they did just get All-Star third baseman Jake Lamb back from injury. He certainly should help a lineup that now ranks dead last in all of baseball in average at an abysmal .213. Lamb hit 30 home runs and drove in 105 last season. — Stuckey
Jekyll or Hyde: Corbin started the season out very well. But his 2018 campaign has already been split into two very different halves.
First five starts: excellent. Next five starts: meh.
This essentially mirrors his fastball/sinker velocity, which has dropped substantially. In fact, he's throwing more slowly than he has at any point in his whole career.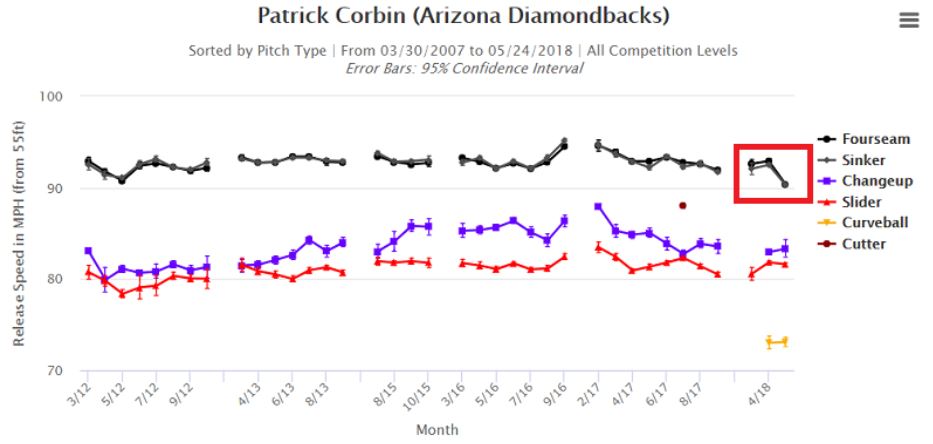 This is worrisome for a couple of reasons. For starters, pitchers who throw slower are generally worse. Not always, but generally. And perhaps more importantly, you have to worry if Corbin is dealing with some type of injury. It's a bit odd to see a pitcher's fastball drop more than 2 MPH from April to May. I'd be a bit cautious with Corbin, both betting and DFS-wise, until he proves this is not an issue. — Mark Gallant
Did You Know: The A's are average — but in interleague play that is a good thing. Since 2005, so-so American League teams (47% to 53% win rate) in interleague games with a high total (7.5 or greater) have gone 634-441 (59%) straight-up. A $100 bettor would be up $11,492 betting these teams. — John Ewing
Over The Wall: Corbin has made 65 road starts in his career with the Diamondbacks. The over in those 65 starts is 41-21-3 (66.1%), going over the total by over 2 runs per game and profiting bettors 19.6 units, making Corbin the most profitable road pitcher to the over since he entered the league in 2012. In this situation, when the total is set at 8 or less, the over is 27-11-3 (71.1%), going over the total by 2.4 runs per game. — Evan Abrams
Since 2005, teams that have lost at least nine of their last 10 games overall have been about .500 on the moneyline, but their profits have been through the roof at +19.4 units. Compare that to a team in the same exact scenario after May, and bettors toss all their profits out the window (-67.9 units). — Evan Abrams
Stats via FanGraphs and Baseball Reference
How would you rate this article?