Friday Sharp Report: Wiseguys Moving Lines for Three MLB Games
Credit:
Gary A. Vasquez-USA TODAY Sports
Sharp bettors had a profitable Thursday, cashing two of their three total plays. When looking to get down on an Over/Under, wiseguys are especially selective. They know that, unlike moneyline underdogs (which only have to win 45% of the time to turn a profit), they must cash totals at a 52.4% or more rate in order to make money (assuming standard -110 juice). So all key factors must be on the same page: percentages, line movement, bet signals, wind direction and umpires. If not, sharps lay off and focus on moneylines, which is what they're doing tonight.
After analyzing Friday's stacked 15-game slate using Sports Insights' Sportsbook Insider Pro betting tools, I've pinpointed three MLB bets that professional players are focusing on, including two that start at 7:10 and one at 10:10 p.m. ET.
All data as of 3:30 p.m. ET
Milwaukee Brewers (+108) at New York Mets
7:10 p.m. ET
The Mets (10-1, +8.38 units) have been the most profitable team for bettors this season, so of course the public is riding them once again. However, despite receiving 73% of bets, the line hasn't moved in New York's favor. It's actually fallen -120 to -118. Sharp signals on the road dog caused this combination of reverse line movement/line freeze. Wiseguys hit the Brewers +125 at SIA and the pros at Pinnacle hammered Milwaukee +115. This overload of smart money caused Milwaukee to fall from +111 to +108 since opening, even though they're only getting 27% of bets.

Philadelphia Phillies at Tampa Bay Rays (-108)
7:10 p.m. ET
The Rays have been the second-worst team to bet on this season (3-9, -5.78 units), but wiseguys are all over them tonight. Tampa is only getting 39% of bets but it accounts for more than 60% of dollars. After opening as a small +104 dog, they've moved all the way to -108, indicating big reverse line movement. Sharps at Pinnacle steamed the Rays +102 early this morning. An added bonus for Tampa backers: AL teams have historically crushed NL teams in Interleague Play.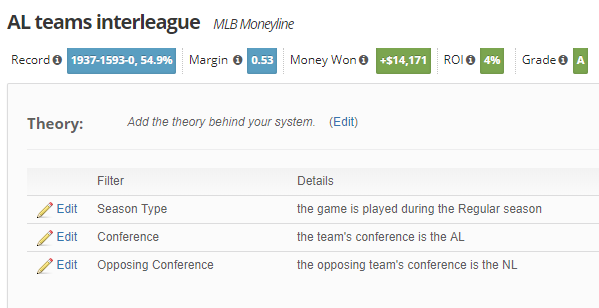 Oakland Athletics (-115) at Seattle Mariners 
10:10 p.m. ET
The Athletics check off all the sharp boxes. They're only getting 38% of bets but it accounts for 68% of dollars. The line has also moved bigly in their favor (+102 to -115). Why would the books move the line toward Oakland if the public (62%) is on Seattle? Because wiseguys got down hard on the Athletics, creating sharp liability. Pro bettors crushed Oakland +101 and again at +100, triggering a pair of steam and reverse line moves at two of the sharpest offshore books (CRIS and 5Dimes).


Oakland is also coming off a 16-6 blowout win over the Dodgers, which makes them a fit for the profitable Bad Team after Win Bet Labs system.

Thirsty for more in-depth betting analysis? Sign up for a Sports Insights Pro trial and join our Live Betting Hangouts where we break down the board every weeknight from 6:30-7 p.m. ET.
The Pro membership also gives you a fully customizable live odds page with lines from 50+ books, the number of bets on every game, best bet picks, steam and reverse line moves, Sharp Action Report, weather, injuries, line watcher, line predictor and more.
Pictured: Oakland Athletics left fielder Khris Davis (2) is greeted by right fielder Stephen Piscotty (25) after scoring a run against the Los Angeles Dodgers