Friday Sharp Report: Pros Getting Down on 4 Big Dogs
Credit:
Kansas City Royals center fielder Jon Jay Credit: Denny Medley-USA TODAY Sports
Friday is arguably the best day of the week for sharp MLB bettors. Public players are finishing their work week and are more apt to get down on games (specifically favorites and home teams), which leads to increased ticket counts and more contrarian value. Additionally, there are no day games and all games are played at 7 p.m. ET or later, which provides even more time for bet counts to rise.
This doesn't mean sharps double down on Fridays and risk multiple units, it just means that they're operating with an increased edge. As always, wiseguys stay the course and stick to flat betting.
After analyzing Friday's 15-game slate using Sports Insights' Sportsbook Insider Pro betting tools, I've pinpointed four MLB bets that professional players are focusing on, including games that start at 7:10, 7:35 and 8:15 p.m. ET.
All data as of 2 p.m. ET
Chicago Cubs at Cincinnati Reds (+155)
7:10 p.m. ET
The Red Legs are the comeback kids of MLB.  After starting the season an abysmal 8-26, they've gone 7-3 over their last 10 games. Still, the public wants nothing to do with them, especially with Homer Bailey (1-5, 5.59 ERA) facing Jon Lester (3-1, 2.66 ERA). But wiseguys aren't afraid. Cincy is getting only 24% of bets but a whopping 79% of dollars. Since opening, the Reds have fallen from +161 to +155, another indication that smart money is on their side. Sharps at Pinnacle and GTBets hit Cincy +156 and +157, respectively, causing market-wide reverse line movement in their favor. The Reds also fit the Bet Labs Bad Team After Win system and are divisional dogs with a high total, a profitable spot since 2005.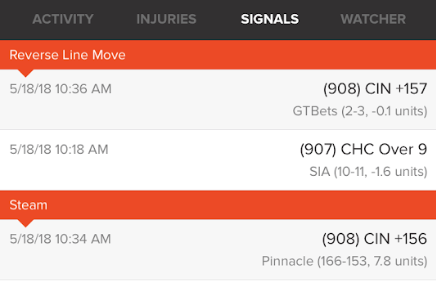 Baltimore Orioles (+146) at Boston Red Sox 
7:10 p.m. ET
Wiseguys swung and missed on Baltimore last night, but they're going back to the well tonight. The Orioles are getting only 28% of bets, but the line has plummeted in their direction (+168 to +146). Why would Baltimore's payout get smaller if the public is fading them? Because wiseguys at BetUs and CRIS hammered Baltimore +150 and +148, forcing books to drop the number.
The Orioles also match three separate Bet Labs Pro Systems, further solidifying their value for sharp bettors.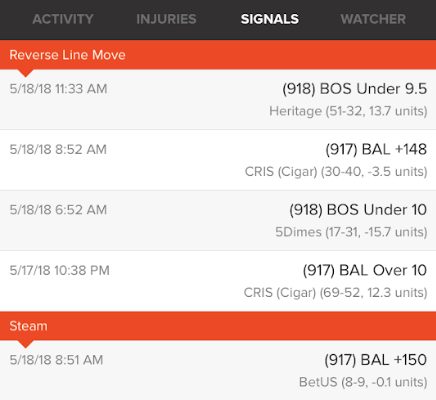 Miami Marlins (+166) at Atlanta Braves
7:35 p.m. ET
Miami is 16-27 and Atlanta is 26-16 (and at home). The public says Braves all day. However, despite receiving nearly 75% of bets, the Atlanta line has tanked. After opening at -213, the Braves are all the way down to -181. Pro players at CRIS hammered Miami +198, triggering the massive movement toward the Fish (+195 to +166). The Marlins are also getting more money (42%) than bets (26%) and match three separate Bet Labs Pro Systems.
New York Yankees at Kansas City Royals (+150)
8:15 p.m. ET
The Royals are 13-30 and have lost seven of eight, so naturally the public is happy to fade them. Nearly 80% of bets are taking New York, making the Yankees the most public play of the night. However, New York has fallen from -173 to -163 despite getting such overwhelming support. This indicates sharp reverse line movement on Kansas City. The Royals are getting only 21% of bets but 41% of dollars. Wiseguys got down hard on KC twice (+164 at Pinnacle and +159 at JustBet). This overload of sharp action has caused the Royals to fall from +159 to +150 since opening.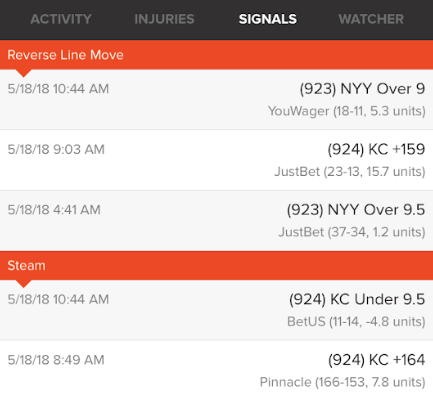 Remember: the betting market is fluid. Data changes as more action comes in. For updated odds and percentages, be sure to check out the Action Network MLB betting trends page. 
Looking for more in-depth betting analysis? Sign up for a Sports Insights Pro trial and join our Live Betting Hangouts where we break down the board every weeknight from 6:30-7 p.m. ET.
For more betting info and customer support, you can find me on twitter @Josh_Insights.