Tuesday Sharp Report: Wiseguys Hitting Two Unders, One Over
Credit:
Milwaukee Brewers outfielders Christian Yelich, Lorenzo Cain and Domingo Santana. Credit: Benny Sieu-USA TODAY Sports
Wiseguys cashed their Orioles-White Sox Under yesterday, but lost their two Over plays. The D'backs-Brewers Over 8 was especially frustrating, as the two teams combined for three runs in the first inning but then scored only three more runs the rest of the way. Pro players won't chase or double down out of spite today. As always, they're playing the long game.
After analyzing Tuesday's 15-game slate using Sports Insights' Sportsbook Insider Pro betting tools, I've pinpointed three MLB bets that professional players are focusing on, including games that start at 7:10 p.m. and 7:40 p.m. ET.
All data as of 3:15 p.m. ET
Boston Red Sox – Tampa Bay Rays Under 7
7:10 p.m. ET
Typically, the public hammers the Under when Chris Sale (2.29 ERA) is on the mound. Not tonight. The total is low, and Jacob Faria (5.20 ERA) faces a stacked Boston lineup, so naturally the public thinks the Sox can hit the Over by themselves. Currently, 60% of bets are on the Over, however, a whopping 82% of dollars are on the Under — making the Under the top bets vs. dollars discrepancy total play of the night. Pinnacle opened at 7.5 and quickly fell to 7. Sharps steamed the Under 7, and it's being juiced up to 7u-119, another sign of Under liability.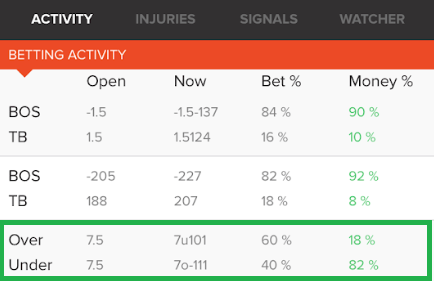 Miami Marlins – New York Mets Under 7
7:10 p.m. ET
Last night, 79% of bettors took the Over and the Under easily cashed as the Mets won, 2-0. With a low total and Caleb Smith (4.22 ERA) facing Zack Wheeler (5.92 ERA), nearly 80% of bets are going Over tonight. However, we've seen massive reverse line movement on the Under. The total opened late last night, and wiseguys at Pinnacle immediately hammered the Under 8. This morning, sharps got down hard on Under 7.5. This afternoon, wiseguys at ABC hit Under 7.5. This overload of smart Under money has dropped the total a full run from 8 down to 7. The Over 7 is being juiced up to -121, so it may rise back up to 7.5. Mike Estabrook is behind the plate tonight, one of the top Under umps in MLB since 2005 (55.9%, +20.46 units).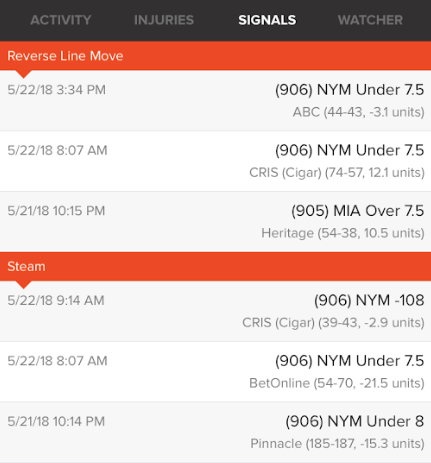 Arizona Diamondbacks – Milwaukee Brewers Over 9 
7:40 p.m. ET
Wiseguys lost their D'backs-Brewers Over last night, but they're going back to the well tonight. The Over is getting only 39% of bets but 45% of dollars, providing professionals a rare contrarian Over opportunity. Sharps steamed the Over 8.5, causing it to rise to 9 across the market. The juice on the Over 9 is also up to -115, indicating it may rise even further.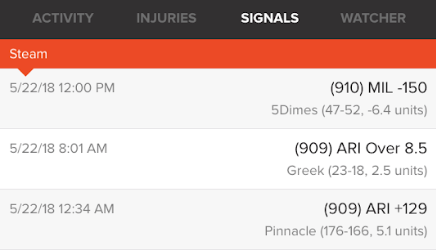 Remember: the betting market is fluid. Data changes as more action comes in. For updated odds and percentages, be sure to check out the Action Network MLB betting trends page. 
Looking for more in-depth betting analysis? Sign up for a Sports Insights Pro trial and join our Live Betting Hangouts where we break down the board every weeknight from 6:30-7 p.m. ET.
For more betting info and customer support, you can find me on twitter @Josh_Insights.
How would you rate this article?