Tuesday Sharp Report: Wiseguys Getting Down On Three Home Teams
Credit:
Jayne Kamin-Oncea-USA TODAY Sports Pictured: Joc Pederson and Cody Bellinger
Memorial Day weekend has come and gone. We're down to the championship series in both the NHL and NBA. The dog days of summer are closing in. You know what that means: all baseball, all the time.
After analyzing Tuesday's 15-game slate using Sports Insights' Sportsbook Insider Pro betting tools, I've pinpointed three MLB bets that professional players are focusing on, including games that start at 7:05 p.m., 10:05 p.m. and 10:10 p.m. ET.
All data as of 3:15 p.m. ET
Washington Nationals at Baltimore Orioles (-114) 
7:05 p.m. ET
The Public sees Jeremy Hellickson's 2.13 ERA and 30-22 Washington against Dylan Bundy's 4.45 ERA and 17-37 Baltimore and naturally says Nats all day. But the sharps are united behind the Orioles. Baltimore is getting only 22% of bets but 41% of dollars, a profitable bets vs. dollars discrepancy. Wiseguys have been hammering Baltimore all day, triggering five separate steam and reverse line moves. This overload of sharp action has pushed Baltimore from a +107 dog to a -114 favorite. Two added bonuses for O's backers: Jeff Nelson is behind the plate, a profitable home ump, and American League teams have crushed National League teams since 2005.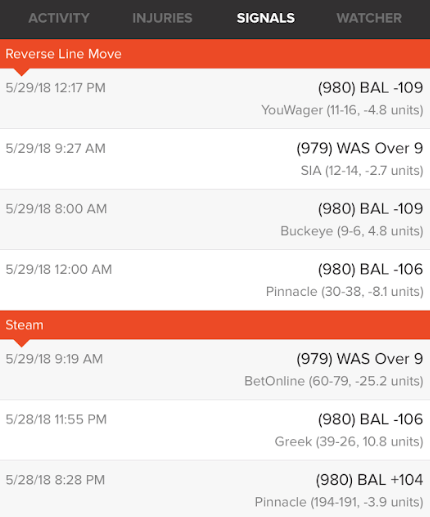 Tampa Bay Rays at Oakland Athletics (-104)
10:05 p.m. ET
The Rays have won three in a row and send Blake Snell (6-3, 2.78 ERA) to the mound against Daniel Gossett (0-2, 6.28 ERA) and the Athletics. Recreational bettors are going Tampa at a coin-flip price, but wiseguys are taking Oakland. The A's are getting only 40% of bets but 59% of dollars, indicating smart money is on their side. Sharps at CRIS steamed Oakland +110. Across the market the line has moved toward Oakland (+102 to -103) and away from Tampa (-110 to -105). This is notable considering the fact that 60% of bets are on the Rays.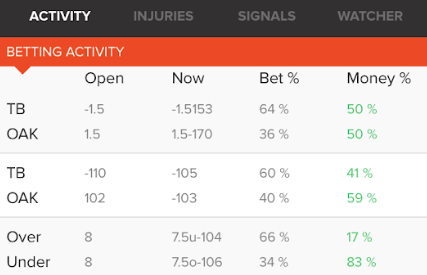 Philadelphia Phillies at Los Angeles Dodgers (-173) 
10:10 p.m. ET
Typically, wiseguys prefer getting down on dogs. Because of the plus money payouts, they need to win only %40 to 45% of the time to turn a profit. However, every once in a while they hit a big favorite because their confidence in the matchup outweighs the minus number.
The Dodgers opened as -144 favorites, and the public jumped on Jake Arrieta and the Phillies. However, despite 63% taking Philly, the line has moved bigly toward the Dodgers (-144 to -173). This is what we call "fading the trendy dog". The public loves betting favorites, so when they load up on a dog, it creates rare contrarian value on the favorite. Pro players at Pinnacle and YouWager pounced on the Dodgers three separate times (-155, -164 and -161), causing massive reverse line movement in their favor.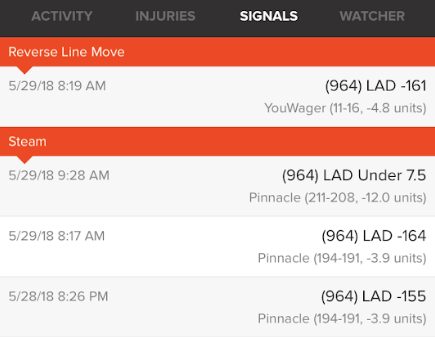 Remember: the betting market is fluid. Data changes as more action comes in. For updated odds and percentages, be sure to check out the Action Network MLB betting trends page. 
Looking for more in-depth betting analysis? Sign up for a Sports Insights Pro trial and join our Live Betting Hangouts where we break down the board every weeknight from 6:30-7 p.m. ET.
For more betting info and customer support, you can find me on twitter @Josh_Insights.