Tuesday Sharp Report: Wiseguys Jumping on Four MLB Plays
Credit:
Starlin Castro. Credit: Joe Camporeale-USA TODAY Sports
Wiseguys made the most out of a small MLB slate last night, cashing their lone play on the Padres (-108). San Diego was a perfect example of what Pro players look for: low bets (27%) but higher dollars (49%), contrarian in a heavily bet game (19,000 tickets) and reverse line movement (+104 to -108).
Today, Goodfellas see a stacked board bursting with value. They may even make the maiden voyage to Delaware to place their first legal bets outside of Nevada!
After analyzing Tuesday's 16-game slate using Sports Insights' Sportsbook Insider Pro betting tools, I've pinpointed four MLB bets that professionals are focusing on, including games that start at 7:07 p.m., 7:10 p.m. and 8:15 p.m. ET
Data as of 3 p.m. ET
---
New York Yankees at Toronto Blue Jays (+142)
7:07 p.m. ET
Toronto checks off all the sharp boxes for pro players. The Jays are contrarian in one of the most heavily bet games of the night. They're getting only 28% of bets but a much higher share of dollars (54%). They're a divisional dog at home with a high total (10). And last but not least: they're receiving a sharp line freeze/reverse line movement (+143 to +142).
Despite the heavy Yankees betting, the line either hasn't budged or it has moved slightly toward Toronto, indicating Jays liability. Wiseguys at Pinnacle steamed Toronto +152. The Jays also fit the profitable Betting Against the Public Bet Labs system (+170.04 units since 2005).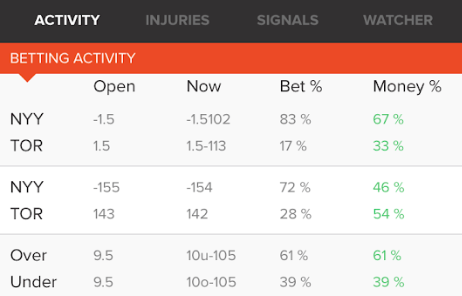 Milwaukee Brewers at Cleveland Indians Under 7.5
7:10 p.m. ET
Usually the public hammers the Under when Corey Kluber (2.02 ERA) is on the mound. But with a low total and two stacked lineups going head-to-head, the public is taking the Over, providing wiseguys a rare contrarian Kluber Under opportunity.
Despite more than 60% going Over, the total has fallen from 8 to 7.5, indicating smart money on the Under. Wiseguys at JustBet, Pinnacle and BetOnline all hammered the Under 7.5, causing the line to fall. An added bonus for sharp Under backers: the wind is blowing in heavy from center field.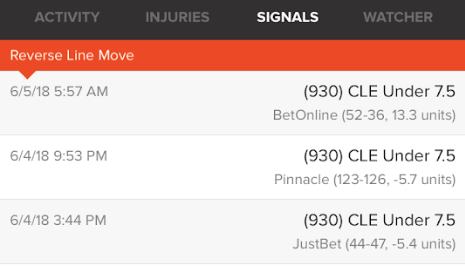 Colorado Rockies at Cincinnati Reds (+103) 
7:10 p.m. ET
The Rockies are 30-29, have lost four in a row and travel to Cincy to face the lowly Reds (21-39). Naturally, 75% of bettors like Colorado to snap their skid as a short road favorite tonight. However, wiseguys are buying low on Cincinnati. They're at home and getting only 25% bets but 38% dollars, signaling smart money in their favor.
They've also fallen from +111 to +103, which is notable since they're one of the most lopsided contrarian plays of the night. Sharps at SIA and The Greek hit Cincy +105 and +102, respectively, triggering market-wide reverse line movement toward the home dog.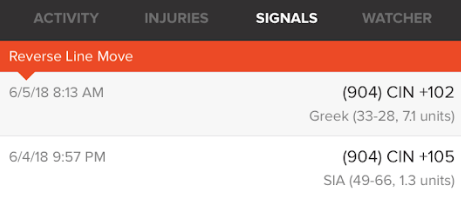 Miami Marlins (+165) at St. Louis Cardinals
8:15 p.m. ET
The Marlins (20-39) have lost six in a row and nine of their last 10. Today they send Jose Urena (0-7, 4.41 ERA) to the mound against Carlos Martinez (3-2, 1.62 ERA) and the Cardinals (32-25). The public sees an easy Cards win, but not the wiseguys.
Despite 81% of bets taking St. Louis at home, the Cardinals have fallen bigly from -220 to -180. Sharps at Pinnacle steamed Miami twice (+201 and +169), triggering massive reverse line movement. The Fish also enjoy a profitable bets vs. dollars discrepancy (19% bets but 53% dollars), indicating smart money in their favor.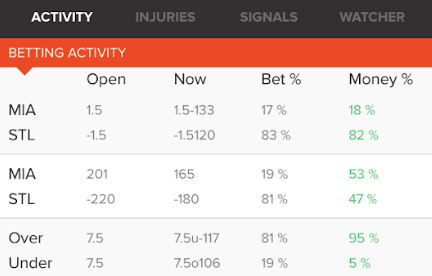 Remember: the betting market is fluid. Data changes as more action comes in. For updated odds and percentages, be sure to check out the Action Network MLB betting trends page. 
Looking for more in-depth betting analysis? Sign up for a Sports Insights Pro trial and join our Live Betting Hangouts where we break down the board every weeknight from 6:30-7 p.m. ET.
For more betting info and customer support, you can find me on twitter @Josh_Insights.
How would you rate this article?