Wednesday Sharp Report: Pro Players Back on the Under Train
Credit:
Joe Camporeale-USA TODAY Sports
Wiseguys got back to their winning ways on Tuesday, highlighted by an epic hit on the Orioles/Angels Under (84% took Over, yet total fell 9 to 8.5). Whether sharps win big or take one on the chin, they stick to the flat-betting approach. Stay the course and think long-term, always.
After analyzing Wednesday's slate using Sports Insights' Sportsbook Insider Pro betting tools, I've pinpointed three MLB bets that professional players are focusing on, including games that start at 7:10, 8:10 and 9:40 p.m. ET.
All data as of 3:30 p.m. ET
Philadelphia Phillies – Miami Marlins Under 7
7:10 p.m. ET
Recreational bettors see a low total and Jose Urena (4.91 ERA) on the mound. So naturally they're going Over. However, despite 60% of bets taking the Over, the total has fallen across the market, a sign of sharp reverse line movement. Wiseguys at Pinnacle steamed the Under 7.5 two separate times. What's most notable: they hit Under 7.5 at mild -104 juice, but came back on the Under 7.5 again at -128 juice. So despite the soaring price, they kept hitting it, which means the Goodfellas think the Under juice is worth the squeeze. Sharps couldn't get the hook but they hammered the Under 7 anyway, another sign that pro players expect a low-scoring game.

New York Yankees – Houston Astros Under 7.5 
8:10 p.m. ET
The Under cashed in the first two games of this series (2-1 in Game 1, 4-0 in Game 2). Recreational bettors see two stacked lineups and say "the Over is due" tonight. Not the sharps. Despite 61% of bets taking the Over, the total has fallen from 8 to 7.5 across the market. Why would the oddsmakers drop the total to give public Over backers a better number? Because they took in a big wave of sharp Under money from professional players. Goodfellas at Pinnacle steamed the Under 8 twice.

Los Angeles Dodgers – Arizona Diamondbacks Under 7.5
9:40 p.m. ET
We're seeing a huge bets vs. dollars discrepancy with this NL West total. More than 60% of bets are on the Over, but nearly 75% of dollars are on the Under. Sharps have been hammering the Under all day.


An added bonus for sharp Under backers: Victor Carapazza is behind the plate, one of the top Under umps since 2005 (+23.58 units).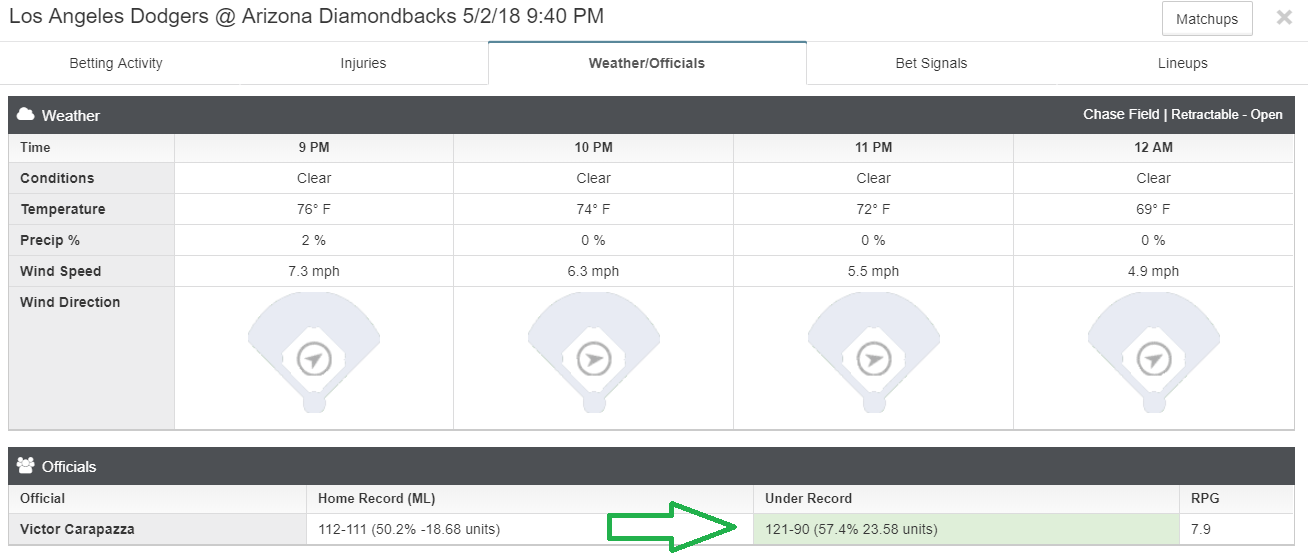 Looking for more in-depth betting analysis? Sign up for a Sports Insights Pro trial and join our Live Betting Hangouts where we break down the board every weeknight from 6:30-7 p.m. ET.
The Pro membership also gives you a fully customizable live odds page with lines from 50+ books, the number of bets on every game, best bet picks, steam and reverse line moves, Sharp Action Report, weather, injuries, line watcher, line predictor and more.
For more betting info and customer support, you can find me on twitter @Josh_Insights.
Pictured: Arizona Diamondbacks third baseman Daniel Descalso (3) hits a two-run triple against the Los Angeles Dodgers
How would you rate this article?