Wednesday Sharp Report: Pros Getting Down On Two Dogs, One Over
Credit:
Pictured: Colorado Rockies Trevor Story Credit: Gary A. Vasquez-USA TODAY Sports
Wiseguys had a profitable Tuesday, cashing two of their three total plays. Both Under wins required an epic sweat. The Sox and Rays (Under 7) scored six runs in the first six innings but nothing else the rest of the way. The Marlins and Mets Under 7 was cruising comfortably but then got dicey. Miami led, 3-1, entering the eighth, but Derek Dietrich hit a two-run homer, pushing the score to 5-1. Luckily no more runs were scored and Miami won, 5-1.
After analyzing Wednesday's 15-game slate using Sports Insights' Sportsbook Insider Pro betting tools, I've pinpointed three MLB bets that professional players are focusing on, including games that start at 7:05 p.m., 7:07 p.m. and 10:10 p.m. ET.
All data as of 3:15 p.m. ET
Atlanta Braves (+110) at Philadelphia Phillies
7:05 p.m. ET
Sharps are all over the Braves in the rubber game of this NL East three-game set. Atlanta is getting only 30% of bets but 56% of dollars, a massive bets vs. dollars discrepancy. The line has also moved big toward the Braves (+134 to +110), which is significant because they're getting only three out of 10 bets. Wiseguys hammered Atlanta +114, triggering market-wide reverse line movement. The Braves are also road divisional dogs with a high total (8.5), a profitable spot since 2005.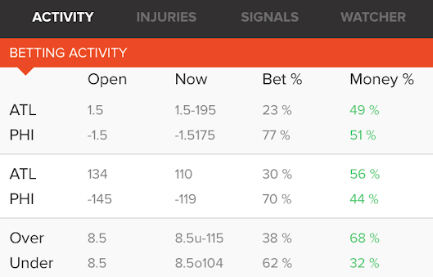 Los Angeles Angels at Toronto Blue Jays (+106) 
7:07 p.m. ET
The Jays (35% bets, +104) beat the Angels, 5-3, in the series opener last night, snapping a four-game skid. The public likes Los Angeles to bounce back with a win tonight, but Goodfellas disagree. Despite getting only 32% of bets, the Blue Jays have fallen from +110 to +106, indicating sharp reverse line movement in their favor. Pro players at the Greek steamed LAA -125 late last night, but since then it's been heavy Jays action today. Wiseguys hit Toronto four times at three different books.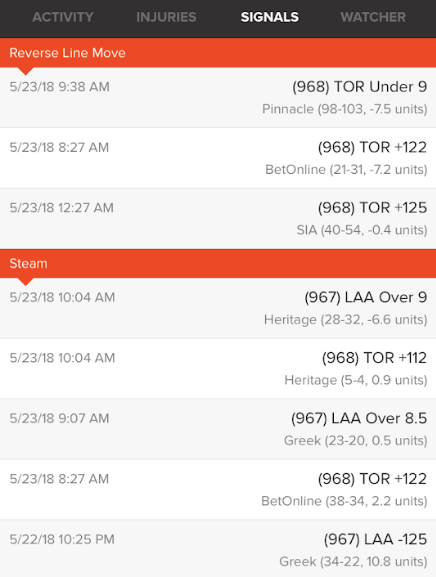 Colorado Rockies – Los Angeles Dodgers Over 7.5
10:10 p.m. ET
Despite the low total, the public is relatively split on this Over/Under. They see two pitchers with respectable ERAs coming off strong starts and aren't sold on which way to go. But sharps have taken a clear side. The Over is getting 54% of bets but 67% of dollars. The total opened at a juiced-up Under 7.5 -120 and is now even -110 on both sides, signaling Over liability. Wiseguys at Pinnacle and Heritage crushed the Over, triggering three separate steam and reverse line moves. The wind is blowing out to center, and Sam Holbrook is behind the plate, one of the most profitable Over umps since 2005.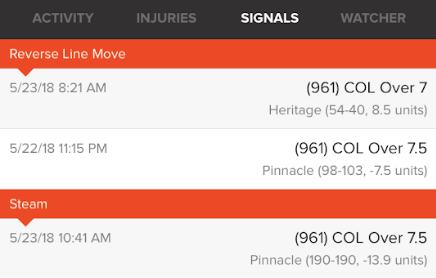 Remember: the betting market is fluid. Data changes as more action comes in. For updated odds and percentages, be sure to check out the Action Network MLB betting trends page. 
Looking for more in-depth betting analysis? Sign up for a Sports Insights Pro trial and join our Live Betting Hangouts where we break down the board every weeknight from 6:30-7 p.m. ET.
For more betting info and customer support, you can find me on twitter @Josh_Insights.
How would you rate this article?