Wednesday Sharp Report: Pros Hitting 2 MLB Dogs, 1 Total
Credit:
Seattle Mariners starting pitcher James Paxton. Credit: Joe Nicholson-USA TODAY Sports
Wiseguys swung and missed on Tuesday, losing all three of their moneyline plays (Orioles -113, Athletics -104 and Dodgers -173). Pro players are enduring an epic cold streak, while public players have never been hotter. Over the past two weeks, favorites getting more than 70% bets have gone 34-12 (73.9%), including 12-1 over the past five days. This is unprecedented.
As bad as it's been for the wiseguys, they know historical trends are behind them. So they'll stay the course and stick to the blueprint, knowing that regression is on its way.
After analyzing Wednesday's 15-game slate using Sports Insights' Sportsbook Insider Pro betting tools, I've pinpointed three MLB bets that professional players are focusing on, including games that start at 7:05 p.m., 10:05 p.m. and 10:10 p.m. ET
Data as of 4:30 p.m. ET
---
New York Mets (+138) at Atlanta Braves
7:05 p.m. ET
The Mets blew two separate four-run leads against Atlanta last night (4-0 and 6-2), suffering a back-breaking 7-6 loss. But wiseguys like them to bounce back tonight. New York is getting only 22% of bets. Meanwhile, they've fallen from +161 to +138 since opening, indicating sharp reverse line movement in their favor (35% of dollars). Pro players at Pinnacle got down hard on Mets +163 and +170, triggering a pair of sharp bet signals. New York is also a road divisional dog with a high total, a profitable spot since 2005.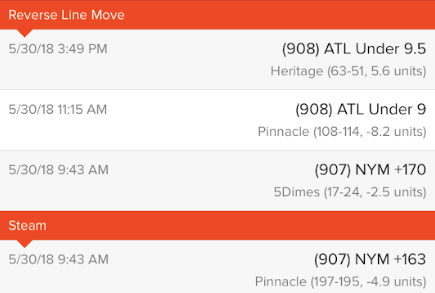 ---
Tampa Bay Rays (+126) at Oakland Athletics
10:05 p.m. ET
Tampa hung on to win 4-3 last night. With Oakland ace Sean Manaea on the mound, the public likes the A's to bounce back at home. Currently 59% of bets are on the Athletics, yet they've fallen from -165 to -137 since opening. This reverse line movement was triggered by sharps getting down hard on Tampa +135. The Rays also enjoy a profitable bets-vs.-dollar discrepancy: They're getting only 41% of bets but 53% of dollars, another sign of sharp action.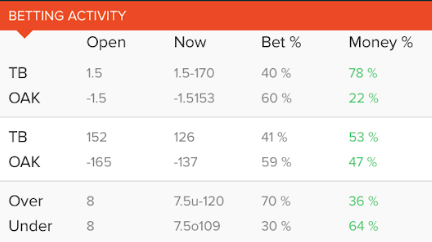 ---
Texas Rangers at Seattle Mariners Under 7
10:05 p.m. ET
Public bettors don't know which way to go on this total. They love seeing James Paxton toe the rubber, but are afraid of the low total. Not the sharps. They're united behind the Under (only 49% of bets but 95% of dollars). Pros at Pinnacle steamed the Under 8, causing the total to fall all the way down to 7. The juice on the Over 7 is -125, signaling it may rise back to 7.5 for late under backers who missed the 7. As of now, the Safeco Roof is open and the wind is blowing in, another benefit for Under backers.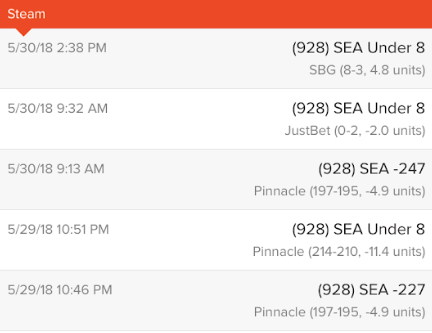 ---
Remember: the betting market is fluid. Data changes as more action comes in. For updated odds and percentages, be sure to check out the Action Network MLB betting trends page. 
Looking for more in-depth betting analysis? Sign up for a Sports Insights Pro trial and join our Live Betting Hangouts where we break down the board every weeknight from 6:30-7 p.m. ET.
For more betting info and customer support, you can find me on twitter @Josh_Insights.