Wednesday Sharp Report: Professionals Hitting Three Totals, One Favorite
Credit:
Rick Scuteri-USA TODAY Sports
Wiseguys had a profitable Tuesday, cashing two of their three total plays: BOS-NYY Under 8.5 and NYM-CIN Under 9.5. Sharps are always extra cautious with totals. They know that to overcome standard -110 juice, they must win 52.4% or more of their plays. As a result, all data must be on the same page: percentages, line movement, bet signals, wind, umps and historical trends.
After analyzing Wednesday's 14-game slate using Sports Insights' Sportsbook Insider Pro betting tools, I've pinpointed four MLB bets that professional players are focusing on, including games that start at 7:05, 7:07, 7:10 and 10:10 p.m. ET.
All data as of 2:30 p.m. ET
Boston Red Sox–New York Yankees Under 8.5
7:05 p.m. ET
Pro Players hit their Sox-Yanks Under last night and are going back to the well tonight. Nearly 60% of bets are on the Over, but a whopping 90% of dollars are on the Under. This massive bets vs. dollars discrepancy indicates heavy smart money on the Under. The Sox changed pitchers (David Price to Rick Porcello), and the books reopened the total at 8.5. Despite the public going Over, Pinnacle are juicing up the 8.5u to -116 and -120, respectively, which indicates Under liability. Wiseguys at Pinnacle hammered the Under 8.5, triggering market-wide steam and reverse line movement. A cherry on top for sharp Under backers: Cory Blaser is behind the plate. He's been a profitable "Under" ump since 2005 (+14.97 units).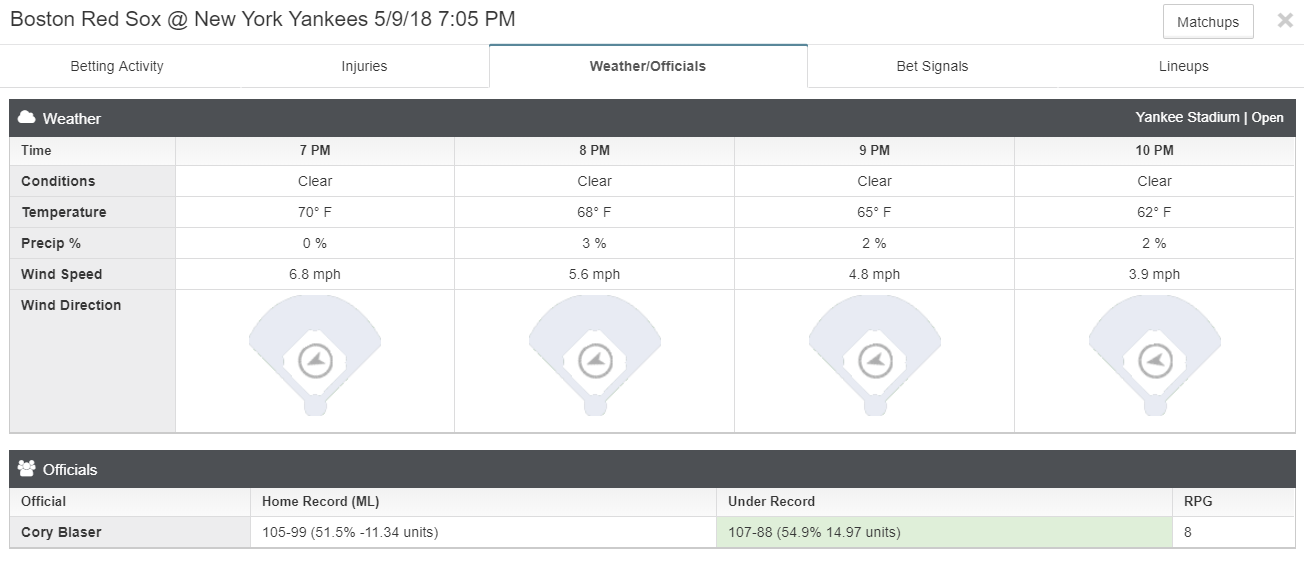 Seattle Mariners-Toronto Blue Jays Under 9
7:07 p.m. ET
James Paxton threw a no-hitter last night, and the Under cashed as the Mariners won, 5-0. With Wade LeBlanc (3.57 ERA) and Jaime Garcia (6.60 ERA) on the mound, the public sees an easy Over. However, despite more than 80% of bets going Over, the total hasn't moved off the opener of 9. This line freeze indicates Under liability, with books reluctant to hand out an extra half-run to sharp contrarian Under backers. Wiseguys hit the Under, triggering a trio of reverse line moves. This Under also matches the profitable Bet Labs system Contrarian Unders for Winning Teams (1209-995 (54.9%), +171.67 units, 7.4% ROI since 2005).

Atlanta Braves at Tampa Bay Rays (-112)
7:10 p.m. ET
The Braves beat the Rays, 1-0, last night and send ace Julio Teheran (3.65 ERA) to the mound tonight. Naturally, the public is all over Atlanta, especially at the plus-money price. However, despite receiving nearly 70% of bets, the Braves have fallen bigly from -117 favorites to +102 dogs. Why would the books drop the line to give public ATL backers a better number? Because sharps at Pinnacle came in hard on Tampa, causing reverse line movement (-103 to -112). The Rays also enjoy a profitable smart money discrepancy: they're getting only 33% of bets but 54% of dollars. Historically, AL teams have dominated interleague play since 2005

Arizona Diamondbacks-Los Angeles Dodgers Under 7
10:10 p.m. ET
The D-backs and Dodgers combined to score 13 runs last night. Recreational bettors see a low total tonight and automatically assume it's bound to go Over. Not the sharps. The Over is getting 64% of bets but the Under is getting 91% of dollars — as big of a bets vs. dollars discrepancy as you'll ever see. Despite two out of three bets going Over, the Under juice has risen from 7u-118 to 7u-130, signaling Under liability, with the next move likely to be down to 6.5. Wiseguys hammered the Under 7 at -128 juice. This is significant for two reasons. First, sharps are the best when it comes to betting totals this season (+12.7 units). Second, they jumped on the Under 7 at heavy -128 juice, signaling wiseguy confidence that the high price is worth the squeeze.


Looking for more in-depth betting analysis? Sign up for a Sports Insights Pro trial and join our Live Betting Hangouts where we break down the board every weeknight from 6:30-7 p.m. ET.
The Pro membership also gives you a fully customizable live odds page with lines from 50+ books, the number of bets on every game, best bet picks, steam and reverse line moves, Sharp Action Report, weather, injuries, line watcher, line predictor and more.
For more betting info and customer support, you can find me on twitter @Josh_Insights.
Pictured: Arizona Diamondbacks shortstop Nick Ahmed (13) is out on an attempted steal against Los Angeles Dodgers center fielder Chris Taylor (3)
How would you rate this article?