Wiseguys Betting O's-Sox and 3 Other Saturday Matchups
Credit:
Mookie Betts. Bob DeChiara-USA TODAY Sports
If you haven't been following, sharps are HOT right now. After a rough start to the baseball season, wiseguys have completely turned it around in May. Here's how the pros have fared on the MLB bets highlighted in this near-daily column:

Friday proved once again to be a profitable night for sharp bettors, as they went 3-1, stacking 3.62 units.
Today, they're hoping to continue the hot streak with three more dogs and an under.
All data as of 1 p.m. ET. For live info, check out our MLB live odds page or download The Action Network app.
---
Colorado Rockies-San Francisco Giants Under 7.5
4:05 p.m. ET
Given the relatively low total, only 35% of bettors are taking the under in this matchup. Sharps are in that minority, however. They've been hammering the under since last night, bringing the total down from its opening number of 8.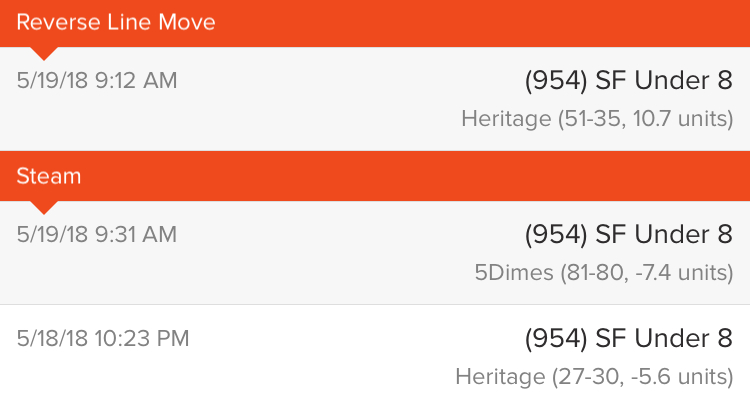 ---
San Diego Padres (+126) at Pittsburgh Pirates
7:05 p.m. ET
In a similar position as they were last night, the Padres are small underdogs in a contrarian spot (22% of bets). They pulled out a 3-2 win on Friday, and sharps are expecting a similar result tonight.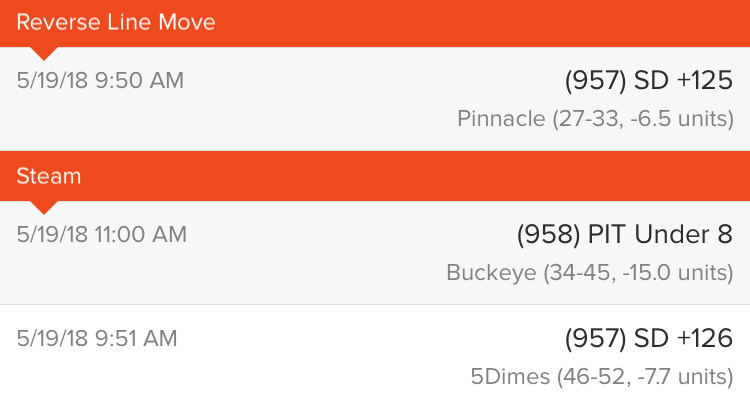 ---
Baltimore Orioles (+164) at Boston Red Sox
7:10 p.m. ET
The 26% of bettors — including the Sharp Report followers — who took the O's last night cashed a nice +146 payout. With the public losing what they thought was a sure thing, they're back on Boston tonight, seeing no way that the Sox would drop two in a row to this Orioles team.
Not falling victim to that gambler's fallacy, wiseguys are betting Baltimore again on Saturday.

In addition to the signal, the O's are displaying a sharp bet vs. dollar discrepancy. At the time of publication, only 21% of bettors are backing the Orioles, but their bets account for 34% of money wagered.
---
Miami Marlins (+169) at Atlanta Braves
7:10 p.m. ET
One of the most contrarian plays of the night, the Marlins have attracted only 19% of bettors. Like the Orioles, they're coming off a Friday night win, and the public can't envision them taking two in a row from an impressive Braves team.
Sharps, on the other hand, are expecting more of the same. With 36% of dollars landing on the Fish, it's clear that bigger wagers are behind them.