Astros Cheating Scandal: Do Scorned Bettors Have Any Legal Recourse?
Credit:
Tim Warner/Getty Images. Pictured: Jose Altuve hits two-run HR
By now, we know the Houston Astros cheated during their 2017 World Series season and again in 2018, using cameras and a trash can to notify their hitters when specific pitches were coming. Major League Baseball confirmed as much this week.
There had been no allegations of the Astros cheating this past season, when they lost in the World Series to the Washington Nationals, until Thursday. Multiple Internet sleuths and current MLB players alleged Houston evolved to using buzzers instead of banging on a trash cash to gain an advantage.
And with this speculation out there, the betting world has officially taken notice.
On Friday, PointsBet, a sportsbook that operates in New Jersey, refunded all bets made on the Yankees to win the 2019 American League Championship Series and the World Series.
"The Astros cheated," PointsBet wrote on its Twitter account. "The Yankees lost. PointsBet is refunding ALL Yankees AL Futures and World Series Futures Bets in full!"
"In total, we'll be refunding over five figures across hundreds of bets," said company spokesman Patrick Eichner. "The Yankees were obviously among our most popular futures bets."
Most sportsbooks won't be as generous. House rules stipulate that a bet is graded on the day of event and there is no turning back. But can bettors force sportsbooks to pay them back?
That could come down to what Major League Baseball executives knew and when did they know it. And, as has been alleged, is there something their investigation didn't either discover or didn't publicly disclose — such as buzzers potentially worn by Astros players?
Such questions could be asked should a class action lawsuit be filed on behalf of bettors who lost money wagering against the Astros on their runs the World Series in 2017 and 2019.
"I don't think an individual bettor would have standing to bring a class action lawsuit," Attorney Jeff Ifrah, one of the foremost authorities on gambling law. "Those frustrated fan lawsuits never work. But I do think a government agency or a state attorney general could at least get by attempts at motions to dismiss."
Federal agencies and state laws often have broad definition of what can constitute fraud and deception, which makes it possible for such a case to pass by initial barriers that has typically stunted unsuccessful cases brought by fans.
Ifrah says the Major League Baseball is more liable than ever before to such a suit because, along with accepting gambling money — mostly in the form of selling its official data to sportsbooks — the league is affirming that its games are fair and uncompromised.
Baseball, as well as other leagues, has asked states to allow them to take an integrity fee for the price of keeping up with the cost of maintaining integrity in the face of more gambling dollars, but it is has thus far been unsuccessful.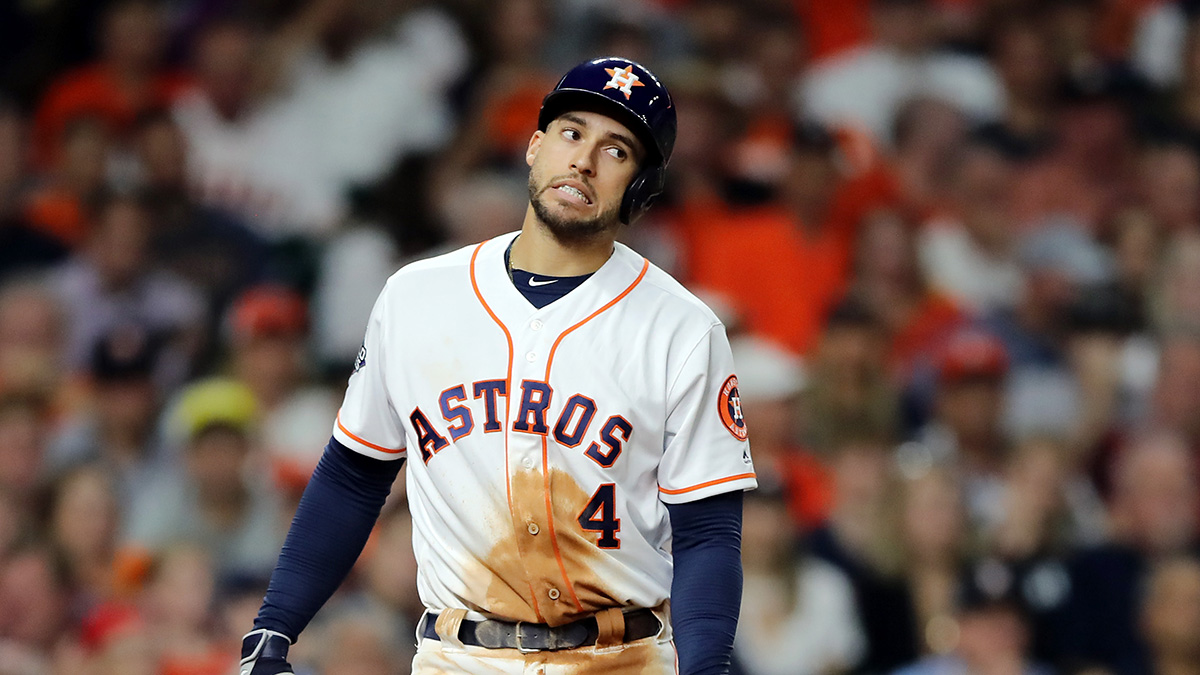 "They can't say, 'You can't sue us' anymore," Ifrah reasoned. "They've been running around state legislatures telling them how they ensure the integrity of the game."
A class-action suit is still a longshot, but baseball would face significant exposure based on how wide the class was determined to be.
Baseball gets extremely lucky in that the Supreme Court's decision legalized gambling seven months after the Astros won it all in 2017, meaning fewer bettors could have a legal case.
But in Nevada alone, there could have been millions compromised.
In 2017, for example, when the Astros won it all, it's assumed that someone who bet on the Los Angeles Dodgers, who lost to the Astros, in the World Series, would have standing. But could a case be made for someone who lost a bet that the Angels, and not the Astros, would win the AL West? Or Boston, who lost to the Astros, to win the ALDS? Or the Yankees, who lost AL Pennant it the Astros, were the rightful winner?
The Astros' cheating scandal has wide-ranging impact as we've seen from the firing of Astros manager A.J. Hinch and Red Sox manager Alex Cora and the resignation of Mets manager Carlos Beltran. There's a chance that the betting world will get to take its shot at retribution sometime soon.
How would you rate this article?
This site contains commercial content. We may be compensated for the links provided on this page. The content on this page is for informational purposes only. Action Network makes no representation or warranty as to the accuracy of the information given or the outcome of any game or event.