MLB Playoffs Betting Guide: Picks, Projections and Analysis for Tuesday's ALCS, NLCS Games
Credit:
Brad Mills, USA Today Sports. Pictured: Ryan Zimmerman, Anthony Rendon
Astros vs. Yankees Betting Picks, Odds & Predictions for Game 3
Probable starters: Gerrit Cole (20-5, 2.50 ERA) vs. Luis Severino (1-1 1.50 ERA)
Astros odds:  -160
Yankees odds: +135
Over/Under:  7.5
First pitch:  4:08 p.m. ET on FS1
The Astros and Yankees meet in the Bronx today for the first of three meetings in the Bronx over the next three days, following their epic ALCS Game 2; which Houston won on a walk-off homer by George Springer in extras.
Bullpen management will be crucial in Game 3, with both teams playing for three consecutive days, and each slated to throw bullpen games on Wednesday.
As a result, both clubs will be looking for length out of their Game 3 starters.
---
Odds as of Tuesday morning and via PointsBet, where Action Network users get an exclusive 200% deposit match (deposit $50, bet with $150).
---
The Astros will turn to Gerrit Cole — the AL Cy Young front-runner who has looked nearly invincible over two playoff starts – allowing one run against 25 strikeouts over 15.2 innings against the Rays.
The Yankees will counter with Luis Severino, a pitcher who has been an ace over the past two seasons but was limited to three starts in 2019 due to injury.
Can Severino provide a quality outing to match Cole, and help the Yankees to a Game 3 win?
The Starters
From June 1 to the end of the regular season, Gerrit Cole posted a 1.73 ERA, pitching his way into Cy Young contention before he heads into free agency.
He was ridiculous in the ALDS against the Rays, generating 52 swinging strikes in 15.2 innings over two starts.
But can the Yankees potent offense break through against Cole in Game 3?
I featured Cole before his Game 2 start and again before his win or go home Game 5 start when he was fantastic at home, tossing his 11th consecutive start with double-digit strikeouts.
I have noted the following things about Gerrit Cole:
Led the American League in FIP (2.68), xFIP (2.48), WAR (7.4) and strikeouts (326)
Eliminated his sinker usage since joining the Astros, partially leading to the uptick in performance
Increased his swinging strike rate to an MLB best 16.8% this season
Owns the second-fastest fastball in MLB, which was the most valuable pitch of the 2019 season
He generated whiffs everywhere against the Rays, in another visually impressive performance:
As you can see, he was particularly good at making Rays hitters chase pitches outside of the zone: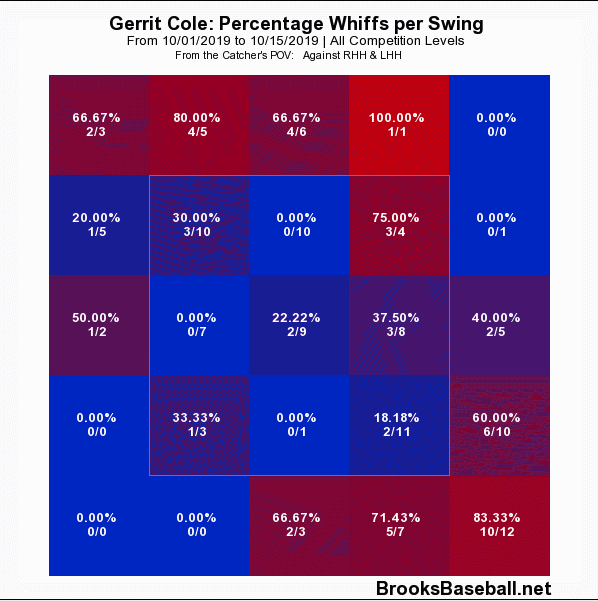 While Cole ranked 13th amongst 61 qualified starters in chase rate, he led all pitchers with a 49.1% contact rate on those pitches.
It's yet another area where he has made significant gains since joining the Astros: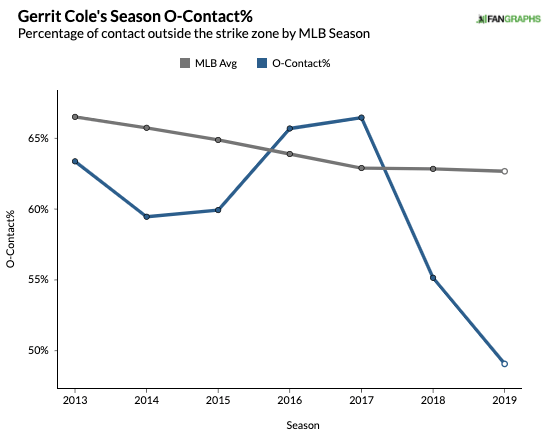 I touched on Luis Severino before his Game 3 start against the Twins, when he tossed four shutout innings.
I have some concerns about the Yankees' righty as he continues to stretch out after missing most of the season with shoulder and lat injuries.
But he generated 13 called strikes and 10 whiffs against the Twins and appeared to be sharp in his final tuneup before facing the Astros:
However, Severino continues to live at a slightly lower velocity (one mph slower) than where he has been over the past two seasons: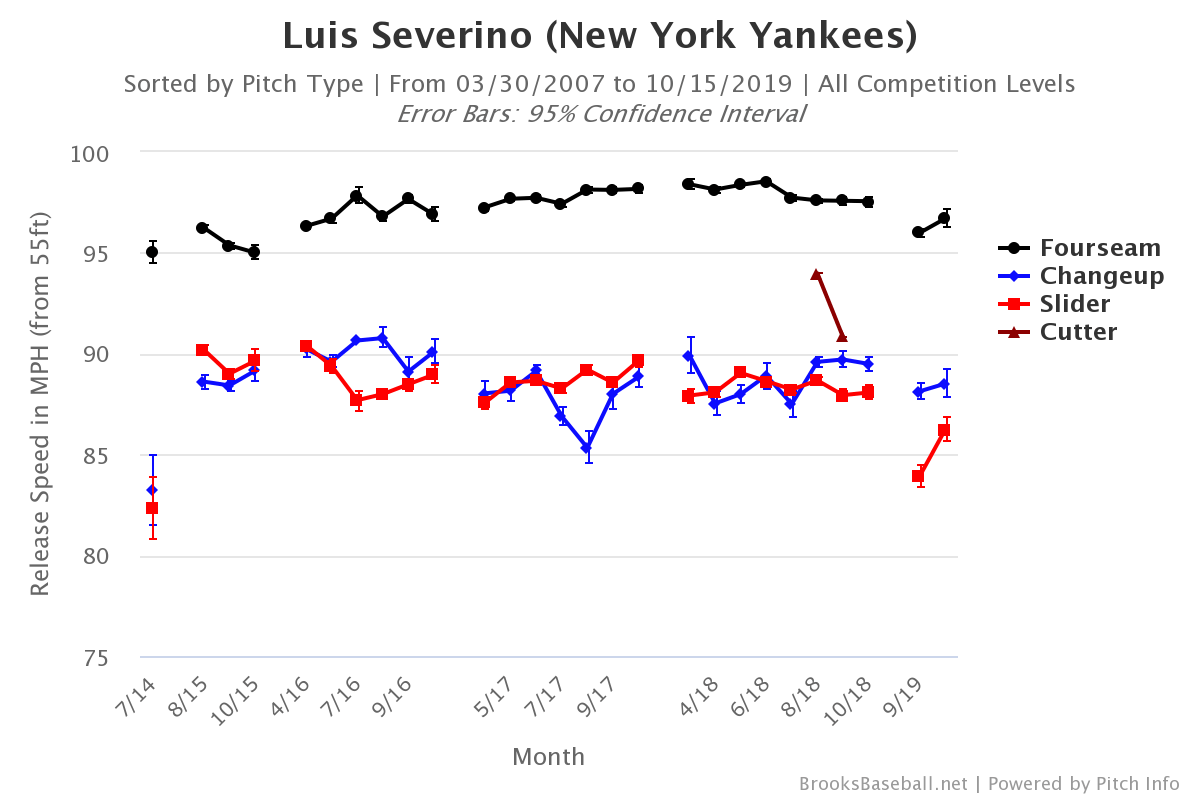 He will also have to overcome two poor outings against the Astros in the 2017 ALCS when he allowed four runs over 8.2 combined innings (five hits, six walks, three strikeouts) as the Yankees fell in seven games.
I have made it clear that, when healthy, Severino is the Yankees' No. 1 pitcher – ahead of Masahiro Tanaka or James Paxton.
Between the 2017-2018 seasons, Severino developed into one of the best starters in the game, ranking eighth starters in FIP (3.01) and fifth in xFIP (3.07):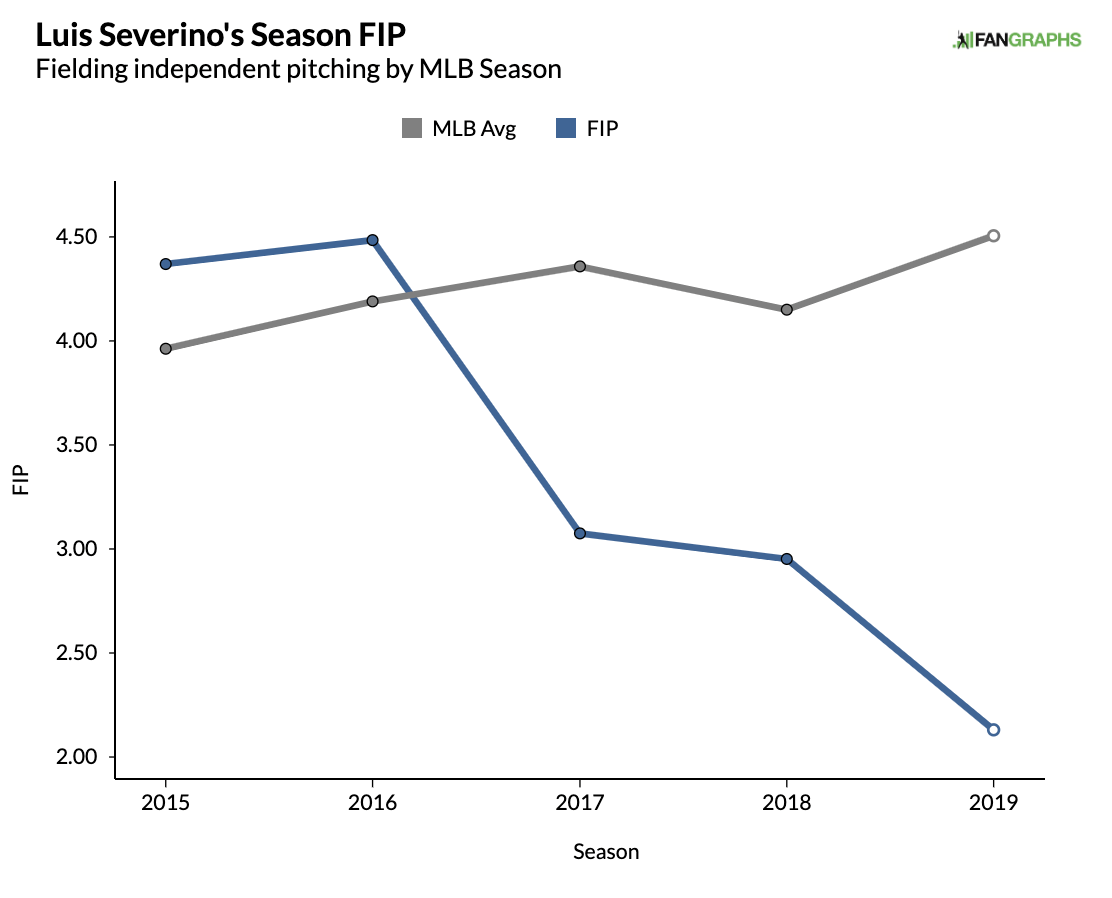 The Bullpens
On the season, the Astros bullpen ranks 11th in FIP, 1st in xFIP, and 1st in K-BB%. By the same metrics, the Yankees rank 9th, 4th, and 6th.
Josh James and Ryan Pressly were the only Astros relievers to pitch in the first two games of this series, though Pressly's postseason struggles continue.
Roberto Osuna was Houston's only reliever who tossed more than 20 pitches in Game 2.
Conversely, the Yankees deployed Aroldis Chapman (25 pitches), Chad Green (26 pitches), and Tommy Kahnle (25 pitches) for longer outings after James Paxton was pulled early.
Additionally, Zack Britton, Jonathan Loaisiga, and Adam Ottavino all pitched in Games 1 and 2.
With a bullpen game looming on Wednesday, Aaron Boone can't necessarily afford to have another quick hook with Severino, as he did with Paxton in Game 2.
Projected Lineups
Data per FantasyLabs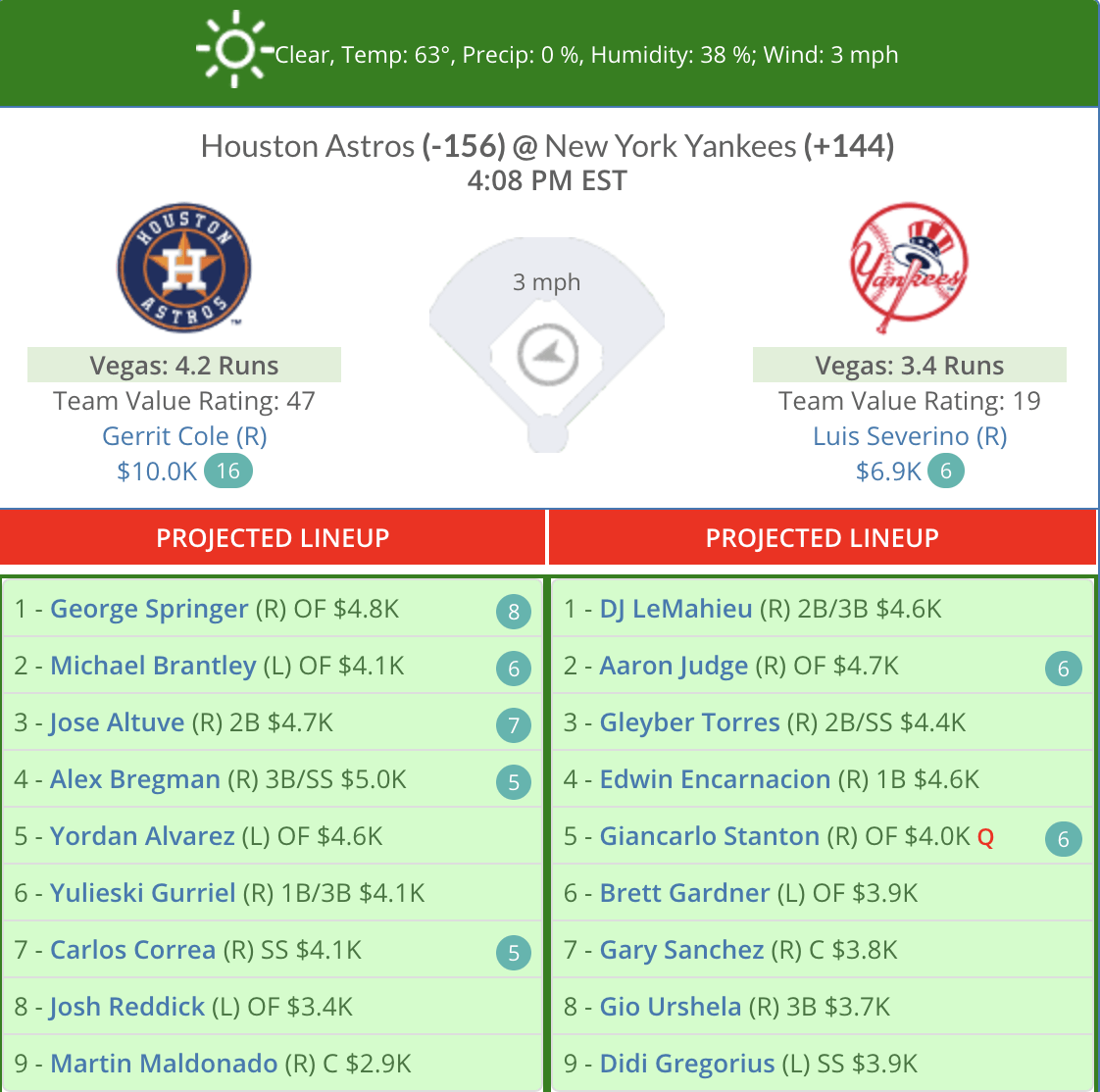 Umpire and Weather Report
Data per Sports Insights

Unders at Yankee Stadium went 44-37-2 (54.3%) in 2019, and are 21-17 in playoff games dating back to 2005.
Jeff Nelson is set to work as the plate umpire. Nelson is a relatively neutral umpire for totals, with a 51.8% career lean to the under, including a 4-2-1 record in postseason games.
Nelson is a terrific umpire for underdogs, at 231-246 (48.4%), generating a consistent $100 bettor $5,324
Home underdogs are 89-78 (53.3%, +$2,714) under Nelson's watch.
Trends to Know
The Yankees went 6-4 as a home underdog in 2019, but have not been a home underdog in a playoff game since 2010; when they lost 8-0 to the Texas Rangers.
The Yankees are 24-14 (63.2%) in home playoff games since 2005 but have only generated a consistent $100 bettor +$8.
Over the same period, the Astros are just 2-4 as a road favorite in the playoffs.
Overs are 50-32-2 (61%) in Luis Severino's regular season and postseason starts, and 35-31-3 (53%) in Gerrit Cole's starts over the past two years.
Gerrit Cole is 39-15-11 (72.2%) on the F5 moneyline over the past two seasons.
Luis Severino is 40-19-7 (67.8%) on the F5 moneyline over the past three seasons, including a 5-3-1 record as an underdog.
Series Moneyline Corner
Before Game 2, I noted that I would project the Astros as a -127 series favorite with a win to even the ALCS at 1-1.
Before Game 3, oddsmakers re-opened the Astros as a -160 favorite and listed the Yankees as a +140 underdog
Therefore, I see slight series moneyline value on the Yankees; and I would consider playing them at +145 (implied 40.8%) or higher.
That number represents a gap of more than three percent in expected value from my projection (+127, implied 44.1%).
However, holding an AL Pennant Ticket on Houston (+200), I'm not personally inclined to play the Yankees to win the AL pennant.
If the Astros win on Tuesday to take a 2-1 series lead, I will project Houston as a -285  series favorite (implied 74%) to win two out of the final four games.
With an Astros loss to go down 1-2 on the road, I would list the Yankees as a -170 series favorite (implied 63%).
Model Projected Odds
Favorite Bet 
I projected the Astros as a -136 favorite in this game, and I set the total at 7.8 runs. Therefore, I don't see any value on the total, but I did make a couple of plays on the Yankees moneyline. 
I played a half unit on the Yankees moneyline at +153 (implied 39.5%), which represented a gap of nearly three percent in expected value from my projection (42.4%).
However, the Yankees moneyline has ticked down since, and I now prefer their first five innings (F5) moneyline; as I would need to see +150 or higher to recommend the game moneyline.
I projected the Yankees as a +118 F5 underdog and played their F5 moneyline for a half unit at +160 (implied 38.5%) – which represents a gap of more than seven percent from my projection (+118, implied 45.9%).
I would play the F5 moneyline down to +136 (implied 42.4%) – which still represents an expected value gap of 3.5% from my number.
---
Cardinals vs. Nationals Odds
Probable starters: Dakota Hudson (16-7, 3.35 ERA) vs. Patrick Corbin (14-7, 3.25 ERA)
Cardinals odds: +145
Nationals odds: -170
Over/Under: 7.5
First pitch: 8:05 p.m. ET on TBS
On Tuesday night, the Nations can advance to their first World Series in franchise history; within a week of winning their first playoff series as the Washington Nationals, and their first since 1981 – when they were still the Montreal Expos.
The Nats currently lead the Cardinals 3-0 in the NLCS, with two home games left to play, and will send out an elite starter for the third consecutive day with offseason signing Patrick Corbin set to pitch.
Corbin nearly became the scapegoat in the NLDS, allowing six runs in relief to the Dodgers in a Game 3 loss, before Washington rallied to win the final two games in the series.
However, Corbin has made two relief appearances since then, recording five consecutive outs, and will make his first start on Tuesday since Oct. 3 – when he fell to the Dodgers in Game 1 of the NLDS.
When Bryce Harper left in the offseason, the Nats used some of his money on Corbin's six-year, $140 million deal. Can the lefty now help Washington clinch the NL Pennant for the first time in their franchise history?
The Starters
Both Corbin and Hudson will be making their second career playoff starts on Tuesday, but that's about where their similarities end.
Corbin is a power pitcher with high strikeout and walk totals, who has shown a propensity to allow hard contact when opposing batters can square him up.
Meanwhile, Hudson is a young ground-ball specialist who relies on his sinker to get him out of trouble in big spots.
And as I have argued in the past, he's also extremely overdue for regression.
Hudson was incredibly valuable for the Cardinals down the stretch, posting a sub 2.00 ERA over his final nine starts.
But having the highest walk rate (11.4%) amongst qualified starters, paired with one of the lowest strikeout rates in that same group, is not a recipe for long-term success.
Hudson also had the highest ground-ball rate (56.9%) amongst qualified starters, leading to an average home run total and tons of double-play opportunities.
As a result, he was able to sustain a low BABIP and high strand rate, helping to keep his ERA respectable despite a (deserved) 1.41 WHIP.
Hudson did generate seven swinging strikes against the Braves, but saw his way through trouble multiple times and was pulled before the end of the 5th inning.
If Hudson can avoid the walks and keep his sinker located low in the zone, he should be able to avoid trouble and get the Nats to pound his pitches into the ground.
His sinkers, if located in the middle of the zone or lower, generate grounders at an absurd rate: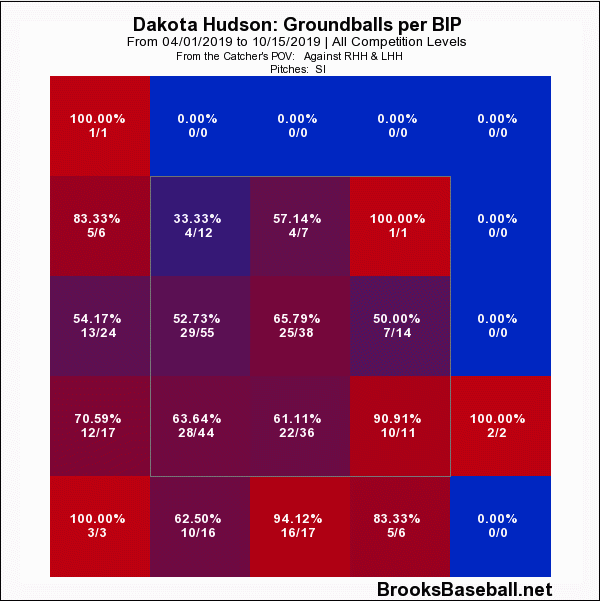 I highlighted Patrick Corbin before Game 1 against the Dodgers, and would make a note of the following facts:
Top-15 pitcher by both groundball rate (49.5%) and strikeout rate
Throws his slider more frequently (37%) than all but just a few pitchers
Had the third-best slider in 2019 by total pitch value, and eighth-best on a weighted basis
Corbin prefers to throw his slider low and away to lefties, or down and in to righties, and he was able to use it here effectively against Cody Bellinger in Game 4:
Batters have swung at sliders in that area of the dead zone 14 times in the playoffs and whiffed on 12 of those swings.
As you can see, that's the money spot for Corbin in terms of generating whiffs with the slider (view from catcher's perspective):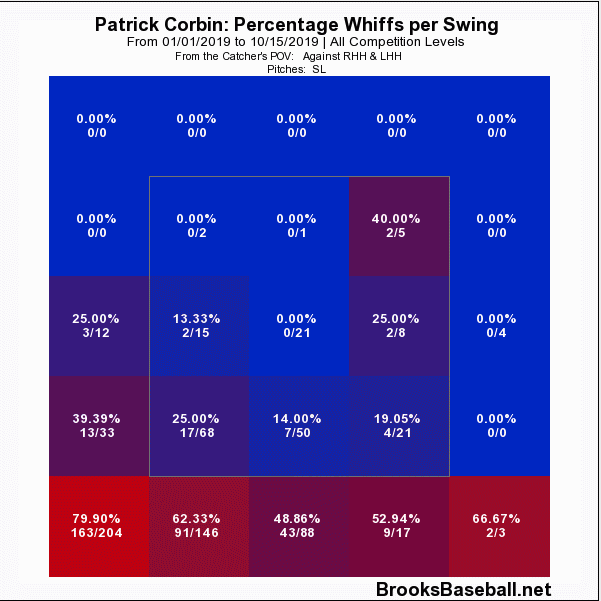 Batters whiffed on nearly 80% of their swings in that area during the regular season.
Corbin was extremely productive during his September start against the Cardinals, recording 11 strikeouts in six innings, with at least seven coming on the slider:
The Bullpens
On the season, the Cardinals bullpen ranks 11th in FIP, 12th in xFIP, and 15th in K-BB%. By the same metrics, the Nationals rank 26th, 29th, and 23rd.
The Nats have received 21.2 innings from their three starting pitchers thus far in this series, helping to avoid turning too frequently to the bullpen with the worst ERA entering the playoffs in MLB history,
Sean Doolittle pitched in Games 1 and 2 for Washington, but no other Nationals reliever has entered more than one game in this series. Doolittle (36 pitches) has thrown twice as many pitches as any other Nats reliever.
The Cardinals used Daniel Ponce de Leon (49 pitches) for an extended role in Game 3, while also turning to John Brebbia for the third time this week.
However, their bullpen is otherwise rested, and I expect Mike Shildt to have a quick hook with Dakota Hudson if he gets into some early trouble on Tuesday.
Projected Lineups
Data from FantasyLabs: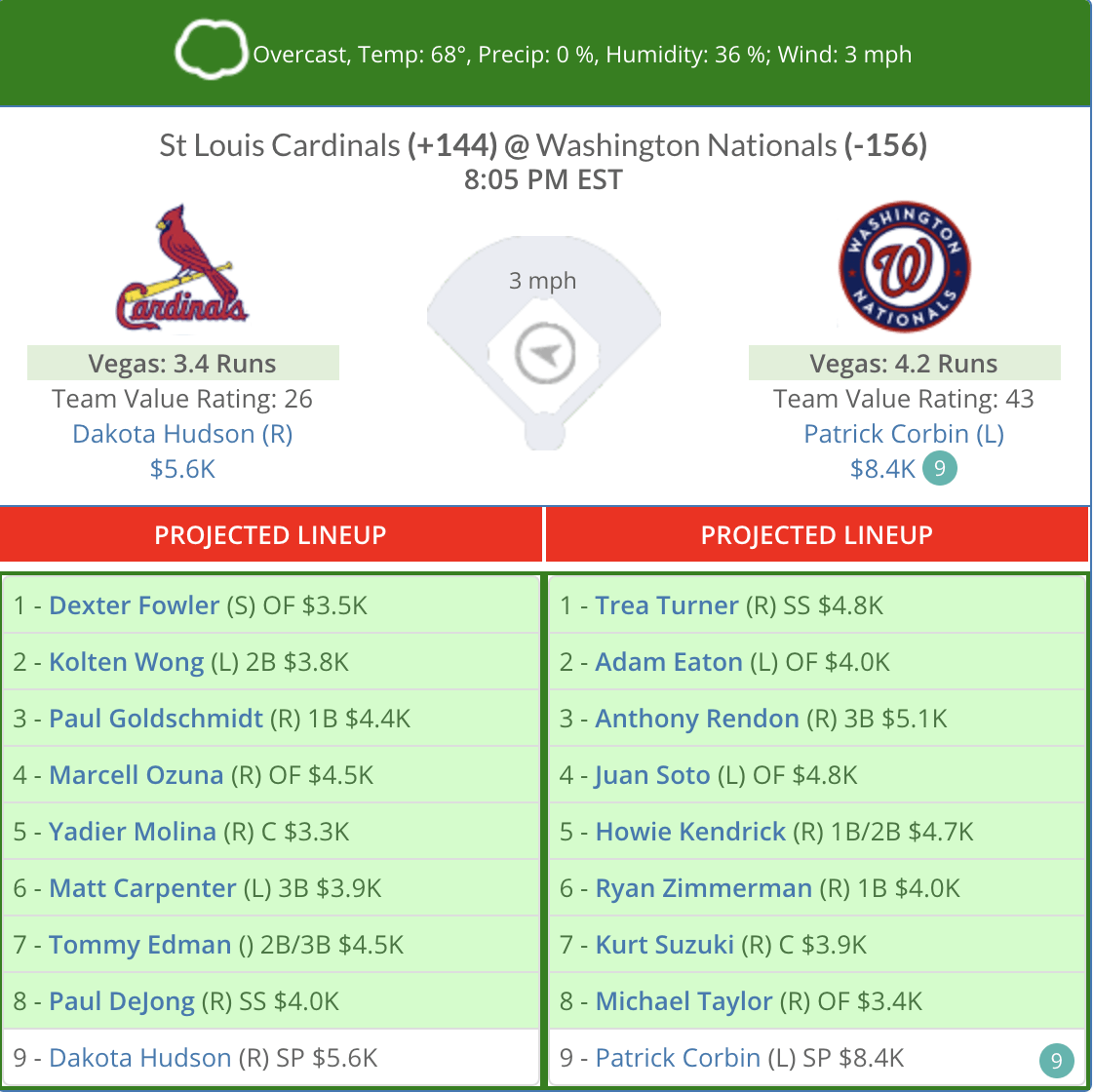 Umpire and Weather Report
Data from Sports Insights:
Phil Cuzzi will be the plate umpire, and he is the third-most profitable ump for under bettors in our database, with a 55.8% lean to the under since 2005, generating a consistent $100 bettor $3,695 in profit (7.8% ROI).
That under record is 4-2-0 in postseason games.
Cuzzi is also a reliable umpire for home favorites, sporting a 206-114 (64.4%) record over the same period, suitable for a profit of +$2,768 (8.6% ROI).
Trends to Know
As of writing, more than 70% of the cash and tickets being bet on this total are backing the over, triggering the following contrarian system:

That system is 100-81-19 (55.2%) in 2019, including a 6-2 record in the postseason; generating as consistent $100 under bettor +$1,506.
Series Moneyline Corner
Before Game 3, I suggested that the Nationals should be listed as a -1900 series favorite (implied 95%) if they took a 3-0 lead in the series.
Their series price re-opened at -3300 (implied 97.1%) following Monday's win, while the Cardinals are listed around +1600 (implied 5.9 %), meaning that I don't see series moneyline value on either side.
If the Cardinals win Game 4, I would still show the Nats as a -809 series favorite (implied 89% win probability).
Model Projected Odds
Favorite Bet 
I projected the Nationals as a -153 favorite in this game, and I set the total at nine runs. Therefore, I don't see value compared to the moneyline, but I do see value on the total. 
There is a 5.5% edge between over 7.5 (-115), and my projection (9 runs) on the full game total.
I played over 7.5 (-115) for a half unit, and consider the over actionable up to 7.5 (-120), or 8 (-105); the latter of which represents a 4.6% edge in expected value from my projection.
I do see a more substantial edge (closer to eight percent) on over 4 (-120) in the first five innings (F5), as my projection is 5.16, but I prefer the full-game over.
That being said, I'm going against both the contrarian under system and a strong under umpire in Phi Cuzzi.
As for the sides, I would consider St. Louis at +175, or Washington at -135 on the full game moneyline. Alternatively, I would play St. Louis at +169, or Washington at -131 on the F5 moneyline.
All four of those moneyline targets represent a gap of three percent in expected value from my projection – but I'm not expecting to see enough line movement to find an actionable play on either side.
How would you rate this article?