Astros vs. Yankees ALCS Game 2 Betting Picks, Odds & Predictions: Can Verlander Bounce Back?
Credit:
Kim Klement, USA Today Sports. Pictured: Justin Verlander
Astros vs. Yankees Betting Picks, Odds & Predictions for Game 2
Probable starters: James Paxton (15-6, 3.82 ERA) vs. Justin Verlander (21-6 2.58 ERA)
Yankees odds: +140
Astros odds:  -165
Over/Under:  7.5
First pitch:  8:08 p.m. ET on FS1
---
Odds as of Sunday morning and via PointsBet, where Action Network users get an exclusive 200% deposit match (deposit $50, bet with $150).
---
The Yankees took Game 1 of this series, 7-0, on Saturday night behind Masahiro Tanaka and Gleyber Torres.
The Japanese righty tossed six shutout innings against the Astros, permitting two baserunners against four strikeouts before giving way to his bullpen.
Torres, a 22-year-old Venezuelan, went 3-5 in the No. 3 spot in the Yankees lineup, driving in five out of his team's seven runs.
With a double and a homer off of Zach Greinke, Torres joined Babe Ruth as the only other player to record more than six extra-base hits in his first four postseason games.
But despite the ugly loss, run differential doesn't matter in a series; and the Astros have a chance to even it up with a win on Sunday behind Justin Verlander and his career 6-3 record (2.95 ERA) over nine ALCS starts.
To win, Verlander will have to bounce back from a relatively poor performance in Game 4 of the ALDS in Tampa Bay, where he pitched on three days rest for the first time.
Verlander is back on regular rest for Sunday night, as he makes his fifth career playoff start against the Yankees. Is he worth backing following that poor performance?
The Starters
Sunday marks the 27th career playoff start for Verlander but only the second for Paxton — after his ALDS Game 1 outing against the Twins (4.1 IP, 5 H, 3 R, 1 BB, 8 K).
The Yankees acquired Paxton from the Mariners last offseason for this series – to be able to match up with the Astros top-flight arms.
Amongst pitchers who threw more than 100 innings in 2019, Paxton ranked 12th (95.5 mph), and Verlander ranked 18th (94.7 mph) in average fastball velocity – so this is your classic power-pitcher playoff matchup.
Pitching hasn't been the issue for the Astros thus far in the playoffs; it's been their offense.
After hitting both righties (123 wRC+) and lefties (131 wRC+) historically well this season, they have struggled to a .224 average and .641 OPS in the playoffs.
Can they get back on track against Paxton?
Before his first playoff start against the Twins, I highlighted the following things about the Yankees' lefty:
Paxton posted his worst xFIP in 2019 since 2015
The increased xFIP was the result of a career-high home run rate (1.4 HR/9)
Paxton used to be a ground-ball pitcher, but his GB/FB ratio has inverted over the past few seasons, and he's now pretty clearly a fly-ball pitcher – leading to those additional home runs
I neglected to mention the strides that he has made as a strikeout artist in the past few years:
Now take a look at Paxton's improved focus on the high fastball:
And as I have demonstrated numerous times in this section with pitchers like Charlie Morton, Adam Wainwright, and the like, an excellent high fastball paired with a low curveball is a deadly combination – helping both pitches play up if sequenced and located properly:
Now look at the overlay between the curveball and the fastball (and glance back up at the fastball location map above, and you get strikeout Yahtzee:
Note that Paxton used to pitch in the AL West, and current Astros hitters own a .268/.333/.425 (.759 OPS) triple-slash line against him (228 at-bats), with Jose Altuve (10-for-30) doing the most damage.
I'm not going to spend a ton of time rehashing everything that I said about Justin Verlander before Game 1 and again before Game 4 of the ALDS.
The Verlander highlights:
A dominant strikeout-to-walk ratio, first amongst starters with a rate of over 7.5 since he joined the Astros.
He has increased his strikeout rate with Houston, throwing fewer fastballs (10%) in exchange for more curveballs and sliders over the past two seasons.
Increased his swinging-strike rate with Houston, from 10.7% in 2017 to 14.5% in 2018, and 16.1% in 2019 – breaking his career-high two years running.
A hard contact/home run issue since 2016, due to a 38% ground-ball rate and the fact that his HR/9 and HR/FB rates have regressed towards league average.
Over 210 at-bats, current Yankees hitters have a .186/.254/.324 (.578 OPS) triple-slash line against Verlander.
Even though he was roughed up during that Game 4 start in Tampa Bay, Verlander generated the same percentage of whiffs as he did in Game 1.
The Bullpens
On the season, the Astros bullpen ranks 11th in FIP, 1st in xFIP and 1st in K-BB%. By the same metrics, the Yankees rank 9th, 4th and 6th.
After six shutout innings from Masahiro Tanaka, the Yankees turned to Adam Ottavino (10 pitches) Zack Britton (17 pitches) and Jonathan Loaisiga (12 pitches) over the final three innings.
The Astros used Ryan Pressly (21 pitches), Josh James (16 pitches), Bryan Abreu (24 pitches), and Hector Rondon (eight pitches) behind Zack Greinke.
Pressly has now recorded five outs over three appearances in the playoffs while allowing eight hits and four runs. He's looked shaky after a career-best 2019 season (2.32 ERA, 2.66 FIP, 2.21 xFIP).
Projected Lineups
Data per FantasyLabs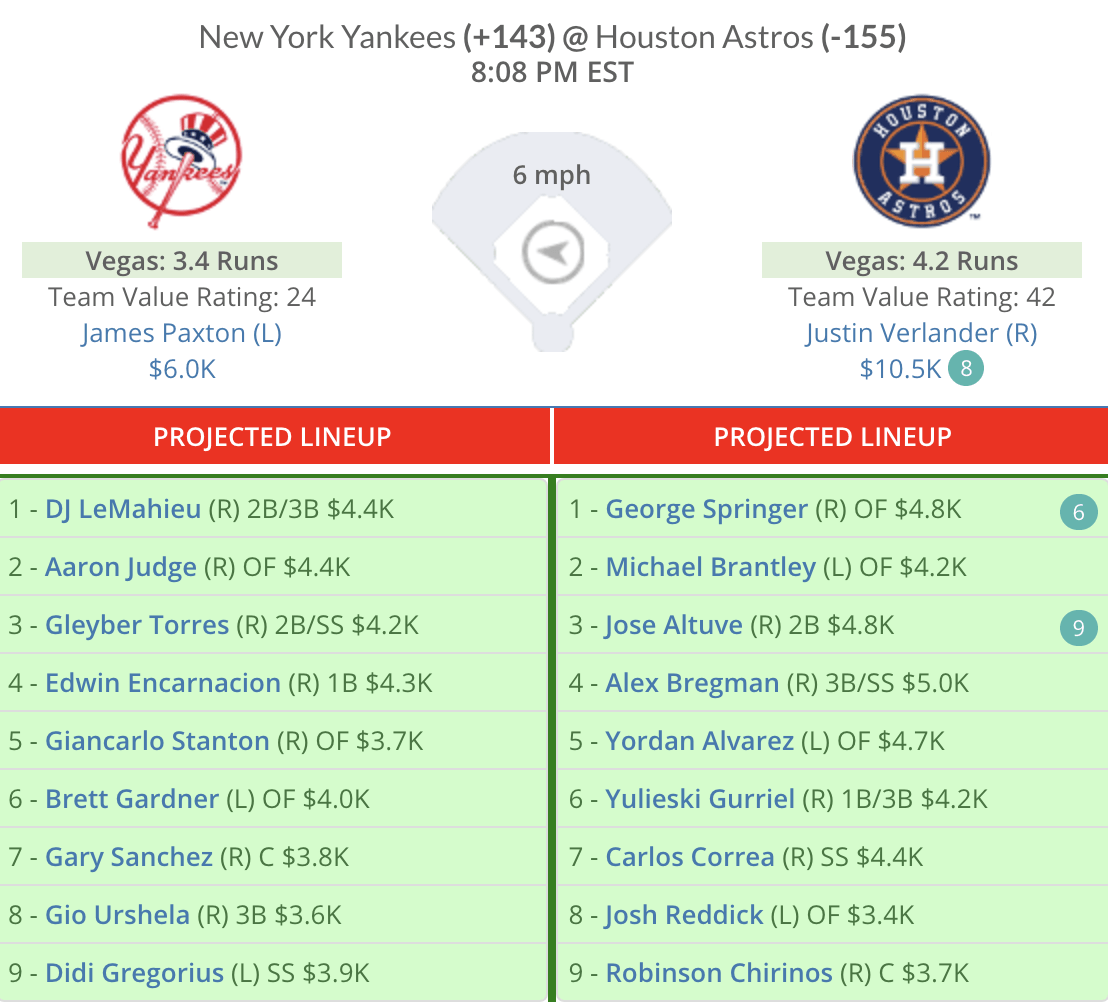 Umpire and Weather Report
Data per Sports Insights
The last time that the Astros played a playoff game at home with the roof open was in 2005, and the dome will be closed on Sunday night.
Minute Maid Park is the second-most profitable park for unders in our database at 628-552-58 (53.2%), generating more than $4,800 for a consistent $100 bettor. Unders are 12-13-2 in the postseason.
Corey Blaser is set to work as the plate umpire. Blaser has had a slight lean to the under, with a 132-113-11 career record (53.9%), generating a consistent $100 bettor +$1,304.
Trends to Know
Unders went 41-38-5 (51.9%) in Astros home games this year. But the Yankees have crushed totals away from Yankee Stadium – posting a 50-29-3 (63.3%) record to the over, suitable for a profit of +$1,934 betting $100 per game.
In Games 1 and 2 of all seven-game postseason series (divisional round or further) dating back to 2015, home teams are 47-20 (70.1%).
Home favorites are 37-13 (74%) in those games, while underdogs are 10-7(58.8%).
The 2019 Astros went 39-11 (78%) on the moneyline against left-handed starters, generating a consistent $100 bettor +$938 (18.8% ROI).
Series Moneyline Corner
Before Game 2, oddsmakers re-opened the Astros as a +120 underdog and listed the Yankees as a -140 favorite.
Before Game 1, I noted that I would project the Astros as a +133 series underdog with a loss.
Therefore, I still don't see series moneyline value on either team, but I can project how the line might move before Game 3.
With an Astros win to even the series, I would project Houston as a -127  series favorite (implied 56%) to win three out of the final five games.
With an Astros loss to go down 0-2 on the road, I would list the Yankees as a -335 series favorite (implied 77%).
Holding a ticket on the Astros (+200) to win the AL Pennant, I'm certainly not interested in hedging. But it's also getting more challenging to find betting value with just four teams remaining in the playoffs.
Model Projected Odds
Favorite Bet 
I projected the Astros as a -158 favorite in this game, and I set the total at 6.9 runs. Therefore, I don't see any value on the moneyline, but I did make a small play on the total. 
I bet under 7.5 (-105) for a half unit, but I would need to see -105 or better on the vig to play the under.
More than 70% tickets and cash being bet on this total is on Over 7.5, making Sunday, like Saturday, another good spot for a contrarian under:
I need to see more line value on the Astros before playing their moneyline.
Their moneyline dropped late before Game 1, and I will until to see if the Astros come down to a fair price once again before Game 2.
I would consider playing the Astros at odds of -150 (implied 60%) or better, which represents an expected value gap of more than one percent from my projection (-158, implied 61.2%).
How would you rate this article?