Bales: Sinker Balls, Paul Lo Duca & Left Ventricles
Credit:
Brad Penner-USA TODAY Sports
I was in NYC this week for some Action Network content meetings. We just opened our office in Midtown, which is not in fact this office…
I thought it was clear that was a joke, but apparently many people — including a bunch of our employees — thought we were indeed paying roughly $100 million a month for one of the sickest views I've ever seen of Central Park. I was actually just at a CEO presentation. The real office is also sweet, but not on such a high floor that you can literally count 19 baseball fields. Three Chipotles, but no baseball fields.
New York Knowledge
Speaking of baseball, former Mets catcher Paul Lo Duca — a member of the Action Network team — joined us for our Tuesday meetings and said something that intrigued me: MLB pitchers who throw a lot of sinkers/cutters actually perform better with the wind blowing out. I actually previously confirmed this is true for knuckleball pitchers, as that wind out toward center holds pitches up, which makes the ball dance more for knuckleballers. Take a look at those crazy results if you haven't already.
I couldn't come up with a rationale for why sinkers perform better with the wind blowing out, but I wanted to use FantasyLabs MLB Trends to test it out. First, I used FanGraphs to identify the top 10 pitchers in sinker percentage since 2014.
I then plugged them into the Trends tool to compare their overall performance and results when the wind blows in from either left, center or right with all MLB pitchers. (I didn't include cross-field winds.)
Take a look at the results: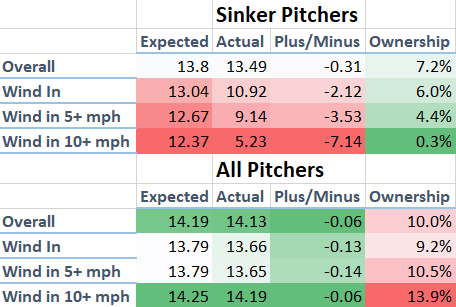 Wow. Overall, the top 10 sinkerball pitchers recorded a slightly below average DraftKings Plus/Minus of -0.31. In games with the wind blowing in, though, they put up a Plus/Minus of -2.12. When the wind blew at least 5 mph, that number drops to -3.53. And at 10 mph or greater? An atrocious -7.14 — with an average DraftKings fantasy points per game of just 5.23.
Um, seems valuable?
I always find it really interesting to hear athletes talk about the intricacies of their sports and their beliefs based on playing experience. They will bring up certain things you'd never even consider analyzing. While I think athletes can sometimes get fooled by randomness or emotion into believing things not supported by data, there's also potential gold — like Lo Duca's sinker nugget.
It's up to us as bettors/DFS players to use data and tools like Trends and BetLabs to separate the signal from the noise.
Left Ventricles
In his book Everybody Lies, author Seth Stephens-Davidowitz wrote about how Triple Crown winner American Pharoah (that's spelled right even though it's spelled wrong) was identified as a potential generational horse because of the size of his left ventricle. While in the 56th percentile in height and 61st in weight, American Pharoah's left ventricle ranks in the top 0.4% in size. But almost everyone overlooked him because they didn't have that information.
Stephens-Davidowitz writes: "The value of a dataset is not its size; it is its newness." Put another way, it's not what you know; it's what you know that others don't.
I strongly believe this premise and think it has massive carryover to sports speculation. Sometimes data-minded bettors/DFS players can too quickly write off the opinions of pro athletes. Maybe there isn't always predictive power in their wisdom or the ideas aren't always testable, but there are also little nuggets of information that can be tested and, if true, can lead to a tremendous edge since very few people have those insights.
In betting, widespread data and information get priced into the lines. And in DFS, those get priced into player salaries and tournament ownership. Your job isn't just to predict the future; it's to predict it better than others. That means the scarcity of your knowledge is just as valuable as how much you have or even how accurately it helps you forecast.
I'm looking forward to talking more with the Action Network's former athletes (and others) to uncover more of these theories. I assume many won't be predictive or always pan out, but I have a feeling we can discover some other left ventricles.
Bottom line: Use every tool at your disposal to acquire knowledge that others don't have. That's how you gain an edge.
By the way, I highly recommend this L2inc talk with Stephens-Davidowitz:
How would you rate this article?