Boston Red Sox 2019 Betting Odds, Preview: Will the Reigning Champs Win the AL East?
Credit:
Evan Habeeb-USA TODAY Sports. Pictured: Mookie Betts and Andrew Benintendi.
The Red Sox had a magical season for fans and bettors last year, winning 108 games en route to a World Series title.
They're counting on their winning ways to continue, as they've done very little in the offseason to improve their roster. Their bullpen is a big concern in particular.
They'll look for 22-year-old third baseman Rafael Devers to bounce back from a sophomore slump and hope that Nathan Eovaldi can pitch like he did in the playoffs if they want to win the AL East for the third straight year.
Original analysis published on Feb. 18. 
How 'bout those Red Sox?!?
The 2018 Boston Red Sox could do no wrong. It all started with the signing of J.D. Martinez in the offseason, which led to a much improved offense following an atypical season in which they felt the loss of David Ortiz's bat in the middle of the lineup.
Dave Dombrowski added Steve Pearce and Nathan Eovaldi during the season and I guess you could say they made an impact. Both have since been re-signed, which essentially sums up an otherwise quiet winter for the World Series Champions.
The offseason has not been quiet for the Bronx Bombers, though. Will Boston fall behind their most hated foe?
Boston Red Sox 2018 Results
Record: 108-54 (+18.6 units), 92-70 ATS (+17.4 units)
Over/Under Record: 77-76-9
Preseason World Series Odds: +1150
Win Total: 92 (T-2 best margin)
Most Profitable Starter: Eduardo Rodriguez (19-4, +8.2 units)
One may have thought that being 54 games over .500 would lead to more than +18.6 units, but that's probably never going to be the case for a popular team like the Red Sox. The real money-makers last year were teams like the Athletics and Rays, both whom won 90-plus games despite preseason win totals of less than 80 games.
They were available in the 10-1 range to win the World Series before the season, and bettors likely never were able to get a better payout than that. They got hot out of the gate, established themselves as an elite club and never had to dig themselves out of a deep hole in any of their postseason series.
Boston Red Sox 2019 Odds
World Series Odds: +700
Division Odds: +140
Win Total O/U: 94
Playoff Odds: Make -600, Miss +425
Understandably, the Red Sox are among the favorites again this season. Before their 108 win campaign, they had won 93 games in back-to-back seasons. The oddsmakers believe they can hit that 93-win mark again, but highly doubt they can push for 110 wins.
Just so you know, I've never seen a win total higher than 97.5 games
After opening at 93.5 at Westgate, Boston's win total quickly moved to 94. Other books have been around 95.5, so there could definitely be some more movement over the next month and change.
Unfortunately for the Sox, they play in a tight division and could end up having to play a wild card game despite potentially having the second-best record in the MLB.
The Yankees, who won 100 games themselves last year, have improved their roster far more this offseason than Boston has.
---
>> Sign up for The Action Network's daily newsletter to get the smartest conversation delivered into your inbox each day.
---
Boston Red Sox Roster Notes
Additions: Colten Brewer, Gorkys Hernandez (minors), Juan Centeno (minors), Erasmo Ramirez (minors), Jenrry Mejia (minors), Bryce Brentz (minors), Miguel Rojas (minors)
Subtractions: Craig Kimbrel, Joe Kelly, Drew Pomeranz, Ian Kinsler, Brandon Phillips, William Cuevas
Potential Lineup

Andrew Benintendi – LF
Mookie Betts – RF
Xander Bogaerts – SS
J.D. Martinez – DH
Rafael Devers – 3B
Mitch Moreland/Steve Pearce – 1B
Jackie Bradley Jr. – CF
Brock Holt/Eduardo Nunez – 2B
Christian Vazquez/Blake Swihart – C

Projected Rotation

Chris Sale
David Price
Rick Porcello
Nathan Eovaldi
Eduardo Rodriguez

Prospect Watch: Michael Chavis (#79, 3B), Durbin Feltman (Unranked, RHP), Mike Shawaryn (Unranked, RHP), Darwinzon Hernandez (Unranked, LHP)
Key Injuries: Dustin Pedroia (Knee, early-mid April)
MVP Candidates: Mookie Betts (+500), J.D. Martinez (+2500), Andrew Benintendi (+4000), Xander Bogaerts (+5000), Rafael Devers (+10000), Jackie Bradley Jr. (+20000), Chris Sale (+20000)
Cy Young Candidates: Chris Sale (+400), David Price (+1800), Rick Porcello (+3000), Nathan Eovaldi (+4000), Eduardo Rodriguez (+6000)
Boston Red Sox Analysis
Player to Watch: Rafael Devers
Boston's offense was legit last season thanks to Mookie Betts, J.D. Martinez and the top of the order. The bottom of the order was very underwhelming at times, though, and that is in part due to their young third baseman.
A 90 wRC+ is damn good for a 21-year-old in the MLB, but it's not what Boston had hoped for. After a very impressive debut in 2017, Devers had a bit of a sophomore slump last year and ended up in a platoon type situation later in the season.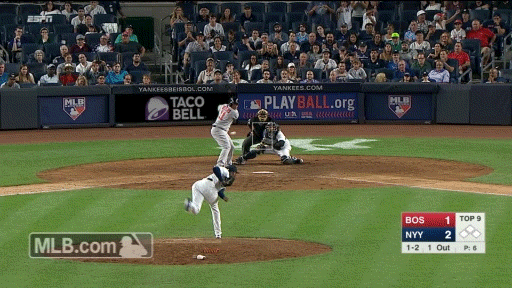 He'll be 22 for the entirety of next season, which is still incredibly young, but the Red Sox will look for him to make big strides.
I'd expect him to improve his ability to hit the ball the other way and use the Green Monster to his advantage, which he did at a 5% higher clip in 2017 than he did last year.
Pitcher to Watch: Nathan Eovaldi
A two time Tommy John surgery recipient, Nathan Eovaldi had one of the most memorable pitching performances in recent memory in what ended up being an 18-inning loss against the Dodgers. That performance, as well as his other postseason appearances, drastically improved his value on the free agent market. Now, the Sox owe him $68 million over the next four years.
You better believe that Bostonians will easily forget his playoff heroics if he can't live up to the contract, though. When it comes down to it, we're talking about a 29-year-old who's reached 160 innings in a season one time and posted a sub-4 ERA two times.
With an electric fastball and cutter, Eovaldi's "stuff" is hard to match.

Quite frankly, he should always be able to put up great numbers, but he's been pretty darn average for the majority of his career.
Boston's bullpen is their biggest weakness going into 2019 and although the plan is for Eovaldi to start for the time being, it's quite possible he moves to the pen if the Sox don't re-sign Kimbrel (it sounds like they won't) and Matt Barnes struggles as the closer.
They could wait until the playoffs again to use him in that "rover" type role, too.
Eovaldi was Boston's biggest splurge of the offseason and they expect him to pitch at a high level again. It's not a crippling contract, but Eovaldi needs to be a reliable arm every fifth day. If he struggles or gets hurt again, their bullpen will have a difficult time picking up the slack.
Summary
Their list of additions is…something else. I'm just joking around, but the Red Sox are counting on the fact that they'll be able to repeat their 2018 performance to some degree in 2019.
If they need some help, they'll get it at the trade deadline, though they've already traded most of their minor league assets away in other deals over the past few seasons.
There's a somewhat realistic scenario that they don't do nearly as well as last year, though. As of now, the Sox lack a true closer and an established top-end setup man. Their bullpen is shaky at best and they did very little during the offseason to bolster it.
Chris Sale's health deteriorated in the second half last year. David Price has been hit or miss throughout his Red Sox career. Same with Rick Porcello.
I imagine both Mookie Betts and J.D. Martinez won't be able to repeat their absurd 2018 campaigns, which would especially hurt the lineup if the bottom half of the order continues to struggle.
Have I mentioned that I'm actually a Red Sox fan?
That morbid scenario could happen or…
Their bullpen holds up fine, Sale stays healthy and dominant, while Price and Eovaldi build upon their great playoff runs. Meanwhile, Betts and Martinez's production only drops a hair, while Devers, Andrew Benintendi and Xander Bogaerts all mash.
I personally expect a bit of each.
I'm genuinely concerned about Boston's bullpen, but its offense should still be dominant enough to keep them in most games. Sale's health is probably concern No. 2, but the Sox still won 108 games despite the fact that he pitched just 29 innings after the All-Star Break.
Boston doesn't have much coming in the pipeline in terms of prospects, and Dave Dombrowski has exhausted the farm system to the point where it will be difficult to trade for any significant piece in the near future.
If Red Sox don't acquire any other relievers, the main story to watch during spring training will be whether Barnes lands the closer role or someone else emerges.
Also, is Dustin Pedroia healthy, and if so, can he still be productive? The Sox have said they'll limit him to 120 games this season, but I would literally bet on him playing closer to 20 games than 120 if that option existed.
I'm on the fence of taking the under on their win total. I've already swallowed my fandom and bet on the Yankees to win the division and will be closely monitoring my beloved Sox in the coming weeks to decide whether to double down on them falling short of expectations this year.
All odds via Westgate SuperBook as of Feb. 17
Transactions accurate as of Mar. 24. Free agents deemed subtractions until they re-sign
Advanced data via Fangraphs.com, prospect ratings via MLB.com, prospects in prospect watch expected to be MLB-ready in 2019
How would you rate this article?