Cincinnati Reds 2019 Betting Odds, Preview: Bringing Parity Back to Baseball
Credit:
Mark J. Rebilas-USA TODAY Sports. Pictured: Jesse Winker.
Unlike other underperforming teams, the Reds have made several offseason additions and appear to be much improved heading into 2019.
Sonny Gray, Alex Wood and Tanner Roark will be thrown into their rotation, which had no starters last year with a sub-4 ERA.
Their offense has gotten even deeper with the addition of Yasiel Puig and Matt Kemp, but new manager David Bell will have a tough time juggling playing time among position players -- especially the outfield.
Original analysis published on Feb. 27.
The Cincinnati Reds picked an odd time to add a bunch of players, but I like it. We need fewer teams tanking and more parity in this league!
Last season featured the elite and the terrible, with not much in between. With underperforming teams from 2018 like the Reds and Padres making moves and improving, there's more of a middle ground.
Wins will be tough to come by in the NL Central, but no opposing pitching staff will want to face the 2019 Redlegs.
2018 Cincinnati Reds Results
Record: 67-95 (-14.9 units), 87-74 ATS (+0.3 units)
Over/Under Record: 77-78-6
Preseason World Series Odds: 300-1
Win Total: 74
Most Profitable Starter: Sal Romano (13-12, +3.7 units)
Not all records add up to 162 games due to rain-shortened game.
With only 67 wins, the Reds were a well-below average club but super-terrible teams like the Royals and Orioles were still well below Cincinnati in the overall league standings.
The Reds' lack of success in 2018 can be largely attributed to their terrible starting rotation. Of the six pitchers that made 20 or more starts, the best of the group was Luis Castillo and his 4.30 ERA. Sal Romano (5.48) and Homer Bailey (6.09) were particularly terrible.
Luckily Bailey is now gone while Romano appears to have been bumped out of his spot in the rotation thanks to the team's new additions.
2019 Cincinnati Reds Odds
World Series Odds: +8000
Division Odds: +1000
Win Total O/U: 78.5
Playoff Odds: Make +425, Miss -600
The Reds made a real nice trade with the Dodgers when they acquired Alex Wood, Yasiel Puig, Matt Kemp and Kyle Farmer in exchange for Homer Bailey and two prospects. The Reds bolstered their lineup, got some catching depth, acquired a pitcher with a career ERA of 3.29 and FIP of 3.36 and got rid of one of the worst pitchers in the league.
My one concern is that the Reds actually have too many good outfielders now. At least too many that are good at hitting.
Kemp, Puig, Jesse Winker and Scott Schebler are all established corner outfield bats, and stud prospect Nick Senzel is being groomed to move from third base to center field. Senzel might even make the opening day roster as a center fielder.
The Reds' defense as a whole could be quite shaky, though, especially if Kemp is playing a lot.
I still don't believe they have the pitching staff to be a contender, but I do kind of like the win total over. It's closer to 80 at some other books, so 78.5 looks like a decent number to take if you like them. I just wouldn't put money on them to win the World Series.
Roster Notes
Key Additions: Yasiel Puig, Matt Kemp, Alex Wood, Tanner Roark, Sonny Gray Kyle Farmer, Zach Duke, Jose Iglesias (minors), Derek Dietrich (minors), Odrisamer Despaigne (minors), Ian Krol (minors), Buddy Boshers (minors), Anthony Bass (minors)
Key Subtractions: Homer Bailey, Matt Harvey,  Billy Hamilton, Tanner Rainey, Austin Brice, Brandon Dixon, Tim Adleman
Potential Lineup

Jesse Winker – LF
Yasiel Puig – RF
Joey Votto – 1B
Eugenio Suarez – 3B
Scott Schebler – CF
Jose Peraza – 2B
Jose Iglesias – SS
Tucker Barnhart – C

Projected Rotation

Luis Castillo
Sonny Gray
Alex Wood (Injured)
Tanner Roark
Anthony DeSclafani
Tyler Mahle

Prospect Watch: Nick Senzel (No. 6, 3B/OF), Vladimir Gutierrez (Unranked, RHP), Keury Mella (Unranked, RHP)
Key Injuries: Scooter Gennett (Groin, mid 2019), Alex Blandino (Knee, early 2019), Alex Wood (Back, April)
MVP Candidates: Eugenio Suarez (+1800), Joey Votto (+3000), Yasiel Puig (+4000), Scooter Gennett (+10000),
Cy Young Candidates: Luis Castillo (+8000), Sonny Gray (+10000), Alex Wood (+10000), Anthony DeSclafani (+10000), Tanner Roark (+20000)
Analysis
Player to Watch: Jesse Winker
Manny Machado, Francisco Lindor, Edwin Encarnacion, Carlos Correa, Robinson Cano — just a handful of names who have been worse hitters than Jesse Winker over the past two seasons per wRC+.
Unlike those other guys, Winker is not a household name — though I'm not exactly saying he should be.
After debuting in 2017 with a 134 wRC+ (34% better than league average) in 47 games, the 25-year-old outfielder got on base at higher than a .400 clip last year in 89 games before being shelved thanks to shoulder surgery.
---
>> Sign up for The Action Network's daily newsletter to get the smartest conversation delivered into your inbox each day.
---
What he's shown in his two partial seasons has been very promising — this guy can rake.
Add him to the mix of Joey Votto, Eugenio Suarez, Scooter Gennett plus the newly-acquired Dodgers sluggers, and the Reds could potentially have a super deep lineup.
Winker better hit, too, because he's not going to stick in the lineup given their depth. He doesn't provide value in the field or on the basepaths, so his hitting is all he's got.
Pitcher to Watch: Sonny Gray
Low risk, high reward.
A couple years back, Gray was a highly sought after commodity. Now he's yesterday's trash.
He was half decent in his first half season with the Yankees in 2017, but was beat around last year with a 4.90 ERA and eventually fell out of the rotation.
There is some hope for Gray, though, as his home/road splits were drastic. Here's what they looked like last season:
Home: 59.1 innings pitched, 6.98 ERA, 6.8 K/9, 5.3 BB/9, 1.7 HR/9, 1.90 WHIP
Away: 71.0 innings pitched, 3.17 ERA, 9.9 K/9, 2.8 BB/9, 0.4 HR/9, 1.15 WHIP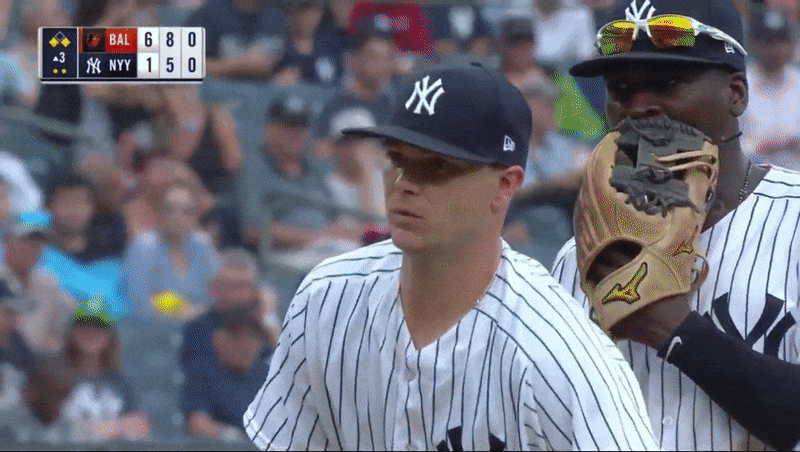 Staggeringly different pitcher at Yankee Stadium than he was elsewhere. Was it nerves? Pressure? A small sample size fluke? Who knows?
The Reds are hoping he performs more like the away version. And I can almost guarantee he's better than the home version, but it's tough to pitch to an ERA in the low-3s at Great American Ballpark.
The new acquisitions of Gray, Alex Wood and Tanner Roark are all hoping to bounce back from down years in 2018. The Reds hope so, too. Of the three, Gray could have the highest ceiling.
Summary
Myself and many other contrarian bettors were hurt by the Reds last season. They were often ignored by the public and had some nice plus-money prices most of the time. Though they'd put up some runs, their pitching staff was always there to blow it.
This season looks like it will be a different story.
I imagine the Reds will once again be an unpopular team, but I don't see them winning only 67 games.
Their rotation has some potential. Even if Gray or Wood don't pitch as well as they've shown they can in the past, they'll be much better than the garbage the Reds were rolling out last year.
I'm personally on the fence on taking the over on their win total, but that's not due to a lack of love for them. It's actually because I know I'll be frequently betting on them again this season.
If they end up being terrible again, I'd be doubly screwed.
Another reason why I'm skeptical is because Puig, Kemp, Wood, Roark and Gennett are all free agents next season. If the Reds aren't in the hunt in July, which could very well be the case, some of those pieces could be shipped out to build up an already solid farm system.
One final thing I haven't touched on yet is the fact that they have a new manager in David Bell. The former infielder has managed in the minors, served as bench coach with the Cardinals and was VP of player development with the Giants last year. His toughest task will likely be figuring out how to get all of those outfielders playing time.
However, he's already said he'll be getting Winker his at-bats, so he's a thumbs-up in my book.
Go Redlegs!
---
All odds via Westgate SuperBook as of Feb. 25
Transactions accurate as of Mar. 25. Free agents deemed subtractions until they re-sign
Advanced data via Fangraphs.com, prospect ratings via MLB.com, prospects in prospect watch expected to be MLB-ready in 2019
How would you rate this article?