Cleveland Indians 2019 Betting Odds, Preview: Can the New-Look Tribe Coast to Another Division Title?
Credit:
Ken Blaze-USA TODAY Sports. Pictured: Terry Francona.
The Cleveland Indians will have their normal starting rotation back, but will have several new players in their starting lineup and will be without both Andrew Miller and Cody Allen in the bullpen.
Since their pitching is still so good and their division is so bad, they still have a win total of 91 games and are heavy favorites to win the AL Central.
They will need Jason Kipnis to produce to take some of the pressure off of Francisco Lindor and Jose Ramirez, as their lineup does not have much depth after that.
Original analysis published on Feb. 20. 
The 2019 Cleveland Indians are in a strange spot. They're easily the best team in their division and are once again among the preseason World Series contenders. At the same time, they've reportedly shopped their ace Corey Kluber and 2018 breakout arm Trevor Bauer this offseason.
They will look very different in 2019. The days of Andrew Miller followed by Cody Allen to close out games are over. Their starting lineup will have four or five new faces in it every day.
Can the "New Indians" put up another 90-win season and contend for a title, or will they struggle (and probably still win the division)?
2018 Results
Record: 91-71 (-18.8 units), 75-87 ATS (18.5 units)
Over/Under Record: 76-75-11
Preseason World Series Odds: +735
Win Total: 94.5
Most Profitable Starter: Shane Bieber (13-6, +3.2 units)
The Indians have been among the top World Series contenders for the past few years, but underwhelmed last year despite winning 91 games and easily taking home their division.
Since they were often massive favorites, they were a very unprofitable team despite their record. They were dogs just 17 times during the season, giving bettors very few plus-money payout opportunities.
Against their division, the Indians went 49-27, but bettors still would have lost about four units if they took them for all those games. They were favored in literally every game against the Royals, Tigers, Twins and White Sox, and were -200 or higher in 44 of the 76 games.
2019 Odds
World Series Odds: +1000
Division Odds: -400
Win Total O/U: 91
Playoff Odds: Make -800, Miss +550
The past couple of seasons, the Indians were in the top tier of World Series contenders. This season, they're in the next group down with a handful of teams that can be found in the 10-1 to 12-1 range. Obviously, they have one of the clearest paths to the postseason in the league along with the Astros and Dodgers, which is half the battle.
Their win total mirrors the amount of wins they had last year, which is fair. Their Pythagorean record was actually seven games better than reality last year, as they were one of the more unlucky teams in the league.
However, I would say it's quite clear that their roster is worse this year. Their division probably won't have three teams with fewer than 65 wins, either.
Roster Notes
Additions: Carlos Santana, Jake Bauers, Jordan Luplow, Max Moroff, Jefry Rodriguez, Kevin Plawecki, Nick Wittgren, A.J. Cole, Brad Miller, Carlos Gonzalez (minors), Hanley Ramirez (minors), Trayce Thompson (minors), Tim Federowicz (minors), Brandon Barnes (minors), Dionner Navarro (minors), Asher Wojciechowski (minors), Tyler Clippard (minors)
Subtractions: Edwin Encarnacion, Josh Donaldson, Michael Brantley, Andrew Miller, Cody Allen, Melky Cabrera, Yandy Diaz, Yonder Alonso, Lonnie Chisenhall, Yan Gomes, Rajai Davis, Brandon Guyer, Josh Tomlin, Erik Gonzalez, Adam Rosales
Potential Lineup

Leonys Martin/Greg Allen – CF
Jose Ramirez – 3B
Carlos Santana – 1B
Jake Bauers – LF
Hanley Ramirez – DH

Brad Miller – 2B

Tyler Naquin – RF
Roberto Perez – C
Eric Stamets -SS (until Lindor returns)

Projected Rotation

Corey Kluber
Trevor Bauer
Carlos Carrasco
Mike Clevinger
Shane Bieber

Prospect Watch: Triston McKenzie (No. 41, RHP), Bobby Bradley (Unranked, 1B), Yu Chang (Unranked, IF)
Key Injuries: Danny Salazar (Shoulder, early-mid 2019), Bradley Zimmer (Shoulder, early 2019), Francisco Lindor (Calf, early April), Jason Kipnis (Hamstring, early 2019)
MVP Candidates: Jose Ramirez (+1800), Francisco Lindor (+2000), Carlos Santana (+8000), Corey Kluber (+20000)
Cy Young Candidates: Corey Kluber (+350), Carlos Carrasco (+1200), Trevor Bauer (+2000), Mike Clevinger (+5000), Shane Bieber (+8000)
---
>> Sign up for The Action Network's daily newsletter to get the smartest conversation delivered into your inbox each morning.
---
Analysis
Player to Watch: Jason Kipnis
Jason Kipnis played a big role in starting the Indians' current era of success a few years back. Between 2013 and 2016, Kipnis was worth 14.9 fWAR — 31st-best out of 297 qualified players in that timeframe. He was also a reliable, above-average bat with a wRC+ of 113.
In the two years since then, he's been worth 2.6 fWAR with a wRC+ of just 86. He's been getting most of his value from his glove, but I'm not too concerned with that to be honest.
He needs to hit.
The Indians' new lineup lacks depth and could be incredibly top-heavy if Kipnis and some of the new guys don't produce.
If you're reading this, Jason, I have a word of advice for you. Don't buy into the launch angle craze, you're not strong enough. More of a warning-track power than light-tower power type of guy.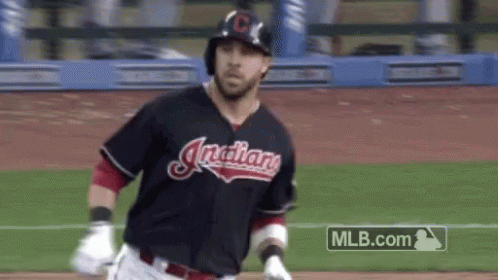 Based on his batted ball statistics, Kipnis has been trying to lift the ball more. Over these past two subpar seasons, his fly ball rates have been between 44% and 45%. Prior to 2017, his career average had been in the lower 30s.
Though he's had some pop for a second baseman — 30 homers in 237 games over the past two years — his average has gone way down. That's because fly balls don't land for base hits as often as line drives and ground balls do. Since he can't muscle most of these fly balls out of the ballpark, his batting average on balls in play (BABIP) has dropped below .260 in each of the past two seasons.
Though this team will likely fall well short of last year's squad in terms of home runs hit, Kipnis is not the guy they want trying to hit them. He needs to refine his approach and be more of a line drive hitter. Chicks dig the long ball, but they don't dig well below average hitters. Well, it probably doesn't matter once you reach the big leagues, actually …
Pitcher to Watch: Shane Bieber
Shane "The Biebs" Bieber had a decent rookie season last year in which he posted a 4.55 ERA over 114.2 innings. He also went 11-5 in 19 starts and ended up being the Indians' most profitable starter for bettors.
His advanced statistics are what really shine, though.
He struck out more than a batter per inning, while walking just 1.81 per nine — 15th-lowest among 140 pitchers with at least 100 innings pitched.
Filthy slider from Shane Bieber to strikeout Miguel Sano + pickoff at first ends his first inning.

What a start to a career. pic.twitter.com/pMGlRdx95x

— Pitcher List (@PitcherList) June 1, 2018

Those great peripheral stats helped him achieve a FIP of 3.23. The difference between his ERA and FIP of 1.32 was the fourth highest of those 140 pitchers, which suggests he was very unlucky.
The 23-year-old Biebs was not a highly touted prospect, but he should be able to have continued success thanks to his lack of walks. During the minors, he walked 19 men in 277 innings. That's 0.6 walks per nine. Considering Greg Maddux's career average was triple that, it's safe to say he has solid control.
I'm not saying this guy is Greg Maddux, but he provides great security if Trevor Bauer or Mike Clevinger fall back a bit following their career years.
Summary
Look at all of those subtractions … holy cow. Will Cleveland even be able to field a team this year?
Among the World Series contenders, this team certainly has had the most roster turnover. Several regulars are gone, and a mix of new young faces and veterans that Cleveland has signed to minor league deals will be competing for playing time.
If they weren't in the worst division in baseball, I'd say they were in big trouble. Luckily, they should be able to coast to an AL Central title.
I would be slightly concerned if I were an Indians fan, though.
Last year, they won 91 games in a division that featured three sub-65 win teams. They went 49-27 against their lackluster division foes, but just 42-44 against the rest of the league.
Francisco Lindor and Jose Ramirez were both top-5 players in the MLB and each fell just short of 40 homers, while they had four of the top 15 pitchers in terms of fWAR in Bauer, Kluber, Carlos Carrasco and Clevinger.
If a couple of these guys get hurt or have a down season, the Indians will have some problems. And what do you know? Lindor will probably begin the season on the DL with a calf injury. Perhaps a non-factor, but they definitely don't want that nagging him all season.
As it currently stands, the bottom half of their lineup is bad. No other way around it. I mentioned Kipnis already, but they'll also need something out of their corner outfielders — Jordan Luplow and Tyler Naquin.
Luplow, a former Pirate, was a very successful hitter in the minors, but has struggled mightily in nearly 200 big league at bats over the past two seasons with a wRC+ of just 72.
A former first round pick, Naquin broke out in 2016 with great numbers at the dish, but has since dealt with injuries and struggled during his playing time in the show.
I believe Bradley Zimmer can be an impact player if he comes back healthy, but you can't bank on that. He's Cleveland's former top prospect and has elite tools, but has struck out a ton at the big league level and hasn't been able to hit.
We haven't even talked about the bullpen.
Brad Hand will be taking over as full-time closer. He's been one of the best lefty relievers over the past few years, but pitching for a contender like Cleveland is different than closing games out in San Diego. Relievers also tend to be the most inconsistent players thanks to small sample sizes.
Dan Otero could be the setup man, but the 34-year-old will need to bounce back big time after an ugly 2018 campaign. Cleveland will also hope 37-year-old southpaw Oliver Perez can repeat his excellent season to some degree.
After those guys, there aren't many proven names.
I wouldn't blame anyone for taking the over on the Indians' win total given their division foes, but I personally may be taking the under and/or betting on the Twins to win the division if I can get a good enough price.
All odds via Westgate SuperBook as of Feb. 20
Transactions accurate as of Mar. 24. Free agents deemed subtractions until they re-sign
Advanced data via Fangraphs.com, prospect ratings via MLB.com, prospects in prospect watch expected to be MLB-ready in 2019
How would you rate this article?