Dodgers-Brewers Betting Preview: Is Kershaw Rounding into Form?
Credit:
Jake Roth-USA TODAY Sports. Pictured: Clayton Kershaw
Betting Odds: LA Dodgers vs. Milwaukee Brewers
Dodgers: -156
Brewers: +146
Over/Under: 8
First pitch: 7:10 p.m. ET
---
When we think of Clayton Kershaw, we think about moneylines in the -300's and high -200's. He is responsible (along with the Cubs version of Jake Arrieta) for some of the biggest prices I've seen in the last few years in baseball. This is a much different situation, though, as Kershaw has only made six starts since coming back from injury, is easing back into form this time, and is on the road against a team in the playoff chase.
---
>> Follow Ken Barkley in The Action Network App to get free alerts on all his MLB bets.
---
It's Kershaw's last start that I find encouraging, and a reason for believing there could be a jump in performance here. Not only was it the deepest he has worked into a game since returning from injury, but he was getting more swings and misses with his stuff. He had eight strikeouts, his most since returning in late June.
The three earned runs stand out, but that was all in one inning, all from one swing (3-run HR by Jefry Marte), and one of the baserunners had reached on an infield hit. Kershaw wasn't exactly getting pounded.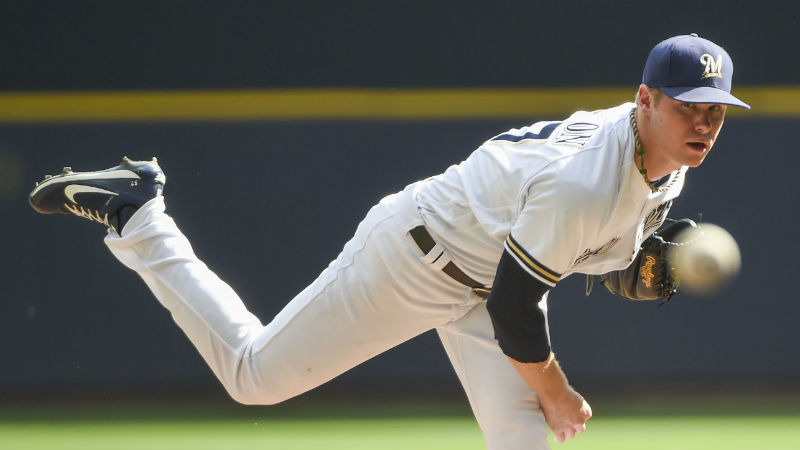 Benny Seiu-USA TODAY Sports. Pictured: Chase Anderson
If you look at his progression of starts, since he's going deeper and striking out more batters, I think we may be re-entering a time frame where Kershaw is becoming the best 2018 version of himself. Whether that's the old Kershaw dominance or some watered-down version, I don't know, but I like how this lines up for Saturday night in Milwaukee, especially against Chase Anderson.
Anderson is one of those pitchers I would call lucky. His numbers point to incoming regression. Not only is his xFIP about a run higher than his ERA, and his BABIP way below the league average, but his strand rate is higher than normal, too.
Think of it this way: the ball is always being hit at the right people at the right time when he's pitching. That's not exactly something he can control with great frequency. It's a baseball. We can't tell with great certainty where it's going on every pitch.
---
>> Get a 7-day free trial to access all of our premium MLB articles and exclusive betting data.
---
The confluence of these two pitchers is why the Dodgers moneyline looks appealing to me tonight. I get Clayton Kershaw on the verge of a return to normalcy, and I get Chase Anderson as he (hopefully) starts allowing runs at a higher rate.
My model numbers favored the Dodgers much more than this, but they were also using a projection for Kershaw that assumes he is DEFINITELY returning to normal, which we don't know. Even assuming a reasonably good version of Kershaw, this number is still short, in my opinion.
Also, I just went 450 words without mentioning Manny Machado once. Crazy, right? Obviously, his addition to the lineup helps things as well.
The Bet: Dodgers -156
---
Editor's note: The opinion on this game is from the individual writer and is based on his research, analysis and perspective. It is independent of, and may not always match with, the algorithm-driven Best Bets from Sports Insights.