Los Angeles Angels 2019 Betting Odds, Preview: Postseason Hopes Lie in Pitching Staff's Hands
Credit:
Darren Yamashita-USA TODAY Sports. Pictured: Mike Trout.
The Los Angeles Angels could end up losing Mike Trout in free agency in a couple of years, especially if they can't become a winning team.
They've brought in several notable veteran names in free agency, but thanks to Shohei Ohtani's injury, they lack an ace-caliber starter.
Tyler Skaggs is among a few different arms that need to step up to give this team a shot at the postseason.
Led by Trout, their offense is certainly capable of putting up enough runs to win, but their rotation and bullpen may leave them an average squad.
Original analysis published on Feb. 22. 
The Los Angeles Angels, or shall I call them the Los Angeles Trout, have an important season ahead of them. Two important seasons, actually, as they could be the last two seasons they have with Mike Trout.
The Angels have been to the postseason just once in seven years despite having perhaps the greatest player of all time, and oddsmakers don't expect them to be a true contender this year, either.
This marks the beginning of a new era, though, as long time manager Mike Scioscia has stepped down and former MLB catcher and Tigers manager Brad Ausmus is taking over. Ausmus was a hair below .500 during his time in Detroit, and spent last season as the Angels' special assistant to the GM.
Will Ausmus, Trout and Co. exceed expectations and lead the club to the postseason, or will they flounder with mediocre results once again?
2018 Results
Record: 80-82 (-11.2 units), 72-90 ATS (-16.7 units)
Over/Under Record: 71-82-9
Preseason World Series Odds: +2750
Win Total: 84.5
Most Profitable Starter: Matt Shoemaker (5-2, +2.4 units)
The Angels fell a bit short of their win total last year, and were a fairly unprofitable team in terms of units lost on a day-to-day basis. Things started out pretty well in LA, as the team was 16-12 at the end of April and Ohtani-mania was running wild.
It was downhill from there, though. The only other winning month the Angels had all season was September, in which they went 14-13. Ohtani's arm was essentially cooked by early June despite his one pitching appearance in September, though he did mash at the plate for the rest of the year. As always, Trout put up MVP numbers, but the team ended up with average numbers in terms of runs scored and runs allowed. Average numbers, average record.
2019 Odds
World Series Odds: +4000
Division Odds: +1000
Win Total O/U: 82.5
Playoff Odds: Make +300, Miss -400
As is generally the case, the Angels have middling expectations. A win total right around .500, World Series odds that are worse than the conteders', but better than the cellar dwellers.
They're among four teams in the American League that have playoff odds between +240 and +300, along with Oakland, Minnesota and Tampa Bay. I like Minnesota's chances the most of the four, but the Angels do have a shot, especially if one of the wild card spots only requires ~90 wins as opposed to 97 like last year.
I'm on the fence about taking the over on their win total because I believe it's totally doable to win ~85 games in this division. I'm not sure how much higher their ceiling is than that, but with the Mariners and Rangers expected to win around 70 games a piece, their floor should be in the upper 70s.
Roster Notes
Additions: Matt Harvey, Jonathan Lucroy, Justin Bour, Cody Allen, Trevor Cahill, Tommy La Stella, Kevan Smith, Dillon Peters, Luis Garcia, Jarrett Parker (minors), Dan Jennings (minors), Peter Bourjos (minors), Dustin Garneau (minors)
Key Subtractions: Garret Richards, Matt Shoemaker, Blake Wood, Chris Young, Jim Johnson, Alex Meyer, Jabari Blash, Parker Bridwell
Potential Opening Day Lineup

Kole Calhoun – RF
Mike Trout – CF
Justin Upton – LF
Justin Bour – 1B
Andrelton Simmons – SS
Albert Pujols – DH
Zack Cozart – 3B
Jonathan Lucroy – C
David Fletcher/Tommy La Stella – 2B

Projected Rotation

Andrew Heaney (Injured)
Trevor Cahill
Matt Harvey
Tyler Skaggs
Jaime Barria
Felix Pena

Prospect Watch: Griffin Canning (No. 63, RHP), Matt Thaiss (Unranked, 1B), Jose Suarez (Unranked, LHP), Luis Rengifo (Unranked, SS)
Key Injuries: Shohei Ohtani (Tommy John, will not pitch in 2019, expected to be ready to hit in May/June), Kenyan Middleton (Tommy John, mid-late 2019), JC Ramirez (Tommy John, mid-late 2019), Nick Tropeano (Shoulder, early 2019), Andrew Heaney (Elbow, early 2019), Taylor Cole (Shoulder, early 2019)
MVP Candidates: Mike Trout (+200), Justin Upton (+8000), Andrelton Simmons (+20000), Albert Pujols (+20000)
Cy Young Candidates: Andrew Heaney (+5000), Tyler Skaggs (+8000)
Analysis
Player to Watch: Shohei Ohtani
Who else would I talk about other than Ohtani?
The Japanese phenom had a rookie season that was both great and troublesome. His numbers on the mound and at the plate were both excellent, but as many people expected, he did need Tommy John surgery.
As a result, he won't pitch this year and will need until May or June to be ready to hit. He'll also likely be eased into work once he is ready, so don't expect him to get a ton of plate appearances this season. I highly advise against betting him to win MVP or lead the league in home runs.
I'm curious to see how he produces in his limited time, though. Last year, his 152 wRC+ would have been the 6th best in the MLB had he qualified for the batting title. Though he struck out a bunch, he also walked in over 10% of his plate appearances — an admirable mark considering the transition he had to make.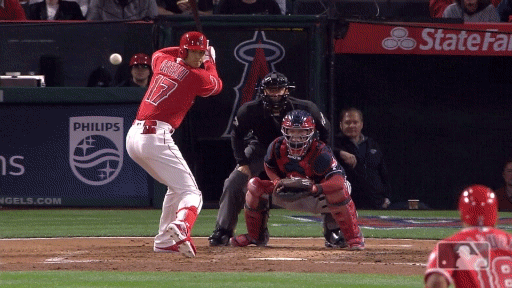 He also hit the ball very hard when he made contact. His average exit velocity was 11th out of every player with at least 150 batted balls, ahead of Mookie Betts, Christian Yelich, Nolan Arenado and Khris Davis — your MVPs and home run champs.
Though his HR/FB rate of ~30% is probably unsustainable, he's going to continue to produce if he walks and keeps barreling up balls.
I'd guess that his wRC+ drops off a bit from last year, but the Angels will have one of the better offenses in the league if he continues to rake at that level or better.
Pitcher to Watch: Tyler Skaggs
Tyler "Ace" Skaggs is not exactly an ace, but will be playing one this season for the Angels. The 27-year-old southpaw does not have a long track record of success, though.
He made his MLB debut back in 2012 with the D-Backs, and has spent the last five years with the Angels. He missed the entire 2015 season thanks to Tommy John surgery, and pitched in just 10 and 16 games in 2016 and 2017, respectively.
Last year was a career year, though, in which he set personal bests with 24 starts for 125.1 innings last year. He also had his best ERA (4.02) and K/9 (9.26).
On the downside, his career highs are 125.1 innings with a 4.02 ERA, and he's been pitching since 2012. Not exactly Lefty Grove.
He's working with a so-so 92 mph heater to go along with his deuce-piece, which needs to be his best weapon if he's going to be an actual ace. It's not quite a Clayton Kershaw 12-6 hammer, but it has some serious depth to it that can get batters to chase it in the dirt.
There are other candidates on the staff that can easily step up and be its best pitcher, but it will be hard for the Angels to push for a playoff spot if Skaggs isn't a solid, reliable arm.
Summary
As it stands, Fangraphs is currently projecting the Angels to win 84 games, while Baseball Prospectus's PECOTA is projecting 80. This team is fascinated with mediocrity.
I do like them a bit, though. Not to win the World Series or anything, but they could push for that wild card spot thanks to a potent offense.
They have …
The best hitter in the game in Trout, just have to pray he doesn't get hurt.
An often overlooked star who puts up 30 jacks in Justin Upton.
Justin Bour, who touts a 119 career wRC+ from the left side.
A slew of bats who should produce at average to above-average rates, including the aging Albert Pujols, Zack Cozart, Andrelton Simmons and Kole Calhoun.
Of course, when Ohtani returns, he could be their second-best hitter behind Trout.
Their pitching staff is iffy, though, and would likely be what keeps them from being successful. I've already hit on their best starter in Skaggs, but I bet most Angels fans are intrigued about Matt Harvey. The Dark Knight would've been a tremendous addition five years ago, but has pitched to a 5.39 ERA in 340.1 innings over the past three seasons — third worst out of 120 qualified pitchers in that span. It'd be a win for the Angels if he can put up an ERA in the low 4s and start 25+ games, to be honest.
I'm also curious to see how Cody Allen does with his new team. Already confirmed as the closer by their GM Billy Eppler, Allen is coming off the worst season of his career. In the second half of the season, his velocity dipped to career-worst numbers of about 93.5 mph — a couple ticks short of where he was in his prime.
Their bullpen is otherwise rather pedestrian, especially with Kenyan Middleton sidelined for at least the first half of the season, so they'd be in trouble if Allen's numbers continue to slip.
For Trout's sake, let's hope some pitchers can step up and exceed expectations and get the superstar to the postseason. I'm sure he's quite eager to play in career playoff game number four!
All odds via Westgate SuperBook as of Feb. 22
Transactions accurate as of Mar. 24. Free agents deemed subtractions until they re-sign
Advanced data via Fangraphs.com, prospect ratings via MLB.com, prospects in prospect watch expected to be MLB-ready in 2019
How would you rate this article?