Los Angeles Dodgers 2019 Betting Odds, Preview: The Pedigree of the West
Credit:
Jake Roth-USA TODAY Sports. Pictured: Chris Taylor, Corey Seager and Enrique Hernandez.
The Dodgers lost their second straight World Series last year and lost several key players this offseason, but are still easily the best team in the NL West.
Corey Seager, who was one of the best players in baseball in 2016 and 2017, returns from Tommy John surgery, which is basically as good as any free agent acquisition would be.
Though there are concerns over Clayton Kershaw's health, the Dodgers should still be able to stroll to a division title even if he misses some time.
Original analysis published on Mar. 1. 
Two years ago, the Dodgers made it to Game 7 of the World Series. They fell short. Last year the Dodgers had Manny Machado for their World Series run. They fell short. This offseason, they tried to land Bryce Harper. They fell short.
Though the Dodgers keep falling short, they're still in a pretty good spot for now. They have a loaded lineup — potentially too loaded, as there's not room for everyone to play — they have some nice young talent and they have a boatload of cash seemingly always at their disposal. Can they make it back to October for a third straight year?
2018 Results
Record: 92-71 (-10.8 units), 74-89 ATS (-12.9 units)
Over/Under Record: 76-80-7
Preseason World Series Odds: +640
Win Total: 95.5
Most Profitable Starter:  Hyun-Jin Ryu (10-5, +1.9 units)
Another year, another World Series loss … tragic. Taking a page out of the Rangers' book, I suppose.
The Dodgers overcame a crappy start to the year to get back to the Fall Classic, but were overmatched by the Red Sox.
Despite winning more than 90 games, the Dodgers were quite unprofitable on both the moneyline and runline. They were dogs just 11 times last year and just twice after June 19th.
2019 Odds
World Series Odds: +700
Division Odds: -425
Win Total O/U: 93
Playoff Odds: Make -1100, Miss +700
At +700, LA is tied with the Red Sox for third best World Series odds behind the Astros and Yankees. There hasn't been a team to make it to three straight World Series since the Yankees did it four straight times from 1998 to 2001. There hasn't been a team to lose three straight since the Giants — the New York Giants — from 1911 to 1913.
Obviously, a big reason why the Dodgers' odds are up near the top is because they have the easiest path to the postseason in a competitive National League. You may think that another team from the East or Central is better, but there's a good chance that team won't win its division or even make the playoffs at all.
I personally bet on the Dodgers to win their division at -150, but those odds were only on the market for a little while. Gotta be fast-acting when futures are released! I personally wouldn't bet them at -425, but I don't lay that type of juice for any sort of season-long props or futures. I do think that they have better than an 81% chance of winning the division, though, which is what the implied odds of -425 suggest.
Roster Notes
Additions: A.J. Pollock, Joe Kelly, Russell Martin, Jaime Schultz, Adam McCreery, Justin Grimm (minors), Ezequiel Carrera (minors), Josh Thole (minors), Paulo Orlando (minors), Shane Peterson (minors), Kevin Quackenbush (minors)
Subtractions: Manny Machado, Yasiel Puig, Matt Kemp, Yasmani Grandal, Brian Dozier, Ryan Madson, Kyle Farmer, Daniel Hudson, John Axford, Chase Utley, Tim Locastro, Zac Rosscup, Erik Goeddel, Pat Venditte, Josh Fields
Potential Lineup

Joc Pederson – LF
Justin Turner – 3B
Corey Seager – SS
Max Muncy – 1B
A.J. Pollock – CF
Cody Bellinger – RF
Enrique Hernandez – 2B
Austin Barnes – C

Projected Rotation

Clayton Kershaw (Injured)
Rich Hill (Injured)
Hyun-Jin Ryu
Ross Stripling
Kenta Maeda
Walker Buehler
Julio Urias

Prospect Watch: Alex Verdugo (No. 35, OF), Tony Gonsolin (Unranked, RHP), Will Smith (Unranked, C/3B), Dennis Santana (Unranked, RHP), Mitchell White (Unranked, RHP), DJ Peters (Unranked, OF)
Key Injuries: Clayton Kershaw (Shoulder, April), Rich Hill (Knee, early 2019), Tony Cingrani (Shoulder, early 2019)
MVP Candidates: Cody Bellinger (+2500), Justin Turner (+3000), Corey Seager (+4000), Max Muncy (+5000), A.J. Pollock (+8000)
Cy Young Candidates: Clayton Kershaw (+1200), Walker Buehler (+2000), Rich Hill (+6000), Hyun-Jin Ryu (+10000), Kenta Maeda (+20000), Kenley Jansen (+30000)
Analysis
Player to Watch: Corey Seager
When the Dodgers lost Corey Seager for the season at the end of April and had a losing record, I thought they were definitely screwed. They ended up acquiring some Manny Machado guy to help take his spot, but it's once again Seager's time to shine.
When healthy, Seager is one of the best all-around players in the game. In his first two full seasons, he posted fWAR numbers of 7.0 and 5.9, respectively.
Now that he's back, the former top prospect should bring a consistent presence to a lineup that has a bunch of moving parts. While it's nice to have a bunch of guys who can play a bunch of positions, it's also nice to know that Seager will be playing shortstop and batting at the top of the order every day.
Of course, there's a possibility he's a bit rusty after his one-year hiatus following Tommy John surgery. But, I'd be willing to bet he's not (hello 40-1 MVP odds (eyeballs emoji)).
Pitcher to Watch: Clayton Kershaw
Is the end nearing for Clayton Kershaw's dominant run?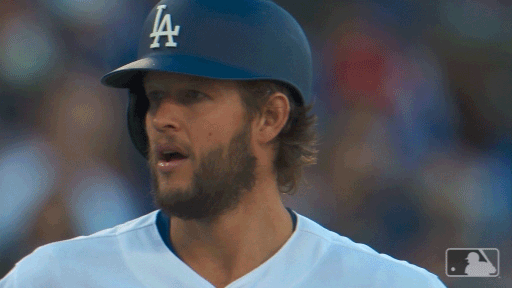 Sorry to break it to you folks, but it is.
It's not that he's bad, but he's falling apart. And he's getting worse.
I mean, 2.73 ERA? Garbage.
The stats on the first sheet of the graph actually aren't that big of a deal in my mind. The second and third sheets are very concerning — alarming, even. After sitting around 93 mph for most of his career, Kershaw's average heater dropped more than two miles per hour last year — a rather sharp spike. In turn, hitters weren't whiffing as much and were hitting the ball much harder. Prior to 2018, Kershaw's career worst hard-hit rate was 28.9%, but that jumped all the way to 36.1% with his decreased velocity.
Kershaw's getting older and has been deteriorating in health. The decrepit southpaw has missed time in each of the past three seasons, and didn't feel great early in spring training just playing catch.
I think the key for the Dodgers will be to keep him healthy. Take it slow. They don't want him pitching if he's less than 100% because that could lead to more serious stuff. He's already dealt with back and biceps problems over the past few years, and is dealing with shoulder pain this spring.
LA does have six solid pitchers capable of starting behind Kershaw, but we all know its rotation isn't be the same without him.
Summary
The Dodgers' roster is stacked. Much better than any other roster in the NL West. There are a couple of concerns, but even if things go wrong, they should still be in the driver's seat to win their seventh straight division title.
Their biggest concern is Kershaw, but right behind him comes Kenley Jansen.
Let me show you another nice graph:
Jansen dealt with a scary heart situation that almost ended his season early, but underwent offseason surgery to correct an irregular heartbeat so hopefully he's fine on that front. His 2018 numbers are still very un-Jansen like, and the bullpen isn't tremendously deep otherwise.
Those are two vitally important players, but other than them, I'm not concerned whatsoever. LA remains the cream of the crop out west, and its division, which has been pretty competitive over the past few years, appears as weak as it's been in a while.
---
All odds via Westgate SuperBook as of Mar. 1
Transactions accurate as of Mar. 26. Free agents deemed subtractions until they re-sign
Advanced data via Fangraphs.com, prospect ratings via MLB.com, prospects in prospect watch expected to be MLB-ready in 2019
How would you rate this article?