Betting Mets vs. Yankees: Trust Jacob deGrom, Despite His Team's Failures
Credit:
Brad Penner-USA TODAY Sports. Pictured: Jacob deGrom
Betting Odds: New York Yankees vs. New York Mets
Mets Moneyline: +165
Yankees Moneyline: -174
Total: 7
First pitch: 7:05 p.m. ET
I looked at my model, and then I sighed.
I don't sigh much anymore. I grew up a Red Sox fan, through the decades of failure and losing, and there was plenty of sighing then. When the team became successful on a year-in, year-out basis and everyone hopped on the bandwagon, I kind of just hopped off.
But Monday morning, the reason for the sigh was that after putting in overnight projections, I was going to have to bet on the Mets. And doing anything with the Mets this season has produced plenty of reasons to sigh. At 49-66, they are not only trending way under their win total, but doing so with flair. Tonight, the Mets travel to the Bronx to play the Yankees in a makeup game from a rainout earlier in the season.
Plenty of bettors are avoiding the depressing path I'm choosing. Per SportsInsights at about 10 a.m. ET, 71% of bets and 93% of dollars were on the Yankees. The only thing better than taking the Mets is taking them when no one wants them. The bandwagon's empty! Let's ride!
With Jacob deGrom starting, there should at least be some reason for optimism. If it weren't for Max Scherzer, you could make a case for deGrom as the clear Cy Young favorite in the NL. If it weren't for the Mets being the Mets, you might also be able to make the same case.
Despite dominant and ultra-consistent numbers (he hasn't allowed more than three earned runs in a game since April 10), deGrom hasn't gotten much run support. New York is 9-14 in his starts, and has scored three or fewer runs 15 times in those 23 starts.
The fact remains, though, that when he pitches, the Mets have their best chance to win. My model doesn't know the team's history, its fan base's perpetual misery and gloomy outlook. If it did, I assume my computer would just light itself on fire to prevent future modeling.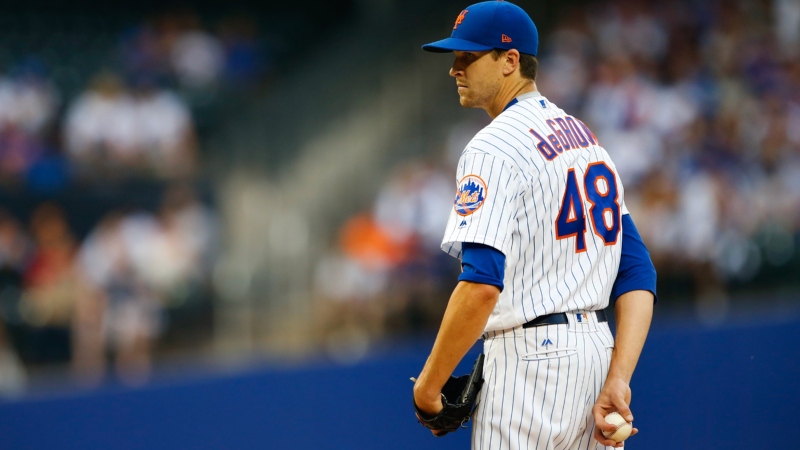 Noah K. Murray-USA TODAY Sports Pictured: Jacob deGrom.
Meanwhile, Luis Severino has been, if anything, shaky recently. After he started off excellently, the wheels have really come off the last six starts. He's allowed three-plus earned runs in all of them, hasn't pitched particularly deep, and has allowed nine home runs in his last 32 innings.
These haven't been poor starts vs. giant killers either — three of his last four opponents were the White Sox, Royals, and Rays, basically the exact teams you would want to play if you were trying to regain dominant form. A lot people want to point to his home-road splits this season as evidence for turnaround (he's been much better at home). But those same people would have a hard time explaining the home start against Kansas City a few weeks ago (six ER in 4.1 innings) or the fact that his home-road splits before this season are the exact opposite. The splits just seem like noise to me.
With the vaunted Yankees bullpen having most of it's key guys rested, and the Mets being…the Mets, I'm going to take the First 5 innings moneyline with deGrom at only 9 cents less than the full-game, and avoid the misery Mets fans put themselves through at the end of most games. There could still be plenty of opportunity for sighing, but at least we'll get a resolution faster.
The Bet: Mets First 5 Innings ML +152
---
Editor's note: The opinion on this game is from the individual writer and is based on his research, analysis and perspective. It is independent of, and may not always match with, the algorithm-driven Best Bets from Sports Insights.
How would you rate this article?