Miami Marlins 2019 Betting Odds, Preview: The Ugliest Rebuild Imaginable
Credit:
Jasen Vinlove-USA TODAY Sports. Pictured: Billy the Marlin.
The Marlins won 63 games last year and oddsmakers have pegged them to win 63 again in 2019.
They traded away yet another star player in J.T. Realmuto, but still have a well-below average farm system despite all of their big trades.
With the other NL East teams all capable of pushing for 90 wins, the under on their win total appears to have value.
Original analysis published on Feb. 25. 
Predicting the NL East standings this season would be incredibly tough. Are the Phillies going to be first? Third? What above the division champs from last year, the Braves? And those Mets … they've gotten better, eh?
The one absolutely mortal lock is that the Marlins finish dead last. Probably by a very wide margin, too.
Last year was bad, but 2019 could be even worse.
2018 Results
Record: 63-98 (-4.2 units), 82-79 ATS (-8.7 units)
Over/Under Record: 80-76-5
Preseason World Series Odds: 500-1
Win Total: 63.5
Most Profitable Starter: Dillon Peters (3-2, +3.4 units)
The Marlins fell just shy of their win total last year. However, it's possible that over bettors were refunded because the Marlins' final game of the year vs. the Pirates was flat out cancelled. Didn't personally bet on their win total so I'm not 100% on that.
Despite just winning 63 games, the Marlins were really not that unprofitable of a team. The 92-win Dodgers (-10.8 units) and 91-win Indians (-18.8 units) were both far worse for bettors. Who would've thunk it?
Here's a funny stat for you if you're a fan of betting percentage humor: The Marlins never received more than 57% of bets in any game last year. The Astros received at least 58% of bets 137 times …
2019 Odds
World Series Odds: +200000
Division Odds: +20000
Win Total O/U: 63
Playoff Odds: Make +4000, Miss -20000
Having just traded away their best player, which is a running theme of the Jeter-era Marlins, oddsmakers are expecting them to essentially repeat their 2018 performance. Pretty much all of the other sub-70 win teams have win totals at least a handful of games higher than last year, with some expected to improve by more than 10 wins.
Everyone expected this team to be by far and away the worst team in baseball last year, but that title went to the Orioles, who made this squad look like the '27 Yankees in comparison. This year, those two squads might battle it out for that No. 1 overall draft pick.
I like the under on the Marlins' win total despite the fact that it's the second lowest in baseball. Last year, their Pythagorean record was just 58-103. They somehow managed a winning record in extra innings and were just two games below .500 in one-run games.
Having dealt J.T. Realmuto, they truly have no great players left. Maybe only a couple of guys that would be considered "good".
Their lineup is the worst in baseball and projection systems don't really think it's very close. Their rotation and bullpen are both well below average, too. With all four teams in their division improved and set to fight for a division title, the Marlins are going to be beat up and bludgeoned on a regular basis. The only thing I don't like is the fact that they are playing the AL Central and will have some opportunities for wins vs. the Tigers, Royals and White Sox.
Roster Notes
Additions: Jorge Alfaro, Neil Walker, Sergio Romo, Rosell Herrera, Curtis Granderson (minors), Dixon Machado (minors), Deven Marrero (minors), Hector Noesi (minors)
Subtractions: J.T. Realmuto, Kyle Barraclough, Dillon Peters, Derek Dietrich, Nick Wittgren, Dan Straily, Bryan Holaday
Potential Lineup

Curtis Granderson – LF
Starlin Castro – 2B
Brian Anderson – 3B
Neil Walker/Martin Prado – 1B
Jorge Alfaro – C
Garrett Cooper – RF
Lewis Brinson – CF
Miguel Rojas – SS

Projected Rotation

Jose Urena
Trevor Richards
Pablo Lopez
Sandy Alcantara
Caleb Smith

Prospect Watch: Nick Neidert (Unranked, RHP), Sandy Alcantara (Unranked, RHP), Isan Diaz (Unranked, 2B)
Key Injuries: None
MVP Candidates: Starlin Castro (+30000)
Cy Young Candidates: Jose Urena (+20000)
---
>> Sign up for The Action Network's daily newsletter to get the smartest conversation delivered into your inbox each morning.
---
Analysis
Player to Watch: Lewis Brinson
Last winter, the Marlins traded Christian Yelich to the Brewers for Lewis Brinson and three other prospects. Brinson, a very highly rated prospect at the time, was the prize of the package. Of course, Yelich won the NL MVP, while Brinson posted an OPS of .578 and -1.0 fWAR.
I'd say the Brewers have won the trade so far.
A Florida native, Brinson just could not hit for the life of him. Standing 6'3″, he possesses wiry raw power, but struck out far too often with not enough walks.
Strikeouts were something he had problems with early in his minor league career after getting drafted out of high school, but he had cut back on them by a substantial margin by the time he reached the upper levels of the minors. I suppose MLB pitching is a bit harder than Double-A and Triple-A pitching, though.
Of Miami's MLB position players, Brinson has the highest ceiling. He's a solid outfielder with good speed and some pop, but there's no place in the majors for someone who can't hit a lick. Look for Brinson to improve his plate discipline in his second full season in the majors.
Pitcher to Watch: Sandy Alcantara
Another trade acquisition, the Marlins landed Sandy Alcantara from the Cardinals as part of the Marcell Ozuna deal. The Cardinals are always pumping out pitchers who throw the heat and Alcantara is no exception.
Only problem is he walked the farm. Of the 468 pitchers with at least 30 innings pitched last year, Alcantara's BB/9 of 6.09 was the 11th worst and his K/BB ratio of 1.3 was the 18th worst.
I don't want to blow a 38-inning sample size out of the water, but walks have been a problem for him ever since getting out of rookie ball. I'm also concerned about his lack of strikeouts. Over the past two seasons in Double-A, Triple-A and the majors, he's struck out just 242 batters in 294.2 innings — about 7.4 per nine.
Considering his high walk rates, he needs to be striking guys out more. If you hand out free passes and allow the ball to be put in play frequently, runs will score. Simple math. He needs to get better at both of these things. If he doesn't, expect an ERA in the 4.50 range or higher.
Summary
Look, I'm not going to sugarcoat anything. The Marlins absolutely suck.
They've traded away four star players over the past couple offseasons, including two MVP winners. They'll need some of these prospects to turn into star players of their own or else they're in trouble.
Miami could be in the middle of a long rebuild. Before the Realmuto trade, it had the 28th-ranked farm system. It's probably a few spots higher now, but is still horrible considering the assets the Marlins have traded.
They have a handful of veterans that they can still trade at the deadline, but nobody too good. Nevertheless, they should trade them and get anything they can.
The Marlins were favored seven times last season. This year will be quite similar, with their best chance to be favored on paper being a home series against the Royals in September. Can we get an over/under on how many times they'll be favored this year? As I said, I see value on their win total under, but I'd take the under on that, too.
Nice squad you got there, Jeets!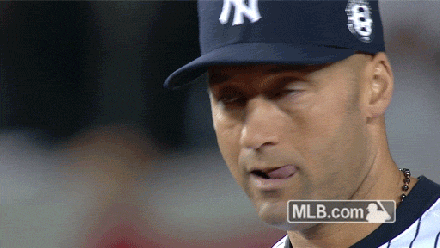 All odds via Westgate SuperBook as of Feb. 25
Transactions accurate as of Mar. 25. Free agents deemed subtractions until they re-sign
Advanced data via Fangraphs.com, prospect ratings via MLB.com, prospects in prospect watch expected to be MLB-ready in 2019
How would you rate this article?