Sunday Night Baseball Betting Odds, Picks & Predictions: Our Staff's Bets for Cardinals vs. Cubs (Sept. 6)
Credit:
Brace Hemmelgarn/Minnesota Twins/Getty Images. Pictured: Jon Lester
Sunday Night Baseball Odds: Cardinals vs. Cubs
Dakota Hudson (1-2, 2.77 ERA) vs. Jon Lester (2-1, 5.11 ERA)
---
Odds as of Monday at 5:20 p.m. ET and via DraftKings. Get up to a $1,000 sign-up bonus at DraftKings today or see more offers and reviews for the best online sportsbooks.
---
It's Cardinals vs. Cubs … vs. Mother Nature on Sunday Night Baseball this evening.
Wind is the story — or a least a big one — for tonight's NL Central matchup, and it's having an impact on betting odds (see the total), as well as our experts' betting approaches to this game.
Here are our staff's favorite picks.
Note: Odds as of 2 p.m. ET.
---
Advanced Stats Glossary
FIP or Fielding Independent Pitching measures what a pitcher's ERA would look like if the pitcher experienced league-average defense and luck. xFIP is a regressed version of FIP that adjusts or "normalizes' the home run component based on park factors.
wRC+ or Weighted Runs Created Plus takes the statistic Runs Created and adjusts that number to account for critical external factors — like ballpark or era. It's adjusted, so a wRC+ of 100 is league average, and 150 would be 50 percent above league average.
wOBA or Weighted On-Base Average is a catch-all hitting metric with more predictive value than on-base percentage. An average MLB hitter can be expected to post a .320 wOBA. xwOBA is a regressed version of wOBA that accounts for variables like park factors.
---
Sunday Night Baseball Picks: Cardinals vs. Cubs
Collin Wilson: Under 12.5
Generally when the wind is blowing 20 MPH to direct centerfield, a bettor wouldn't dare fly in the face of runs being scored. But to get the ball over the ivy, the ball first has to be launched in the air.
Dakota Hudson gets the call for the Cardinals, sporting the eighth-highest ground-ball rate for pitchers with at least 26 innings pitched this season. The Cubs currently sit fourth in MLB in ground-ball percentage against right-handed pitching. Hudson's home run to flyball (HR/FB) rate sits at 16.7% so I am backing him to keep the Cubs from sending too many dingers onto Waveland Avenue.
The Cardinals hitters may not have success against lefty Jon Lester, as St. Louis ranks 22nd in wRC+ with an ISO rank of 26th. The Cards are ninth in ground-ball percentage against Southpaws, with the fourth-lowest HR/FB.
The wind is expected to blow 20 MPH through the entire game with a chance of storms increasing as the night progresses. Per Bet Labs, the Under is 13-6 at Wrigley since 2013 when the wind blows out at 15 mph or greater.
Stuckey: Over 12.5, Cardinals Moneyline (-108) and F5 Moneyline (-115)
Wind blowing hard out at Wrigley with two of my favorite fades on the mound so you know I'm taking a bite out of the over.
In regards to which side I like between two starters I love to fade in 2020, I'd side with Dakota Hudson in this particular matchup. The reason? The wind. Hudson is much better suited to pitch in these good hitting conditions since he gets so many ground balls with his sinker.
Since the start of last season, Hudson has a 57.2% ground-ball rate. That's the second-highest among 129 starters with at least 100 innings pitched, trailing only Dallas Keuchel.
Meanwhile, Lester is in the middle of the pack at 43.3%. The Cubs veteran just doesn't have much left these days. His 5.11 ERA in 2020 tells the story as that's also where his FIP and xFIP sit. He's striking out a career low 6.08 batters per 9 innings as his velocity dip in recent years has continued into this season.
The St. Louis bats should have many chances to capitalize on the southpaw, who has struggled against the Red Birds the past two seasons.
I have some over and split the Cards up between F5 and game.
BJ Cunningham: Cardinals F5 Moneyline (-115)
Dakota Hudson has been much improved this season, bringing his ERA and xFIP all the way down to 2.77 and 3.66, respectively, which are much lower than his career averages.
Hudson is mainly a sinker-ball pitcher and has been effective at producing ground balls as his ground-ball rate is 58.8% through his first 26 innings of 2020.
His fastball and curveball have been his best two pitches so far, as combined they've allowed three hits on 159 pitches. The Cubs have struggled against fastballs and sinkers so far this season, so if Hudson can keep the ball on the ground he should be effective on Sunday night.
St. Louis' offense has heated up as of late, accumulating a .343 wOBA and 117 wRC+. Paul Goldschmidt and Brad Miller have been carrying the offense this season, as they are the only two Cardinals with a wOBA over .350. Even though the Cardinals haven't been great against left-handed pitchers this season, they should have no trouble against Lester.
Jon Lester's house of cards has fallen. He started out the season great, as he had one of the best ERAs in baseball through his first few starts. But all that has come crashing down to the tune of 13 earned runs and six homers in his last three starts.
It's no secret that Lester is starting to fall off a cliff as he gets into his late 30s. He's posted an xFIP over 4.00 in each of his previous two seasons and this year his xFIP is all the way up at 5.37, which is the highest of his career. With the wind blowing 20 MPH straight out at Wrigley tonight, Lester could be in for a world of hurt against a solid Cardinals lineup.
I have the Cardinals first-five-inning line projected at -143, so I think there is some value in fading Lester for the first five innings at -120.
Sean Zerillo: Cardinals Moneyline (-108) and F5 Moneyline (-115)
For starters, I project the Cardinals as 55.3% favorites on Sunday, and as 59.3% favorites in the first five innings (F5) of the game. As a result, I see an actionable 3% betting edge on St. Louis up to -110 (implied 52.3%) for the full game, and up to -129 (implied 56.3%) for the F5 portion of the game.
Jon Lester is really struggling in 2020. The 36-year-old southpaw has seen his fastball dip below 90 mph for the first time in his career — down two full ticks from 2018. He's no longer getting swinging strikes (9.4% career down to 5.5%), and his strikeout rate has completely fallen off as a result, bringing his xFIP (5.37) and SIERA (4.99) to career-worst levels (3.74 and 3.83 overall).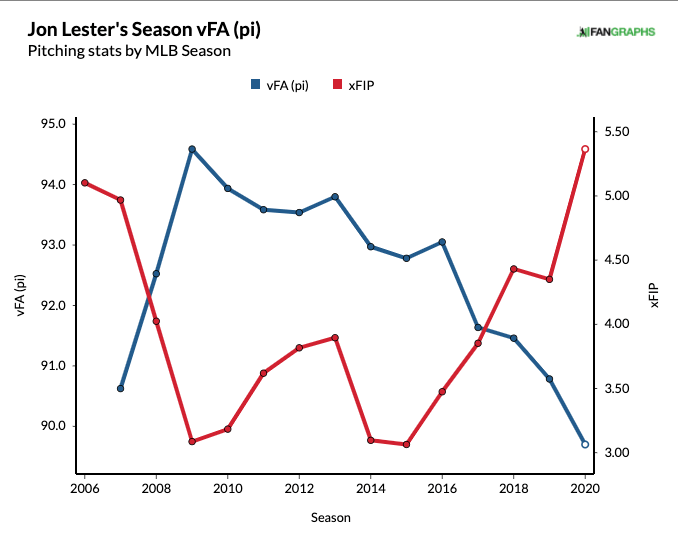 Lester's fastball velocity is among the bottom 10 percent for all pitchers, and his whiff rate is in the bottom two percent. His hard-hit rate allowed (38.3%) and expected ERA (xERA) of 5.38 are trending in the wrong direction too.
And with a 40% fly ball rate, Lester could be in trouble in the swirling winds of Wrigley on Sunday. The wind is blowing out aggressively tonight (>18 mph out to center), bumping the game total up to Wrigley Field levels (12.5).
I projected this game for 8.9 runs in a weather-neutral Wrigley, but we could see some lazy flies turn into three run homers tonight; as a result, I'll be staying away from the total.
Dakota Hudson seems like the perfect pitcher to back in these type of conditions, however. The 25-year-old righty owns a career 57.6% ground-ball rate — amongst the highest marks for active pitchers — and he has actually improved his skill level this season.
Hudson is throwing fewer fastballs and sliders in exchange for more curveballs (+12.7%) in 2020. The curve was his second-most effective offering last season, but he threw it less than 10% of the time.
Neither his fastball nor curveball have a ton of spin (22-26th percentile), but the curveball and slider are his two best pitches for generating whiffs, and the increased curveball usage enables him to give hitters a different look.
Hudson is getting ahead of hitters more frequently this year (F-Strike% increased from 56.1% to 65.7% over 2019) while generating swings outside of the zone 7% more often — two encouraging signs.
He also has a very strong defensive unit behind him. Since the start of the 2019 season, Kolten Wong (+21) and Paul Dejong (+27) lead their respective positions in Defensive Runs Saved.
The projection value lies with the Cardinals on Sunday — but the spot, with an improving groundball pitcher in windy conditions facing a declining veteran, also says they are worth a bet.
I have one unit on their full game moneyline, and I add a half share on their F5 moneyline too.
How would you rate this article?