MLB Picks: How We're Betting Astros vs. Diamondbacks On Wednesday
Credit:
Christian Petersen/Getty Images. Pictured: Robbie Ray
Two of our baseball analysts have a bet for Wednesday night's Astros vs. Diamondbacks.
Find out why the Arizona moneyline is among their favorite MLB picks of the slate.
A 13-game MLB slate presents itself on Wednesday, and while we've got four experts sharing their favorite spots below, they're actually covering just a pair of games.
In other words, Cubs at Royals (8:05 p.m. ET) and Astros at Diamondbacks (9:10 p.m. ET) and standing out as the major value opportunities on tonight's slate.
Here's how we're betting both of them.
MLB Betting Picks
Collin Wilson: Royals +1.5 (+106) vs. Cubs
Kris Bubic is pitching well ahead of his projected track, as his ceiling for 2020 in a non-COVID world was Omaha. Only a September cup of coffee was expected for the Royals' 40th overall pick from the 2018 draft. There could be value on the Kansas City rookie after a loss to the White Sox. His two earned runs over four innings are not as tarnished once the White Sox splits against left handed pitching is taken into account.
The Southsiders are smoking southpaws in 2020, meaning Bubic had a decent first outing considering the circumstances.
Bring in the Chicago Cubs bullpen. This was the worst bullpen in xFIP until the Mariners outdid themselves over the past couple of days. No bullpen is giving up more home runs than the Northsiders at 2.9 HR per 9. The Royals are a much better hitting team in the peripherals than the Pirates, the team Yu Darvish previously faced giving up just two hits.
Grab the run line on the Royals and consider a live bet once the Cubs pen gets involved.
---
Advanced Stats Glossary
FIP or Fielding Independent Pitching measures what a pitcher's ERA would look like if the pitcher experienced league-average defense and luck. xFIP is a regressed version of FIP that adjusts or "normalizes' the home run component based on park factors.
wRC+ or Weighted Runs Created Plus takes the statistic Runs Created and adjusts that number to account for critical external factors — like ballpark or era. It's adjusted, so a wRC+ of 100 is league average, and 150 would be 50 percent above league average.
wOBA or Weighted On-Base Average is a catch-all hitting metric with more predictive value than on-base percentage. An average MLB hitter can be expected to post a .320 wOBA. xwOBA is a regressed version of wOBA that accounts for variables like park factors.
---
BJ Cunningham: Cubs Team Total Over 5.5 (+102) vs. Royals
Kris Bubic projects out as one of the worst starting pitchers in my model at 0.68 BaseRuns/Inning. It's interesting that the Royals brought the lefty up to start the season, since he hasn't made it past High-A ball in his short career as a professional. He's the Royals No. 4 overall prospect, so they probably didn't want to lose a year of development, especially since they are in rebuilding mode.
He only went four innings in his first start, giving up two earned on three hits, but he primarily used a fastball/changeup combination against the White Sox. The Cubs ranked 11th in baseball last season against both of those pitches so Bubic will have his hands full tonight.
The Cubs offense has been on fire to begin the season. They rank second in baseball with a .347 wOBA and 120 wRC+ in their first 11 games. Rizzo, Contreras, and Happ have led the way for Chicago with a combined eight home runs and 19 RBIs.
The top of the Cubs lineup mashed left-handed pitching last season with Rizzo, Bryant, Contreras and Baez all having a wOBA above .345. Kris Bryant has been in sort of a slump to being the season, but facing a weak lefty like Bubic should do the trick as he crushed left-handed pitching to the tune of a .432 wOBA in 2019.
I have the Cubs projected for 6.18 runs in this game, so there's value on their team total of 5.5 at +102. I would bet it all the way up to -112.
Sean Zerillo: Diamondbacks Moneyline (+145) vs. Astros
I project the Diamondbacks as 44.8% home underdogs on Wednesday — implied odds of +123 — and I would play them down to +134 (implied 42.7%), a 2.1% edge.
My model assigns a much kinder projection to Lance McCullers Jr. than his current form shows. The second-generation MLB hurler owns a career 3.34 xFIP for the Astros — on par with what Patrick Corbin (3.33) or Walker Buehler (3.36) has done since the start of the 2017 season.
But McCullers is still in the early stages of his return to the mound after Tommy John surgery, and there are some early warning signs with regards to his pitch velocity: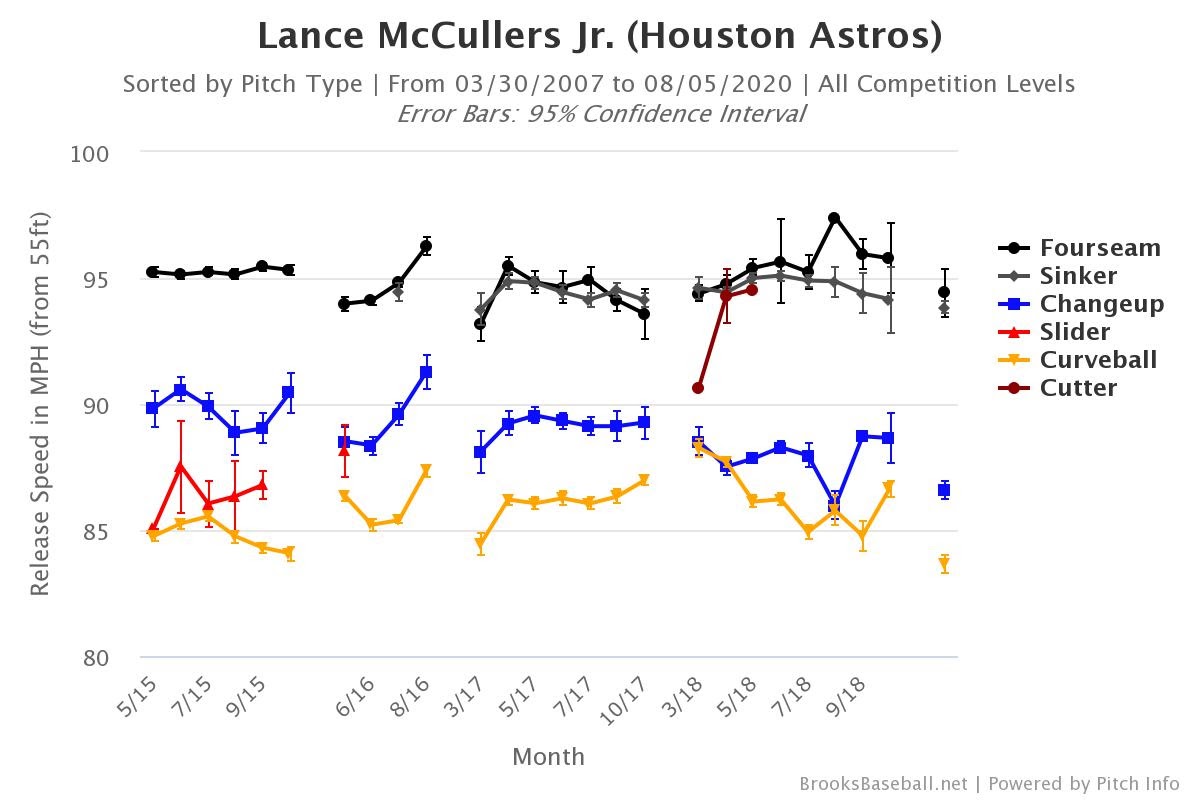 McCullers' fastball is down 1.4 mph from his career norm, while his changeup and curveball have each decreased by 2.4 mph so far in 2020.
Generally speaking, losing or gaining one mph on your fastball is equivalent to about one quarter of a run on your ERA. Nevermind the fact, however, that McCullers is experiencing the same spotty command that pitchers often struggle with during their initial return following a UCL repair.
Conversely, Robbie Ray changed his vertical release point this offseason, bringing his two secondary offerings (slider, curveball) to 86.6 mph and 84.3 mph — a 1.9 mph and 2.4 mph increase, respectively, over his career averages.
The Diamondbacks' southpaw had a pair of rough starts against the Dodgers and Padres, but he was extremely sharp in MLB summer camp, and with his improved stuff I remain confident that he has some dominant outings ahead of him.
Stuckey: Diamondbacks Moneyline (+145) vs. Astros
Let me reapply my clown makeup here first.
Okay, all set.
I agree with Sean here on the D-backs, who keep costing me money. But this is baseball. Random streaks and extreme variance are routine parts of the grind.
This line is simply way too high. I generally love the Snakes lineup against lefties, which McCullers basically is with his reverse splits. Plus, Lance has looked awful to start the season and sits high atop my fade list. Plus, with closer Osuna now likely needing surgery along with their other injuries, the Astros bullpen is a complete dumpster fire.
Arizona manager Torey Lovullo pulled all of his starters in the sixth inning on Tuesday, so maybe that serves as a wake up call and potential spark for this lifeless lineup.
How would you rate this article?